Over the last decade, Du Val Group has become one of New Zealand's largest and most successful full-service residential-led property developers – and they haven't stopped there. With offices in New Zealand, Singapore and the UK, Du Val Group is not only expanding globally, but they are also covering all aspects of the residential development sector from land acquisition and assembly, marketing, sales and property advisory as well as entirely managing development, construction, design and portfolio and building facilities management.
Du Val Group founders, Kenyon Clarke and CEO Charlotte Clarke have created a business empire and a legacy of developments, but they are still continually adding verticals and growing their charitable foundation. We talked to Kenyon about how to grow a large-scale company, the power of failure and the importance of resilience.  
You have achieved an immense amount over the last number of years. What are you doing differently to others in terms of that time and leverage?
I think that the size of the problem that you're trying to solve really determines the size of the business that you need to build. Our objective for Du Val Group was to solve a real present crisis that we have in Auckland in terms of the availability of quality, affordable housing, both within the build-to-sell space, where there is a huge demand from first-home buyers, and also from property investors especially with a changing legislative landscape for new housing. This is the problem that we are fixing, and it's this which has really enabled us to scale.
The other problem we have in New Zealand, which in my view is appalling, is that we have nearly 9,000 people living in emergency housing, of whom approximately 4,000 are children. This is where build-to-rent are really important solutions.
After losing the first business, which I built back in my twenties, I had the unique opportunity to look at what it was that I really wanted to do with my life; the things that I was passionate about and committed to doing, and take the experiences that I'd had, both good and bad, to work to solve a meaningful problem. I always need something to propel me, and it's this problem, the one of housing availability and affordability, that became my focus and has meant we have created what we've been able to create.
Does it feel like two distinct chapters to your life?
I think life is multifaceted. I've been really happy to be the author of my own life and to do the things that have always interested me. For a period of time leading up to 2008, I had a real interest in property and what it's able to do for me and what it's able to do as an investment product. And then, in what was an environment similar to now, I fell out of love with property because lending was difficult, interest rates were high, and there was not a lot of free cash flow.
The second, short, chapter of my life was within the leverage buyout space. Moving quickly on, my third chapter, or what we should call the Du Val chapter, has been for me an aggregation of the skills that I'd learned through property investing and developing, and also the mergers and acquisitions experience I gained through leveraged buyouts. Charlotte and I brought those two forces together to create the enterprise that Du Val is today.
It sounds like an evolution and a swing back to property, but then being able to work it on a much bigger scale to solve the problems that you're talking about. What do you think was the catalyst for you to think outside of your own thing and think about this big problem?
It's having a wife who's a far better human being than I am. I felt a certain level of frustration, even back in 2006 through to 2008, in terms of the way that New Zealand was organised. I could see that we were going to have a massive housing crisis. I could see that after the GFC, very few houses were going to get built.
If I'm honest, anger and frustration are a catalyst for me. I know a lot of people feel conflicted about the emotion of anger and question whether it's an appropriate emotion to feel. For me, I've generally used it as fuel. I've always had the ability to create something that has come from that place of frustration or anger to find a solution that works. I'm not sure if I've properly answered your question, but that's generally how I've been through my life.
It seems like we're in an age where it's not good to show anger. You have to bottle that up, particularly in the workplace.
Anger is a tricky emotion and not handled well it can be dangerous. I'm someone who embraces it; it's the steel that sharpens my blade. There are things going on in our society, things which have a significant impact on humanity that are appropriate to be angry about.
I'm angry about the fact that I live in a country where children go to school hungry. I'm angry about the fact that I live in a country where 4,000 kids are living in emergency housing. I'm angry about the lack of financial literacy taught in our school system. It's these feelings of anger which propel me forward to create solutions.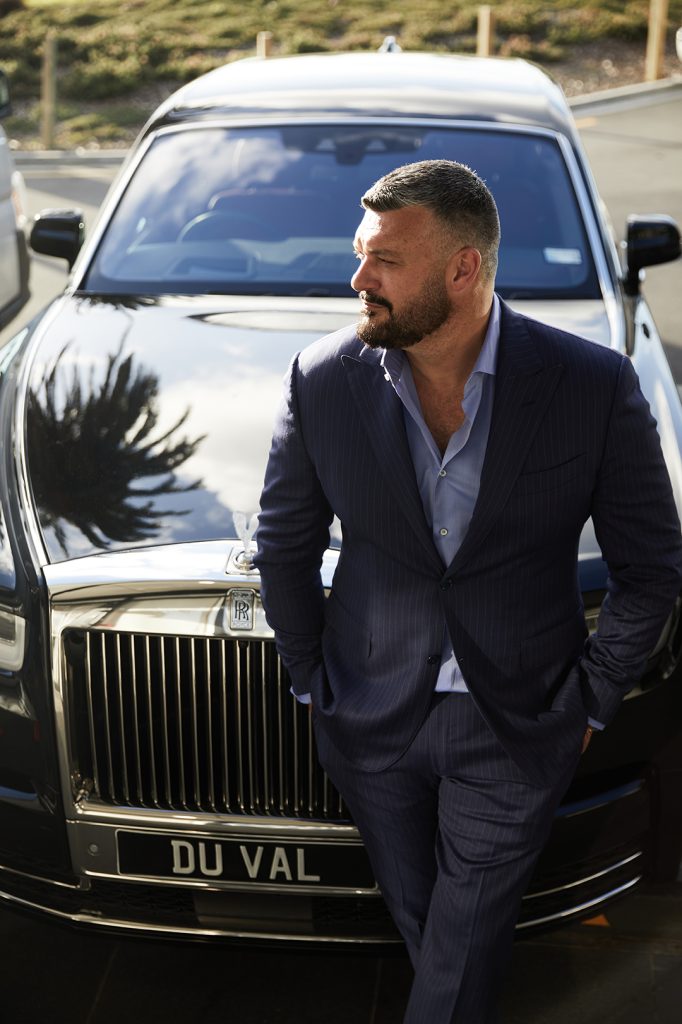 I don't know if there's ever been a defined New Zealand dream, but there is this concept that we live in a society where most can achieve, if you sacrificed and worked and invested. Do you think that is being eroded now? It just seems like a different time.
Injustice has always existed, it's just that's social media has amplified the voices of discontent. To ignore the fact that we have a society where there is privilege is insane; there 100% is. But the question shouldn't be whether privilege exists, it should be, what are we doing with it?
For me, it's about service. This is a personal decision, and I know giving back is not for everyone but for Charlotte and I, this is why we established our charity, the Du Val Foundation.
Do I think that it's harder to get ahead? I think it's always been hard to get ahead.
My grandfather arrived in this country as a 14-year-old before the Depression. He and his brother came over from London. When they arrived here, they bought mules at the Auckland market, and they travelled on gravel roads through to the Coromandel where they spent years working in the bush felling kauri until they could save a little bit of money to buy some scrub land down on the Hauraki Plains. They farmed that land until the Depression came along, and the farm wasn't providing enough income for both of the brothers. My grandfather left and worked during the night at a milk factory. The brothers again scraped together their pennies and bought another piece of land, where they had to clear the scrub and the bush. And then along came the Second World War.
Life is never easy, but then easy has never been promised to any of us. An easy life is an insubstantial life, right? The fact of the matter is, it's only worthwhile obtaining if it is difficult. I don't believe life is any harder today than it was yesterday or 100 years ago; it's just a different type of difficulty.
I love the idea that you can create a different platform for your children to springboard off. But then at the same time, is there a balance with depriving them of that pursuit or the opportunity to create for themselves?
Honestly, it's something I think about often. The whole concept of sacrifice, it's an Abrahamic concept. Common to the world's three major religions is that you'll sacrifice something today for a better tomorrow. If you take that concept away from your children, if you give them the gift of a very easy life, nothing to put their shoulder against and push, no rocks that are heavy enough for them to carry, then what are you creating? You're creating insubstantial people, and life will eventually hit hard.
The fact of the matter is life is not always going to be a smooth journey. How do you put challenges in front of your children so they can also build the stamina and resilience they need to move forward when life gets difficult? From that perspective, I'm curious about that as a father too. I'm hoping that every day I'm finding ways to put challenges in front of my children.
Have you got any ideas?
Personally, the key thing is to be constantly talking to them. For me, it was always going to be a guarantee that I was going to love my kids. I'm lucky that I also happen to like them because I know that's not always a given. Having conversations with them and giving them experiences to recognise where they are fortunate and to get them involved in our Foundation has been something that we've wanted to do.
But at the same time, I'm not going to make my children sit in the back of a plane while I'm sitting in the front just to teach them that life isn't easy; to me that's just false and has no value. They need to understand that we come from a privileged situation and for them to be grateful for it. But at the same time, I'm not going to teach them lessons that aren't true.
What do you think are some of the factors that have been really fundamental in your success?
To be obsessed and to be incredibly focused on what it is that you're doing and to be clear in terms of what your objectives are. I've learned to develop a laser focus. I'm really clear and specific with myself about the things that we need to accomplish. I'm not confused. I'm able to shut out external influences. I do my very best to stay away from politics and things that don't serve me.
I think indefatigable optimism and the capacity to work is a muscle that you constantly work on. I didn't finish working until four o'clock this morning. But when work is your hobby, you never do a day's work in your life, right? I don't resent or object to the fact that I'm doing this. There's nothing I would rather be doing at that time of night, or morning. It's actually the perfect time, everyone's asleep, and the house is really peaceful. For me, it's my opportunity to be creative and put my thoughts down in writing. That's massively important to me. 
This seems like two worlds. There's you alone at four o'clock in the morning, sending out emails, but at the same time, you have a workforce of 120 people in the offices and over 700 on site. How do you scale the culture as a reflection of you?
For me, it is through servant leadership; you are there to serve, and you are there to mentor your people. Every single one of the senior management team knows how much Charlotte and I care about their future and that we want them to be the very best version of themselves. For me, that's servant leadership. 
In terms of that feeling of security as well, does that add weight to your shoulders? There are a whole lot of people that depend on you for their livelihoods.
100% it's a weight on my shoulders, but I'm only responsible for part of their livelihood. My role is to work alongside Charlotte to lead them as well as I can, but rather than thinking of that as a burden to carry, it's a privilege that we're in a big waka and we're all paddling together.
I don't carry them; they carry me, and we carry each other. That's how I've always operated, pulling together for a common purpose. And I think that's the importance of having a mission that's so much bigger than Charlotte or me. It's a mission that propels the entire team. If that's big enough, if that's exciting enough, you'll find that you can create a massive amount of momentum in that direction.
You set this thing in motion, but it's a life of its own.
It's building itself, mate.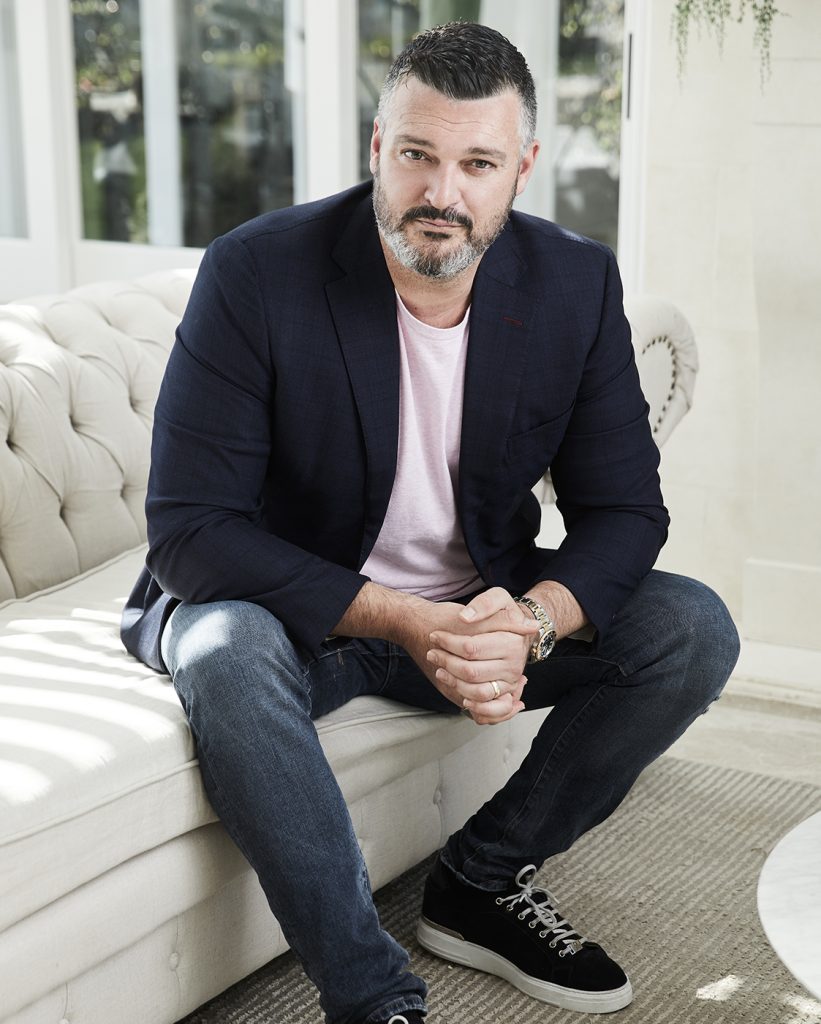 Was there a moment when that became real for you?
Imagination is an interesting thing. One of the greatest challenges I face is just because I've been able to imagine it, can I be bothered building it? Because I've already experienced it in my mind, it's so clear and precise so the difficulty that I have at times, and this is where the discipline comes in, is actually moving outside of the castle in the air.
My mum used to say to me, 'It's good to build castles in the air, but you've got to put foundations under one of them'.
You can't build a $110 million building in the heart of Manukau that towers 200 feet in the sky if you hadn't first dreamed of it. It's got to live in your imagination first. You've got to see it, you've got to visualise it, and you've got to internalise that. And only then can you actually create it.
I'm not surprised that we've built the business that we built. This was planned because I dreamt of it. That's how you make the invisible visible. It all starts with a dream. It all starts in your head. It all starts with imagination. 
It seems like such an extreme to go from owing $50 million to the Bank of Scotland in 2009, going bankrupt and then rebuilding to this point. How do you take the pieces of that collapse and then imagine this castle and sky and start to build that?
I get how people are curious about that. For me, there have been so many learnings that I've been able to apply to Du Val because I'd already built a big business. I've learned so much along the way and going bankrupt is one of the events in my life that in retrospect, I'm actually tremendously grateful for because of those learnings.
The thing that I probably resent the most about it was the cost of time.
I am someone who loves to progress and to feel as though I'm building something. If you were to ask what the meaning of life is, it's progress and every facet of your life.
I was actually going to ask what the meaning of life was.
It's progress, even when it comes to aspects of your life like your marriage. Progress is having a deeper relationship and a deeper connection. My wife will sometimes ask me, 'Do you love me as much as you did on the day we married?' I'm like, 'Darling, I love you 10 times more'. It's that depth that for me is my life meaning.
Do you think that that period of failure, if you want to describe it like that, has helped shape what you have become?
Success or failure isn't defined in a moment. It's not until the last breath leaves our body that we will ever know whether we ultimately succeeded or failed in life. We won't even be the people that judge that, others will do this for us.
From my perspective, I don't ever consider something a failure because how could you wrap that into your life? You failed in a moment. You lost a rugby match; get back to the training ground. That's not failure. Did the All Blacks fail because they lost in France? They failed at that moment, but they came back and won two World Cups back-to-back.
Our definitions and our understanding of success and failure are really insubstantial. You can make a ton of money, but there might be people around you who say, 'Hey, that's a really successful person, and he has an awful relationship with his wife, terrible relationships with his children, and is just generally a d**k to everyone he knows'. If that's the case for me, that would be a real failure.
Ultimately, we have to set those definitions for ourselves. For me, losing a whole bunch of money when I was 29, was just a rugby match. That wasn't even the World Cup.
Can you give some advice then for someone who has gone through a bad patch in the business and feels this social pressure to crawl under a rock?
Absolutely. The first thing to remember is that they [the critics] will never make your rent payment. They are never going to pay your power bill. They are never going to get your car fixed when you need to. They are never going to pay for the dentist. They are never going to pick your kids up from school. So you have to ask yourself, do they [the critics] really matter?
At the end of the day, it's what you give your attention and time to. My advice for people who struggle with the opinions of others is to do something substantial enough in life to justify people having an opinion. Build some resilience, and you'll realise how little this matters.