Queenstown's a sheer delight in spring and summer, and for the eco-conscious traveller there's no better place to stay than New Zealand's first 'smart' hotel.
mi-pad Queenstown, literally a stone's throw from the bustling town centre, is the perfect marriage of technology, comfort, convenience and sustainability. And this 57-room property isn't just smart, it's stunning too.
Design elements mirror Central Otago's landscapes, showcasing land, river, lake, mountains and sky on each of the hotel's six storeys. Spot the reference to the region's gold mining history with some striking gold accents amongst the stunning blues and smooth river stones of the river-themed floor, and enjoy the dazzling lift lobby lightboards and photography dotted around the property.
Eco-friendly initiatives include motion sensors in rooms to control lighting, air conditioning and heating, washable, re-useable and recyclable in-room cups, and the absence of single-use toiletries. Large refillable dispenser bottles keep plastic waste to a minimum, and look good too. Good to know that top-of-the-line hair dryers and GHD straighteners are in every room.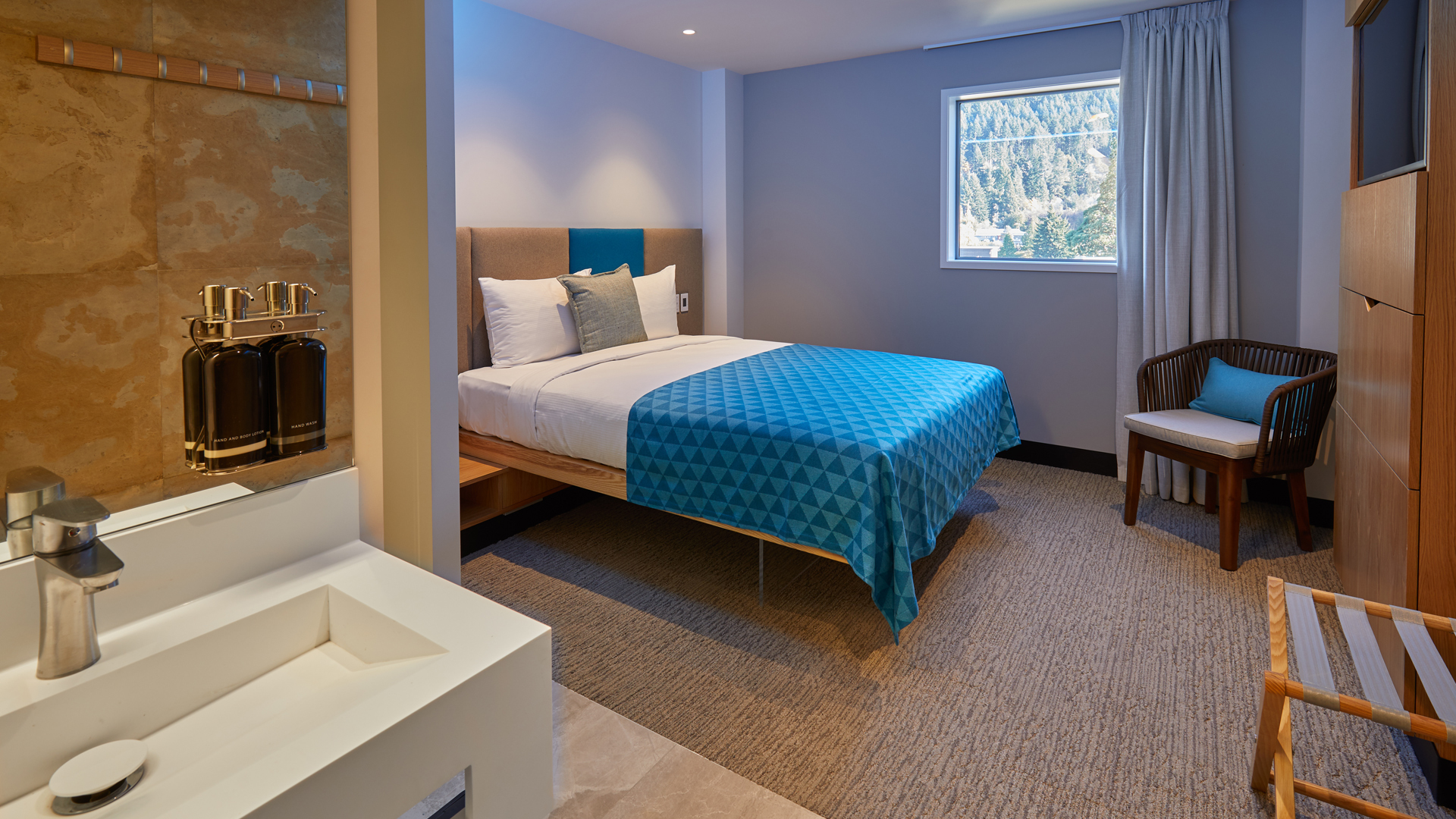 Large hotel rooms are a thing of the past – here they're compact, sleek, seriously stylish and designed to encourage guests to make the most of generously-sized social zones dotted throughout the property.
The hotel's best kept secret is its impressive rooftop terrace with Queenstown's most outstanding mountain and lake views. Comfortable seating and an outdoor fire make this the perfect spot for a bite to eat on a balmy evening or a glass of Central Otago's finest wine or craft beer.
As for the technology, the key to mi-pad is that there is no key.
Guests booking their stay download the hotel's app 'mia' to access their room, set temperature and lighting, and 'talk' remotely to staff and other guests. There's an option to share experiences, photos or messages through mia's private chat group and guests can even use mia's concierge service to order food delivery from Queenstown's best restaurants through Food On Q or check out the latest events, activities or offers in town.
Just as you're thinking this might all sound a bit 'techy', don't worry, there's always a staff member on hand to assist. In fact, the staff get rave reviews from guests for their friendliness and local knowledge.
The good news is that mi-pad is less than a two-minute walk from Queenstown's hundreds of bars, restaurants and activity operators, so make the most of long days and even longer nights in the capital of fun!
You'll also like: