New Zealand entrepreneurs, inventors and developers are doing incredible things right here right now. We have an incredible startup culture here, New Zealand is packed to the eyeballs with small teams doing awesome stuff.
Unfortunately their accomplishments are too often going under our collective radars due to a deluge of doom and gloom from headlines and timelines. How can we have time to hear about uni students sending new tech to space when Elon Musk is saying a thing on Twitter? Consider this a slight course correction, a calibration of what amazing people are doing right this second.
The startup ecosystem is also being fuelled by a boost in the Venture Capital scene over the last few years. One of which is NZVC which not only has funded many of the startups on this list but also connects globally ambitious New Zealand startups with Silicon Valley. General Partner, Mark Pavlyukovskyy suggests that the New Zealand scene has similarities with Singapore and Israel in terms of talent and capability but there is also a rare entrepreneurial spirit that is embedded in our culture. "The same kind of spirit that propels someone like Peter Beck from building rocket engines in his shed to sending rockets to the moon with Nasa."
Pyper Vision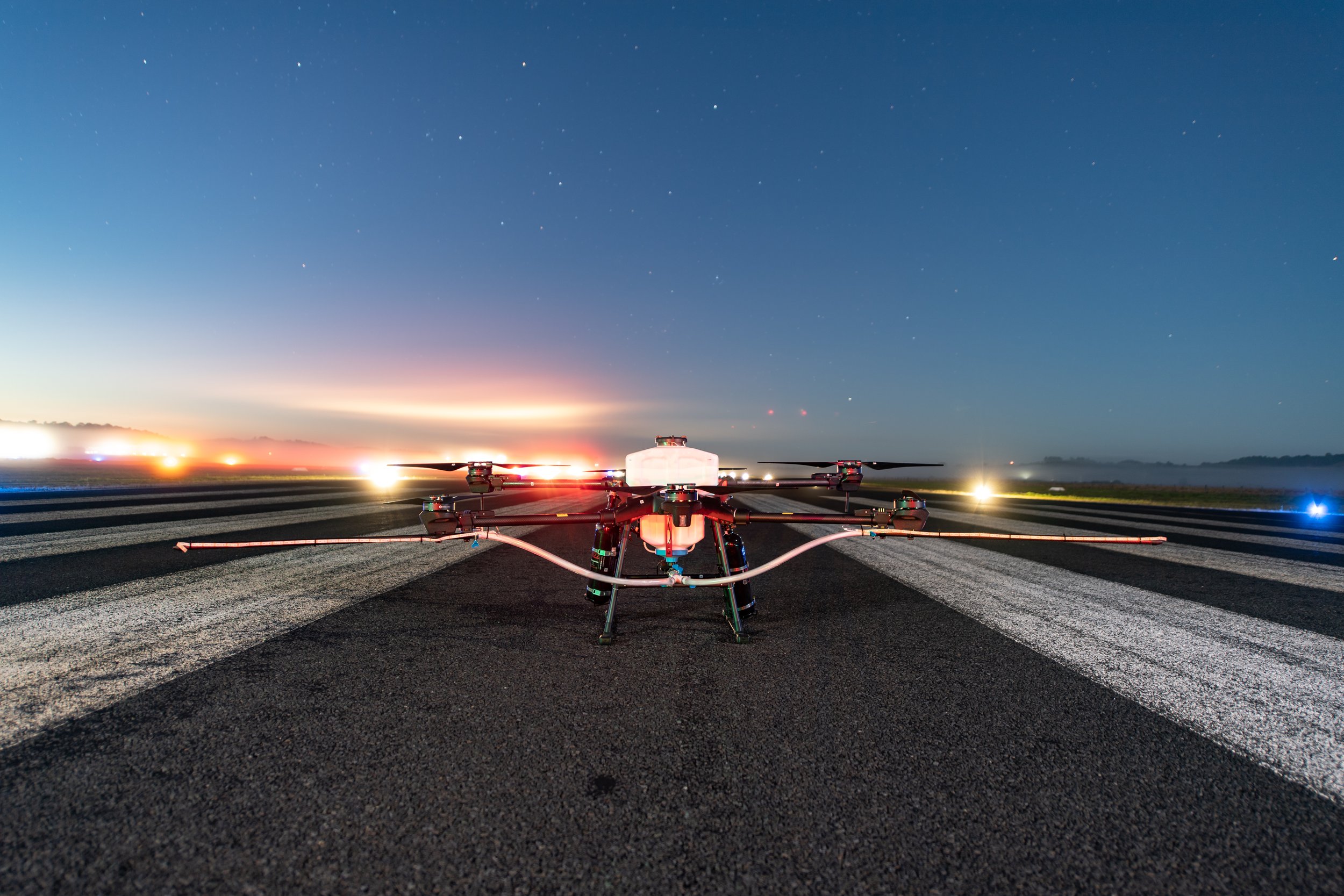 Human beings have taken to the sky, we pull the middle finger to nature and defy gravity. We are the undisputed kings of both land and sky. Except when it gets foggy, in which case we give up the ghost completely and airports get put to a standstill. 620 million passengers are inconvenienced by fog every year and 14% of aviation disasters are the result of poor visibility.
Pyper Vision aims to mitigate fog around aerodromes entirely with the help of crop dusting drones. Or in this instance, fog dusting. The drones can be deployed at a moments notice and does a circuit around the airfield. After a 10 minute buzz around the absorbent, it absorbs moisture and brings it to ground. I'd tell you what they use if that information was floating around, but that information is played close to the chest. The absorbent meets international standards for drinking water though and is biodegradable. It also doesn't have the issues other similar products have, that cause buildup on runways and cause slippage. Just in case though, Pyper Vision keeps an eye on soil and water quality around the airports it's currently working with. The unique part of the absorbent is that it continues to work its magic after it hits the ground, retaining moisture and stopping the fog from reforming. Flights can resume about half an hour after this process and the treatment can keep the field clear for over two hours.
Pyper Vision was started five years ago by a team of aviators headed by founder and CEO, Emily Blythe based in Christchurch. Blythe saw a clear need in the aerospace industry after her mum, an air traffic controller, was unable to do her job all day due to fog conditions. Their solution was impressive enough to acquire government backing. They've already completed over 200 fog dispersal tests, and personally I think this is a more exciting application for remote drones than say, getting a coffee delivered to my door.
pypervision.com
Seachange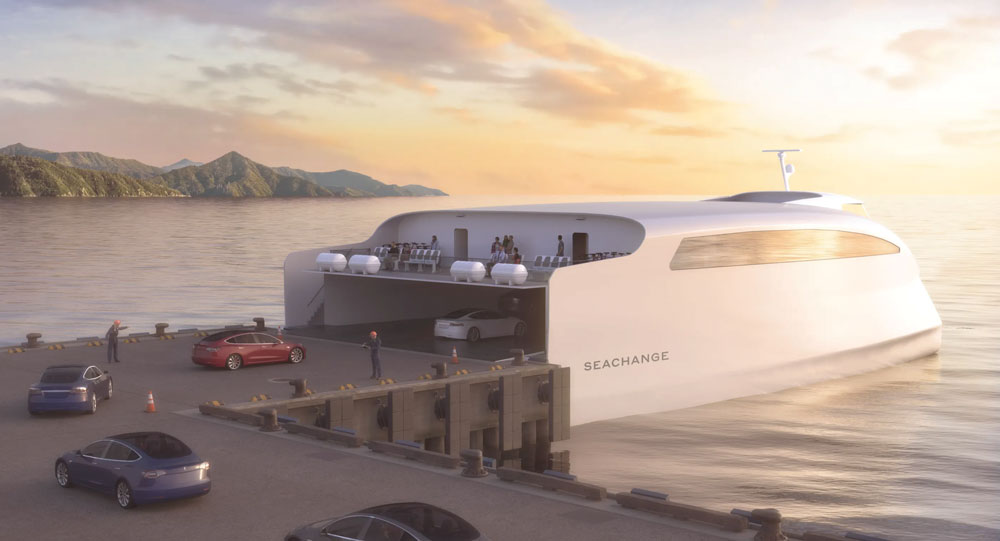 Seachange has seen which way the wind is blowing in terms of the environment and skyrocketing fuel prices and has a solution for us all in the form of an Electric Hydrofoil. The concept has been dubbed the Seachange Foil 40 and is an all-electric solution with a cruise speed of 45 knots. It has a hydrodynamic hull made of carbon fibre and a design life of over 30 years, keeping maintenance costs down. It can load up to 84 vehicles and over 300 passengers, making it a perfect solution to go zipping over the Cook Strait. It suspends itself over the water with a foiling height of 5 metres, giving an incredibly smooth ride. Founder and chief executive Max Olson expects the ride to be so comfortable that the ratio of seasick passengers will drop from 10% down to just 1%.
That's all the plan at least. They've signed a letter of intent with Virtu Ferries to have operations starting up between Valletta, Malta and Pozzallo, Sicily, and Valletta and Gozo. Delivery is expected by 2025.
In the meantime, the Auckland based company has made a successful prototype and is taking the next steps to make a six car, 30 passenger version next. The smaller 24 metre boat will have a 110km range and is expected to launch in 2023. It's like a ferry if it were designed to hang out with the America's Cup crew. Indeed that isn't even far from the truth. The team working on it are all at the top of their game, coming from Team New Zealand, Sail GP, and Oracle Racing. It will cut the travel time of crossing the Cook Strait down to under 2 hours, compared to the almost 5 hours it currently takes.
The company has private venture and angel investor backing coming from Icehouse Ventures, K1W1 and Blackbird Ventures. It looks like these investments are going to pay off big time.
goseachange.com
Astrix Astronautics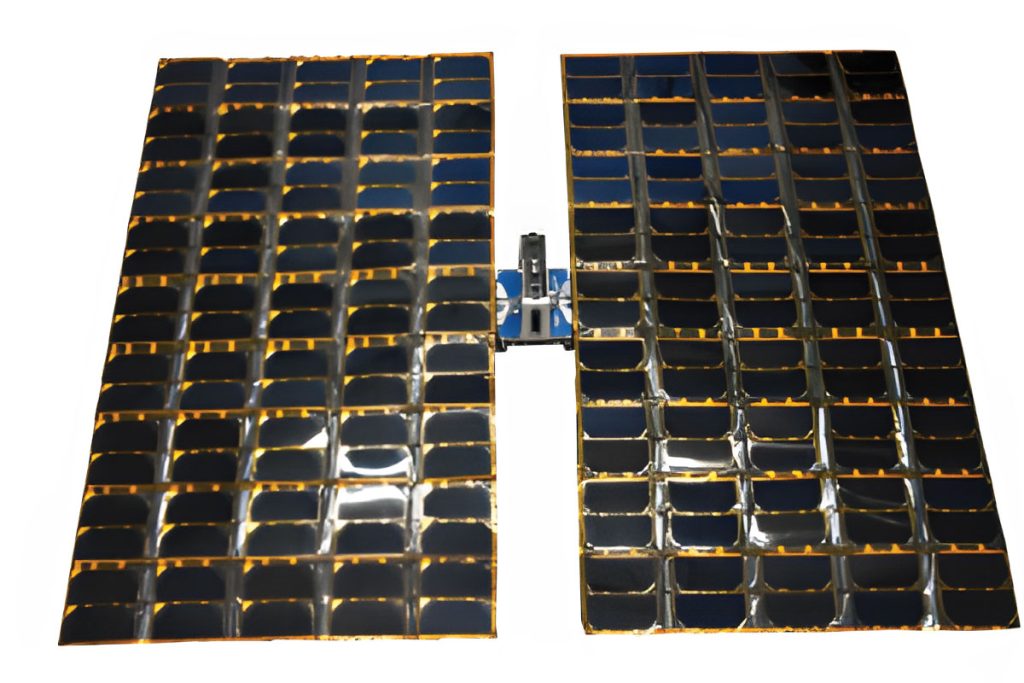 Taken under the wing of Rocket Lab's Peter Beck, Astrix Astronautics was born out of an Auckland University project by 21 Year old Fia Jones and her co-founders, Will Hunter and Max Daniels.
The problem they're tackling is that all the satellites going up into space are power hungry little buggers and current solutions are bulky and unwieldy. Their inflatable solar array technology deploys once in space, unfolding as it does so. This system combines power storage and generation into one structure. This brings inflatable tech to smaller spacecraft, that have so far been underserved by energy solutions.
The team have already sent a working proof of concept into space aboard Rocket Lab's May 2nd Electron launch, deploying a 10 square foot solar array that captures up to 200 watts of power. They had already raised half a million for the project, but now that they've proven their concept works, they're aiming to close a $5 million seed round to help scale the business and dominate the market servicing smaller satellites.
astrix.co.nz
Sensori
You know those Google Streetview walk arounds you can do? Imagine if you could decouple your view from the stationary positions that the photos were taken in, and being able to zoom around the street properly in 3D. That's exactly what Sensori is able to do. Co-founded by Roddy O'Hara and Brett Skinner, the pair have an impressive track record between them. O'Hara has worked on things like holograms and maps of Mars, and both worked extensively at Weta Digital, where they met. The tech they developed is being aimed primarily at construction sites. A simple walk around with a video camera with a fish-eye is all that's needed. The video is then uploaded to their cloud system and a 3D traversable scene is spat out the other side, viewable as web links by all relevant parties. It makes multiple site visits redundant and can even be used for remote consenting from City Councils, a real boon during the Covid era. Building sites are really the tip of the iceberg for this tech, the applications go really deep, especially when you consider everyone trying to bandwagon digitising everything for gaming and the metaverse.
home.sensori.systems
Dotterel Technologies
Earlier this year Dotterel Technologies raised $3m to scale production of its sound capturing tech with support from RocketLab founder Peter Beck, Sir Stephen Tindall's K1W1, US-backed NZVC, and other private investors including Sean Simpson, the founder of carbon capture company Lanzatech and Dotterel's Chair.
The Auckland Penrose based team specialises in creating sound tech that can record clear audio that filters out ambient sound on the fly. This means that their high end Konos microphone, with an array of 80 digital microphones, can pick up clear audio but filter out crowds, the sounds of the drone carrying the mic, or heavy machinery.
"We are opening up a whole new world of capturing and communicating sound with the biggest breakthrough in decades," says Shaun. "Dotterel is transforming the way we listen and talk to machines and people. We can capture mission-critical audio clearly and from a safe distance, mounting Konos onto police cars, drones and other machinery, which can boost public safety and ultimately save lives."
They describe Dotterel as being the Amazon Alexa for industry. It's able to be installed in noisy factory environments to improve safety, workflow and communication. Outside of factory floors, it has obvious applications in the entertainment industry as well.
Icehouse Ventures CEO Robbie Paul says, "The strength of the Dotterel team, born from New Zealand's first 'deep tech' unicorn Lanzatech, combined with their vision to improve and save lives puts the company on track to be New Zealand's next major exporter of ground-breaking technology."
dotterel.com
VXT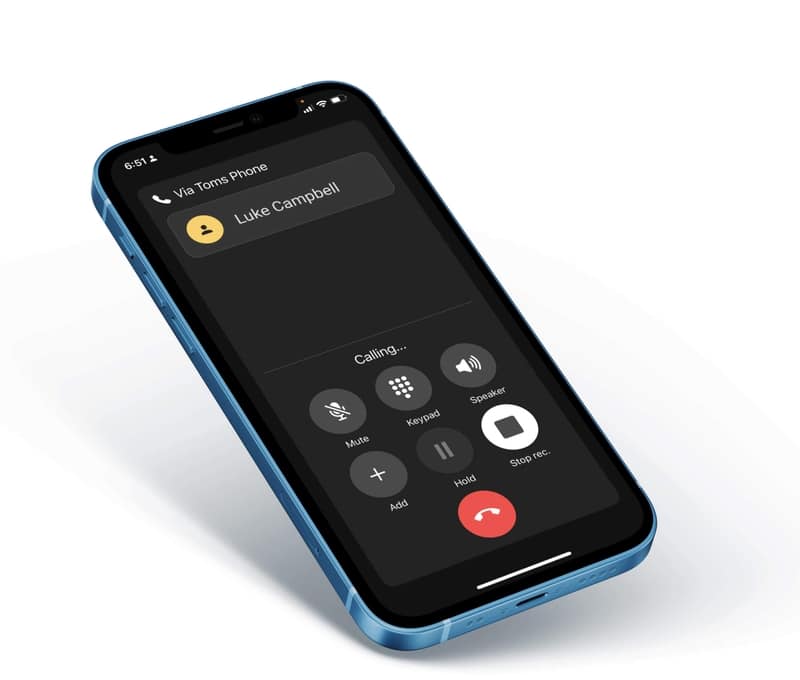 Alongside Astrix Astronautics, Vxt is yet another example of the next generation of entrepreneurs coming in hot onto the scene to shake things up. Vxt is a smart assistant voice call service that integrates with pre-existing B2B apps like Hubspot, Slack and Salesforce. It can automatically track, transcribe, and record calls as well as undertake a range of messy admin tasks that should have been left to the machines years ago. So it's able to pull out key data points in a conversation to auto-populate documents. The Christchurch based company was founded in 2018 by then 22-year-old UC students Luke Campbell and Lucy Turner with the backing of Google, a scholarship and a New Zealand Business Intelligence grant. The idea came to the pair after going through the cumbersome ordeal of listening back to some voicemail and having to write down the number, etc, etc. Initially it was going to be a consumer product, but it sinced pivoted to business after honing down exactly what pain points customers had, and what problems they were able to solve.
It also bridges the gap between millennials who'd rather receive a text, and all the old fashioned types who'd prefer to just call. If your business requires calling and receiving voicemail regularly then you should probably consider Vxt. It's gone through multiple funding rounds and currently has over 10,000 users both in New Zealand and around the world.
vxt.co.nz
Zenno Astronautics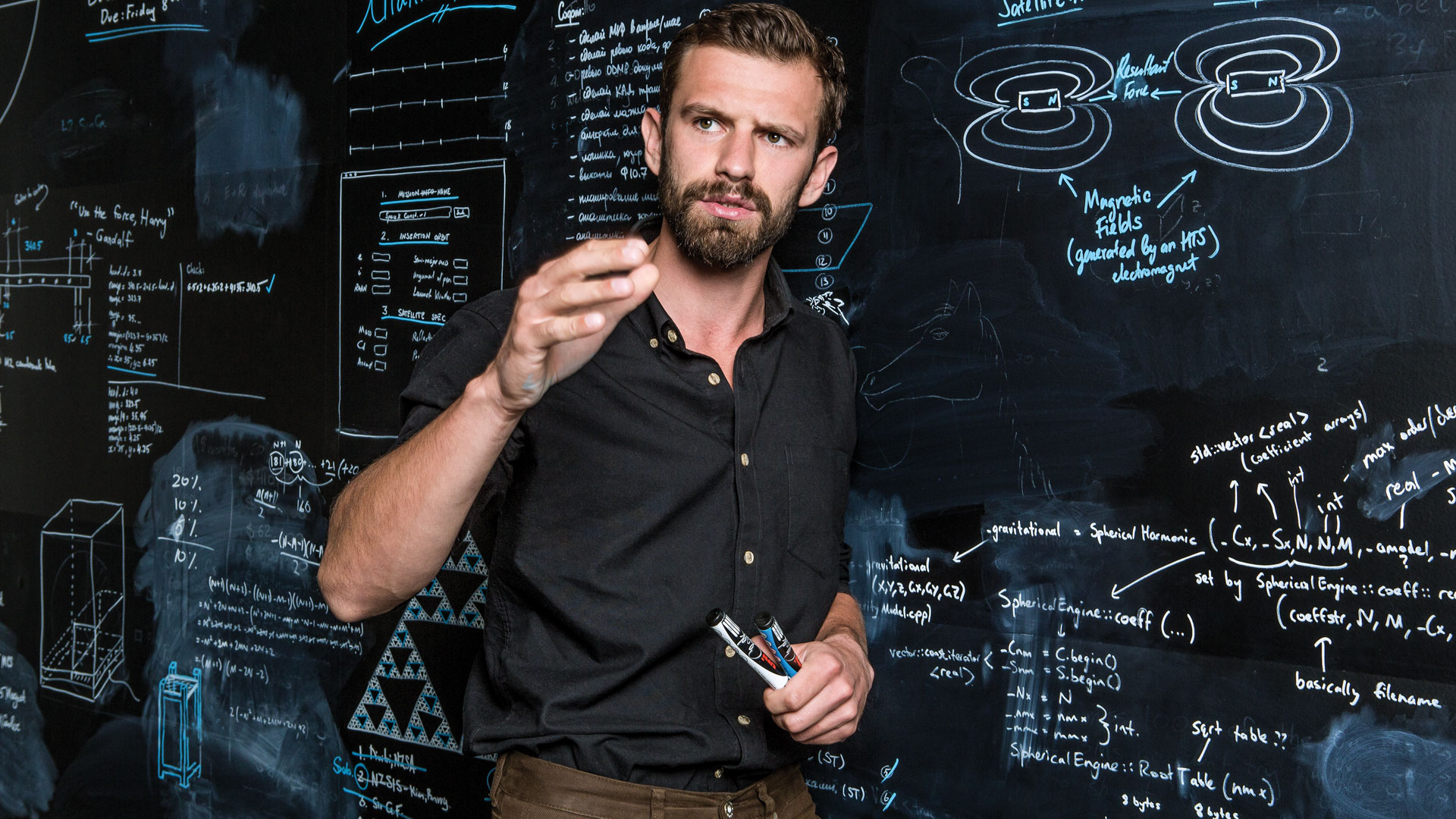 When you're paying by the gram to launch your own little satellite into space, it's best to make wise investments and design decisions before it ever leaves the ground. For instance, are you sending your satellite into space with just some off the shelf magnetorquer? Do you even know what a magnetorquer is, let alone a SUPERCONDUCTING magnetorquer? Well buddy, it's time you took things as seriously as Zenno Astronautics, who are in that exact business. Their Z01 Supertorquer is about to make satellites just that little bit more efficient. I'm going to let them explain this one since I refuse to pretend I knew anything about it before now.
"Z01 is a new approach to spacecraft attitude control which bypasses many of the limitations of traditional magnetic attitude control systems. Like a conventional magnetorquer, Z01™ interacts with the ambient magnetic field of the Earth to generate a torque on a spacecraft. Unlike anything that is currently available, Z01 uses high-temperature superconducting coils to eliminate Ohmic losses, allowing for extremely high currents and continuous operation at peak dipole moment."
Having the ability to keep your satellite in orbit is imperative from both an economic and ecological perspective. Using magnetic fields and solar energy in combination with each other efficiently could mean a satellite could stay up indefinitely.
Based in Auckland, founder Max Arshavsky believes there are other applications as well, such as being able to use multiple satellites magnetism to group and co-ordinate together for formation flight. Peter Beck also sits on his board of advisory. We have an extended interview with Max on our site, and we recommend you check it out if you're interested in hearing more about what deep tech we have brewing in NZ.
zenno.space
oVRcome
If you've ever used VR, then you already know the visceral reaction the format can weedle out of you. oVRcome weaponises this "sense of place" for a good cause and uses it as a safe form of exposure therapy, letting you experience moments that cause anxiety or panic in a safe and comfortable space via Virtual Reality Exposure Therapy (VRET).
oVRcome is a mobile health application that can help treat phobias and anxiety disorders. The conclusion of a clinical trial use of participants using the application found that self-guided use of the oVRcome app was effective at reducing severity of specific phobia symptoms in a sample of people with a self-reported fear of flying, heights, spiders, dogs or needles.
The application also meshes with therapist workflows, allowing them to set up sessions, watch the experience along with their client and follow the data on how the client is progressing, displaying concrete evidence of improvement. 16 VR simulations can hold your hand through experiences to blunt their impression on you.
oVRcome is based out of Christchurch and a premium subscription to the service means they'll send you your own headset which can turn your phone into a VR device by slotting it in the front of the headset. So you aren't getting a top of the line VR headset, but you are getting the most accessible option on the market. This is more important than you'd think considering that 80% of people with an anxiety disorder like a phobia or social anxiety receive no treatment at all.
ovrcome.io
Ambit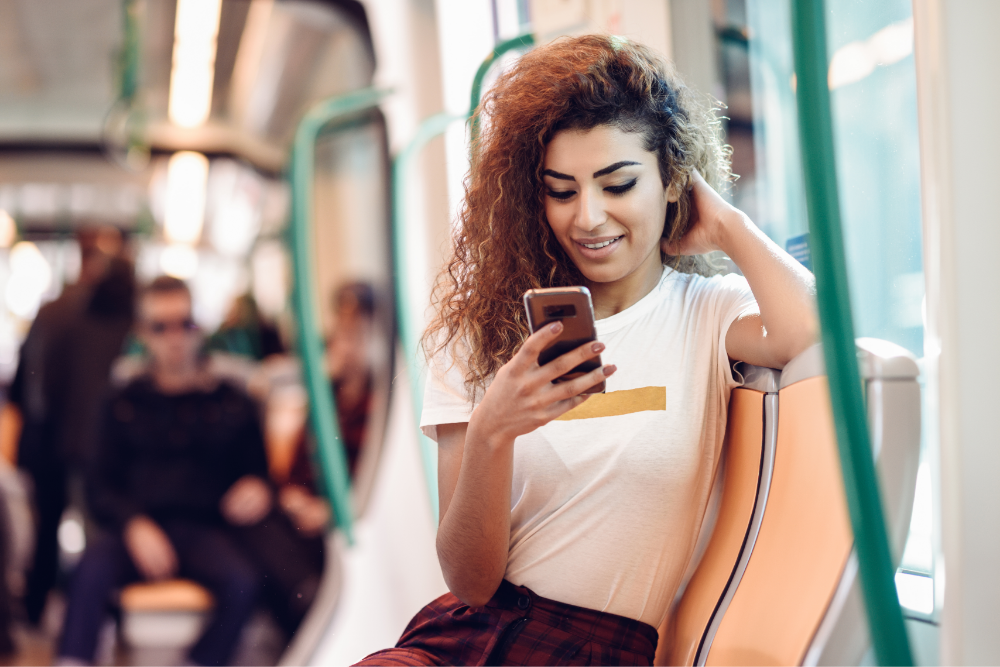 Ambit promises everything a business wants to hear; increased sales and conversions. I could probably leave it there and most businesses would be sold, but they also lower customer service volumes. All this is able to be achieved with the aid of machine learning AI chatbots that can completely automate the customer service journey. It can also cross-sell, recommend products, and speak in pretty much any language it's interacted in. You may have already interacted with their bots already, as they've been used by all the big players including Vodafone, Trademe Insurance, The Market and Vector. The tools they're playing with are pretty robust, and since it's using machine learning and natural language, they even got the AI to write them their job listings for new developers which they actually used. Honestly reading their press releases gives me the terrifying suspicion it's writing those for them as well. Ambit was founded in 2017 and was also a 2018 graduate of Vodafone's Xone accelerator programme.
ambit.ai
Easy Crypto
I'm eternally leery of mentioning crypto investing, but I'd be remiss if I didn't mention the local talent getting involved in the space. Easy Crypto bills itself as New Zealand's first fully guaranteed crypto platform, making it simple for newbies to turn fiat currency into any one of over 140 different tokens hosted by the platform. Unlike many of the highly publicised crypto disasters involving crypto platforms folding and taking their users funds with them, Easy Crypto doesn't hold onto its customer funds or their private keys, shielding their consumer base from any dodginess. The company was established in 2018 by brother and sister duo Alan and Janine Grainger. It has gone on to raise over $17 million in backing from investors while pulling in close to a billion dollars in total sales since it was started. Sales are up more than 1000 percent year on year in the past year, and Easy Crypto now counts more than 100,000 people. Employees at the company have jumped from just a small team of eight to now over 65. The company has also diversified into international markets and shows no signs of slowing down.
easycrypto.com/nz
Chnnl
What's the proper way to tackle the mental health crisis? With apps and spreadsheets and flowgraphs, of course. Chnnl was founded by Dr. Elizabeth Berryman after researching mental health at the University of Otago. She considers herself an "accidental entrepreneur" after her academic research in 2020 was applied to a commercial app. The app itself funnels anonymous employee data regarding workplace stress, sleep, and bullying right up to employers, giving them tangible metrics to tackle. Remote health apps are a relatively new field, but traction is being gained across the board in the space.
The app came at the perfect time for remote workers as we migrated out of offices and into our bubbles and it's become a veritable success story with employees at Chnnl jumping from 3 to 20 and revenue growing 30% month on month since it was founded two years ago. This growth has continued due to a pivot to the international scene where the idea of health and wellness tracking of employees is already a problem businesses are looking to solve.
chnnl.app
Arcanum
So far all the startups we've focused on have been B2B. Wellington-based Arcanum is not about to break that trend with their Artificial Intelligence & Machine Learning platform designed for Fintech startups. Essentially they offer an AI/ML platform that requires no coding knowledge to take advantage of AI capabilities. You can quickly generate datasets and upload to cloud databases. Arcanum has successfully created a platform that can wrangle large unwieldy amounts of documents and data with ease. It's so powerful it can automatically generate plain English versions of policies and legal jargon, because only a super intelligent AI can understand that garbage. For governmental businesses, it can generate draft responses to information requests and for FinTech, it can create audit summaries, among just a few of the things it's able to achieve.
It isn't just limited to plain text extraction either. It can also be used to pull data from video feeds as well as audio files. Potentially its AI can be used to process customer flow through shops or analyse call centre recordings.
In the past, they've also collaborated with AI interface Soul Machines to bring the NZ Police a digital spokesman. They were also able to make a sensible solution to going through the 1500 page pdf instruction manual new officers would have to consult. They used natural language processing and machine learning to process the documents and make a searchable database that's as easy to navigate as Google.
arcanum.ai