Fight Ageing Right
Keep your body in good nick by putting the right things into it to keep it well tuned.
NZ company SRW Laboratories are known for their state-of-the-art lineup of cellular nutrition supplements and their product, NMN, maintains this high standard of quality. NMN is a naturally occurring molecule that uses Nicotinamide adenine dinucleotide or NAD+ to produce fuel for important daily processes such as converting food to energy, and maintaining DNA and immune function.
NMN is found in miniscule quantities in food already, but not enough for you to get huge benefits from it. Taking this oral supplement will fight against an array of age related changes that usually occur as the body naturally declines in NAD+ as you get older.
NMN can metabolise, build new cells, defend against free radicals, modulate our microbiome and send signals inside the cell.
SRW offers novel ultra-targeted solutions on the nutrition supplement front, getting us ahead of the curve when it comes to ageing.
Available from SRW.co
Kawakawa For Good
Science has finally caught up to the local knowledge of Māori medicine after a study from Waipapa Taumata Rau, University of Auckland, in partnership with hapū-owned Wakatū Incorporation from Te Tauihu at the north of Te Wai Pounamu, found more than 60 biologically active compounds in kawakawa leaves.
"Our findings show that kawakawa contains a great diversity and abundance of pharmacologically active metabolites," says Liggins Institute research fellow Dr. Chris Pook.
In rongoā Māori, kawakawa is used in many ways, including as a topical balm to soothe eczema, boils, bites, stings and grazes, as well as to relieve toothache, gastrointestinal and genitourinary problems.
Kawakawa is actually a relative of the larger family of black pepper (Piper nigrum) which has featured in many traditional medicinal practices around the world. The study found Kawakawa to have potent anti-inflammatory effects on the cardiovascular system. It also has Dopamine in it, although good luck shovelling that into your brain. It won't pass through the blood-brain barrier, so no happy juice for you. But kawakawa tea has traditionally helped sooth upset stomachs due and other gastrointestinal complaints due to this compound.
Commercial applications are already being looked at due to these findings. With AuOra, a subsidiary of Taketake a Tāne, the Indigenous Organisms Programme, teaming up with the Chia Sisters to develop a kawakawa-based functional beverage.
Food to revive You
I'm not about to cut good old fashioned dead animals out of my diet any time soon, but having the odd meal that cuts out all the processed sugars and flours backed up by some delicious vegan cooking won't go amiss a few times a week.
Jeremy Dixon has just released his 8th Revive cookbook, crammed full of healthy vegan meals and (mostly) gluten free options.
The book is broken into six sections: Salads, hotpots & stir fries, main meals, sides & flavour boosters, breakfasts, and last but not least, plant powered desserts.
Dixon is the man behind Frooze Balls, as well as the Wyndham Street Revive Cafe which pivoted during Covid to selling healthy items online.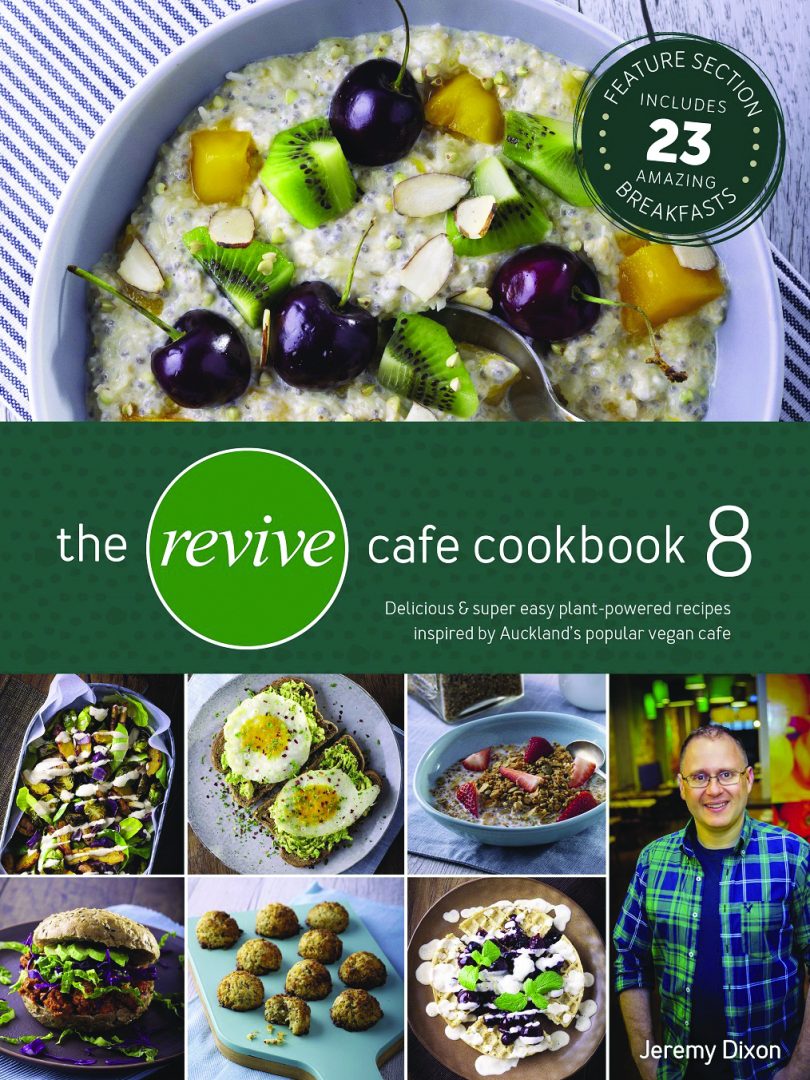 Published by Revive Concepts Limited
Released 16 February 2023, RRP $35.00