Harking all the way back to the rugged prehistoric Stone Age, as a way to prevent cavemen from catching the ol' bojangles on bushes or pesky branches whilst off hunting wooly mammoths, the modest (and very practical) underwear has and will always be one of humankind's earliest and greatest inventions.
Like most pioneering miracles, the undergarment has certainly changed its shape and style over the last few millennia. From the much-loved loincloth flapping about in the breeze, more like a nose hair after a sneeze, to the revolutionary braies (a well-known fashion statement of Henry VIII's, FYI), to the modern briefs and boxer, humans have developed the beloved undies to ensure maximum comfort and usability. In a market saturated nowadays with chiselled jawlines and six-packed models, the image of what a boxer-wearer should look and feel like is oftentimes intimidating to many blokes.
Some designer brands that market 'confidence' as their tagline may only cater for the super-skinny, cutting away a large audience in the process. Shouldn't it be a rule that all men (no matter their age or size) should be able to feel fully represented and confident in something as personal as undies?
Enter MINT. Auckland-based men's underwear brand, MINT, are on a mission to shake up the industry and empower men to feel confident in their skin, no matter who they are or where they're from. Seeing a supermassive gap in mainstream fashion retailers for inclusive and sustainable underwear for men, the founders (Bayon Kim, Jerome Kaino and Rocky Lokeni) set to work at tackling the issues that are seen in the industry. Using their personal experiences to create a brand that relates to every story and size. They've even teamed up with Movember to get behind men's mental health.
M2 got to have a chat with one of the MINT founders, Bayon Kim, and talk business, MINT's subtle homages to their roots, freedom, diversity and inclusiveness.
How did MINT begin?
We're three friends from Papakura – myself, Rocky Lokeni and Jerome Kaino. One of us is obviously more well-known than the others! For those who don't know what Papakura is like, it's a melting-pot of diversity. There are people of all different cultures, religions and lifestyles. It was a very eclectic suburb. After school, Rocky went into sales and logistics, Jerome's obviously a household name in sport, and I went into event marketing. We always remained close, no matter what part of the world we were living in. And we always discussed that one day we would create a business together, we just didn't know what.
January of last year we conceptualised MINT. For us, men's underwear seemed to tick all the boxes – we could make it a truly inclusive brand that represented all men, we could make it sustainable and we could design a product that combined form and function. It wasn't until the world went into lockdown, and our day-to-day jobs were affected, that we took it seriously. We had a glass half-full mentality, like now we've got time to work on MINT!
The lockdowns in Melbourne were constant. We kept going in and out, in and out. So in September, my wife and I made a snap-decision to come back home with the kids so we could launch MINT, and six weeks later, we were in managed isolation, on late-night Zoom calls with the boys, ordering samples and trying to map out what the next 12 months would look like. We launched soon after, March 29. Yes, it was ambitious because we had no idea how this would pan-out in New Zealand, and we were prepared for things to go slow. But we did it, and we were blown away by the response.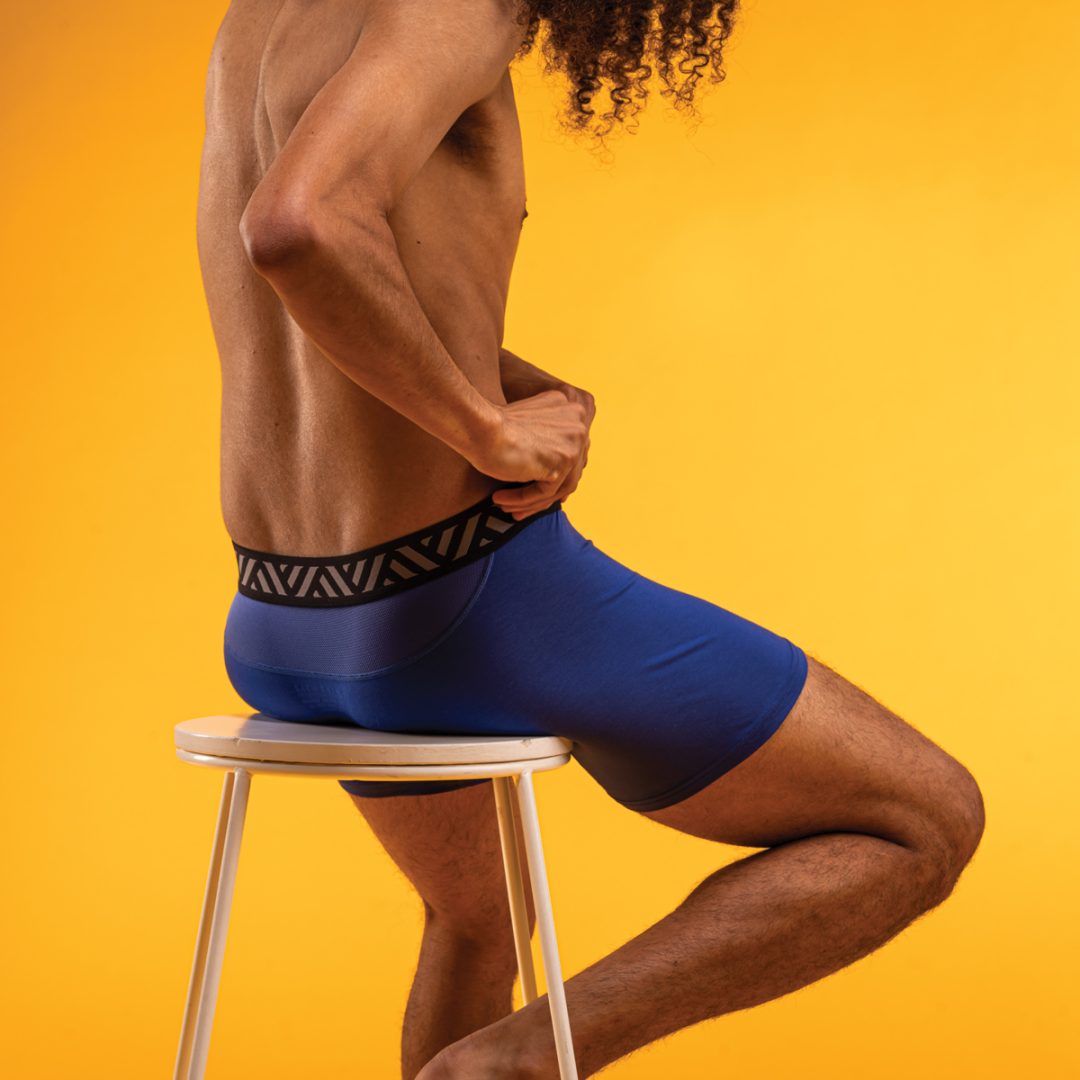 And business is booming, I understand…
We've had an incredible rise in growth since then in the States, Canada, France, the UK and Australia. We've actually just opened up to Singapore and Japan too. Currently, the US is our largest market. We're looking to capitalise on that by working with someone over there to help us better understand that landscape and to cement our brand in the land of stars and stripes.
We're also setting up in France, ready for expansion into Europe, and we have sales agents onboard now in Germany. It's a really exciting time and incredibly humbling to see this all unfold in a few short months.
When you first came up with the idea, how did you tackle the research aspect?
The pandemic gave us a golden opportunity. With nothing to do, we were able to research, test and develop the fabric, fit and style. That was a blessing since we were able to move quicker with getting the product to market. So every day I'd wake up and work out. I was running, cycling, squatting – I was doing burpees in these things and writing notes about where the sweat patches were. This is what gave us the idea for the mesh cool zones and anti-chafe strips. The boys did the same, trailling different fabrics, compositions, leg length, waistbands and colours.
We realised two things. One, it had to work for all men and fit right for all body types – the elite athlete, the bloke on a building site, someone on stage, a farmer on his feet all day, a health care worker. And two, it had to combine function and form. It had to not only look good, but actually be a solution – so comfy that it felt as though you were wearing nothing at all, but supportive enough to hold everything in place, while being sustainable too.

Most of us have had issues with our underwear. I remember back when I was managing events, there were some days where I worked non-stop for 23 to 24 hours. At about the 12 hour mark, I would start to get pain downstairs. The worst chafing, I'd be walking around like a cowboy! And the same went for Rocky and Jerome. We had very different jobs, but we all had that in common. Our underwear at the time would ride up, make you itchy, give you chafing, trap sweat and the waistbands would pull and roll. It was really uncomfortable. After one long day on my feet at this event, I went to a pharmacy to buy some Vaseline. On one of those little kiosk display units there was bamboo underwear. And from that moment, bamboo became part of my regulars.
When we came up with MINT, we knew straight away the fabric would be bamboo. We tried a bunch of others to be certain and tested them all, not just for the way they felt but for their durability and sustainability. Organically grown bamboo was always the winner. It regulates your body temperature so you stay cool in summer and warm in winter. It's buttery soft; far superior to pure cotton underwear. It's breathable and pulls moisture from the skin. The list goes on.
And then you have the sustainability factor. Bamboo is the world's fastest growing plant, so it can be harvested again and again without harming the environment. It needs just rainwater to grow and it improves the quality of the air we breathe. It's amazing that this tough, resilient plant has so many wonderful properties when it comes to underwear. Once we had the fabric sorted, the rest came a lot easier.
How about coming up with the name?
The first few names we threw around were horrendous, but so good to keep and look back on. We were going back and forth, and I remember thinking about how we wanted to be a refreshing presence in the men's underwear industry. And then I thought of mint, and the freshness of that herb, and how strong those four letters were, and how well that word can be used for the campaigns we had thought of. So I put it out there and everything just flowed.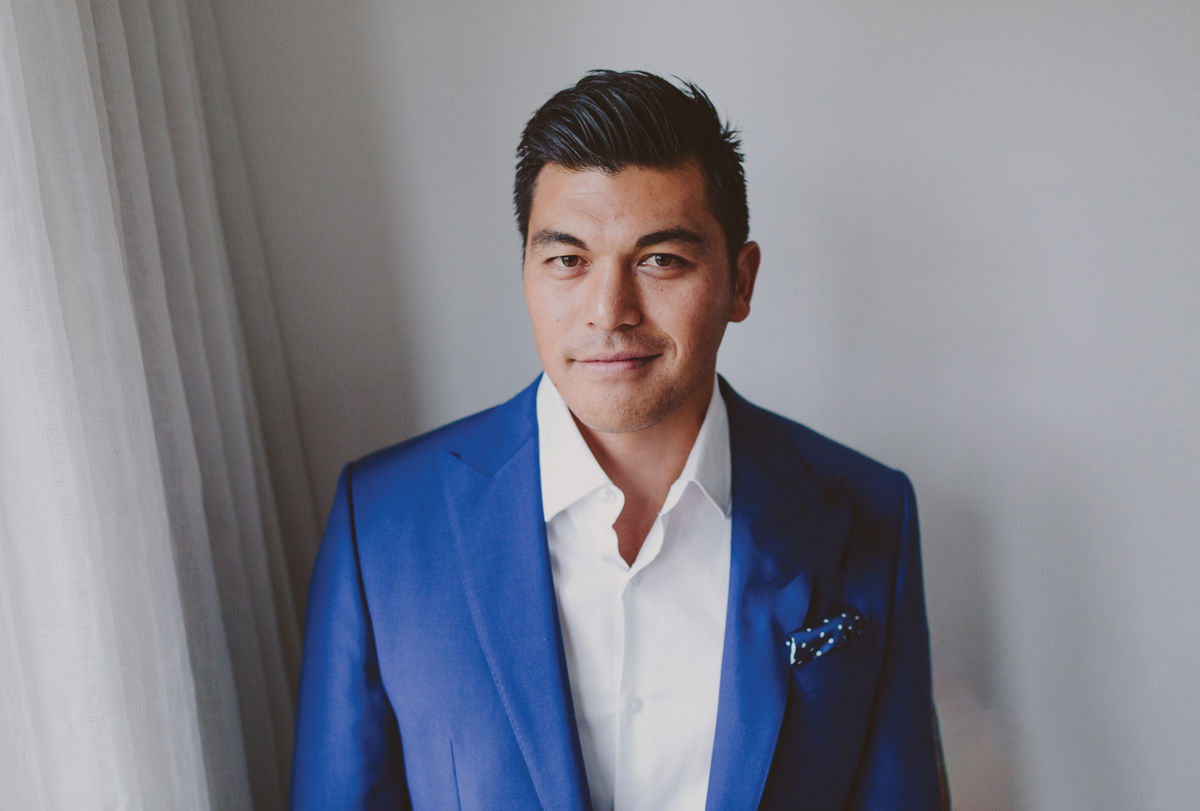 How important was the packaging to MINT?
We wanted the packaging to be an experience. To take customers on a journey from the moment they held it in the palm of their hand. So we came up with the tubes. Curved, just like the human body. And when they open the lid, there's a subtle scent of mint, and then they see the beautifully rolled underwear and can feel the soft fabric and see the expert craftsmanship. We touch on every single sense. The only thing we don't touch on is taste, yet!
I get a kick from flipping things on its head. I love it when people open the tube and say, 'this actually smells of mint!'. And then they throw it over their face and sniff their underwear. It's the funniest thing because in that moment they are lost in an experience, and they forget what they're doing – smelling undies.
Another imperative for us was that the tube had to be sustainable. Most of us recycle, and our tubes are recyclable and biodegradable, but we wanted to encourage our MINT men to upcycle and re-purpose the tubes. We have ideas online; you can turn it into an office pen holder, stash chocolates, use it as a jewellery holder, get crafty with your kids by turning them into binoculars or troll homes. I've made a money box out of mine.
Can you give a run-down of the different types of underwear on offer?
During the design process, everything always came back to our ethos: every man's a MINT man. It's not just words to us. It's something we truly believe in, which is why our sizes go from a 2XS to a 5XL. We also have two different fits. Boxer Briefs are longer in the leg and more suited to men with larger thighs, or those who lead an active lifestyle as the extra fabric helps prevent ride-up. I prefer them when working out. Trunks are shorter in the leg which makes them ideal for men with thinner thighs.
From there, you can choose between two waistbands. Our signature band has a pattern through it, which was inspired by traditional Pasifika tattoo as well as the rounded edges of mint leaves. It's thinner and sleeker and works well for active lifestyles. We've found a lot of our younger customers prefer the signature. Our classic band is minimalistic, thicker and much softer than the signature. Personally, I love the feel of the classic, it feels amazing on your skin.
As far as function goes, each element has been carefully thought-out: from the contoured pouch that gives you added support, to the anti-chafe strips on the inner thighs, and the mesh cool zones on the back and either side of the pouch. When I used to buy underwear, I found the tags really annoying. We knew straight away that to prevent friction, we would make it a tagless and seamless design.
Finally, the SKU numbers for the product are actually the telephone area codes of Papakura. Funny thing is, none of us had any phones growing up. But for us, it was a subtle way to pay homage to our roots.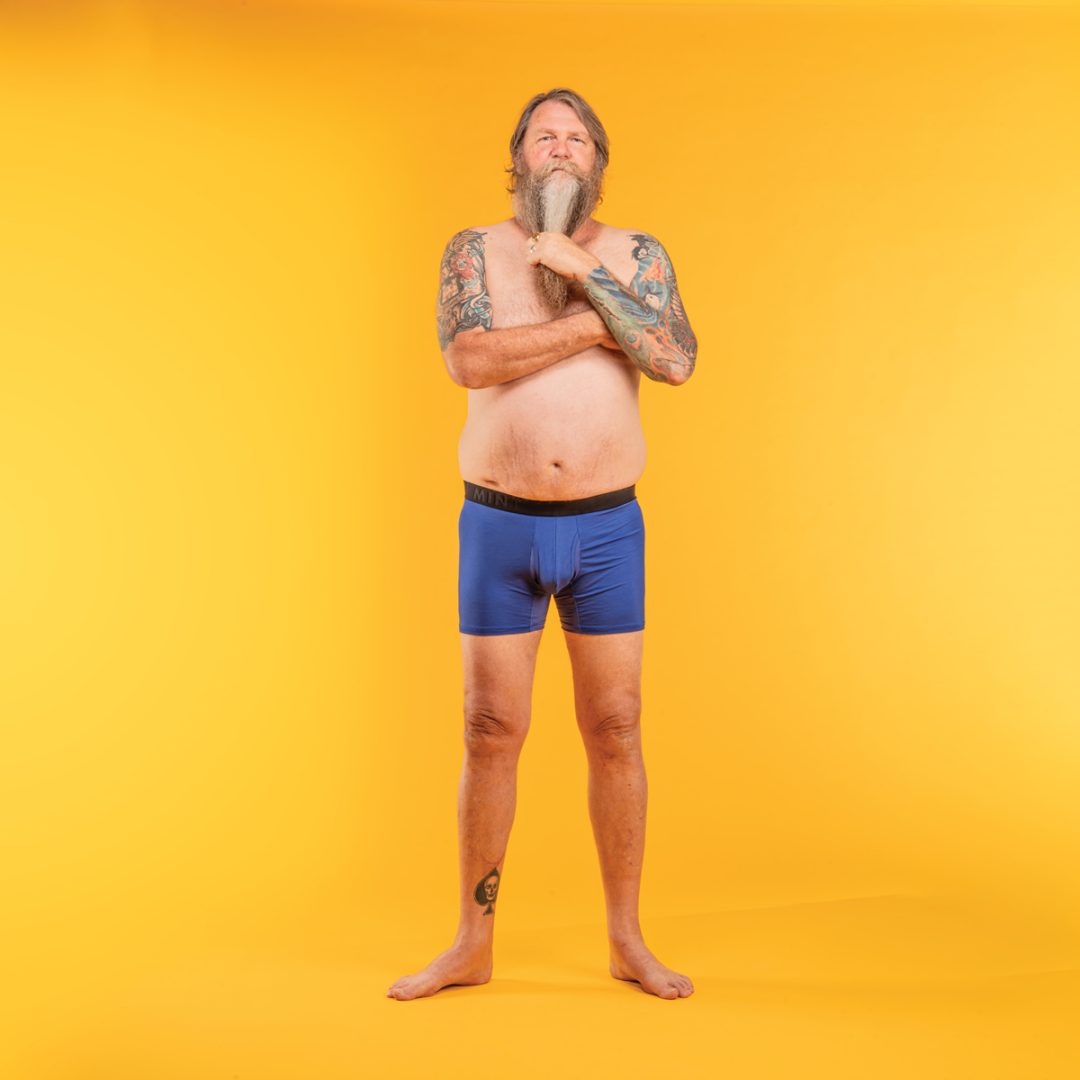 What campaigns have you run to get behind body confidence and men's mental health?
When we started, our main driver was to empower men to feel confident in their own skin. So it was paramount that we used men of all shapes, sizes, colours and ages in our advertising. We're really proud to represent our customers, and to carry a message of inclusiveness and diversity that's been sorely missing from the industry.
Our first photoshoot in February really brought it home for us and we realised just how powerful the men's body confidence movement is. None of us expected such an overwhelming response though. But the time is right. You look at the women's body positive movement that's happened over the past few decades and they've made real progress. It's been slow, but it's happening. Women are being told to embrace their bodies, as they should, and more and more brands are using women of all shapes and colours in their advertising.
It's not quite the same for men. Growing up, I never heard anyone in my family chat about body image. If you did, you were somehow vain or vulnerable. Less masculine. But that fear of speaking out has hindered real, meaningful conversations about self-esteem and body positivity for men. A few brands have taken up that mantle. But we still have a very long way to go.
I guess that's where the idea for our MoveMINT series came from. To carve out a safe space for men to talk about these things. Initially, it started off with body confidence stories via our social channels. Just real men talking about how their weight has impacted them. But then it sort of grew organically, and we started getting men asking to share their stories about other issues, like anxiety and depression, self-esteem and racism. We have a community of MINT Men, and their friends and family, who really get behind these stories in a positive and encouraging way.
From there, it made sense to create a campaign focusing on men's mental health. We launched MINT Mate just prior to November as a way to shed light on this very important topic and break the stigma that surrounds anxiety, depression and suicide, while raising funds for a worthy cause. We're proud sponsors of Movember, so $5 from every pair sold is going to their men's mental health services. We love what they're doing in that space and it aligns with MINT Mate – checking in on your mates, feeling supported to speak up and get help, normalising these conversations. There's research to suggest that some men choose to take their own life rather than appear 'weak' by asking for help. We all have a responsibility to come together and do something about it, and it's our hope that we can help create change and stop men dying too young.
What's been MINT's impact on customers?
The best feedback we get is that men feel confident when they put on their MINT. One guy, who had bladder cancer, sent us a beautiful story. He'd had surgery in delicate places and he struggled to find underwear soft enough on his scars that didn't create pressure sores. He was also in a wheelchair so would normally suffer from bad chafing. He bought a pair of MINT and aside from saying how comfy they were, he said it saved him pain and stress. That one always stands out to me, because it goes beyond underwear that fits right and breathes and is comfortable. It's adding value to someone's life. It's solving a problem and making them feel happy and confident.
It's also fantastic to see the whole family getting involved – usually a mum will buy some for her husband, and then her sons, and then her dad, and they're all now certified MINT Men, loving the product we created. And then there are customers in that elite sporting world who have switched out their performance skins for MINT. It's incredible. Very humbling. We love hearing people's stories and we're grateful to every single person for their support.
What's next for MINT?
We have a heap planned for MINT over the coming months, it's really exciting. We're in the early stages of a kids range, which will be a super fun, tactile and sensory experience for the mini's in our life. We're bringing out a new underwear colour shortly, with more in the pipeline for next year. We're planning a campaign toward the end of 2022 that celebrates the beauty of our indigenous culture, with colours to match that creative. We're researching new materials and developing ways to enhance our underwear for a performance range, which will benefit men who lead a really active lifestyle. And we have a women's line to follow.
What is your definition of success?
My definition of success in business is creating positive change in the world. For MINT, success is when every man feels empowered and confident in his own skin, and when the men's body confidence movement becomes mainstream. We are carving our own path here, making a dent in the underwear industry, building a community, breaking down stereotypes and making a real, meaningful impact. When you do something you love, and everything is flowing, you know you're in the right space.
Get your hands on a pair of MINT now.