Cartier, the prestigious French luxury jeweller, has opened its latest flagship store in Sydney, Australia. Located on the corner of King and George Streets, the 749-square-metre, two-story store features an impressive level of local customisation, with 80% of the materials sourced locally and the work of local artisans showcased throughout.
Located on Castlereagh Street in the central business district of the city, the store is easily accessible and surrounded by some of Sydney's most iconic landmarks. The store's grand façade, featuring a wave-etched, translucent gold mesh, and elegant interiors make it a standout destination for shoppers and tourists alike.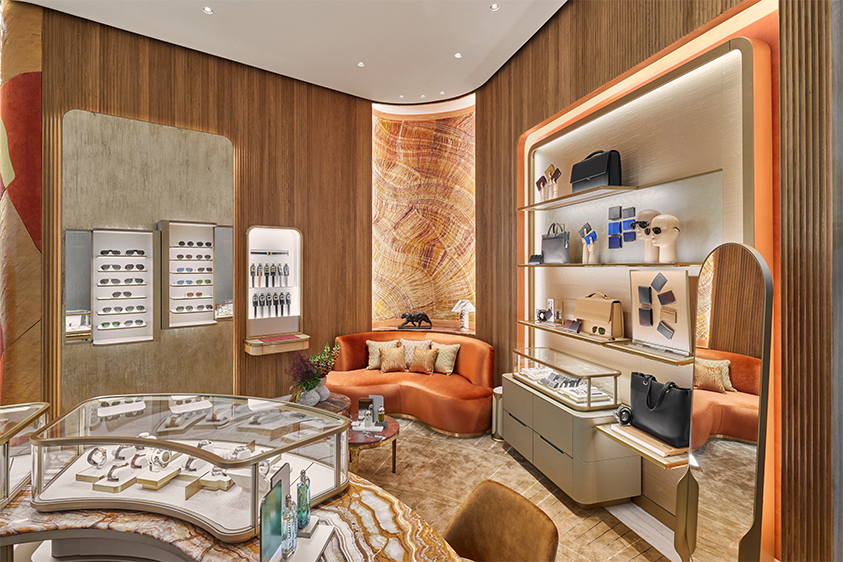 The store's interior design, led by Paris-based interior architecture firm Moinard Bétaille, references Sydney's harbour and Bondi Beach through its veined onyx flooring, which mimics the wavy patterns of Australian sandstone. The finishes throughout the store also draw inspiration from eucalyptus tree bark and the Sydney Opera House's chevron-tiled sails. The store's colour palette is inspired by the vivid colours of the Australian bush, desert, and tropical north, and features a number of references to Australia's landscape, flora, and fauna.
One of the standout features of the store's design is the work of Melbourne-based industrial designer Christopher Boots. Boots has created three stunning chandeliers for the store, including one suspended above the central spiral staircase that connects the two floors. The chandeliers are made from clear crystal quartz and sand-cast bronze sourced from local foundries, and are inspired by the shapes of coral and stalactite cave formations.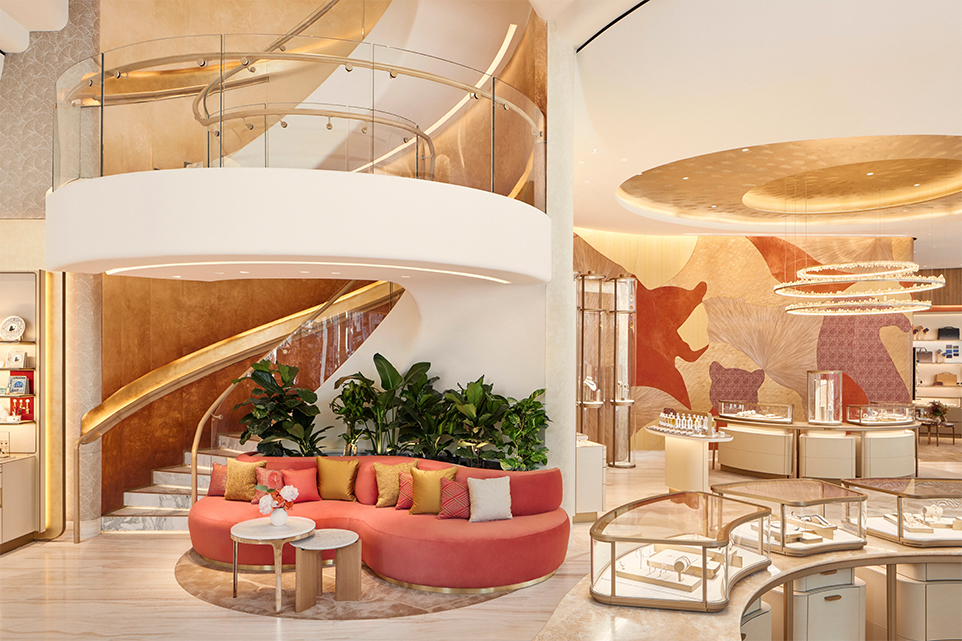 In addition to the chandeliers, the store also features custom furniture from Melbourne-based companies Barbera, Zuster, and Jardan, as well as rugs from Sydney-based Tsar Carpets and metalwork from Di Emme. The store also includes a section called the Creative Universe, which features a weaving from the Bula'bula Arts collective, based in Ramingining, East Arnhem Land. This marks the first collaboration between Moinard Bétaille and a First Nations community.
Overall, the design of Cartier's new flagship store in Sydney is a testament to the brand's dedication to creating truly unique and luxurious experiences for its customers. From the grand façade to the elegant interiors and the work of local artisans, the store is a showcase of the brand's commitment to craftsmanship and attention to detail.