'It's a mile or so up the road'; 'Get some miles into those shoes and they'll be fine'; 'Sorry, I was miles away just then!' We've all heard people say such things but what the heck is this 'mile' business they are babbling on about?
A mile is a classic measurement of distance that is equivalent to 1760 yards, 5280 feet or around 1.6km in today's Metric money. The Romans originally came up with it as the distance a traveller would cover in a thousand paces – from left foot to left foot landing. It's a measurement that is still used today in the UK and US and was even in everyday usage here in New Zealand right up until 1976 before we saw the light and switched to our current easily-divisible-by-10 system.
The Perfect Running Distance
The Mile has also long been regarded as the ultimate test of running ability as it is neither too short to be a sprint, nor too long to be a slog. That is why it is still run in many athletic meetings today despite never appearing at any metric-friendly Olympic Games or World Championships. The Mile's legendary status as a running distance was helped immeasurably by a seemingly impossible barrier of 4 minutes that no one throughout history appeared capable of smashing. Even scrambling up to the top of Mount Everest looked easier and was indeed achieved by Sir Edmund Hillary and Tensing Norgay before the 4 minute monster went down. Breaking this athletic barrier was such a big deal that on May 6 1954 the whole world almost came to a standstill when an English doctor named Roger Bannister achieved the impossible by training himself to collapse only after he'd burst through the finish line tape. The legacy of this momentous achievement lived on with the great 70s mile duels between our own John Walker and the Tanzanian Filbert Bayi plus the famous 80s British rivalry between Steve Ovett and Sebastian Coe. Even regular but non-competitive runners today still measure their ability by the Personal Record (or PR) time they can put up over 1760 yards.
The UA All Out Mile
Recognising the importance of the Mile to all of us runners, casual and competitive alike, sportswear specialists Under Armour have come up with a challenge for all runners to improve their fastest Mile time over a fixed period. As part of their dedication to helping athletes reach their peak, Under Armour want all runners to experience the same sense of achievement the great Milers felt as their PR times got shorter and shorter in response to a brief period of intensive training.
Under Armour chose the mile for their challenge as it still asks some pretty serious mental and physical questions, but without trashing the legs or body anywhere near as much as running longer races like the 5k, 10k or marathon can. Preparing for a mile run also means a drastically reduced commitment with less time and distance required for training which makes a daily schedule far more achievable than the requirements for longer endurance events.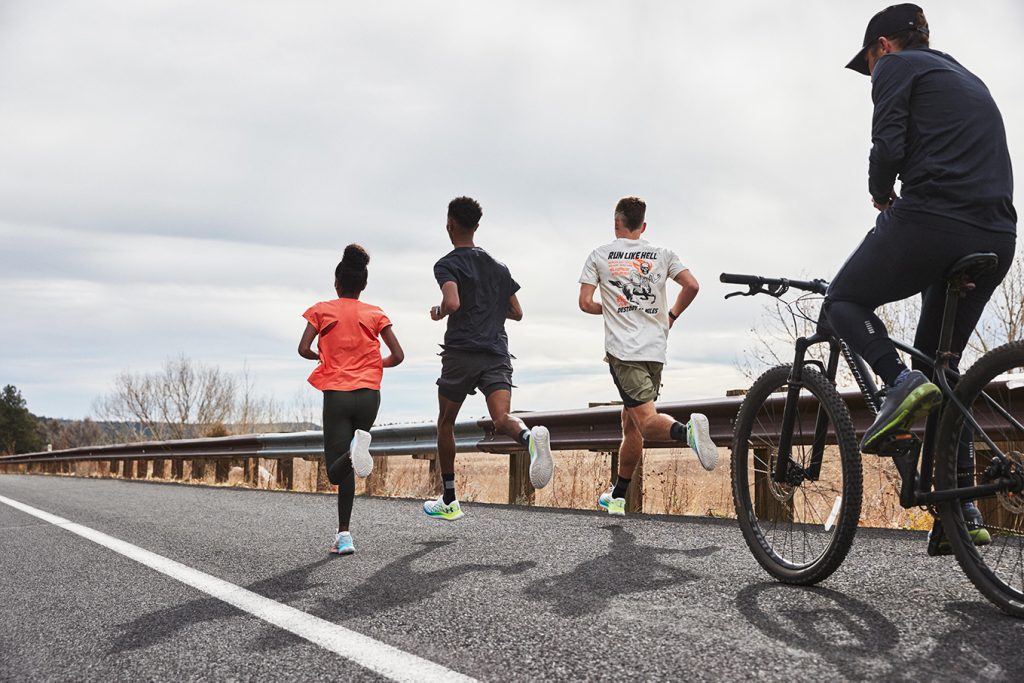 How It Works
The Under Armour All Out Mile is all about improving your benchmark mile time through regular training over the month of May then delivering those faster times during the first few days of June. To get involved, first you need to register for the challenge. Next, you'll need to input your benchmark time and start training every day from May 1 to May 31. You can track all of your runs by linking your UA MapMyRun™ account on FitRankings and, to help you get even faster, Under Armour have put up a collection of training plans and video tips by their professional athletes, coaches and Human Performance experts.
Then, come June 1 you can start trying to smash your PR all the way through to June 5. You can try more than once to beat your time and your best effort will be automatically pulled from UA MapMyRun™ and loaded onto the FitRankings leaderboard. Here you can see how your times and improvements stack up against runners from around the world including those from the South Asia/Pacific region. This includes Thailand, Indonesia, Australia, Taiwan, Singapore, Malaysia and the Philippines. And the fastest female and male milers here will pick up cash and product prizes courtesy of Under Armour.
Benefits Beyond Your Own
Running faster times means you're getting fitter, and getting fitter means you're also becoming healthier in both mind and body. But in taking up the UA All Out Mile challenge the benefits don't just stop at yourself. Under Armour know that not everyone can experience the same joy of achievement with up to 78% of low-income children facing an ever-growing list of barriers to success. So, in order to help increase access and opportunity for all young athletes they have committed to awarding the top team in the region in the "Most Milers" (participants) UA AOM competition with a monetary donation of US$10,000. This will go to a charity of the winning team's choice so long as it helps increase access and opportunity for all young athletes.
So, what are you waiting for? Get into the UA All Out Mile and go all out to beat your Personal Record! To make it even more fun, enlist your family members or workmates too and create a team that can help spread the benefits of running better miles out to everyone.
KEY DATES:
· April 22: Registration opens
· May 1 – May 31: Set your benchmark time and train
· June 1 – June 5: UA ALL OUT MILE Week