Christmas is upon us, so it turns our minds toward all the important task of letting people know we care about them. To help lubricate this process somewhat we have curated the ultimate style collection of gift ideas from Hugo Boss. We've provided contrasting options to cover all your bases for you with most of this guide, so it should be easy for you to find an option that's perfect for who you're gifting for, whether they're business formal or casual.
Accessories
Starting things off gently with accessories. These are perfect gifts for when you don't want to make any big calls about the style sensibilities of who you're gifting for, but also want to give something that will get a lot of use in any situation.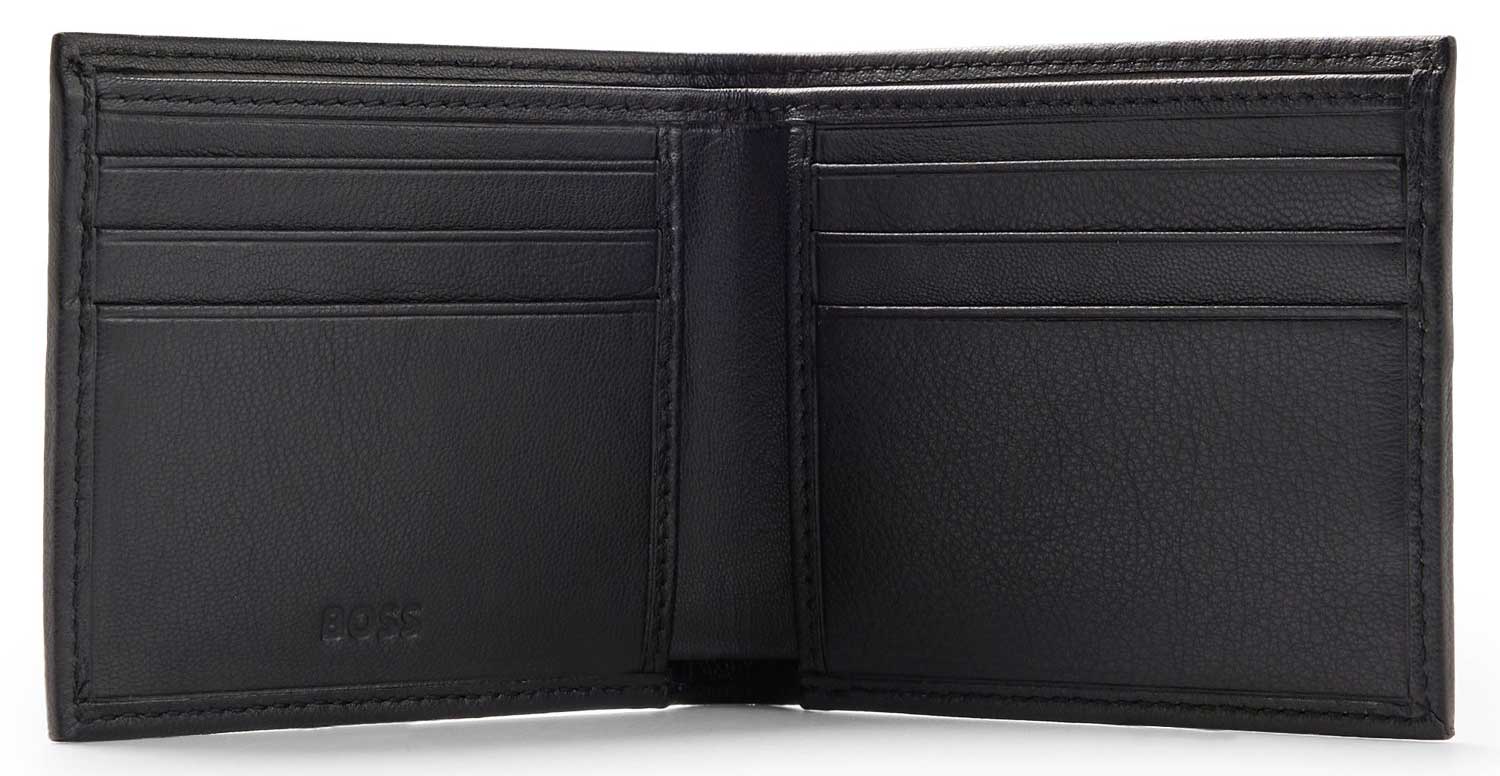 A classic wallet design with six credit card slots, two cash pouch and two inside open pockets. It's made of grained leather with a soft feel and matte finish. The one flourish is the embossed Boss logo. The perfect fresh new wallet for Christmas you know will get a ton of use.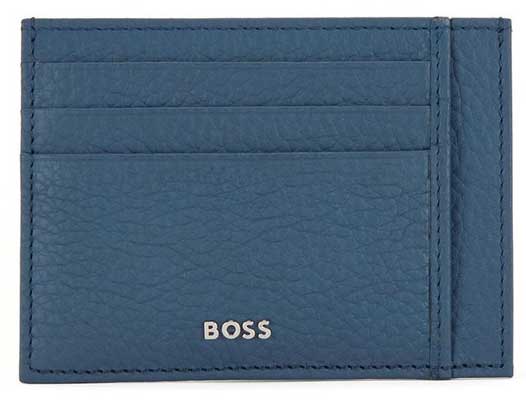 If the wallet above is too hefty for the modern man who likes to travel light, then this money clip is your go-to. Crafted in Italian leather with a natural grain and smooth feel, the logo comes with a polished silver effect.
Eyewear
Moving into the eyewear section, this is stepping things up a notch in terms of accessories. If you're familiar with the sensibilities of who you're gifting for, then these following sunglasses will be a hit.

We're coming full swing into summer so a new pair of sunglasses will enver go amiss. These Boss Sunglasses 1310/S are  lightweight and flexible pair coming in a contemporary stainless steel frame. Perfect for everyday fits this pair of sunglasses goes for minimalism above all else. Say more with less.

Or if the person you're shopping for is a little bit more into their statement pieces, this thick rimmed pair of 1375/S will work a treat. Flexible hinges and timeless geometry make this a great pair to wear. The green tinted lenses are set off by the black acetate frames containing adjustable metal core temples.
Bags
Of all the gift sections, this one is the riskiest. If you know who your gifting for, well then you should have no problems at all knowing what they'd like and use. Otherwise this section is not for the faint of gift-hearted. With that said, these picks should work for just about everyone, and they all look fantastic!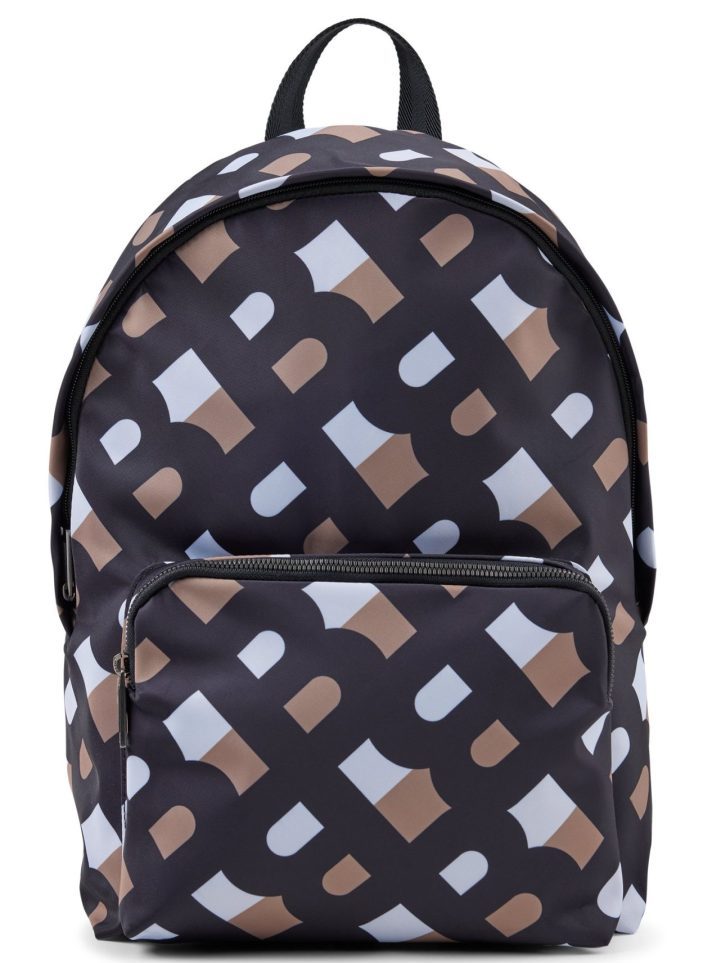 If you're shopping for something that really makes a statement, this backpack will do the trick with its high impact print featuring the Boss monogram. It has high utility and is made of as much recycled materials as possible.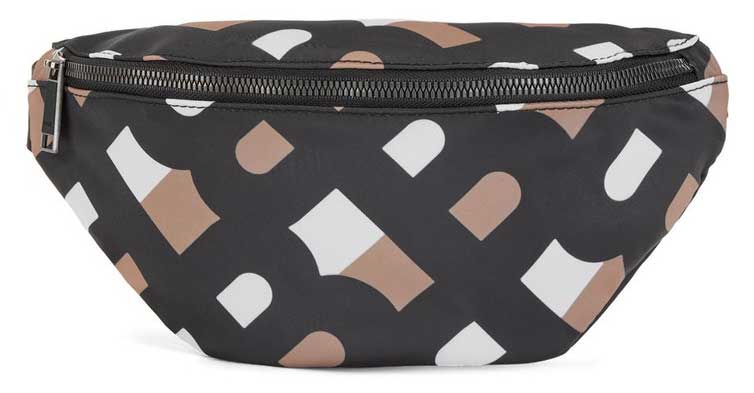 Once again, a high impact alternative for someone looking for a little less bulk, but as much utility as possible. As far as belt bags go, this one looks great, and feels great to tote. It has a contemporary design and comes with an adjustable strap for slinging across your body or around the waist.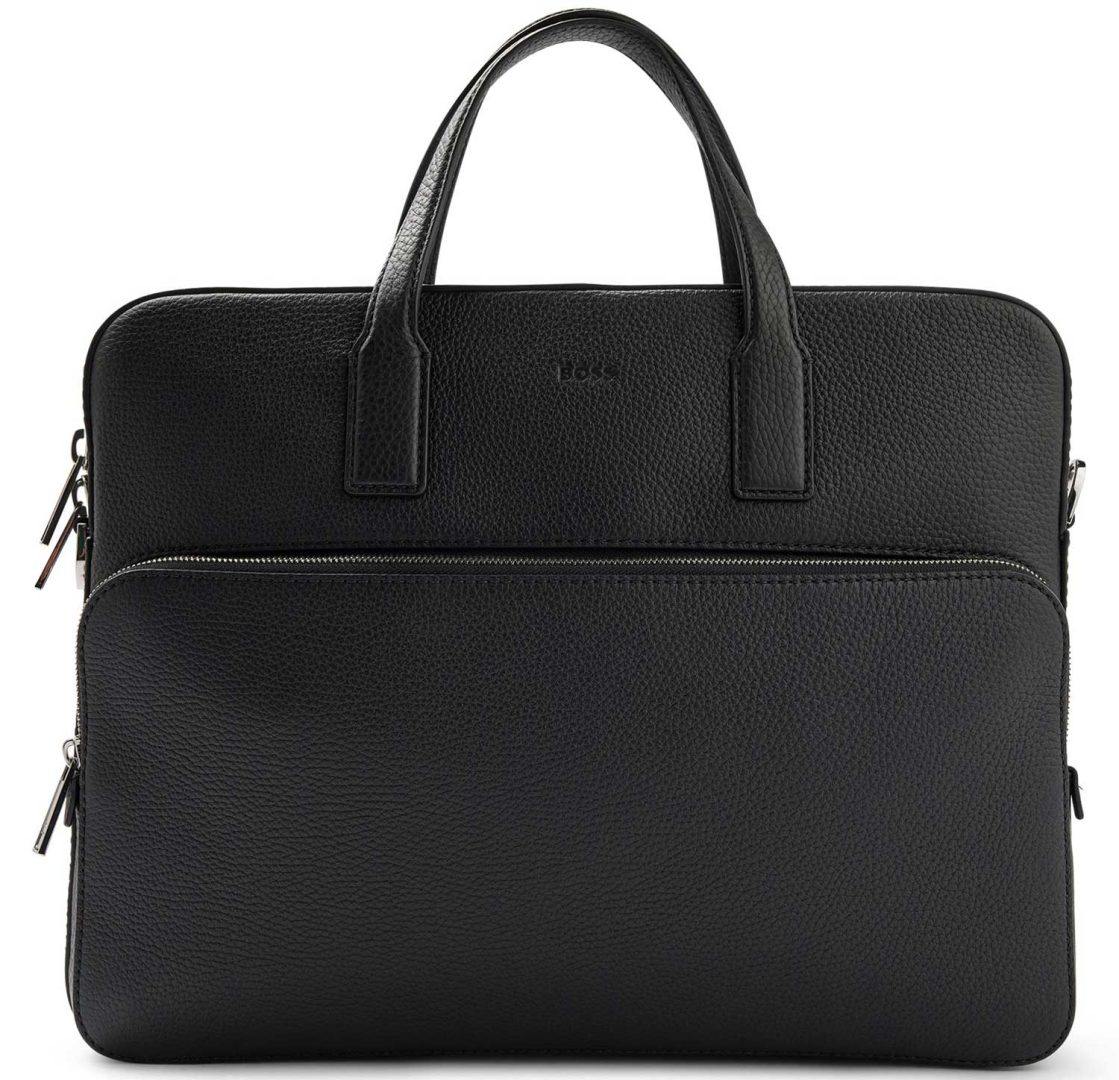 Perfect for a fashionable businessman on the go without going overboard on formality. Crafted in soft Italian leather with a smooth touch and natural grain, this document case has a two way zip closure as well as an internal zip pocket for keeping organised. Boss left a light touch on this piece, with a small embossed logo between the double handles.
Belt
Belts are always an appreciated gift. You can never have too many, and chances are a few of the ones belonging to the person you're shopping for might need to be replaced right about now.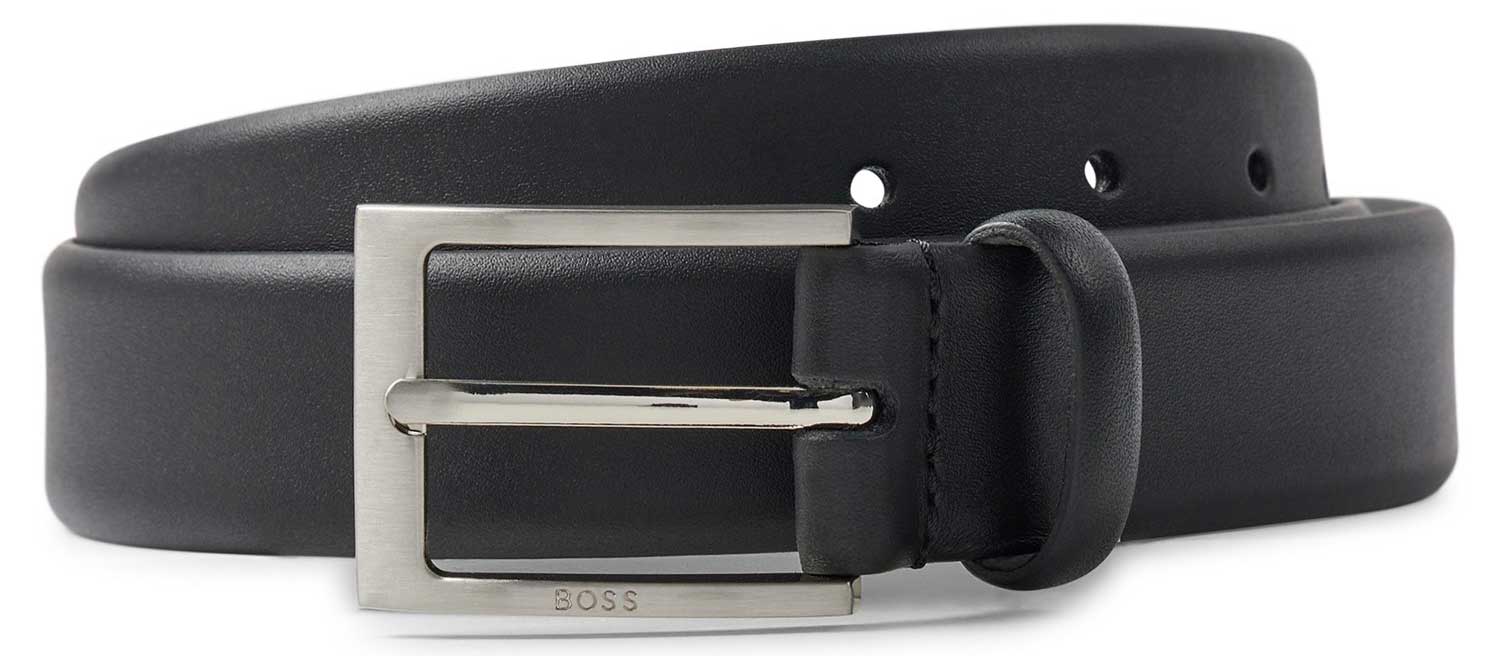 Available in sizes from 80 to 110, this is a contemporary belt design that goes well with essentially any ensemble. Perfect for professional attire. It's made of nappa leather which gives it a rich and smooth feel. The silver toned square buckle is emblazoned with the Boss logo on the lower bar as just a subtle nod.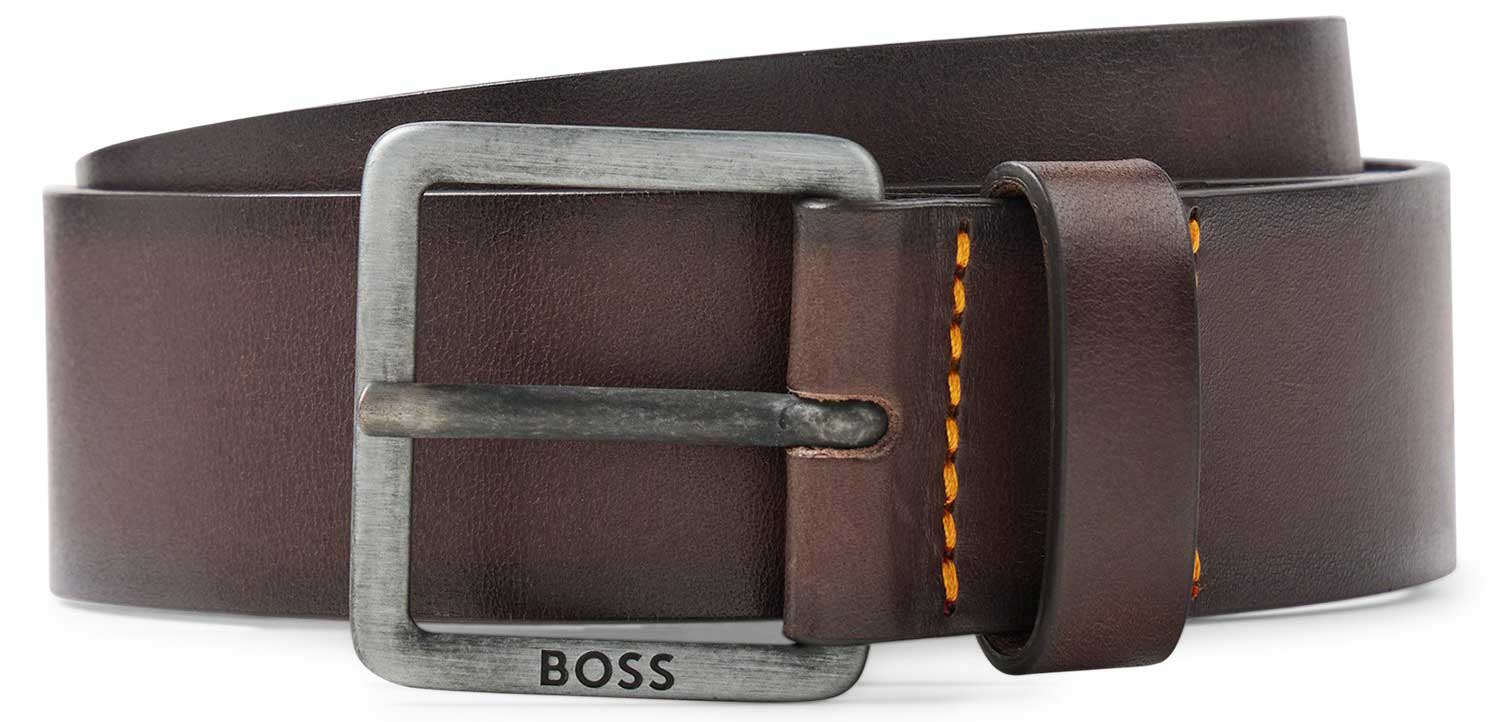 Meet the rugged brother to the Brondon above. The Jeeko is a more casual affair for the weekends made of rich leather. A chunkier buckle with a scuffed antique effect on the metal just letting you know to take it easy. Available in black and brown both come with an accent of orange stitching for a little added flair.
Cap
Hats are a fine option for anyone active in your life. You can never have too many of these so you know it'll get decent use by anyone who spends a decent amount of time outdoors.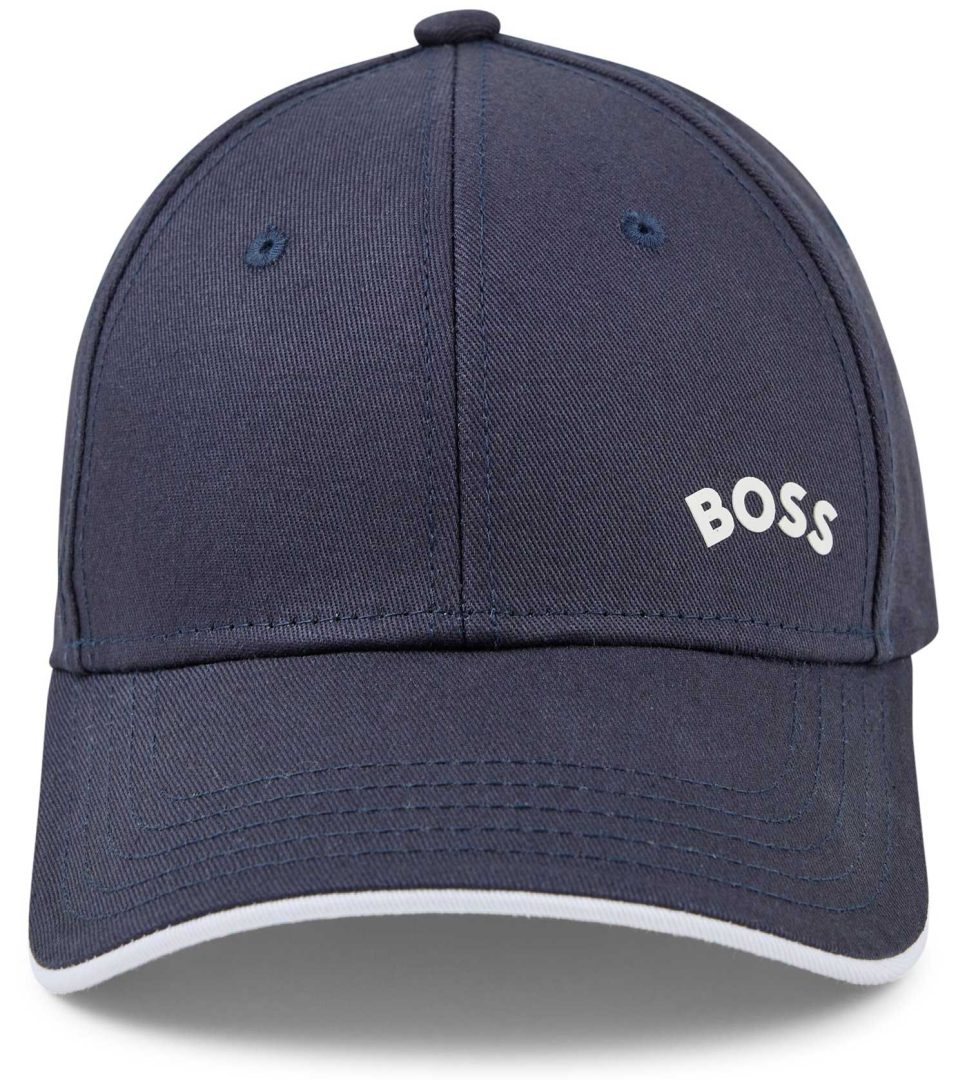 For someone a little more sporty in your life, consider the Boss Cap Curved. Comes in several colourways making it easy to choose the perfect cap for any ensemble. All come with a contrasting accent on the brim and logo. Of course, made in a breathable cotton twill making it perfect for everyday comfort.
Fragrance
Fragrances are a great catchall if you aren't sure of the exact style preferences of the person you're gifting to. Also the fact these come in gift boxes already makes wrapping and presenting even more of a breeze. This is a solid option for everyone.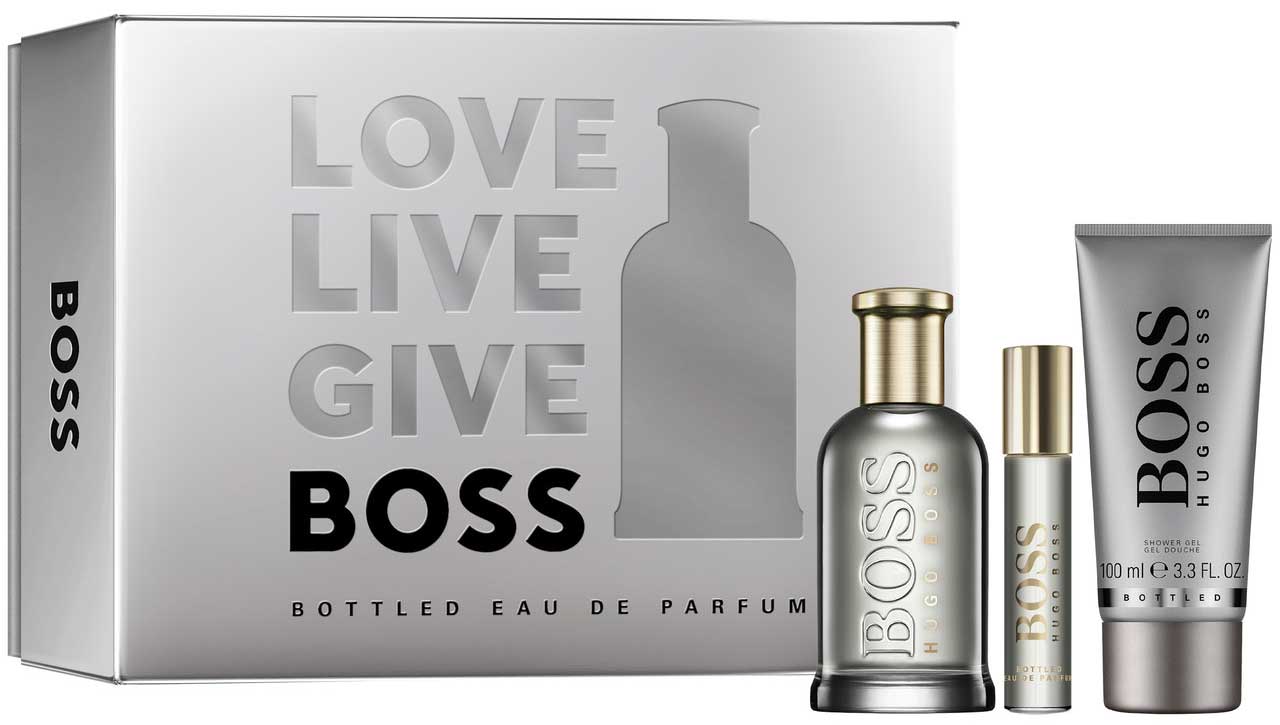 The gift that will give all year round, and already packaged in a tidy box and curated by Boss for maximum effect. The gift set includes BOSS Bottled Eau de Parfum Travel Spray, BOSS Bottled Shower Gel, as well as a standard 100ml of boss bottled EDP for daily use.
BOSS BOTTLED GREY 50ml GIFT SET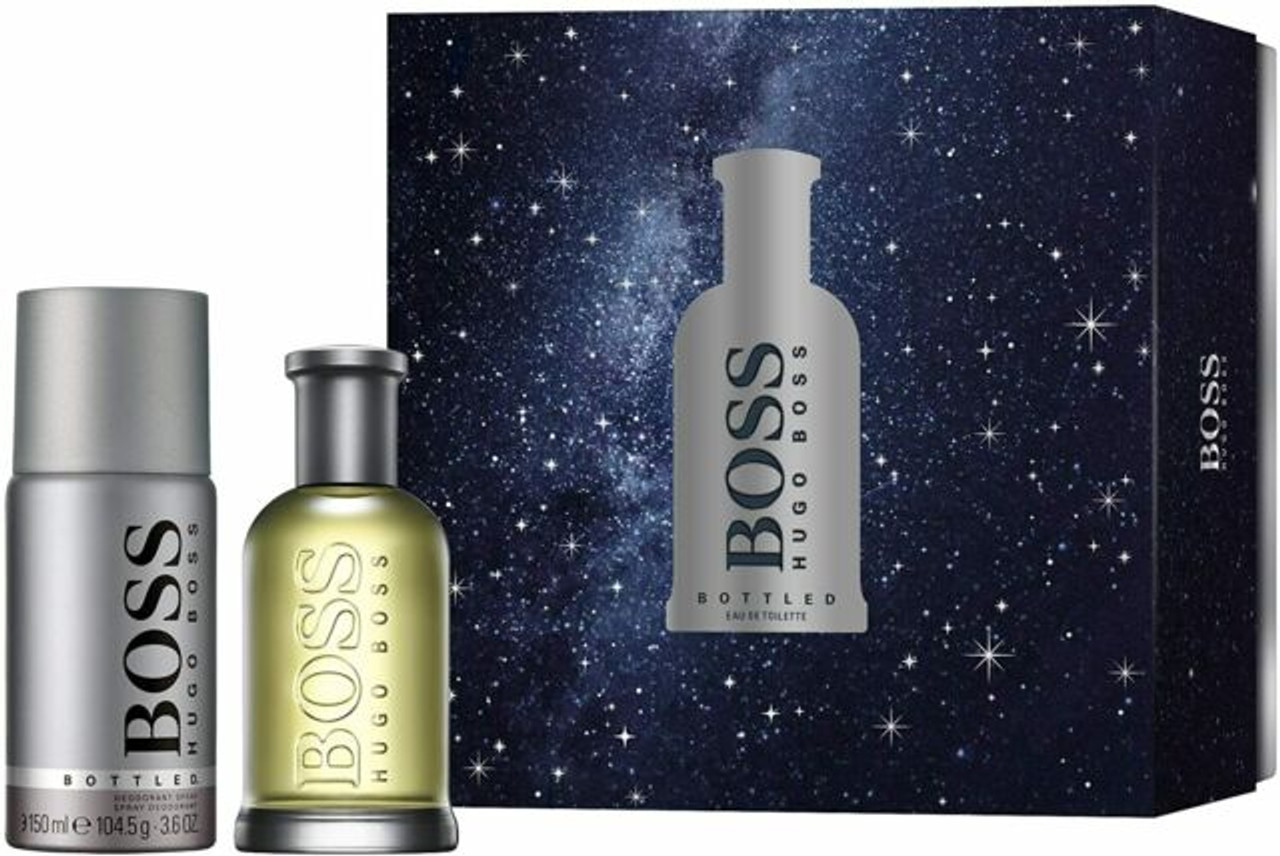 The fragrance range from boss is distinct and sophisticated, and this gift box is the perfect start to any man's collection. Contains a 200ml Eau De Toilette Spray and a 75ml Deodorant Stick. The fragrance can be described  with crisp notes of apple and citrus in the top notes, and a warm and spicy heart of geranium, cinnamon and cloves
Watches
If you were truly serious about a gift, then this watch section is for you. Watches are a (mind the pun) timeless option that will live with the recipient for the rest of their lives, and perhaps even become an heirloom. Or if they're a big watch connoisseur, become a welcome option in their collection.
A true statement piece, this gold plated steel watch in a 46mm case is part of Boss's 2022 Spring / Summer collection so is as contemporary as they come. It's powered by a Seiko movement and comes with a date display at the 9 o'clock and stopwatch at the 12 and 6 o'clock. It has 10 bar water resistance and the black face of the watch has gold accents running throughout.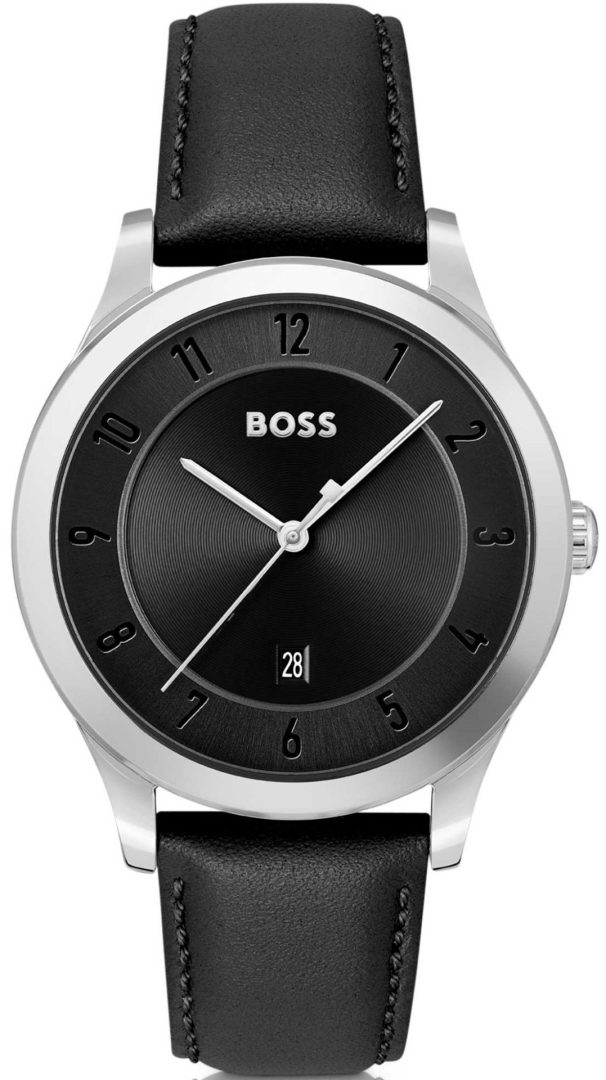 Boss does not paint itself into a corner with its designs. Other than keeping all of its looks professional, this men's watch is the polar opposite of the Globetrotter. The complete epitome of sophistication and elegance, it's called Purity for a reason. No fuse, just pure design and utility, without giving up the aesthetics of a beautiful design. A date window sitting at the 6'o clock, as well as the Boss logo at 12 is all that adorns the face of Purity. As a nod to its pedigree, it comes with a leather strap bracelet.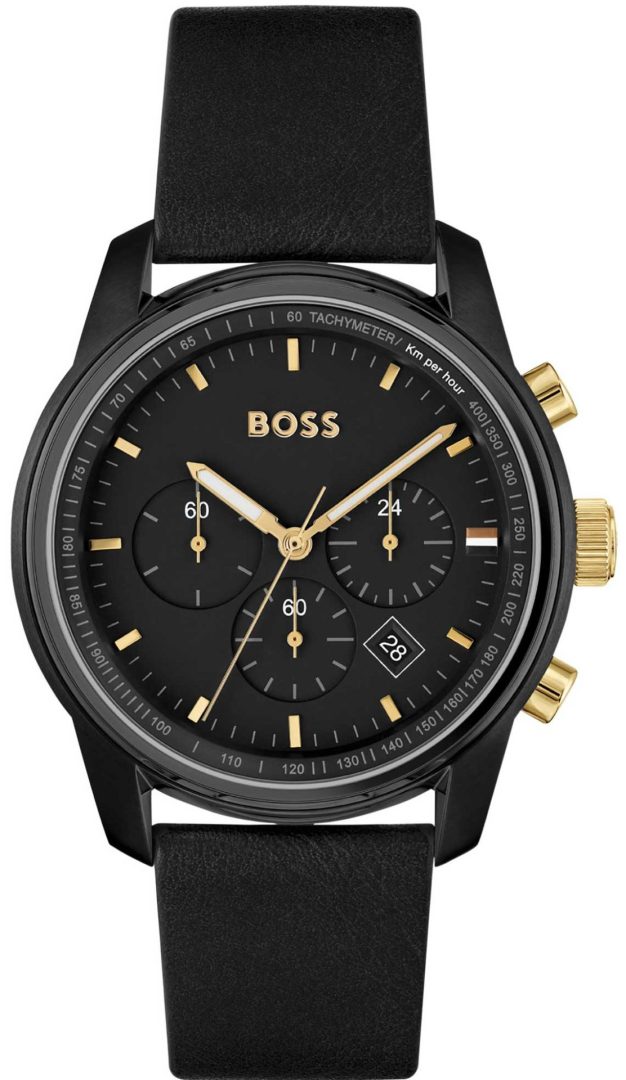 The Trace is my personal favourite, with gold accents throughout its matte black design and 44mm IP black case. It's just a beautiful classy piece. With chronograph dials and a canted date display, the time is marked by gold plated stick indices. The black shows no signs of stopping either with its black leather strap offset spectacularly by a golden crown.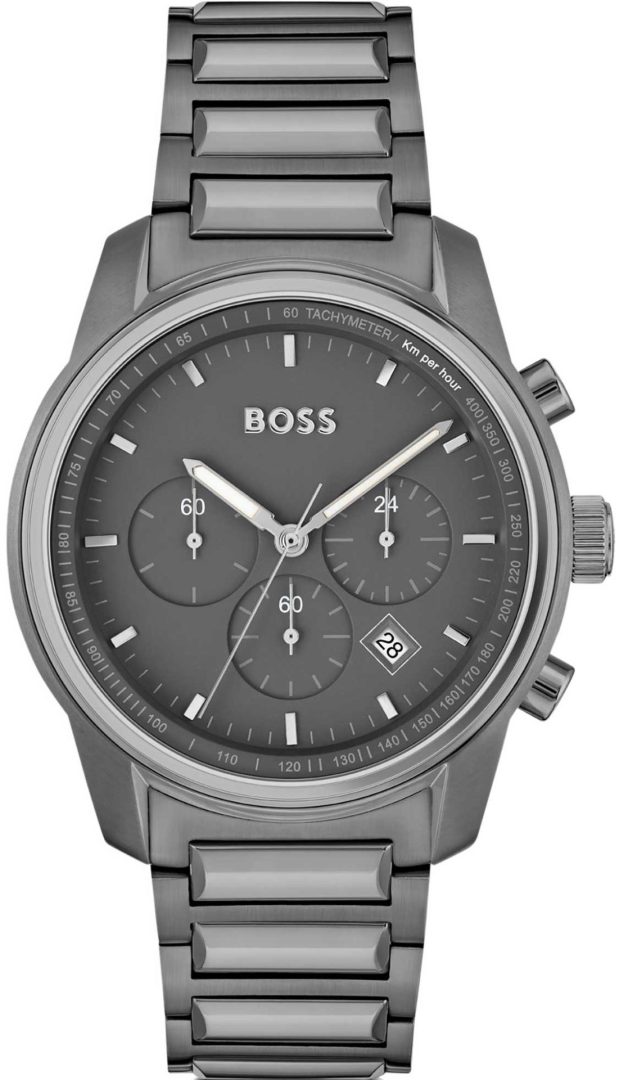 The trace was a design so good it comes in more than one colour way. The super matte modern dial houses all the mod-cons of the last entry, including a raised tachymeter covered by a crystal glass face. The main difference between this and the black model is the Ionic Plated Grey Steel strap which blends effortless with the lugs and body of the main piece.