The thought of delving into the deep and getting face-to-face with some of the world's biggest and deadliest beasts is not something everyone can face. But it is a different story for underwater videographer and adrenaline junkie, Steve Hathaway.
Fascinated about life under the surface, M2 dove straight in when the opportunity arose to talk to Steve Hathaway about how he got to where is now, including how he got to work on the incredible new documentary Big Planet II.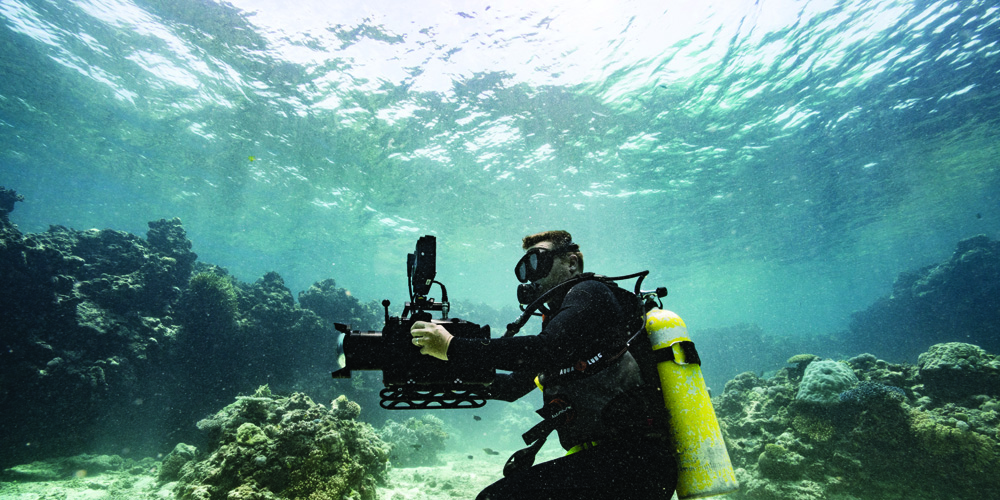 How did you get to where you are today?
I was a builder for 20 years, which isn't your normal way to progress to be an underwater cameraman for natural history documentaries.
I've always been heavily into ocean sports – surfing, diving and spear fishing – so these sports got me into the ocean for thousands of hours, interacting with nature and having lots of epic experiences. Spear fishing also let me hone a lot of skills that are incredibly helpful for what I'm doing today.
Over 20 years ago, I was a host for the diving segment of a locally made TV show called Ocean File. It showed me the power that visual media had for telling stories about the realm I loved. This put the initial spark in me, where one day I wanted to create my own TV show about the ocean.
I quit my construction business 11 years ago, to chase the dream of making underwater (UW) stories. I purchased a great boat, UW camera and didn't have a clue what I was doing! Initially I had my friends filming my spear fishing adventures, then quickly discovered that my mates were better friends than cameramen… and I was bleeding money. So, out of desperation, I grabbed the camera and started filming.
I went from being the guy that hated filming to quickly becoming mesmerised with the art of trying to capture beautiful underwater images. So, effectively, my training was the school of trial and error… and watching a lot of underwater documentaries.
Born in Auckland, I grew up surrounded by the sea on Te Atatu Peninsula, but this felt a million miles away from the open ocean and its large animals that I was already dreaming about as a child. Since I was young, I was already completely captivated by animals like striped marlin and sharks and couldn't get enough of reading stories of others having amazing adventures in this zone.
I'm lucky that I now live in Snells Beach – I watched orca swim across our bay from our house last week – it's a tough life in New Zealand(!) and never short of inspiration.
Do you ever find yourself in scary or dangerous situations?
When I was spear fishing, we would have some exciting situations, as there would be sharks wanting to steal fish from us. I had a shark try to bite me, but I totally deserved it… if it had been successful it would have been a self-inflicted shark attack! I had been feeding a bronze whaler for about 10 minutes and I had one fish left and I wouldn't let the shark take it from me. After numerous attempts at the fish, it got a little brassed off at me and attempted to let me know how upset it was with its teeth. I gave it a good push away and at the time I found it quite funny, but my friend climbing up my back and screaming wasn't so sure!
I've never really felt in danger, but we do put a lot of thought and consideration into what we are filming and how we are going to do it. At the end of the day, we are filming wild animals that don't always do what you expect them to do.
Are you ever scared of sharks or whales when filming them?
I don't think I'd call it scared, but occasionally I have some nervous tension leading up to filming certain animals, but as soon as I enter the water, the beauty and exhilaration of capturing the moment takes over. Also, I always make sure I have a dive buddy [in whom] I have complete trust on my back, in case we have any edgy moments. It gives me great comfort to know that the person I'm in the water with isn't going to climb on my back in terror like my old spear fishing buddy did!
There are some animals I've never filmed, like great white sharks. I think in some locations and scenarios, I'd be happy filming them without a cage… but until you've actually experienced it, you don't know how you would respond… bring it on. I want to find out!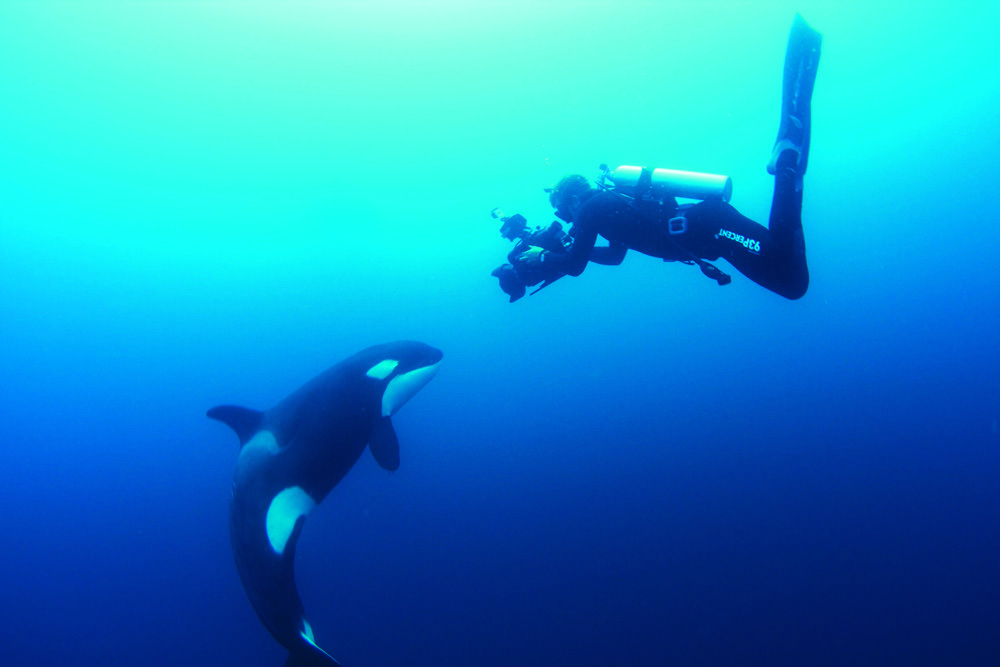 What training have you done in terms of PADI etc., to be able to stay safe doing this work?
I've done four PADI courses, which I'd highly recommend to anyone – Open water, Advanced, Rescue diver and Freediver, which I did with two of my children this year.
PADI has trained millions of divers and has fantastic courses that equip you to breath underwater safely… in a realm that none of us were designed to survive in.
We also have other certification and a skilled team that we work with to fulfil safety requirements.
Do you go out with an idea and film what you like, or do you get given a brief from a director and go from there?
Once I'm contracted to film for a production, my client will normally tell me how they want to tell the story and give me a shot list.
It's the camerman's role to then film a sequence and array of shots that can help tell the captivating story. But because we're dealing with wild animals… they don't always choose to follow the script! We sometimes need to adapt the story to the actual footage we've managed to actually shoot. If I'm involved with the production in the early stages, there are often discussions about what ideas I may have for what we can do or how we could do it.
Where are some of the best places around the world this role has brought you?
Believe it or not, some of my favourite places are in New Zealand! Right on our doorstep, we have some of the best diving on the planet, [for example,] the Poor Knights Islands. Going up to the Kermadec Islands four times has been a huge highlight, visiting the most remote and pristine underwater region of New Zealand.
I'd like to spend more time in French Polynesia – we filmed at Fakarava in the Tuamotu group last year.
Blackfish is an iconic documentary, how did getting to work on this come about?
I've been filming with Dr Ingrid Visser (New Zealand's orca researcher) for a number of years. She's been very vocal for a long time about stopping orca and dolphins from being kept in captivity. So it was incredibly special to have footage I'd filmed with her help, appear on what I think history will judge as the movie that was the game changer for how the world will view cetaceans in captivity.
Does filming pieces like this ever leave you feeling emotionally affected?
For sure it does – it's gut wrenching knowing how orca in captivity are treated and the conditions they're found in, especially after experiencing them in the wild and witnessing first-hand how far they can travel each day.
On one shoot over a 10-day period, we followed the same pod of orca as they travelled right around the top of the North Island. On the first day of the shoot we found them in the Kaipara Harbour on the west coast and on the last day finished up in Auckland on the east coast with the exact same animals. That is some serious kilometres travelled… and then to imagine that somehow it is still acceptable to lock up these magnificent animals in tiny tanks for their entire lives… it would be the equivalent of tearing us away from our families and locking us in a small wardrobe.
How did you get involved in Blue Planet II?
I was introduced to the BBC team through my friend Jochen Zaeschmar, who has been studying false killer whales in New Zealand for the past 17 years. Initially BBC hired me, my purpose-built filming boat and team, to be on call for 10 days as a trial run, to see if was going to be possible to shoot the story on false killer whales.
On the first morning, the team gathered together, we all thought the chances were pretty low of a sighting, so I didn't dare wake my kids to say goodbye, as I thought I would be having dinner with them in the evening.
By 8am that morning we had a call from our spotter plane that they had found false killer whales a couple of hundred kilometres away off the coast of Coromandel. So instantly we raced down to Tairua and had a very special day with these apparently elusive animals. We ended up finding them for five days in a row and the BBC excitedly green-lit the story, with additional days added to help film the sequel. We all thought it was going to easy… but little did we realise it would take three summers of effort to eventually capture the story we needed. I think there's a very good reason why no one has tried to film this story before!
What was it like seeing your footage for the first time in the BBC documentary?
Recently I was in the UK to view the first episode of Blue Planet II with the BBC production team. It was incredibly surreal sitting among my heros and the rock stars of natural history film making, then hearing the dulcet tones of Sir David Attenborough talking over the footage that I'd shot… then to have the man himself turn up at the end of the screening to humbly congratulate the team on what we had achieved. Talk about pretty epic!
More than 10 years ago I'd watched Blue Planet [I] and almost wore out the VHS tape replaying it again and again. I remember watching the behind-the-scenes of the 'Open Ocean' episode and thinking that this underwater cameraman was the luckiest guy on the planet, as he jumped into the water with huge animals for a job. (I'd already been jumping in the water for years with big animals… but he was getting paid for it!)
Have you got a favourite piece of footage?
I've got a few, but one that stands out was capturing an orca picking up a ray by its tail, not once, but three times in five minutes. This behaviour had never been filmed before or since!
But it was the context of that shoot that makes it even more special to me! It was the shoot I mentioned above, while following the same pod of orca over 10 days, and it was late in the afternoon of the last day of the shoot and we still needed underwater footage to make a good story. Over the previous nine days, the pod hadn't allowed me into their world at all. I had lots of footage of orca tails and no action whatsoever to make an exciting story.
[Then], with not much time left in the day, I finally got the call to jump into the water with the three orca that were near the boat. I headed down and they picked up the ray in front of me, I was finally capturing some of what we needed… but it just kept going on, again and again; they would pick up the ray and then drop it not too far from me.
Working with Orcas does seem to be a speciality of yours. I've been very fortunate to work with Dr Ingrid Visser, who runs the Orca Research Trust. I'm forever grateful that she opened up this opportunity for me and I spent a number of years being on call, ready to jump at a moment's notice, waiting for orca to eventually turn up.
From the outside, people always look at the glamorous moments when we finally find the animals and see the shot, but what they don't see is how everything else is out on hold for months on end, saying no to other awesome opportunities… not getting paid for long periods of time, in the hope of eventually finding some incredibly nomadic animals.
What gear do you shoot with?
I could start a museum with my different underwater set-ups I've owned, as technology changes so quickly. I have a RED camera (the same camera Sir Peter Jackson shot The Hobbit on), in a Nauticam underwater housing with Keldan LED artificial lighting… it's a very nice set-up and I'm stoked with the results that I'm getting from it.
Where to next for you?
I'm putting all my energy into our show that we've created, called Young Ocean Explorers. We've created stories over the past four years, where my daughter Riley goes on adventures into my world, looking for some of the biggest, scariest and most fascinating creatures in the ocean. We're on a mission to inspire this generation of kids to love our ocean through entertaining education. We've just released our new interactive website – youngoceanexplorers.com – and we want to get the free site into every primary and intermediate classroom in New Zealand (and abroad). I am so pumped about this project and the reach we're getting to engage a whole generation of kids with how incredible and vital the ocean is.
If you could say one thing to educate the public about the ocean, what would it be?
A healthy ocean is vital for a healthy planet. Regardless of how connected to the ocean you feel, I would encourage you to learn about the significance the ocean has for life on earth.
Our global population is growing rapidly, and the ocean is facing significant issues – we need lots of people just like you, who understand the challenges the ocean faces and are willing to make the changes that are needed with urgency.
Feature image photographed by Robert Marc Lehmann.
You'll also like: