Music certainly has that magic way of pin-pointing moments in life. When Gorillaz' 'Feel Good Inc.' pops up on Spotify, I get taken back to age 12—the first smooch I had with a girl. 'Summer of 69' by Bryan Adams is embedded in my brain as one, specific summer holiday getaway to the family caravan. My emo phase—obviously, as to be expected—was 'Welcome to the Black Parade' by My Chemical Romance. My first 'proper' break-up—'Bloom' by The Paper Kites.
I remember in 2014, a fellow classmate of mine at the University of Auckland played Bridges to me—Broods were an up-and-coming band at the time, their sound unique. I have been a keen music listener since day dot, so I nonchalantly found myself scoffing, claiming to be some bonafide aficionado, bursting with bravado and cockiness. "I'll see about that!" I remember exclaiming. As soon as I heard the song though, I was hooked. Broods became my 'University of Auckland' band very quickly and Bridges, the song. It's the song that associated most with my carefree days as a wannabe writer, a struggling poet and a lad just yearning for my dreams, when I had so much life.
Music is funny in that sense—it takes us all to that place, it sits in our hearts. It's blood-rich and pulsing. I had been surrounded by music for as long as I could remember, something that me and Caleb and Georgia Nott of Broods could relate to. They had been surrounded by music too since an early age, thanks to their very supportive parents, so their sound seems entwined with a divinely special love, straight from the heart. I liked to think we were connected, in that sense. It was with that love and passion that, in 2013, Broods was born, hitting the ground running, with that signature richly dark-electro-pop sound. They had already signed-up with Grammy award-winning songwriter and producer, Joel Little, before really stepping into the music industry and their song Bridges was an instant national and international hit. After the universal success of that song's release, they strategically brought out a six-track EP by the end of that month. That EP took them to high acclaim, and Broods got signed to major labels here and overseas. An amazing achievement for NZ artists. It was upon the release of their debut studio album, Evergreen, in April 2014 that their success reached new heights. They won big awards—dare I say, they dominated award season—they toured the US, played the American Late Night circuit and got a legion of fans that remain loyal to them to this very day. Broods had very much cemented themselves as one of the biggest names to emerge from New Zealand.
Their second New Zealand chart-topper, Conscious, arrived in 2016 and featured collaborations with Lorde and Tove Lo. Conscious was another world-wide success and featured respectfully as number one of the New Zealand and Australian charts. It even achieved number 52 on the Billboard Charts in the US and reached career highs in the Rock and Alternative charts. And the awards kept coming, the collaborations, the fans and the albums. Their next album, Don't Feed the Pop Monster, was—of course—an instant hit and cemented Broods as a household name.
Their latest album, Space Island, released late February, is a look at grief in all its forms. Its an exploration, almost, at the mismatched catastrophe of it, rounded with great clarity and transformation. As well as working in their home studio, they also produced and collaborated with Leroy Clampitt, and Stint, alongside some wonderful vocal work from Tove Lo. This album is Broods at their greatest. I certainly am going to buy a one way ticket to Space Island when borders are opened back up to international travel.
How did you guys get into music in the first place?
Georgia: We've been forever obsessed with music…
Caleb: The earliest photos of me as a toddler were with guitars and playing around with dad's guitar pedals. We were just completely obsessed with it.
G: Our parents saw early on how much we loved it, so they just surrounded us with music. They gently pushed our highchairs up to the radio.
C: Yeah, they nudged us into it, for sure! They knew it was going to be so rewarding for us; they wanted to make it an option.
G: We started writing music pretty young. Over time, they realised that this was such a huge part of our lives, so they supported us fully. When we were in highschool, we started getting into bands.
C: Luckily we also have lots of cousins that are really good at music, so we always had enough people for a band!
G: When I finished highschool, Caleb was two years out of college, and we released Bridges and everything changed forever. Ever since then, we've just been riding that very strange wave that's really fun and rewarding, but also really hard.
C: It's like riding a rollercoaster that you're not strapped into! You actually have to hang on for dear life…
G: For sure, but it's so much easier because we've got each other. It makes it so much more bearable on the tough days.
C: We don't know how solo acts do it. It's too hard! The work-load on its own…No, thank you!
You guys being siblings doesn't create any tension in the studio, then?
G: Nah, we have a great working relationship. We've learnt together how to use language properly, express our thoughts and opinions and say what we need in a way that is also supportive of the other person.
C: We just have an incredible amount of respect for each other, as artists as well as siblings.
G: We've always been doing music together in some shape or form. We entered a talent quest for the first time together when I was nine and Caleb was 11. Our parents were like: 'Caleb, you play the guitar. Georgia, you sing. It's really good. Show everybody!'
Parents included, who would you say your other biggest inspirations are?
G: We're inspired a lot by Kiwi music, actually. Maybe it's because we're Kiwis and it gives us a momentum to go out and do our thing. Artists like Marlon Williams and Aldous Harding…
C: Yeah, Kody Nielson too. I think he's just someone who makes whatever the hell he wants to make. Whether it's instrumental, or has lyrics; I think he has an amazing pair of ears (to my taste, anyway).
G: Kody Nielson, Ruban Nielson… Crowded House, even. It's just so fun hearing what sort of music is coming out of this country. I think it's special because New Zealand is such a special place.
My latest obsession, actually, is Rita May. She's a new artist and she's only released one song, but I'm really obsessed with her. I think she's going to do crazy-cool things.
C: She's actually coming over on Tuesday to work on some new music…
Has the COVID-19 times been good for your creativity or slightly jarring?
C: When it first happened back in 2020, we'd done the initial creations of the songs for Space Island. That was by far the fun part. Creatively, we were at the polishing stages.
G: We were totally building that world!
C: During the lockdowns, we still wrote. We wrote the song Days Are Passing in lockdown, which was originally called 'Day 13', because it was written on the 13th day, all stuck in the same apartment together.
G: I found the COVID-19 lockdowns to be inspiring, in a weird way. I had a massive desire to learn again. Whether that was honing-in on parts of my music, or production, or listening to new music. Have you heard of those Youtube Masterclasses?
Yeah, I love those videos.
G: I downloaded them and went hard on the writing Masterclass. That was really good for me. I didn't want to put pressure on myself to make anything out of the lockdowns.
The expectation from the outside world was pushing me one way and I just wanted to plant my feet firmly the other way and grow. A lot of music came out of that though, just as a byproduct.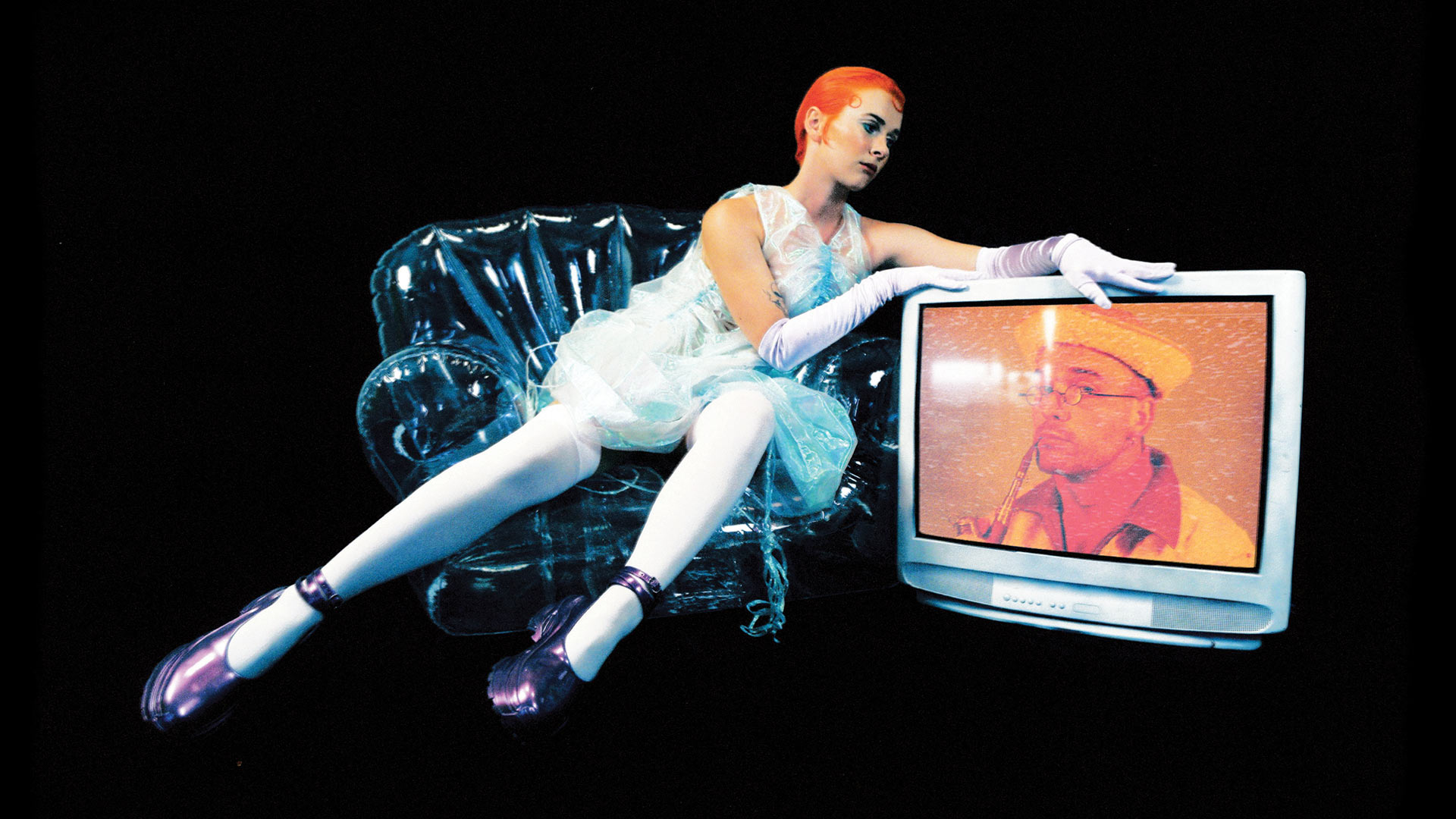 What can listeners expect to hear from your album, Space Island?
G: The album is about loss, grief and is filled with escapism, essentially. It has hints of denial, bargaining; all the emotion-juicy things you feel when you lose someone. Space Island is a place we created where all those deep, dark feelings can be processed safely. It's quite a bizarre, yet intimate, world. It's surreal; we've tried to portray that in the music videos, because grieving is a very surreal experience.
Initially, we wanted to make the album for ourselves to process our own feelings in a small space. We then actually ended up making Space Island into a whole world to invite people into where we could hold them, love them and hug them. That's the whole reason we make music; to show our love for other people.
C: The second half of the album is definitely that hug and comfort. The first half is getting thrown around like a rag-doll, coming out of that traumatic experience where you don't have a lot of control and you're the only person in that place. By the end, you're coming out of the other end ready to experience new love.
G: The stuff you go through builds empathy and character. It helps you relate to other people more and makes everything richer. We wanted to end the album on a note that makes the healing experience less scary, like we are reaching out, rather than screaming, 'I can't get out of my own head!'
C: Just a lil' bit of hope, after going through a mental-broil.
G: That's so true! You know the scene from Willy Wonka and the Chocolate Factory where Gene Wilder and the others are going through that trippy, scary tunnel. It's so crazy and manic! Gene's singing some random song, and they're heading down this hell-hole-vortex. And then they just arrive in some beautiful place, where everything is sweet and dreams are within reach. That's the album. We want it to be a thought-provoking, exciting, yet comforting record for people.
You've recently released 'Like A Woman' and 'Piece of My Mind' as singles, as little teasers for the album accompanied with music videos. Do you think showing that mania and chaos visually was essential?
C: Yeah, I think the videos had much more importance this time. We were finishing the record in 2020, when we didn't know what anything was going to look like, even in the outside-world. So we decided to really work hard on taking people to another place. That escapism. We wanted to make videos for every song, but you know…money.
G: Money…that old chestnut. We just tried really hard to give our fans everything, our all. Especially with what's been happening these last couple of years, we want so badly to take them with us to Space Island. We don't know what's going to happen with live shows in New Zealand, however.
C: We're hoping to test it on America, use them as guinea pigs, and then bring it home really nice and polished and sharp for the Kiwis.
Don't you guys have your Space Island tour soon?
C: Sure do. New Zealand (when we're at Orange), Australia and the USA. America…it's like going to a different country every day, but we're only moving between States. Some States are just complete polar-opposites.
G: It is like a bunch of different countries just smashed into one! Which, in itself, is awesome. Such a diverse mixture of fans.
We've been really lucky since the beginning with them. We love touring America. We've made a really solid fan-base that we've connected with, and they're super loyal.
C: Our fans overseas have loved watching us develop, too. They don't go, 'why don't you just remake Bridges?' They love when we make new stuff and they really encourage us.
G: We have had times where we've said, 'why the hell are we doing this to ourselves?' We've wanted to call it quits a lot. It is hard, doing what we do, but then we go out and connect to the audience.
I just live for the conversations with the fans outside in the carpark. We make the music, not knowing where it's going to go or how it's going to be received. But at the live shows we get that energy, we can connect, and we can realise there are so many friends on the other side.
Even though it's strange to think about touring at the moment, it's still really exciting with the knowledge that we're going to see those friends again.
What advice would you give to the earlier version of Broods?
G: That is a good question…I would probably tell my younger self to not get swept away from the present. I've let my anxiety or depression stop me from really enjoying the moment.
I don't regret anything I've done, or the choices I've made. We both have been really blessed. Sometimes in the past I wish I hadn't been swept away so much, where I should've been like, 'wow, we are so loved and lucky to be doing what we're doing.'
C: Yeah, I'd say that too. Just appreciate it more.
What are your guys' definitions of success?
G: For me, being successful means being fulfilled. Success isn't attached to money, or milestones.
It's having the capacity to enjoy life and the things that inevitably happen. It's appreciating who and what's around you.
C: Receiving and giving love, man. If you can do that, then you're successful.
Have a look at the Broods website
here