A little over a year ago, champion New Zealand downhill mountain biker and Adashiko ambassador, Brook Macdonald lay in agony, semi-paralysed and unable to feel his legs on a Quebec mountain for five hours waiting for a helicopter to arrive.
Brook had sustained a serious spinal injury when he crashed during his first practice run at the World Mountain Bike Championships. In October of this year though, Brook was in Austria competing at the World Champs. We talk to Brook MacDonald about the gruelling year of recovery in between these two moments, the power of resilience and what it is like not to have fear.
2020 has been one of those years where uncertainty and resilience is all everyone is talking about. For you, it was a whole different level. Can you talk through how your year has been?
My 2020 has been pretty interesting. I suffered a spinal cord injury in August 2019 and I've been rehabbing the whole year. For me, this year hasn't really felt any different because I was on this path of getting back to being a normal person again and trying to achieve my goals that I set out from the early days of my injury.
The year has been pretty crazy with what's going on and a lot of my events have been cancelled, but for me it was more of a year to prepare myself for when racing did start again. In some way it's been somewhat normal.
Obviously with an injury comes a lot of rehab and training, so I was just focused on all of that and being in New Zealand, we're pretty lucky here. We had that six-week lockdown and then we were out of it and wiped the virus, so it was kind of normal here and I guess it felt relatively normal again.
It has been a mental year and I'm going to look back on that 2020 as a year that has thrown a lot of crazy things at me.
The footage of the crash looked insane. What happened at the time? Was it a slow motion thing where you saw your life flashing before your eyes?
It definitely wasn't slow motion. It happened so quick and before I knew it, I was off the side of the track and in a whole heap of pain and not able to feel my legs. It definitely didn't go by slow.
I can still go back and look at photos comfortably, whereas, some people struggle looking at something like that. But in a sport like mine, you've got to overcome that fear and take it as it comes.
I guess that's the case in any sport.
The last thing that you're really thinking of is being injured and when it happens everything gets thrown up pretty quickly and life can change in a flash.
In that flash, how did it happen?
It was the day before we had qualifying and it rained quite heavily, so the track got worn in. The next day was the last day of practice before the finals.
A root that was exposed from the day before was sticking out on top of this rock and caught my back wheel and sent me over the handlebars.
That must be so common though. When you are having a good run where there is no major incident like this, how much are you calculating along the way? Can you talk us through some of the mental stuff that's happening?
Calculating a downhill run is so difficult to explain because when we start, we get into it straight away. Everything comes at you so quickly. I think you do the calculating in your practice runs and then you put together that perfect race run.
But trying to calculate your run while you're doing it is pretty difficult, because everything comes at you so quickly and you've got to have those fast reactions to be able to switch a line or change something up if something has changed on the track.
A run is based on being in the moment, thinking in the moment, not thinking ahead. It's a sport that's so fast and everything happens so quickly, so you have to calculate within a split second.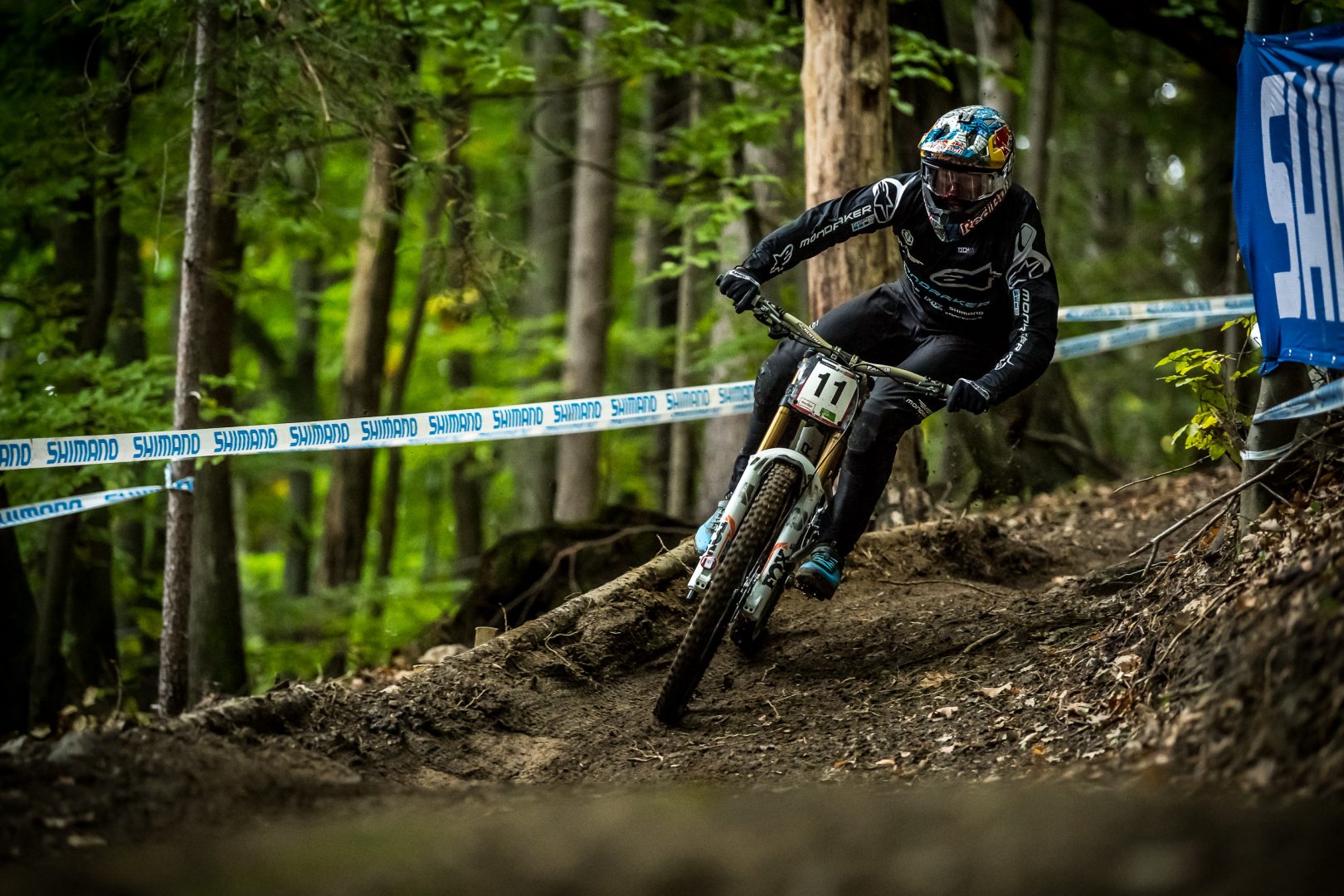 Looking at the progress of the sport, it seems like a whole different world these days in terms of the bikes, the geometry, the technology. How has the tech influenced your lines and the speed?
Mountain bikes from the nineties were just fully rigid things with V brakes and no suspension. It was more so about getting down the hill and not crashing.
Whereas with technology nowadays, the bikes are so good. The suspension, the tires, everything is so good nowadays that those bikes can handle anything. Now it's more up to the rider to be able to switch up those lines. Being able to switch lines and do tricky stuff comes quite easy with a good bike and good set up.
It definitely has changed. When I first started, I started on a bike with just 100ml of front travel. I feel like that built me into the rider I am today. I learnt so much from riding a bike with hardly any suspension because you've got to adapt from that.
Then when I went to a bike that had full suspension, it was just crazy. It was like floating on the moon. The way that technology had improved over those few years and being able to afford a better bike, I think definitely shapes a rider.
Nowadays, the technology is so good that the majority of kids that buy bikes are going to go out and buy reasonably well specced and priced bikes because if you don't have that, it's going to be difficult to win races.
Do you think growing up where you did and having forests like Te Mata nearby, did that help to shape you as well? Did that give you a good foundation?
Yeah, definitely. I was pretty lucky when I started mountain biking. There was a real good group of guys that were riding at the time. Three or four times a month, we'd do shuttles in the forest. I just used to love riding my bike and when I got brought into the sport and taken out to do that, it was pretty amazing. I just got the bug for it. The people around me at the time really helped me push myself to where I am today.
I was reading a 2016 article where you were talking about your nickname "bulldog" and part of that came from this fearlessness and pushing through crashes. Has that changed at all?
No, I think I still have that nickname because I feel like I'm probably stronger than I was before. When I was over in Europe, I had some pretty massive crashes and some crashes that I thought were a repeat of the crash at Mont-Sainte-Anne. I feel like I'm not invincible, but I'm built like a brick house and it takes a lot to break me. I think I can stick with that name.
I think that brings us to a really important point because when you had this major crash, you were lying on the side of a mountain for, was it five hours?
Yeah. For four hours pretty much.
At that point you couldn't feel your legs?
No, I had no feeling in my legs whatsoever.
Can you even begin to describe, for someone who built their life around the use of their legs, what was that like?
The crash happened so quickly and I was just lying in a drain off the side of the track and I had this instant pain in my lower back. I was lying on my side and I went to roll over but couldn't.
It was weird because I was trying to roll, but my body wouldn't let me and my legs weren't moving at the time. My brain was trying to lift my leg and I couldn't do that. I knew straight away that there was a big problem and at the time there was so much going on in my head.
The biggest thing was that I just wanted to be off of the hill. I didn't care about if I was going to be paralyzed for life, nothing went through my head like that. I was thinking this was my racing career done, my life over, what am I going to do next?
I knew how serious the injury was and I just wanted to get off the hill. That was by far the worst day of my life when I had to lie in a stretcher on my side because it was like the most uncomfortable position, for four hours until the helicopter turned up.
On a side note, have the organisers changed things around a little bit so that people don't have to lie on the side of the mountain for four hours?
There's different organisers at each event. In Europe, everything is so well organised. You can have a helicopter to you within 12 minutes and within 40 minutes, you're at the hospital. It should be like that everywhere.
At Mont-Sainte-Anne, where I crashed, they hadn't had a heli on that hill for 29 years. I guess they thought there's never going to be that chance of someone injuring themselves that bad.
I've been going to that place for 10 years and I've seen people carted down the hill with broken legs. The exit off the mountain is not nice at all. You can only really get off the hill if they walk you down or take you down on the back of a quad and that's the last thing that anyone wants to be doing with a broken leg.
It wasn't well organised. They had two doctors on the hill and a helicopter on standby, which was 20 minutes away, but the pilot who was on standby was 45 minutes away at home. I don't know if there was any thought put into it. If the pilot was at the helipad, he would be at the person within 20 minutes.
That's pretty reasonable, especially when someone's life is on the line with a spinal cord injury. It's down to the minutes to have someone off the hill to be examined then surgery straight away, with an injury like this. It was just poor organisation.
It's on behalf of the UCI and the organisers, which is a shame because UCI is the governing body of our sport. After what I faced, there was no apologies or anything from anyone at the UCI. I had one guy from the UCI come to me and apologise.
I'd done a podcast four months after my accident and I really opened up about what I thought about everything and straight away I was contacted, but he was the first person, no one else. That's a big disappointment to me.
It really let me down because we go out there and put our lives on the line to hold events and put a show on for everyone and when you're treated like that, it's pretty sad.
With what you've had to go through this year physically, has that changed the way that you think about the sport? Has it lost any glimmer for you?
Not really because I love racing my bike and I love doing the sport – I'm so competitive. It doesn't really change anything, but it does change my perspective on the people at the UCI and how it's run. I just feel like they don't care at all, no apologies, nothing. It's really sad.
When I spoke to the dude, I told him that I think there should be an evacuation plan put in for each race, so every rider knows what's going on and can feel comfortable turning out to race, knowing that if they crash, they're going to be taken off the hill quickly.
Then I came to the World Champs and I asked about it to the riders rep and he hadn't heard anything about that. One simple thing that I asked can't even get done. And then the organiser turned up and I was talking to him about it and he was straight on the phone to the UCI. Then the next day they had an evacuation plan put out on the internet and sent to all the teams.
It's just a shame that I mentioned that at the start of the year and then nothing gets done about it. I turn up to a race and talk about it and nothing's still been done. Then they get a word from the organiser and the next day they've released this evacuation plan. It's a bit of a shame.
Ultimately you made something happen. Does it interest you for later on down the track to get into that side of things?
I really don't know if I want to be involved with those people. A riders union would be really good because at the end of the day, we're racing our bikes to put on a show for everyone and I feel like everyone is pushed over by the UCI.
When rules are made or this is done, we just agree with it because we just want to race our bike, but realistically we're the backbone to it all.
If we had a riders union, we can put a stop to things that we don't agree with because at the end of the day, we are the ones racing the bikes. But yeah, I really don't really want to be involved with them.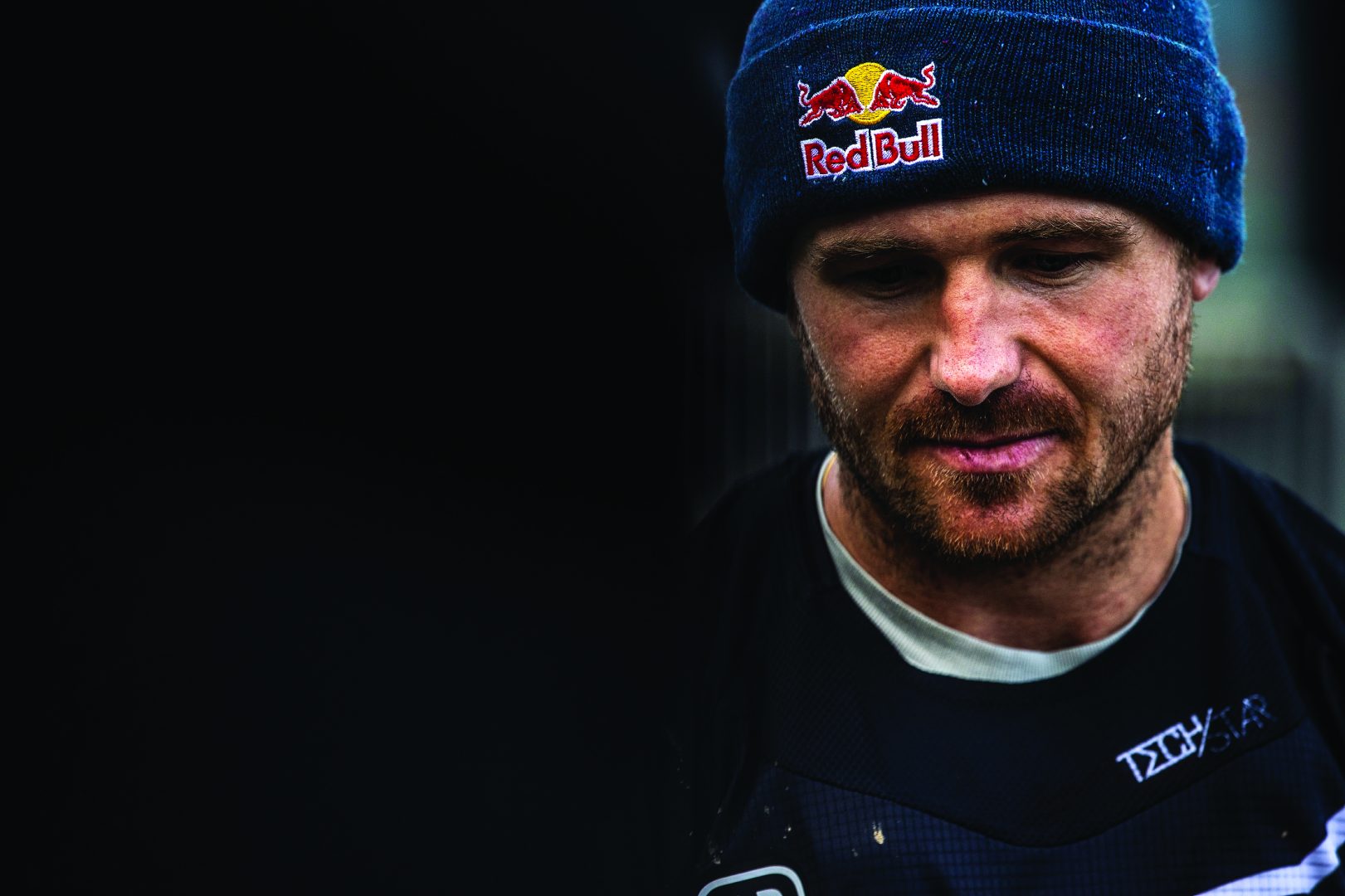 You've got hundreds of thousands of followers on Instagram. Talking about a riders union, individually and collectively you've got some seriously big audiences. Does that give you more power?
For sure. The majority of the top riders are really high profile; 400,000 or 500,000 followers. I feel like if we can get a group together, we can be very powerful with the social following we have. People speaking out really makes a big difference in our sport.
Have you found that there is there extra responsibility? You don't want to go get drunk and make a dick of yourself because you've got kids aspiring to be you one day. Do you feel that?
Yeah, I guess there's a serious side of me and then there's a side of me that does like to do that. I feel like any normal person is like that.
I make the right decisions when I want to go out and party. I feel like at races we don't really do that because we're always moving on pretty quickly to the next race. I guess with after-parties for us, it's more so just the riders that turn up. Sometimes the odd fan comes, but it's just more so the riders.
Making a dick of yourself isn't too bad in front of people that you know, but you definitely don't want to be that person in front of a crowd of people that look up to you and aspire to be you one day.
For my sport, if you compare it to rugby here in New Zealand, I could go out and have a good night. Whereas, you compare it to the likes of Beauden Barrett, he's probably got to be pretty careful when he goes out and wants to have a good time with friends because there's always someone watching and he's an icon in New Zealand.
I'm pretty lucky with it. I can go out and be a bit loose and not have to worry that someone over there in the corner is going to take a photo and send it to the media. I'm pretty lucky with my sport.
Is there a class system within mountain biking? Do the cross-country guys look down at the downhill guys because you guys are crazy mavericks?
I guess there's a bit of both because they are two totally different disciplines. For cross country, we respect them so much for the way they ride up hills and how fast they go up and also come down with the bikes that they ride.
I guess it's vice versa. They probably think we are so crazy to ride down a hill on 210mls of travel, whereas they come down with a 100mls. We both respect each other evenly across the disciplines.
After your injury, what was it like to be back at the starting line?
It was pretty emotional. Obviously from day one, that was my dream to be racing again. I remember going up for my first race run after the injury and I just rode through the crowd that was watching the race happen and I honestly had to hold back my tears because I was so close to breaking down at the fact that I was back racing my bike.
It was actually happening and a dream come true. It was crazy to think that a year on, I was back in the start gate racing my bike competitively.
Did anything shift in you?
No, nothing at all. I honestly felt normal, if not better. The four weeks that I spent riding in Europe, I was just waiting and waiting and waiting for a crash. I'd just been riding so well that I hadn't even crashed.
For me, the last thing that I wanted to get over was crashing and it was the biggest fear for me because the last time I crashed, I snapped my back in half.
So I was waiting for that moment to happen. I was actually riding at a resort and just doing some testing and I came into a section where there was a pole that was lying on the ground. I probably came in at 30, 40 km an hour and I didn't see the pole and the pole flipped out and went between my crank and my leg.
I just came to a sudden stop and I sort of rolled on my front wheel and then went over the handlebars and landed straight on my back. I was on the ground and I was shaking my right leg, shaking my left leg. I stood up and I was like, 'This is a good feeling.'
It was pretty big and rattled me. From then I was so happy because it was another day that I achieved something.
It's not something that you want to happen often, but when you haven't had something in a long time and coming back from an injury, I really felt like I needed that.
From that, I took away a lot of confidence because I knew that if I crashed again, then my body could handle it and there was no pain. That was probably one of the biggest fears that I felt like I needed to get over.
If we wind the clock back a little bit to the early days of the injury, what was the prognosis like?
So I fractured my T12 and burst my L1. The L1 one was in complete pieces, which was pushing on my spinal cord, hence the no feeling in the legs. I was operated on the next day after my accident because I didn't get to the hospital till about five in the afternoon.
After all their examinations, I was probably done by 10 or 11 at night, so too late to operate. I was in the theatre the next morning for six hours. I had two rods and eight screws put in to decompress my spine and fix the fractures.
From there, I started getting feeling back and it was at two days where I noticed that I could start wiggling my toes. When I touched my legs and my hands, I could feel the skin to skin, whereas before I didn't have that feeling.
I was watching some video footage of you in rehab walking and it looked like there was so much involved in the early days just taking a few steps.
That was crazy. It was like I was a toddler again, learning to walk. With an injury like this, it damages all your nerves. All the nerves that control everything are damaged and don't have a pathway to the brain to make them work.
In my brain I was walking, but trying to rewire my brain to lift my foot was really hard work. Over time it gradually came, but it was such a long process. Getting to that stage where I could actually walk by myself because it affects all your balance and lifting my feet was probably the hardest thing.
The further down the body, the longer it takes to repair, so with the nerves that are connected to the bottom of my legs and feet, I struggled to lift my feet up when I'd walk and I had a thing called drop foot. When I'd lift my right leg up, my foot would just drop down. Still to this day, I constantly need work on that. It's something that I should focus on more. I still find that pretty weak.
Day-to-day living was tough. When you have something like that taken away from you, you realise how important it is in life. Let's be honest, everyone in this world wakes up every day and doesn't think, 'I'm lucky today because I've got legs to walk on.' It's just a day-to-day living thing.
I never ever thought about myself being paralysed and not having feeling in my legs and when that happened, it made me realise how important life is and how fast it can be taken away.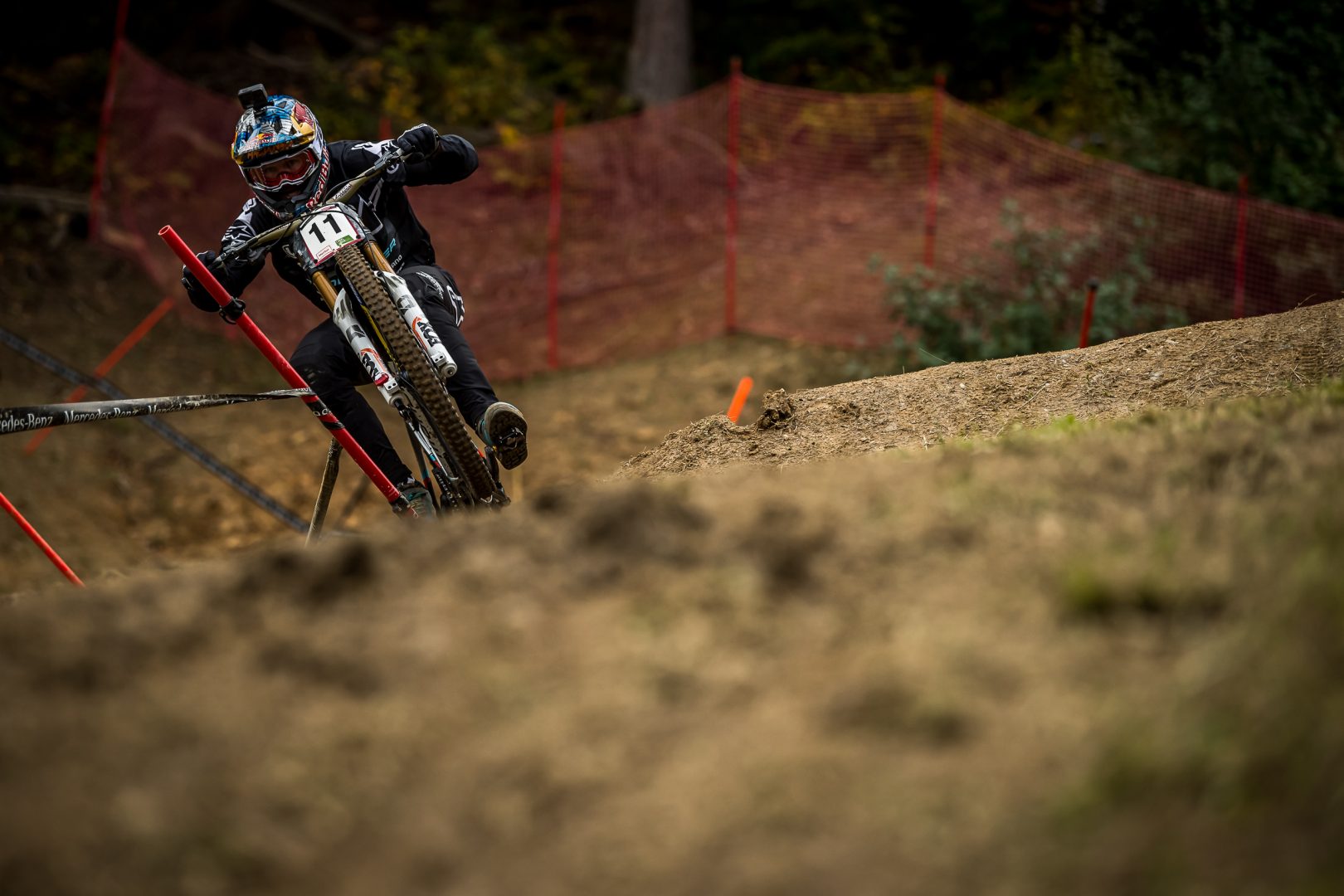 Are there any days where it was just too hard and you just felt like bingeing Netflix?
Never, never, never a day that felt too hard. Obviously there were days that were hard with a lot of challenges with exercise, but I was just so focused and determined to be back to living a normal life and riding my bike.
At the end of the day, I was just more worried about my job and getting back to racing my bike because that was something that I've done for the majority of my life. Every day was tough, but there was not a day that I was like, I can't do this.
I did suffer from a lot of fatigue. I'd do a gym session in the morning and then had to go home and sleep. And then in the afternoon I'd do another session, home again and sleep before dinner and that was my daily routine.
Did it change your perception of the world?
Most definitely. I spent two weeks in a Canadian hospital and when I could go outside, when I was comfortable enough to sit in my wheelchair, it was just the best feeling in the world because fresh air, seeing people, seeing cars, trees, all that sort of stuff, it really made me appreciate what we have in life.
Just being fortunate enough that I had a second chance at life and being able to go outside, smell the freshly cut grass and see people happy, it was cool. I honestly got to experience it from two sides, because being in Burwood Spinal Unit, you meet lots of different people; from people that are stuck in wheelchairs, to people that were on the same path as me.
I really got a perspective on life and I went in there and I approached it like, I'm not going to complain or say anything about how hard this is, or that I can't do this because I know there were other people in there that were suffering more than me.
Every day I saw people in wheelchairs that couldn't even move their arms, with a smile on their face. It made me realise that I'm lucky and I have another chance at life. It really puts a perspective on everything and shows you not to take life for granted and really appreciate the opportunities that we get given.
You've traveled a lot and experienced a lot of different cultures, what do you make of what is going on? It just seems like there's a lot of ideological polarisation.
I try not to get caught up in it too much because I guess it just annoys me and I can just go on about how stupid things are. The world that we're living in at the moment is pretty crazy. Experiencing travelling with this pandemic going on really makes me realise this world is in struggle.
When you see airports like LAX with 30, 40 people walking around, it summarises how bad things are at the moment. We're really lucky because we're so far away from every other place in the world and do our own thing in small, old New Zealand.
I'm very lucky that I live in a country like this and we don't have the problems like America and Europe are having at the moment. I try not to focus on that sort of stuff, but it was pretty crazy being in Europe with a pandemic.
You've spoken in interviews about the financial challenges. As you said, you're not like a rugby player, you don't have the responsibility, but you don't also necessarily have the paycheck as well. Can you talk about how important it is for you to work with other brands?
Yeah, obviously I make enough money to live. I don't have to have a day job when I come home. I feel like I've really set myself up by buying into the property market when I was making enough money. With the sport, there's not as much money as rugby or cricket or soccer, but I'm not a person that's all about money.
At the end of the day, you have to have some sort of money. Being an athlete, I want to set myself up so when I retire I can live a good life. With my sponsors, they've given me the opportunity to do that with my team, which is my main sponsor, and Red Bull.
They are a massive help because they've also pushed me out of my comfort zone and pushed me into a world with other people that I've met.
I've been working with Adashiko for the last two years. I feel like it's a great brand that has come out in New Zealand because collagen is a massive thing now. It's a billion dollar industry, from what I've heard.
To have a company like them from Hawke's Bay is pretty amazing. The likes of them being able to get me on to something like this with you is pretty special. I'm really grateful for the opportunities that my sponsors give me.
Your body and joints are very important. Does the collagen help in that respect as a part of your routine?
Yeah, for sure. It has been a massive help with my injury. I took it every day and I felt like it helped heal my body. The best example I could give was when I broke my collarbone in 2018 and I had a period of six weeks from when I finished my race to my next race.
I wanted to be back in Europe to race, so I got home and I did all this research and found what was best to help heal bones quickly.
I got onto the collagen and I was just genuinely interested to see if it actually really helped me. I think it was every week or two weeks I was going for x-rays and from my first x-ray to my last x-ray and in between, I really noticed the big difference from taking collagen.
I worked with some other people helping to try to heal it, but I felt like that was a massive factor in my recovery too. It was crazy to watch the healing process over four weeks.
I was back on my bike in four weeks. I was able to do a press up within three weeks. I was told that I was probably going to be out for two months. I really feel like the collagen has been a massive benefit for me.
While you've been in hospital with either broken back or broken collar bone, has the thought crossed your mind that maybe you should do a softer sport?
Never. For myself, no. Probably for my partner, yes. What I put her through was hell for a good part of six months. She was pretty off me going back and racing. She really didn't want that to happen, but she figured out that there was actually going to be no stopping me from going back and racing. She realised that it was my job.
She accepted that which took a long time. But I think when she knew that I could ride my bike and I could ride it fast, she didn't hold back on letting me go away and compete again.
I think that gave her some comfort as well, knowing that I can still ride my bike and still do the job I did before, if not better. There was a point in time that she thought I shouldn't be doing the sport, but it never, ever crossed my mind.
How old were you when you, when you first got on a mountain bike?
I think it was around 11 or 12, so I started quite late. I have ridden bikes all my life, but mountain biking, I started reasonably late.
Did something click for you then?
Not really. I've grown up not having any fear of being reckless, whatever it was; playing rugby, riding bikes, motorbikes.
I never thought that I could actually make a career out of it and be doing what I'm doing now until probably 2008 when I got selected for the New Zealand team to go race at the World Champs.
I had friends competing overseas and riding for pro teams. I looked up to them and obviously deep down I wanted to be like them, but I never thought the opportunity would come to me.
When I traveled to Europe for the first time in 2008, I experienced a whole other side of mountain biking. I raced my first world champs and from there it progressed and had a small team, to a bigger team, to a proper contract, where I didn't have to come home and work in the off season.
Top image by TJ Smith