There are only two questions you need to ask yourself before you go to Central Otago; why am I not there already? And where am I going to stay?
The first question is completely valid as Central Otago is fast becoming the go to destination in New Zealand for any kind of holiday but especially if you're activity minded. There's always plenty to do with lots of snow, water, hiking and cycling facilities everywhere you look throughout the district and all in amongst some of the most scenic landscapes in the world. Plus, if you're less exertion-inclined or are ready for a break from heli-skiing, there are plenty of wine and delicious food options to savour too.
The second question is getting even easier to answer every day largely because Central Otago is booming; which means there are a lot more accommodation options available than ever now – and increasingly varied to suit whatever you're into. Here's a taster of some of the best on offer:
Mt Isthmus Lodge
As anyone from Auckland knows; an isthmus is a thin strip of land separating two bodies of water. But in this case, rather than harbours, the bodies of water are two gorgeous mountain lakes; Lake Wānaka and the crystalline Lake Hāwea.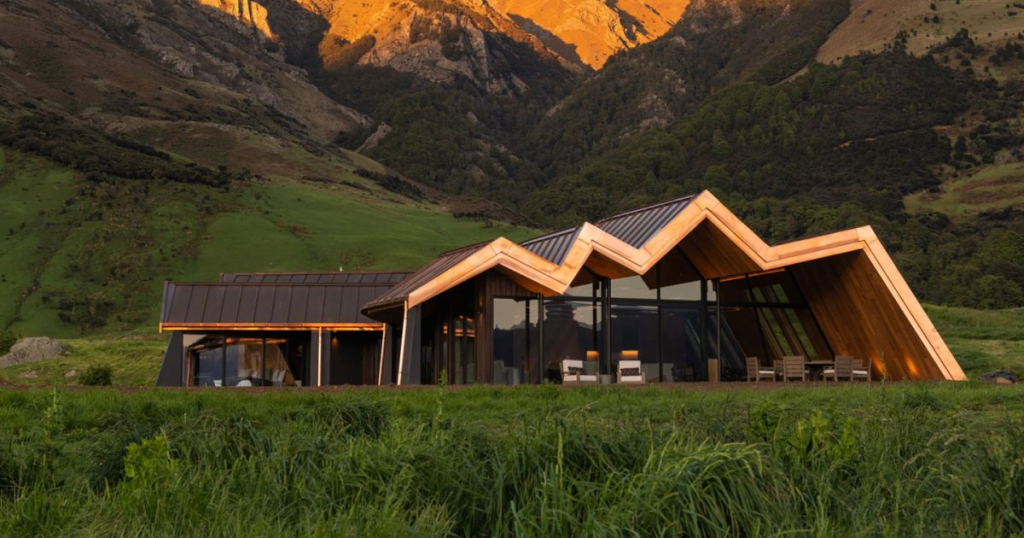 Sitting on a 7000 acre high-country station, Mt Isthmus Lodge looks out over Lake Hāwea surrounded by rugged and steep mountain ranges on all sides. This is a must stay for the adventure tourist who has an aquatic bent as you'll find some of the best jet boating and fly-fishing on the face of the Earth almost literally on your doorstep as well as easy access to skiing, mountain biking and sky diving too.
Accommodation-wise there are four suites which are the epitome of luxury with super king-size beds; each with an ensuite, the latest in interior furnishings and incredible views. The villa also features a state of the art kitchen (with a personal chef service), a media room, spa pool, several spacious entertaining areas, and an in floor gas fire pyramid, making it the ideal getaway for families, friends, or small work groups.
Mt Michael Lodge
If you're planning to get out and about experiencing all the awesome outdoor activities in the Central Otago region then Mt Michael Lodge could be the ideal bed and breakfast base camp for you to relax and rejuvenate after your exertions. Situated equidistant from Queenstown and Wanaka, the Lodge overlooks Lake Dunstan framed by the Pisa, Dunstan and Carrick ranges. It's also well-positioned with plenty of vineyards and boutique food & wine experiences within striking range as well as Wanaka, Queenstown, Clyde plus the Rail Trail, Hyland Motorsport Park, Lake Dunstan Cycle Track and Goldfields Jet Boating.
Nestled on the corner of a picturesque vineyard producing high quality pinot noir wines, the Lodge is definitely a boutique B&B that serves a delicious breakfast with a number of options – from light and nutritious, to a hearty selection to suit whatever you've planned for your day's activity.
Accommodation-wise there are four 4 generous rooms featuring magnificent mountain, lake and vineyard views. Each room contains luxury beds, fine linen, bedside units, occasional chairs and spacious ensuite bathrooms. The rooms open onto multiple private courtyard areas for your relaxation and enjoyment of the ever changing vistas. Two of the guest rooms also have access to a private outdoor spa.
Blanket Bay Lodge
Consistently voted one of the world's best lodges by prestigious publications and organizations such as National Geographic, The Discovery Channel and Small Luxury Hotels of the World, Blanket Bay obviously ticks a lot of luxury lodge experience boxes.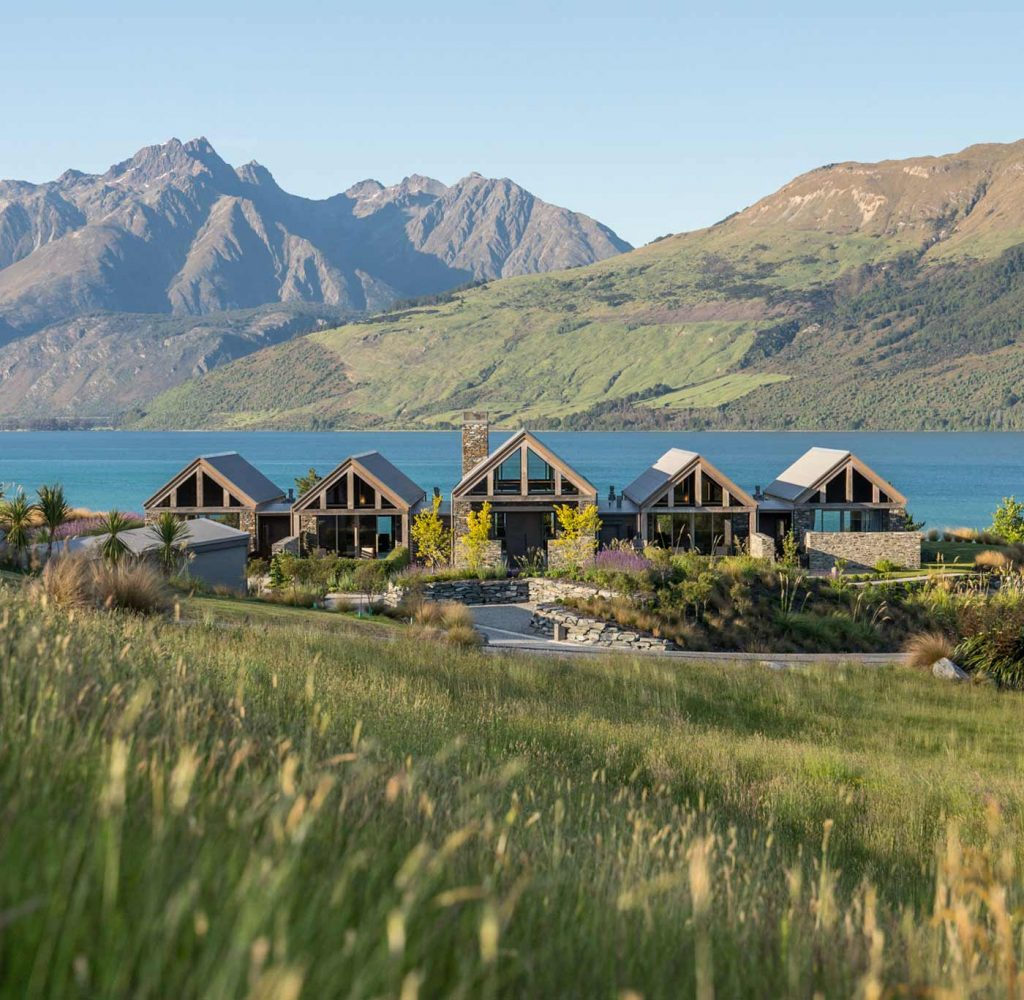 Ideally located on the shores of Blanket Bay at the base of the Richardson Mountains, the estate is part of Wyuna Station, a working sheep and cattle farm just 45 minutes drive from Queenstown. But there's nothing rural about the comfort and service here as all the facilities are five star. With its beamed ceilings and grand stone-and-timber architecture, large open log fireplaces and floor to ceiling windows, the Blanket Bay Lodge is exactly what a true lodge ought to be. Plus, with its award winning restaurant, plentiful roaring fires, gym and spa – Blanket Bay offers exceptional amenities for your stay.
As far as accommodation goes, you can choose from the relaxed and intimate rooms of the Main Lodge, the space and privacy of their Chalets or go for some serious luxury by booking their Blanket Bay Villa. Or, if you're travelling with a family or group, the Owners Residence makes an absolutely idyllic home away from home.
Matakauri Lodge
If you're in Central Otago for the mountains then you really can't go past the Matakauri Lodge. Voted as one of the top three lodges in New Zealand and Australia and located on the shores of the spectacular Lake Wakatipu, this lodge offers luxury accommodation looking out onto a stunning panorama of the big three of this district; The Remarkables, Cecil and Walter Peak.
Just around the corner from Queenstown, this is a modern alpine, lakeside retreat features clean lines in glass, stone and timber with an airy, understated and welcoming atmosphere complete with full spa facilities.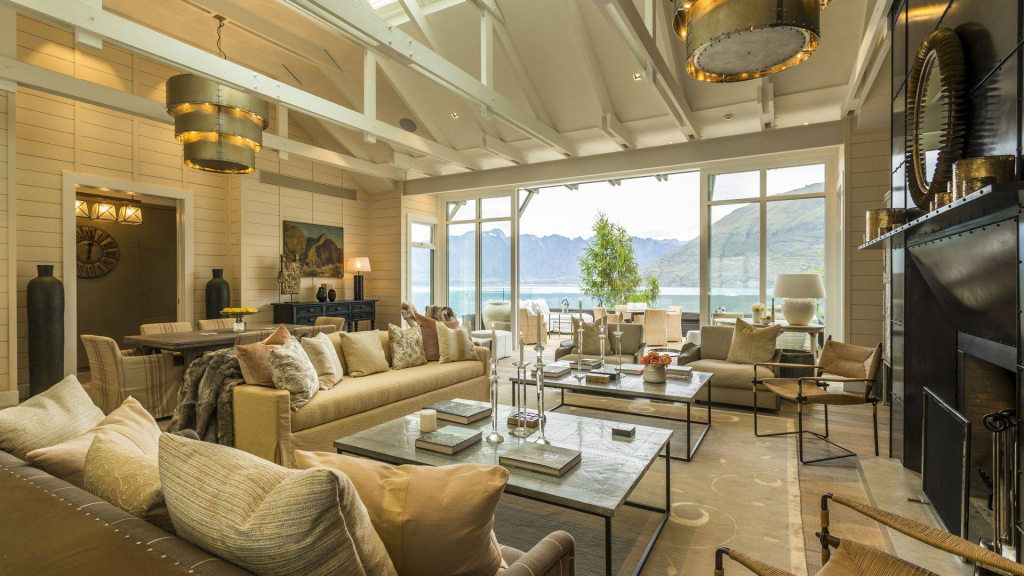 Accommodation wise there are a range of choices including the exclusive Owners Cottage situated on Lake Wakatipu and offering incredible views of The Remarkables plus the Cecil and Walter Peaks. Or you can go for the luxurious rooms of the Deluxe Suites or the Suites which are sprinkled along the lakefront and are just a short walk from the main lodge. Plus, Matakauri also has Lodge Rooms available if you're on a budget.
Whether you're in Central Otago for the snow, the lakes, the views or the wine there's a range of accommodation options to suit whatever you're passionate about. The only real question left unanswered is; should your holiday digs be four stars or five?