Movies like Harry Potter, Star Wars, the Marvel movies, Superman and Batman have all enjoyed outstanding runs, each earning billions as pop-culture phenomena. Die-hard fans around the world are forever waiting for the next sequel or fix from their favourite superheroes. Some have even been made into stage musicals. No other cluster of films though have had success and history that superspy James Bond has had. Luckily, Bond has yet to debut on stage.
Great wordsmiths, be it novelists, poets or academics, write what they know. That maxim spoke very true to London-born journalist and naval intelligence officer, Ian Fleming, who created the much-loved character in 1953. Born into a family of privilege in Mayfair, London, Fleming was educated in highly-esteemed English establishments, Eton and Sandhurst, and briefly in Munich and Geneva.
At the outbreak of the Second World War, Fleming found his true calling in the military where he became a personal assistant to the director of naval intelligence. Though having never really fought on the front lines, he was highly regarded in intelligence services and codenamed 17F.
17F was also in charge of Operation GoldenEye which backed up plans of organising a spy network in Spain, amongst many operative missions. It was after the war that he based much of his knowledge of thrilling espionage on a character he was casually working on at his Jamaican retreat, aptly named 'GoldenEye'. According to rumours, Fleming used writing as a way to distract himself from his nuptials to Ann Charteris. Other reports said that Fleming had been planning on writing about the super spy when he was at war.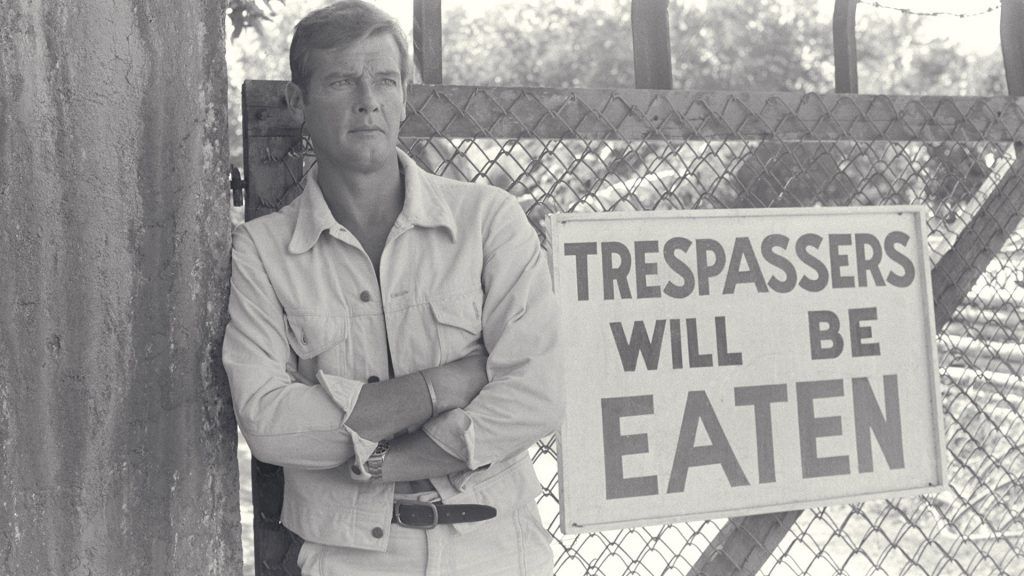 But after the 14 Fleming books and 24 highly successful movies that consisted of nine different actors, it really doesn't matter if Fleming wrote Bond in Jamaica or England, Scotland or Wales. It's the fact that this character was created and has existed for so long that is part of the appeal. Set to release in November, Bond is back in No Time to Die, directed by Cary Joji Fukunaga. Starring Daniel Craig, and set a while after the capture of Ernst Stavro Blofeld, Bond is given a mission by friend and CIA officer, Felix Leiter, to find a missing scientist. In true Bond fashion, that simple mission will cause him to face evil that he never imagined. Starring the likes of Ralph Fiennes, Rami Malek, Ben Wishaw and Jeffrey Wright, the film is set to be Bond at his best.
With the industry humming with the excitement of the new film, fans are getting ready to see that infamous equation that is expectant of the superspy. What car is he driving? Is his style going to be quintessentially Bond? Who's the Bond girl and what awesome gadgets will Bond have supplied to him by Q Branch?
The Cars
Always memorable, and full of actual and fictional features, Bond's cars are a sure fixture of the franchise. From the modest Sunbeam Alpine in Sean Connery's 1962 Dr. No, to the eagerly anticipated and renovated Aston Martin DB5 in No Time to Die, Q Branch had always kept the spy equipped with the latest wheels since day-dot.
With the new film coming out this year, it's obvious that Aston Martin is making a come-back. Founded in 1913 in London, their cars are known for their impressive, raw power. Not many people know that the DB in the name is actually the initials of David Brown, who was a previous owner of Aston Martin.
Aston Martin also capitalises on James Bond's name with a good cause. He's been behind the wheel of 14 in his tenure. The design of an Aston is quintessentially Bond, with its slick body and brute-force.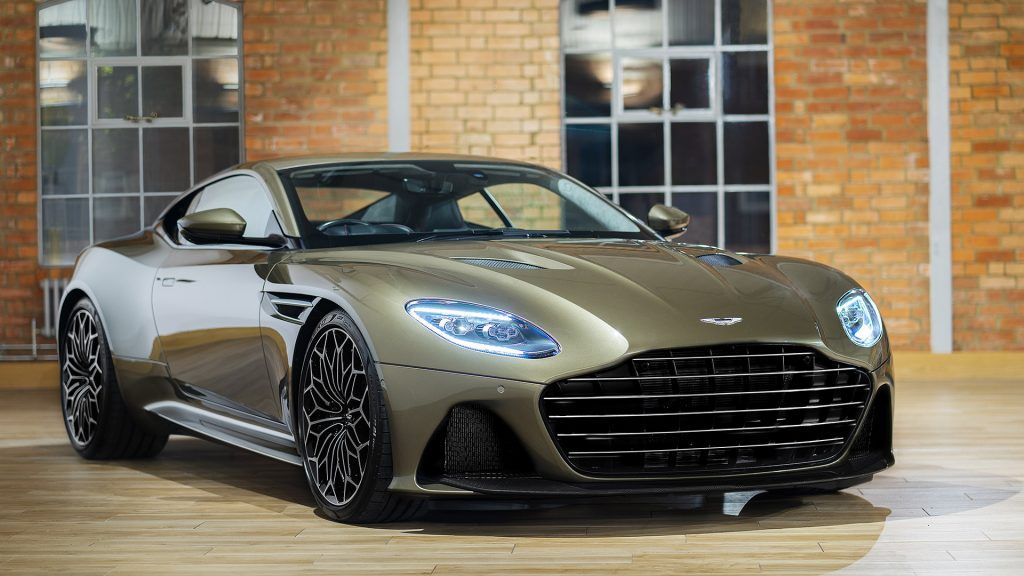 ©Aston Martin
The Scottish Bond, Sean Connery, first got behind the wheel of the most classic Bond car in history, the DB5, in Goldfinger in 1964. Sir Roger Moore unfortunately didn't get to drive any Aston Martin's in his career as the spy – he had the pleasure of driving the different types of cars in Bond's collection, like Land Rovers in Octopussy or Lotus in The Spy Who Loves Me.
In Bond's latest film, No Time to Die, there are expected to be four different Aston Martin's, some even making comebacks. The Aston Martin DB5, the Aston Martin V8 Vantage, the Aston Martin DBS Superleggera and the Aston Martin Valhalla.
The DB5 has appeared in Goldfinger, Thunderball, Goldeneye, Tomorrow Never Dies, The World is Not Enough, Casino Royale, Spectre and Skyfall already. The fans aren't complaining though.
When the list from Aston Martin was revealed last year of what they had planned for the upcoming film, audiences were excited to see that the DB5 would reappear, along with the V8 Vantage that had first appeared in The Living Daylights with Timothy Dalton.
The V8 Vantage is a truly classy car and will make quite an appearance in the next film. The V8 Vantage joined the range in 1977 and the first versions of the Vantage included 390 horsepower from a 5.3 litre V8 engine.
When the Aston Martin DBS Superleggera and the Aston Martin Valhalla were announced too, our attention was definitely grabbed.
The DBS Superleggera features a 5.2 litre twin-turbo V12 engine and will sit wonderfully beside Mr. Bond.
The Valhalla comes armed with a turbocharged V6 and battery-electric hybrid system. The key part in the design is the FlexFoil rear wing which can change the car's downforce without changing its angle of attack.
©Aston Martin
Though Aston Martin is very much the go-to Bond car, Land Rover has just as rich a history with the name as any other brand. Having a strong relationship with EON Productions, Land Rover first appeared in 1983 when a Range Rover Convertible appeared in Octopussy.
The marquee British four-wheel drive brand is also making an appearance in the new Bond flick with it's new First Edition Defender. With Land Rover's off-road tech, the Defender seemed a perfect choice for typical Bond'esque chase sequences.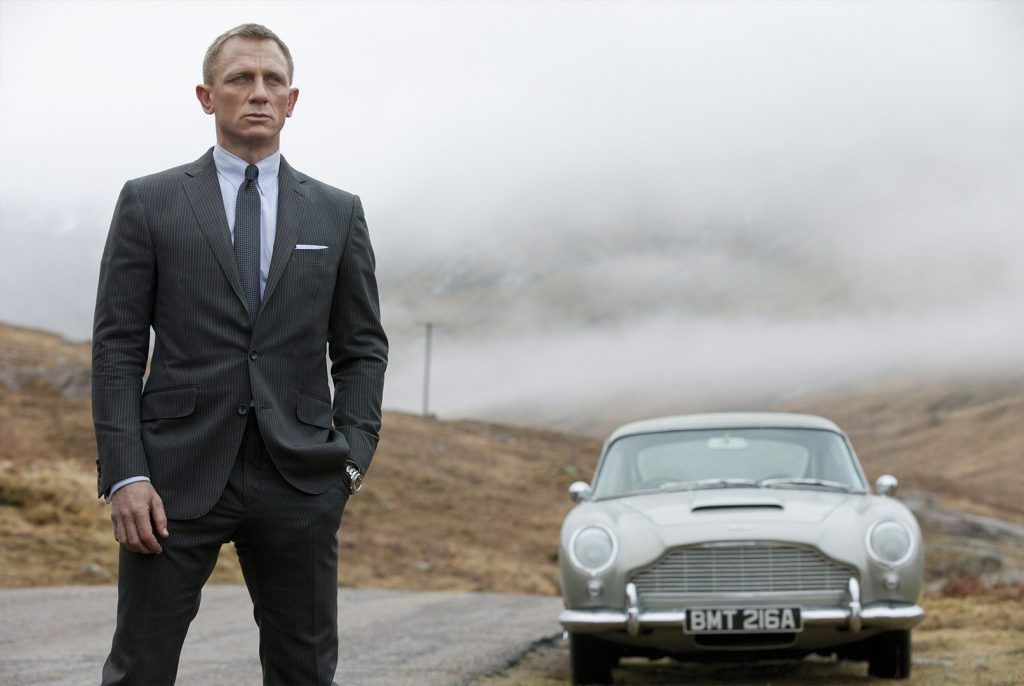 ©Aston Martin
The Rover team worked diligently with special effects and action vehicles to get their first cars off the production line at Land Rover's Nitra factory in Slovakia and in front of the cameras. The 10 cars that were used in filming Defender sequences were based on the Defender 110 X model in Santorini Black, with darkened skid pans, 20 inch dark finish wheels and professional off-road tyres.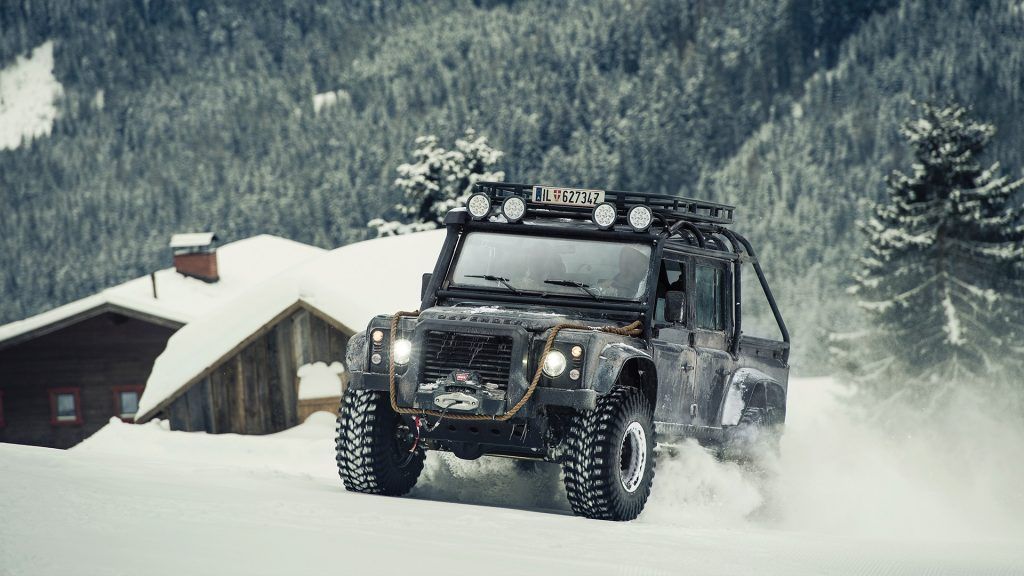 ©Jaguar Land Rover
"Designing and co-ordinating the action sequences for the Bond franchise requires a non-compromising mindset. We needed an unstoppable vehicle to help us battle against the elements, steep descents and river crossings so we chose the new Defender," said No Time to Die stunt co-ordinator, Lee Morrison.
Since the reveal of the new Defender in September last year, there's been a large influx of interest in the release of the First Edition. No Time to Die also stars the Land Rover Sport SVR, Land Rover Series III in Jamaica and Range Rover Classic.
The Esprit S1 first came into the spotlight in appearing in Roger Moore's 1977 film, The Spy Who Loved Me. Referred to by the production staff as Wet Nellie, the car was fully-convertible to an amphibious machine and highly armed on land too. The wheel arches could turn into fins and a small periscope on the roof allowed Bond to navigate quickly underwater. Other additions included a missile launched from the back, mines, black dye, and torpedoes.
©Aston Martin
Another non-Aston Martin that Bond drove was in the 1997 film, Tomorrow Never Dies, where Bond was introduced to the 1997 BMW 750iL. A four-door stretched version of the two-door Z3 in GoldenEye, it is a slick blend of suave and sporty. Large sedans were the fashion back in the late 90's, so this seemed like a perfect fit for Bond. Complete with electric shock for intruders, stinger missiles in the sunroof, a smoke screen, hidden weapon compartments and a retractable metal cutter in the form of the BMW badge. Unfortunately, the car doesn't make it out alive by the end of the movie.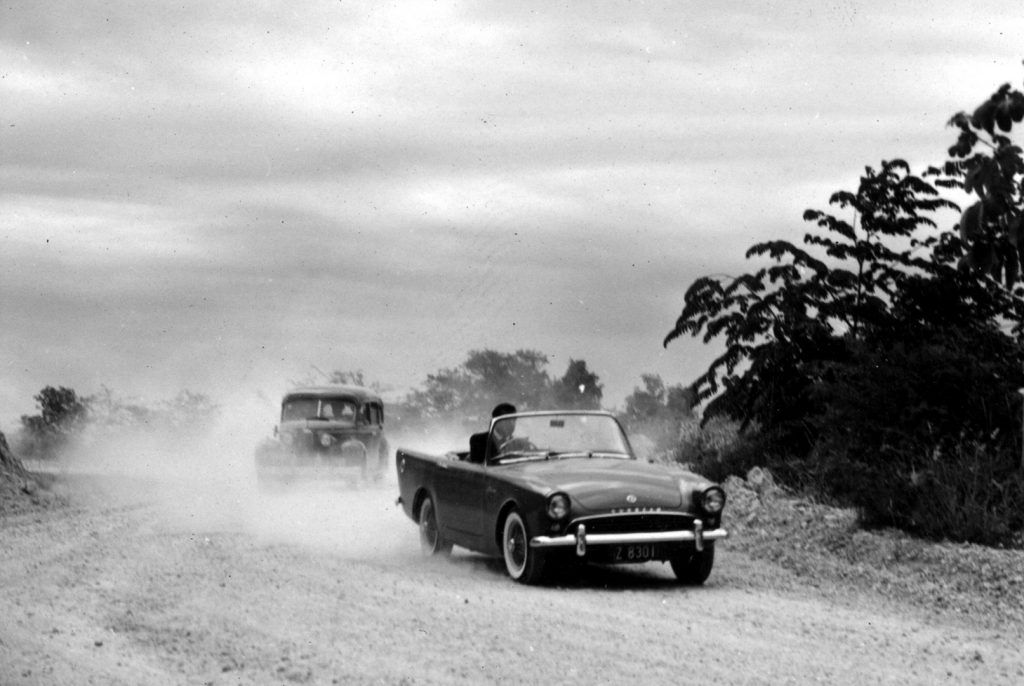 Other car names that Bond drove were Bentley in From Russia with Love, Ford in Diamonds Are Forever, Jaguar in Skyfall, Land Rover in Octopussy, Lotus in The Spy Who Loved Me and the Sunbeam in Dr. No.
The Gadgets
Bond's gadgets range from the ridiculous to the damn-right cool. Playing a major part in the franchise, the real question is: who is Bond without Q? There's a reason he's survived through so many films. Is that thanks to Bond's Geiger counter? A video-camera inside a wristwatch? A cigarette rocket?
The history of Bond's gadgets quite simply moves with the times. Ian Fleming took inspiration from his own experiences at war. He too had a Q, a firearms expert that supplied gadgets. Q, admittedly, has been most famous for his elaborative and evocative ideas such as explosive bolas and hookah guns.
In For Your Eyes Only (1981), for example, Bond used a database to identify criminals. In Octopussy (1983), Bond's Seiko G757 turned into a crystal TV.
Yes, the Bond gadgets move between the awesome to the ridiculous. The leap from Timothy Dalton in The Living Daylight with night-vision goggles and 'Ghetto Blasters' to GoldenEye's much-more computerised gear and Q Branch didn't slow down for breath as they tried to outdo the encroaching tech wave.
If you look at the gadgets as its own narrative, you'll be able to see it being quite a political story, as well as down-right awesome.
Weird and wonderful Bond gadgets:
WEIRD: Spike Umbrella in For Your Eyes Only
A normal looking umbrella, yes, but when a spy needs pain to rain down, at just the click of a button, the umbrella comes with some deadly consequences.
WONDERFUL: Laser Wrist Watch in GoldenEye
Omega has come out with outstanding watches in their time, even ones with lasers! When Bond and Natalya Simonova were locked in a Russian military train, Bond used this watch to cut a hole through the floor! Similar watches were used in Never Say Never Again and in Die Another Day!
WEIRD: Pocket snap trap in Diamonds Are Forever
Sometimes, you just don't want to know what a super-spy has in their pockets. The pocket snap trap is a friskers worst nightmare.
WONDERFUL: Ericsson JB988 Mobile Phone in Tomorrow Never Dies
Imagine if in real life you can drive your car using your phone. With CES having been on in Vegas recently, it wouldn't surprise us if that idea has been taken. But it was first seen in the 1997, Tomorrow Never Dies!
WEIRD: Fake nipple in The Man With The Golden Gun
What do you give a super-spy who has everything? Yep, you read that right. In The Man With the Golden Gun, Francisco Scaramanga had just that and, to replicate him, Bond donned it too.
Bond and Bollinger
Since the first Bond book and subsequent movie adaptation, it's been quite obvious to the reader or viewer that the spy drinks on the job. Bond would never want his vodka martinis neat, only messy – "shaken not stirred", in fact. When it comes to Champagne too, he's always had a certain taste for Bollinger.
The first Champagne ever to receive a Royal Seal of Approval by Queen Victoria, the brand too has been working under Her Majesty's Secret Service.
Bollinger appears in Bond just as much as the martinis, it seems. The Champagne was first mentioned by Ian Fleming in his 1956 spy novel, Diamonds Are Forever and has featured in 15 Bond movies. Even Jaws with his metal teeth, bit off a cork in the movie, Moonraker, Brosnan asked for '61 Bollinger in Die Another Day and Craig ordered "chilled Bollinger" in Casino Royale.
As the 25th Bond film is set to be released soon, the world-famous brand has welcomed a cheeky bottle of No Time To Die Millésimé 2011. The bottle is kept in a decorative case that opens at the press of a button. The case is covered in the names of Bond film, including Moonraker, Casino Royale and Goldfinger. The glass lid lifts off to reveal the bottle inside. Kept seven years under the cork, the wine itself features a rare grape from a vineyard in Aÿ, Champagne and offers 'honeyed' and 'hard' aromas with fruity notes and a mineral aftertaste.
The Bollinger 007 Limited Edition Millésimé 2011 retails at just $325.00, whereas the bottle in the case is a more pricier at $9,007.00.
The Women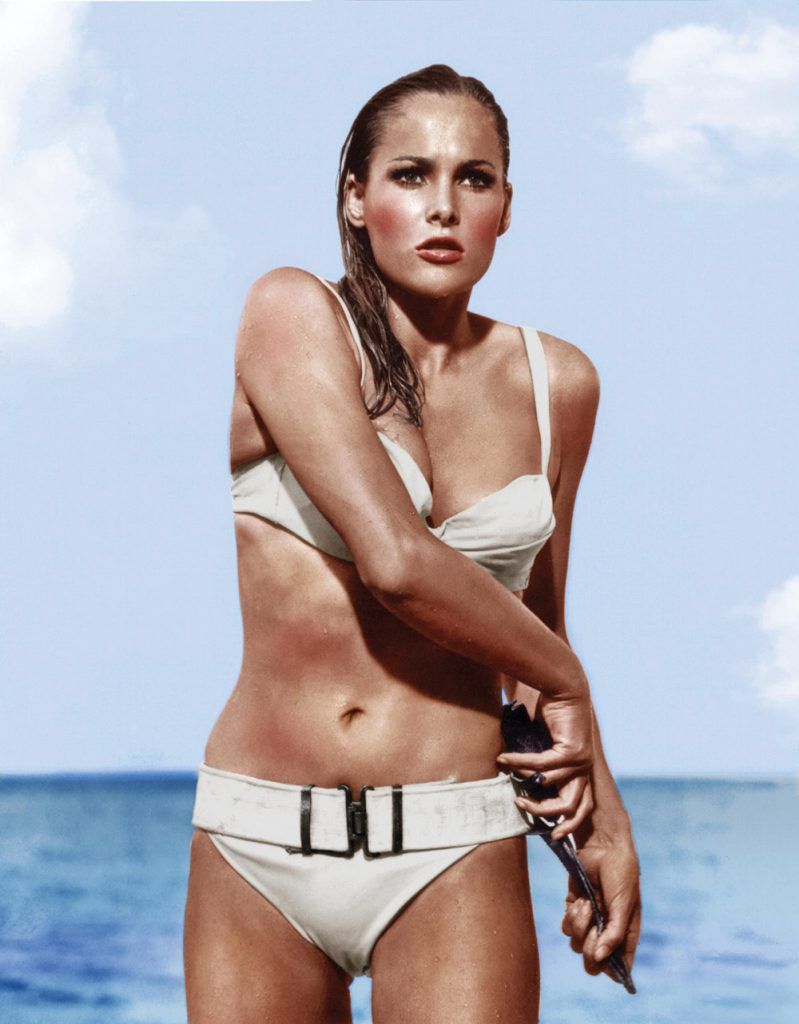 When it comes to charming women, James Bond is on another level, getting through more in a day than his famous vodka martinis. The now-deceased American publisher and sleazy ladies man, Hugh Hefner, even said that the spy reminded him of 'Playboy with a gun'.
With names like Pussy Galore and Holly Goodhead, it's no surprise that the girls are so popular in the franchise. There's been up to 75 of these powerful women for Bond, oozing with extravagance and mystery through the years.
Emerging from the ocean in a white bikini with hands full of conch shell, Ursella Andress was introduced into our lives as the first Bond girl, Honey Ryder. Jamaican shell-diver and fiercely independent, Ryder (like Pussy Galore in Goldfinger) doesn't appear until halfway through the film. In the book, it was said that Honey Ryder sold seashells to save up for plastic surgery for an imperfect nose. Both Bond and Ryder were later captured by the evil Dr. Julius No, who attempted to kill Ryder by tying her to rocks and letting crabs eat her alive. The power of creative license, I suppose, was far superior than Bond's license to kill in the early portrayals of the spy. They both escape, inevitably.
Though Ursula Andress has been heralded in popular culture as a sex symbol for her portrayal of Ryder, it seems that her character plays as the essense of damsel in distress. It was in the 1964 film, Goldfinger, that the idea of a more headstrong Bond girl was established in the form of Pussy. Pussy Galore, that is. Before the film hit American screens, the US censors almost cut the name from screens, deeming it too rude. I wonder why.
Throughout the Bond franchise, there's been a large number of very attractive females to help Bond on his way, some of which turn out to be more bad than good and set to gain Bond's trust. It's in times like these we're glad that Bond sleeps with a gun under his pillow. Here are some honourable mentions of Bond's leading ladies: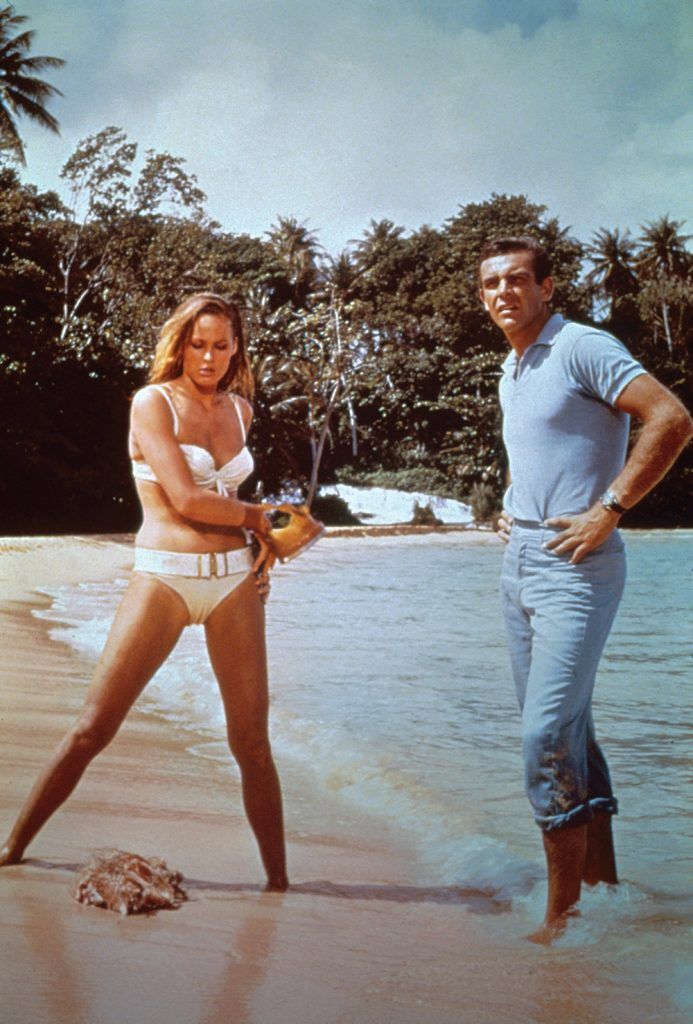 Miss Moneypenny
Every man deserves a Miss Moneypenny in their lives. Secretary to M, probably the most well-known of all the Bond girls, Moneypenny has been a consistent character in Bond's career with that underlying sexual tension that we all love.
Mary Goodnight in The Man With The Golden Gun
Mary Goodnight (played by Britt Eckland) was Bond's squeeze in Roger Moore's 1973 film. Goodnight was an MI6 staffer who helped Bond in retrieving the Solex Agitator, a device that harnessed solar energy as the answer to the 1973 energy crisis. Known mostly for her ditzy nature, Goodnight saved the day by setting off a chain reaction that lead to the demise of the evil Scaramanga's island by helping hench-man, Kra, into a cooling mechanism of a solar power plant.
Domino Derval in Thunderball
The mistress of bad-guy Emilio Largo, Domino Derval, the French beauty is intelligent, imaginative, humorous and courageous. All things 007 looks for, I guess. After her brother is plotted to be killed by SPECTRE, Derval and Bond work together to stop Largo's nuclear threat and get revenge on Largo. In the sweetest act of badass dominance, Derval shoots Largo in the back with a harpoon.
Tatiana Romanova in From Russia With Love
Played by Daniela Bianchi in the '63 Sean Connery Bond film, Romanova is a Soviet Army corporal who was assigned by SPECTRE Colonel Rosa Klebb to take out Bond. Upon falling head-over-heels for the spy, she tries her hardest to 'mislead British security', but fails in the end by helping Bond retrieve the Lektor decoder, kill hench-man Red Grant on a train to Venice and then Klebb by shooting her for the love of her majesty's secret service.
Vesper Lynd in Casino Royale
Played by Ursula Andress in the '67 Bond spoof and Eva Green in 2006 remake, Vesper Lynd is assigned to Bond (much to Bond's initial frustration) to manage MI6's funds in the bankruptcy of bad-guy, Le Chiffre. After successfully beating Le Chiffre in a poker tournament, she's kidnapped and a good-old chase ensues. They are both saved by Quantum henchman, Mr. White.
In hospital, they both fall madly in love with each other, with Bond oblivious to the fact that Lynd has embezzled the money and passed in to a gang of Quantum henchman. Another chase. A building crumbles, trapping both Bond and Lynd inside, a torrent of water flooding over them. Lynd dies. Bond is heartbroken.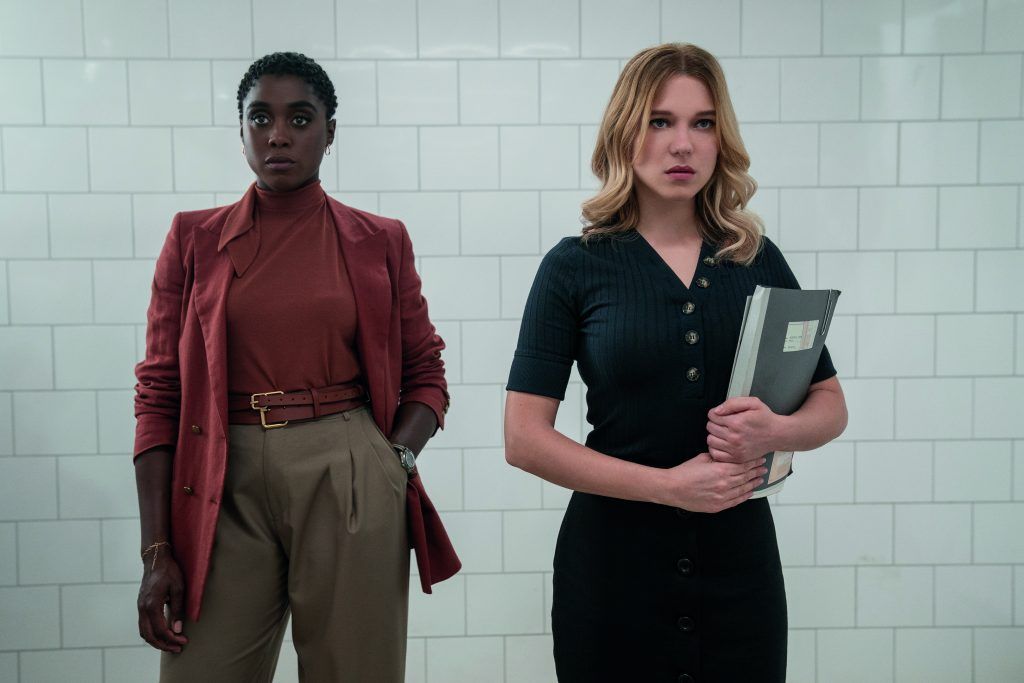 In No Time to Die, Bond is going to be accompanied by Nomi (played by Lashana Lynch) and Madeleine Swan (Lea Seydoux). Nomi will reportedly be the new 007. It seems that in the latest Bond flick, the idea of the Bond girl has been reinvented, offering stronger, more badass sidekicks.
The Style
Bond's style is timeless. Whoever is working wardrobe for MI6 needs a payrise. Since Dr. No, Bond has always had that swagger to his finely cut suits and casual designer gear.
Bond's style is masculine without a doubt. Even his casual clothes are dressy and sophisticated. Larger than life with a tux to match, Bond really wouldn't be Bond if he wore camo-shorts and a Def Leppard singlet in his films. Here there is a life lesson for the audience, if one wants the suaveness and sophistication of Bond, then they must take care of their appearance.
There is nothing quite like a bespoke suit and a tailor to match. Going down the list: Sir Sean Connery used UK-based Anthony Sinclair in Dr. No, From Russia With Love, Goldfinger, Thunderball, You Only Live Twice and Diamonds Are Forever. George Lazenby used Dimi Major, and Roger Moore used Cyril Castle and Douglas Hayward in For Your Eyes Only, Octopussy and A View to a Kill. Whether it be Bond playing cards with the enemy in a smoke-filled casino or meeting up with Felix Leiter, or driving his latest Aston Martin through a barrage of gunfire, Bond always looks classy doing it.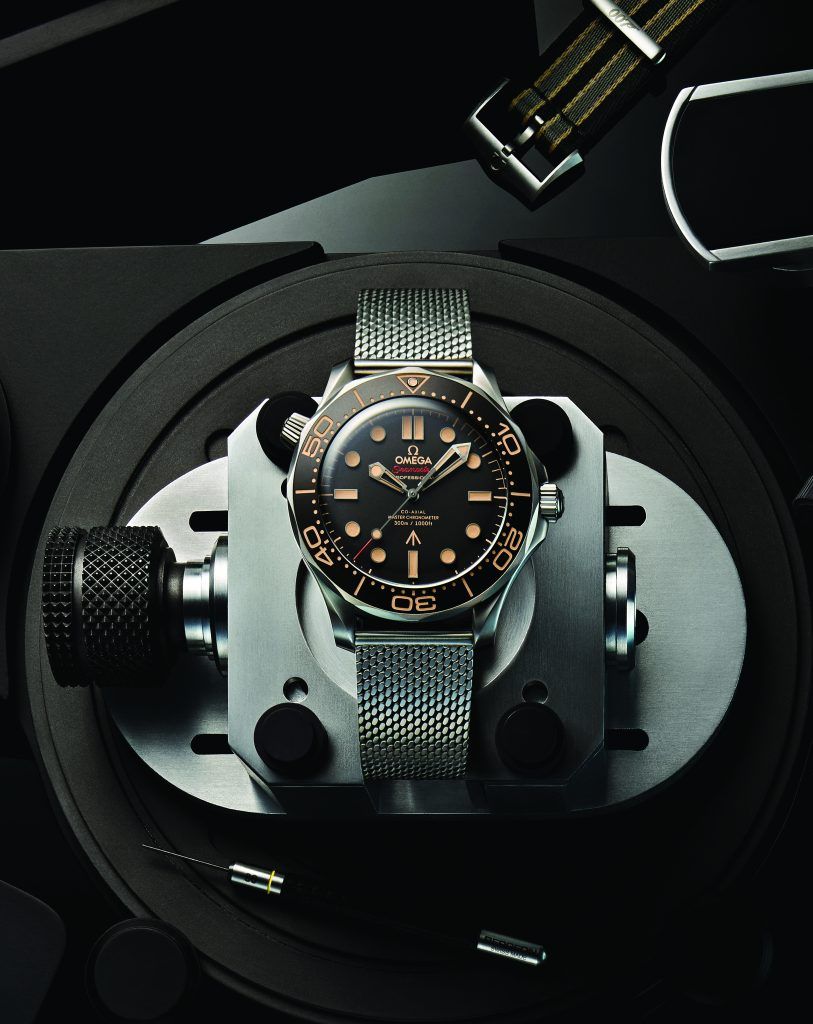 Don't you sometimes wonder what Bond would look like on his day off? Like in Die Another Day and Dr. No, Bond gives us an insight into his more casual look. In Dr. No, he wears a 'holiday suit' that looks like something your cool uncle would be wearing at a family barbeque. Chinos, shirts and opened collars show that there is a more relaxed side to Bond. Or maybe it's in his art to blend in and look less conspicuous that makes this so damn classy. In Casino Royale, Daniel Craig comes out of the water wearing a very short pair of blue trunks! If that's not blending in, I don't know what is.
Bond's watches are a thing to note about the secret agent. A man of extravagance, from Connery's Rolex Submariner to Craig's Omega, the watches are almost as awesome as the brand. At the very beginning, the only brand that was seen was the Rolex. The super sexy watch looked as good on the beach with Honey Ryder as it does on the poker table. In the next Bond film, Goldfinger, Bond wore the same Rolex again, but with a different type of strap.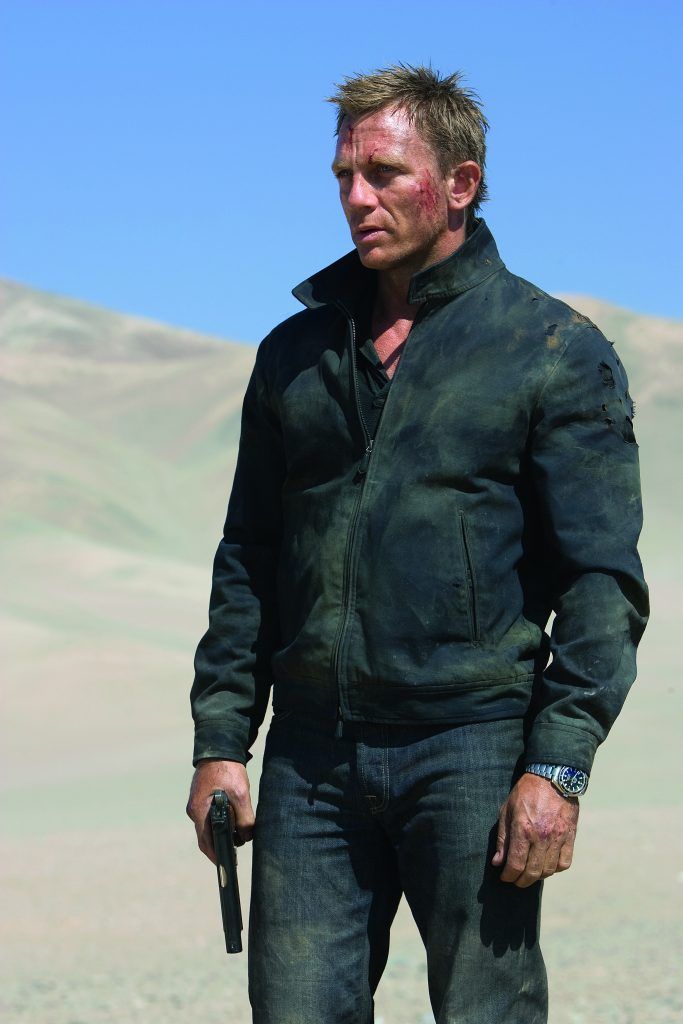 Though Rolex's were worn by the next Bond, Sir Roger Moore, it had mostly changed to the more mechanical movement of the Seiko. With Pierce Brosnan in the early 2000's, Omega firmly landed as the new watch and has been a fixture of the brand through Craig's portrayal too.
Late last year, it was revealed that the latest Bond watch is going to be the Omega Seamaster Diver 300M in No Time to Die. The watch features a full grade two titanium case and high quality aluminium bracelet. Offering 42mm in size, the watch will fit comfortably on Bond's wrist, and it features an excellent METAS Master Chronometer automatic movement, the Omega 8806.
Film stills courtesy of Universal Pictures.