It probably doesn't get mentioned enough as one of the country's great adventure areas, but if you love riding on two wheels, Central Otago is one of New Zealand's premier spots. With a myriad of excellent tracks and trails, the Central Otago area offers a uniquely diverse off-road cycling experience, leading adventurers through a location each parts rich in history and natural wonder. While the spot is absolutely full to the brim with available routes (over 300km worth of inter-connected off-road track), we've broken down four of the regions most essential cycle trails that you're got to try if you're making the trip down South.
Otago Central Rail Trail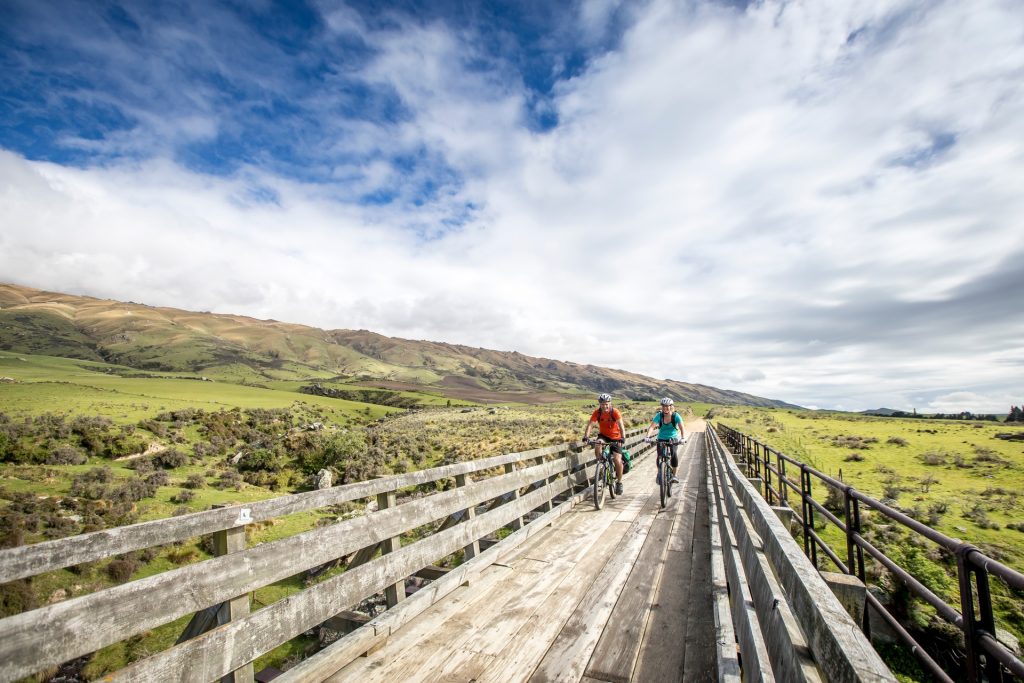 Fondly known as New Zealand's Original Great Ride, the Otago Central Rail Trail is a great kickoff to any biking trip. The track, which used to be home to a section of the Otago Central railway, offers a mostly cruisy 150km of riding, giving riders a true authentic taste of what the Southern region as to offer. The various tracks lead riders alongside mountain landscapes and through gorges, into local townships and past a number of Otago's signature gold mines, which were once bustling with prospectors looking for a big score. If you're new to long-distance riding or looking to get as much out of a trail as possible, this is a comfortable top choice, and one of the best the entire country has to offer.
Clutha Gold Trail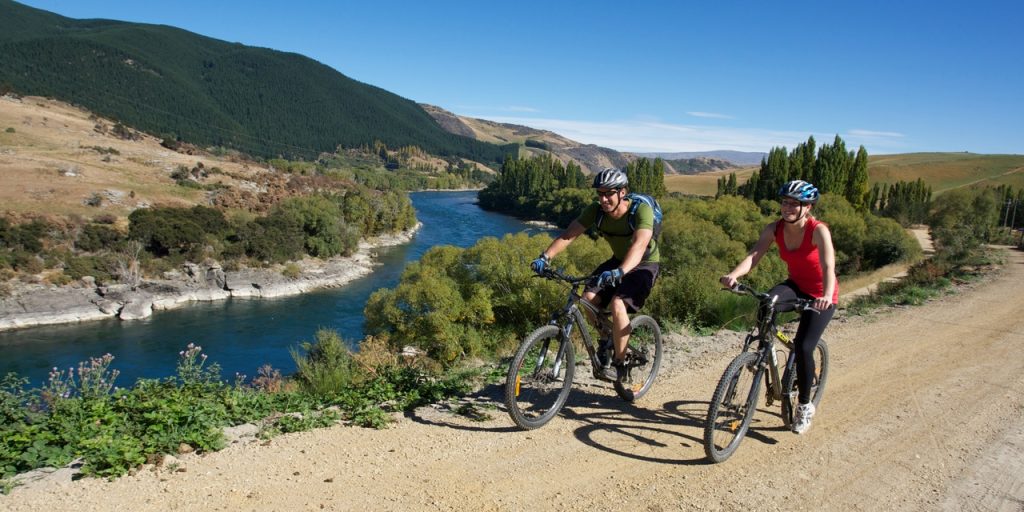 Flanking the gorgeous Clutha Mata Au River, the Clutha Gold trail might be the cream of the crop when it comes to delivering a visual experience. The area is bountiful with stories of travellers who've come and gone in search of gold in centuries past, leading riders through an area steeped in Kiwi history, as well as providing a fairly challenging but manageable ride through semi-arid dry and farmland areas. At 73km, there's plenty to explore along the Clutha Gold trail and with around two-thirds of the trail providing a perfect vantage point on the stunning turquoise waters of the river, this trail ticks all the boxes.
Roxburgh Gorge Trail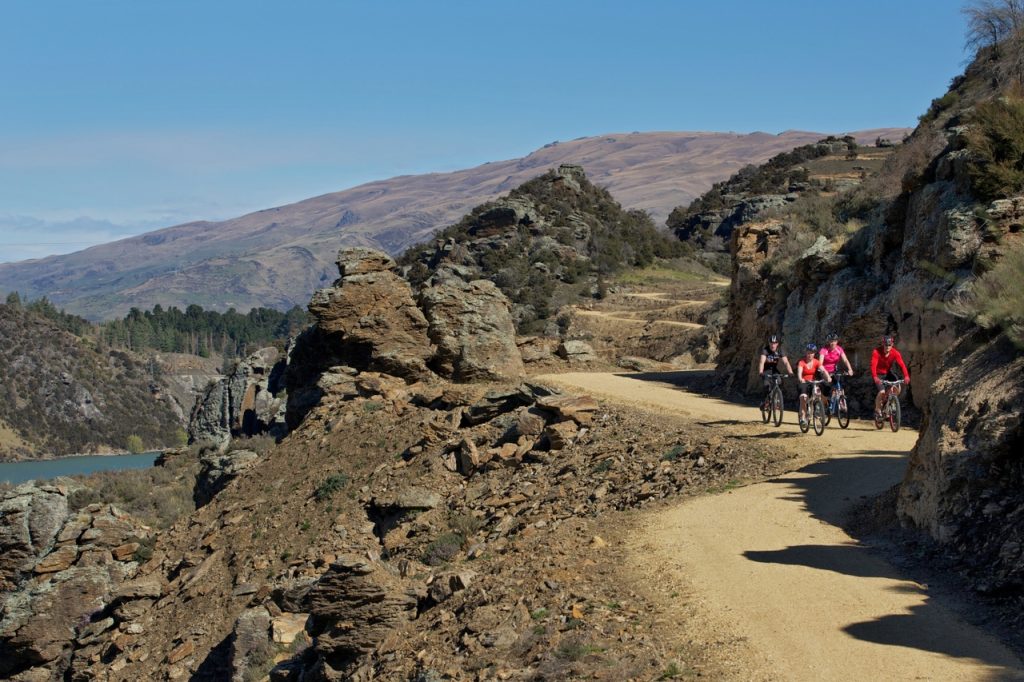 If you're looking for a trail that allows you to fully immerse yourself in the best of New Zealand's natural world, the Roxburgh Gorge trails is far from a bad choice. At a relatively short distance of 21km, the Roxburgh Gorge is renowned for its incredible array of flora which blooms in late Spring and provides dazzling colour-rich views for rider navigating the track. With a mixture of grade 2 and 3 tracks and some challenging climbs on offer, this is one of the more exerting trails Central Otago has on offer, but for those with the stamina, the pay-off is a day spent truly at the heart of Aotearoa's natural world.
Lake Dunstan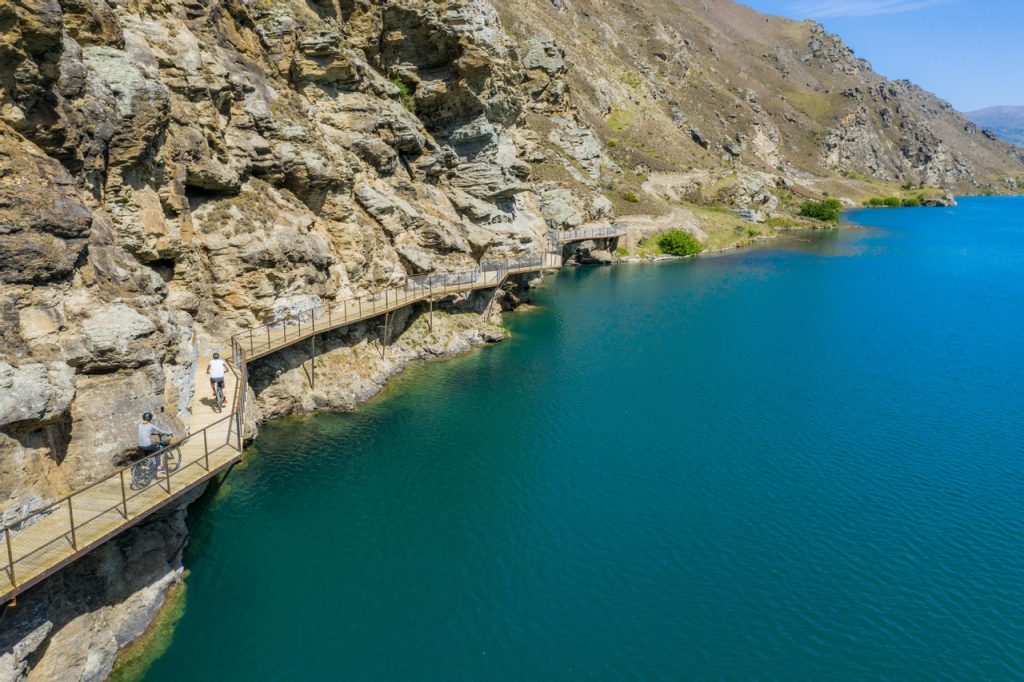 Linking the townships of Clyde and Cromwell, the Lake Dunstan Trail leads riders along a 55km track with the shimmering Lake Dunstan at their side. After passing the lake, which sits between the Clutha and Kawarau rivers, and several of the Otago regions esteemed vineyards and cellar doors, the experience peak with a stop by the fantastic man-made marvel that is the Cromwell Gorge. The track also operates as a link between the Central Otago Rail Trail and the Roxburgh Gorge Trail, making it a convenient feature for those going to full 9-yards in attempting to tackle every trail the region has on offer.