While our personal tech gadgets are designed sleeker and aesthetically pleasing with each new model, everyone knows it's the bits on the inside that truly count, even if we don't get to appreciate them with our eyes. Well, with their unique artistic vision, the folks over at the Shenzen-based Grid Studio have found a way to make those inner components as visually valuable as they once were practically, while at the same time finding a brand-new purpose for the gadgets of yesteryear. Their somewhat bizarre but fascinating artworks involve breaking down pieces of old tech; phones, gaming consoles, you name it; and making art out of what's on the inside.  
Grid Studios makes every piece of the device a part of the picture, finding just as much aesthetic value in a devices' hidden away microchips and switchboards as in the meticulously designed outer shells. Each piece is broken down laid out flat on a white background and features a series of printed labels breaking down the function of each individual component when it's all put together. The works are about as 'barebone' as you can get, another classic example of the hyper-simplistic post-modern artistic style that has become so popular in recent years. It's a strange idea in concept but it must be said, many are quite pleasing to the eye, and it is equally fascinating to have the inner workings of the devices we use religiously every day laid out so plainly.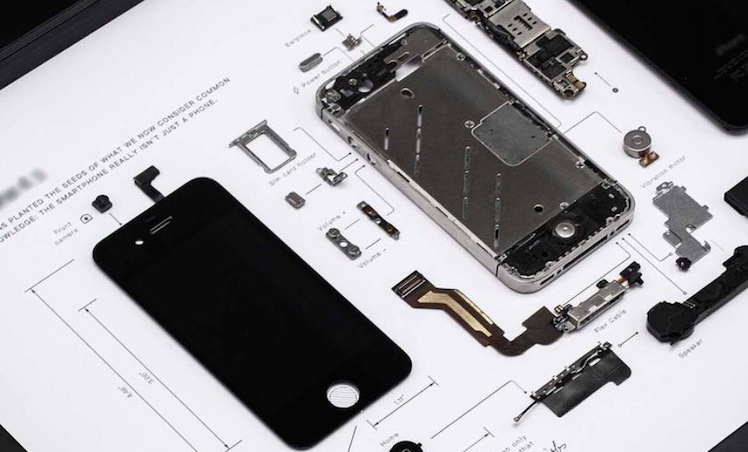 You might not think there would be a huge market of people desperate to have frames of flayed out Nokia's, Gameboys and iPhones in their homes, but it appears that you'd be wrong, as Grid's works are current up on their site for upwards of $400 USD. Maybe it's just millennials seeking a little bump of nostalgia every time they enter their living room.  If that's a bit out of your range, there are a number of options are the $100 USD range, and the available models include everything from the recently defunct Blackberry, to the iconic iPhone 1 to the uber retro 1990 Sega Game Gear.
All images courtesy of Grid Studio.