Huawei recently gave me the opportunity to play with their New FreeBuds Studio, which is their very first over-ear wireless headphones, as well as their smaller, streetsmart FreeBuds Pro wireless earbuds. I'm going to go ahead and share my thoughts on the Huawei FreeBuds Pro, before moving onto the stately FreeBuds Studio set.
Let's start with the bottom line, the Huawei FreeBuds Pro have some of the best sound I have ever had in a pair of earbuds. The fact they're literally your only option for intelligent dynamic noise-cancelling in such a small form-factor, and look good while they're at it, makes them a serious contender as your next (or first) pair of wireless earbuds.
They come in a tidy package with 2 extra sets of silicone earbuds in various sizes and a USB-C cable. The black case the FreeBuds came in is a little larger than usual but still comfortably slip away into a back pocket. They have just enough heft to them to have that "oooh, valuable" weight and magnetic clickiness in the lid to make them a fidgeters perfect companion toy. It has a single button for bluetooth pairing, an LED to display battery life, and a USB-C plug in the bottom. It should also be noted that the case is compatible with wireless charging pads, which I'd recommend to anyone who happens to be living in the 21st century.
My ears must be generic enough to not need to use the other variably sized buds that came in the case because slipping the Freebuds out of the case, into my ears and pairing them with my phone was a smooth and painless procedure.
Sound out the gate is immediately crisper and fuller than other Bluetooth earbuds I've had the pleasure of giving a whirl recently. The engineers at Huawei have outdone themselves with the dynamic suspension between the speaker and dynamic driver. The software backs it all up further by using the mics in either earbud to create data about your ear type to optimise the sound with Dynamic EQ Adjustment. I'd tell you how they achieve this but I don't have a degree in magic.
Huawei have gone for a stripped back look, even going so far as to remove any buttons that might ruin its sleek form-factor. They haven't done this to the detriment of utility though, as the stems are touch sensitive. The controls are intuitive enough to not require the manual, swiping up or down on the stem plays with volume while a quick pinch on them results in pausing the track or taking a call. Two pinches skips the track or cancels a call and three skips back one.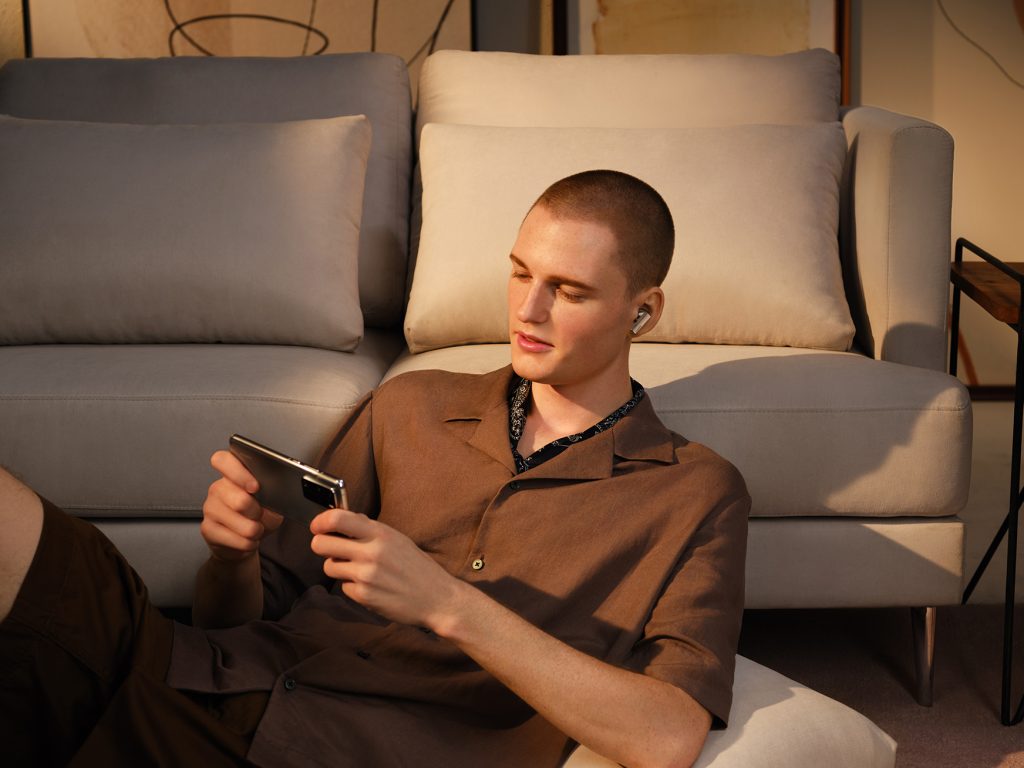 The star of the show though is one long pinch which activates noise cancelling, instantly negating the sounds of my boss telling me to finish this review. It has three noise cancelling modes which it intelligently switches between, Ultra, Cozy and General Mode. For most of my time with the buds I was comfortable enough with the natural noise cancelling abilities of the buds themselves to not require it. But it's nice to have that extra layer of noise cancelling when you're on the bus and truly want to zone out so much with your music, you're able to miss your stop.
On the other hand, you can go the other way and enable the microphones on the earbuds in Awareness and Voice modes to hear traffic as you're crossing the road or listen in on office banter on the other side of the room.
Battery life with noise cancelling is up to 4.5 hours and without the battery will go for up to 7 hours without needing to charge with the case. Personally, I was using the earbuds for at least two hours each day during my commute and in the evenings gaming on my phone (I'm in a weird mobile gaming phase right now, don't you judge me). At no point did they give out on me, and I only charged them once one afternoon for no other reason than feeling like they probably deserved a good charge for all the hard yards they put in.
Let's end with the bottom line which was also the top line. From its Dynamic EQ Adjustment for good full audio, down to its intelligent dynamic noise cancellation the Huawei FreeBuds Pro are a great pair of earbuds for both people who enjoy sound, and despise it in equal measure. 
The Freebuds Pro weren't the only part of Huawei's new lineup I got to try however. I also got to give their brand new Freebuds Studio over-ear wireless headphones a whirl. Apparently these are the company's first over-ear wireless headphones, but to be honest, you wouldn't know by looking, or listening to them. Huawei have come out the gate running on this one, and I can honestly say I love them.
They arrive in a solid, classy case emblazoned with the Huawei logo and a zip running around the edge. This carry case belies how precious the Huawei Freebuds Studio headphones will become to you later down the track once you've had some time with them. Inside is a pouch with a lid which tidely stores the accompanying USB-C cable.
The headphones themselves are gorgeous, with simple shapes and a solid metallic matte texture for audiophiles that prefer style that speaks with a whisper, not a gaudy yell. The build is solid, and is only reinforced by the stainless steel cylindrical arm that connects the headband and ear cups together. This isn't a cheap pair of headphones that will snap at the first sign of having to deal with the real world.
The padding on the cans is plush, as it also is on the headband. The evening I brought these bad boys home, my wife immediately stole them off me after I showed off their noise cancelling abilities and sound quality. She wore them for the rest of the evening as she read her book, which speaks both to their quality, and comfort. She's especially prone to getting a sore head from comfort deficient headphones, to such a degree that she fashioned miniature pillows for her standard pair that she's bulldog clipped on. It's a disgusting setup, and one I'm thankful to no longer lay eyes on as she got to enjoy the Freebuds Studio set. The ear cups are spacious, measuring 65mm x 42mm meaning no precious earlobes are going to get mashed using these things. The headband also extends up to 150 degrees, meaning no head is too weird for it to still be comfortable.
The audio hits just right, as you imagine it would with 48kHz wide frequency high-resolution sound quality. Using their in-house developed L2HC wireless audio codec tech, Huawei has been able to achieve an audio transmission rate of up to 960kbps. These are numbers that should please any audiophile who has read this far.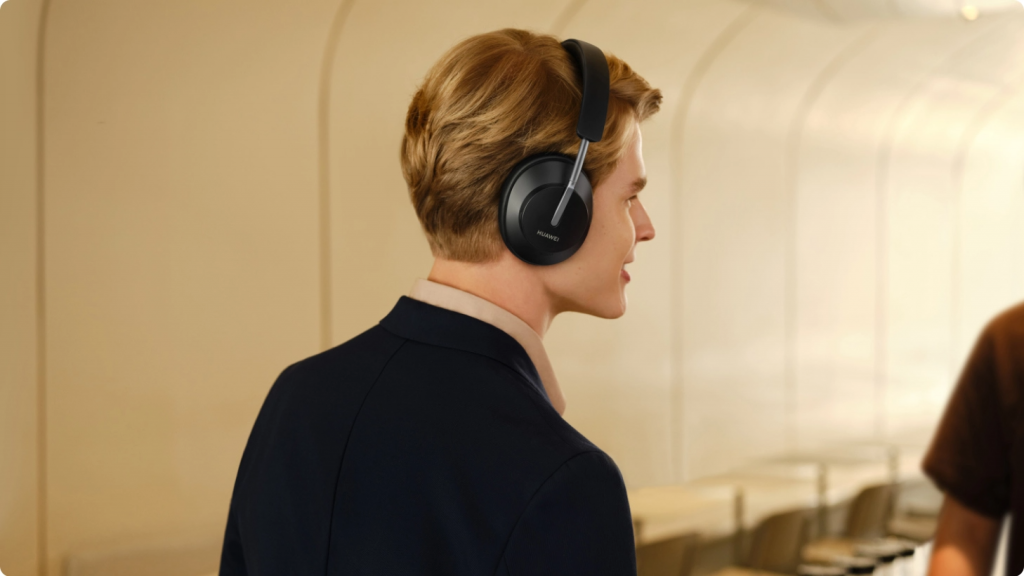 The Noise Cancellation, which I mentioned I was showing off earlier, is superb, turning it on in a crowded bus during a commute really opened my eyes to how much ambient sound is surrounding us at all times. The thrumming growl of the engines disappeared entirely. Much like the Freebuds Pro, the Studio set also has all the intelligent dynamic ANC bells and whistles. The major difference, apart from its form-factor working more in its favour in this regard, is that activation is via a dedicated button on the left ear cups.
On the right are two more buttons; one for pairing and the other for powering down. All other controls are via the touch controls on the right ear cups. Giving a quick double tap will pause and swiping in all the cardinal directions will do exactly what you expect them to; volume up and down and track skipping. Pausing via the touchpad wasn't something I spent a lot of time doing to be honest, as the headphones were able to pick up when I'd shift one cup off my ear to quickly listen in to something, and automatically pause the music. This was also the case when taking them off entirely, pausing the music and waiting patiently for me to put them back on.
The Freebuds Studio headphones also come with dual-device connection, for when you want to swap between devices seamlessly. I found this out after having paired them with my PC and phone, switching between the two quickly and painlessly.
Battery life, much like its little brother the FreeBuds Pro, was perfect. The battery life on the headphones won't be the limiting factor while cranking music with ANC. Your phone will probably die first, as the Freebuds Studio will go and go for up to 20 hours, or 24 hours if you don't require the ANC. USB-C shows its worth, with a 10-minute quick charge giving you a solid five hours of full ANC use or eight without.
There are a lot more features packed deep within the FreeBuds Studio, but for now all I can say is that they're my new favourite pair of headphones. This one is an easy recommendation from M2.
Both products are available to purchase from PB Tech and coming soon to 2degrees this month. The Huawei Freebuds Pro has a RRP of $299, available in Silver Frost and Carbon Black. The Huawei Freebuds Studio has a RRP of $599, available in black.