While the aerospace industry has ticked off first after first after first in the last few years, commercial air travel has become such an incredibly common form of transportation in the modern day, one might believe that we're all out of 'firsts' to conquer in the industry. Those with that expectation will be surprised to hear, that a unique aviation achievement has been marked for the first time in the past week, one that is set to create new opportunities for tourism and travel in a region that is one of the world's most notoriously difficult to reach.  
In a flight charter by American tourism outfit White Desert and conducted by Portuguese aviation company Hi Fly, an Airbus A340 safely touched down on the continent of Antarctica in a world first landing. The famously tricky conditions on the icy southern continent had long detracted companies from making the effort and Hi Fly were required to employ a number of specialised arrangements in ensuring the journey and landing went forward without a hitch. As there is no actual tarmac anywhere on Antarctica, the plane touched down on a White Desert's private Wolf's Fang blue ice runway, which has been equipped with special groves carved in to ensure the plane had enough grip to brake safety. The gleaming icy surface also creates issues in that the light reflecting off the surface can massively disrupt the pilots' vision. The Airbus' pilots (who included Hi Fly Vice President Captain Carlos Mirpuri himself) were equipped with specialised eye wear to account for this hazard.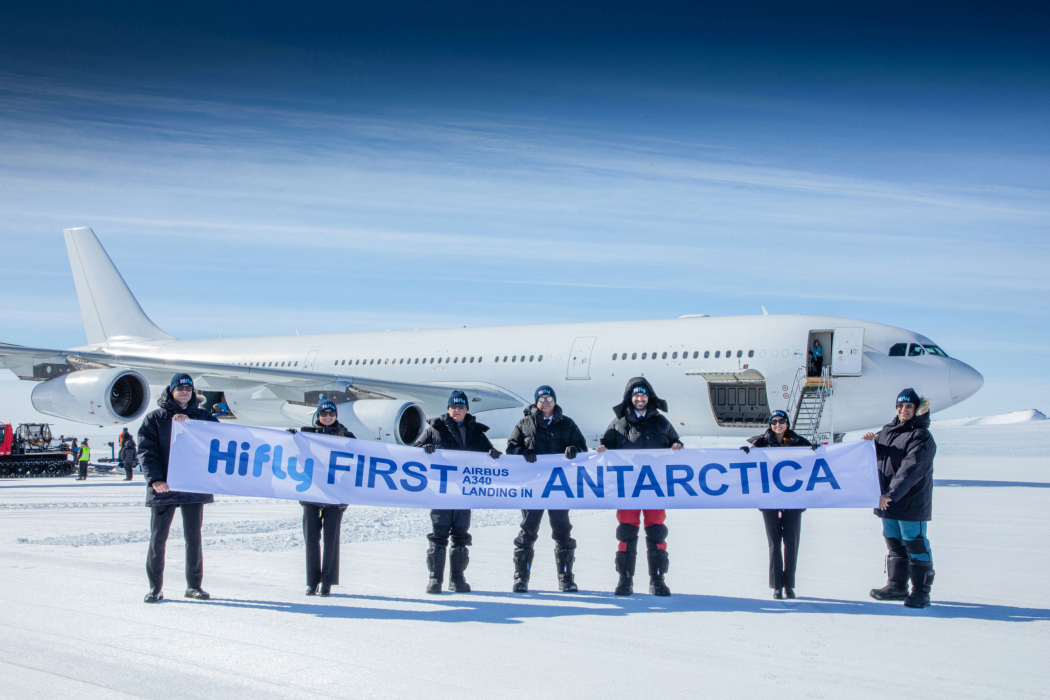 Joining the pilots aboard the historic flights were 23 White Desert staff, who are continuing preparations for the planned opening of their Wolf's Fang Camp this upcoming season. The company will continue to utilise Hi Fly's services flying tourists from South Africa to the campsite in Queen Maud Land, offering tourists a unique travel experience. The camp is designed to appeal to those seeking both adventure and luxury in their holiday itinerary.  
While I'm sure many potential customers will still be deterred by the admittedly sketchy conditions of the journey into Antarctica, Hi Fly's successful maiden landing proves that the possibilities are there for those brave enough to purchase a ticket. Based on the description and pictures of the experience White Desert are creating, the rewards might make the white-knuckle entry well worth it. 
All images courtesy of Marc Bow/HiFly.