It has be said (rather cruelly), that the best thing to come out of Swindon is the M4 (motorway). However, as I in fact hail from said city, (or is that sad city? … I jest), this should be proof enough that this is not true.
On top of this, we have the 'Magic Roundabout' (six roundabouts instead of one) and we have thrust mega-entertainers such as Billie Piper, Diana Dors, Gilbert O'Sullivan and 70/80's rock legends XTC onto the world. Ahem… I guess Honda must have assumed you need more convincing so, with that in mind, its Swindon plant now manufactures the all-new Civic Type-R.
Swindon found its real feet in the 19th century as a railway town. Based between London and Bristol, it was an ideal location for all manner of locomotive works – from factory manufacture to repair and maintenance. As time moved on (along with the trains), its steelworks and skill base piqued the interest of automotive manufacturers and in 1985, Swindon welcomed Honda to its fine West Country family.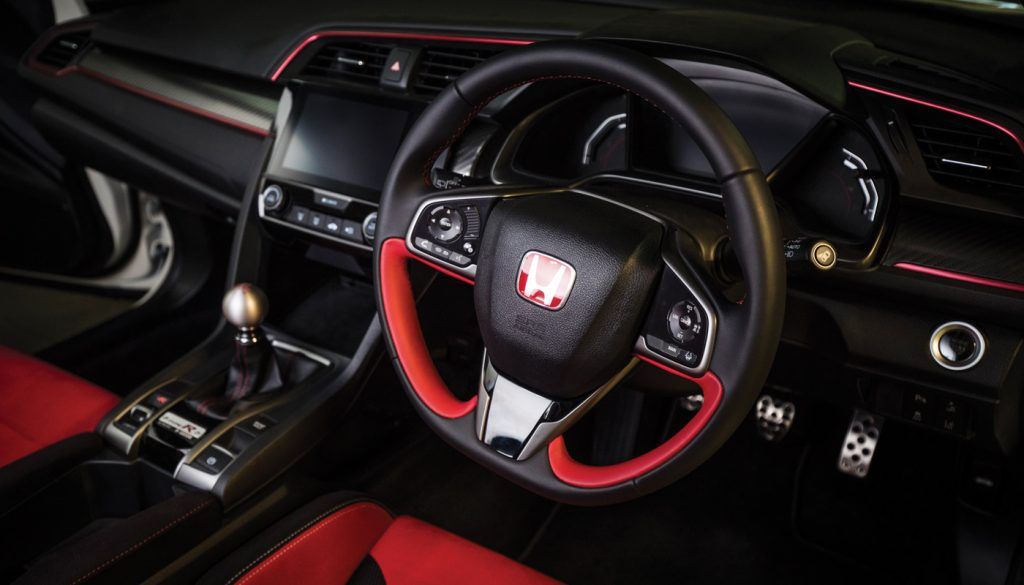 In 2016, Honda invested £200 million into the plant and began work on both the 10th generation Civic and the long-awaited Civic Type-R. Thankfully (or should that be unfortunately?), I didn't have to travel to Swindon to see them, just a quick trip to Hampton Downs. The day may have started out wet and foggy, but the weather wasn't going to cloud my excitement of seeing some hometown friends and taking them for a tour of the racetrack. But first, the details.
The new Civic Hatch is lighter and more rigid than ever before. It's more aerodynamic; has improved NVH (noise/vibration/harshness); a stronger, sportier stance; and, with 1.5L VTEC Turbo (127kW/220Nm) or a 1.8L i-VTEC (104kW/174Nm) powertrain, plenty of power to hold your attention. Aside from the obvious (960mm high x 1120mm wide) hatch, the rest of the car does compare well with its sedan sibling. It has integrated front and rear bumpers, spoilers (roof, front, side, rear), rear privacy glass, central twin exhaust (RS Sport). With models that range from SX to RS Sport, the individual spec, styling, trim, performance and colours on offer are more than enough to suit your hatchback needs. And don't forget Honda's AHA (agile handling assist), which allows for a smoother cornering experience, and its next-generation connected car technology. Enough of all that… let's talk about the Type-R.
The Civic Type-R first blasted onto the scene in 1997 and brought with it an exciting and very involving drive. Twenty years later, Honda has done it again. I was going to say 'hiding behind the distinctive red Honda badge' but there is nothing 'hidden' in this 5th-generation Type-R. It's an in-your-face muscular rocket that has smoky sinister headlights, a big bonnet and skirt air scoops, chiseled profile lines, eye-catching LED tail lights, a whopping vortex generating rear wing and triple exhaust pipes. It's lower and longer than the previous Type-R too.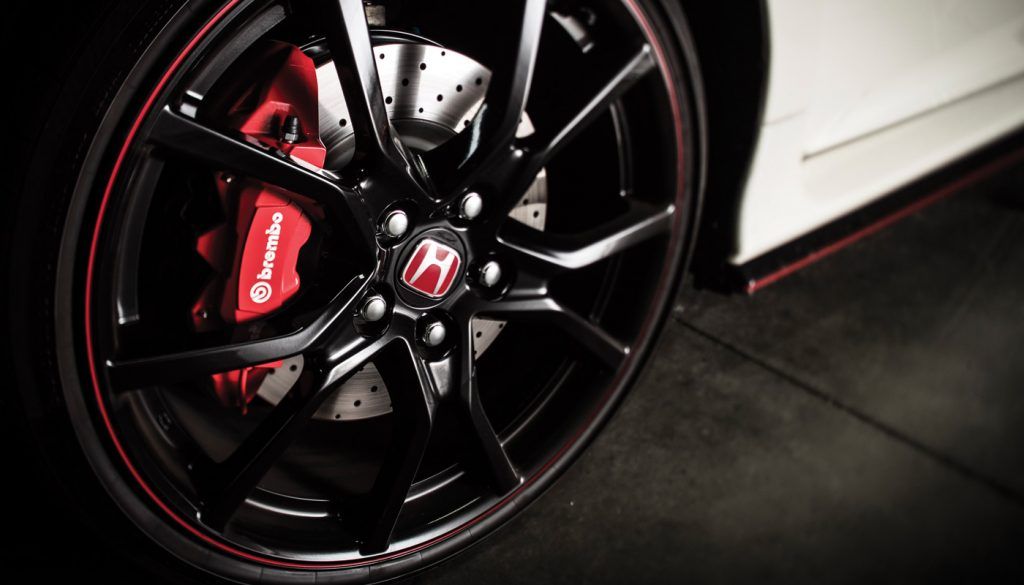 The attention-seeking theme continues inside, it's a sea of red: bucket sports seats, D-spoke steering wheel, illumination dials, pinstripes and decals all smothered in red, yet it all seems quite… fitting. A 6-speed manual gearbox, that (with very clever tech) will rev match and 'blip'. It has a Type-R serial number plate in the console and a toggle switch that moves you into the +R mode, a place where most of the fun lives. +R turns the instrumentation dials red (and with it, a plethora of 'track driving' info), firms up the ride, makes the steering and throttle more direct and unleashes the 2L VTEC Turbo engine, producing 228kWs of power, 400Nm of torque and a totally irrelevant 8.8L/100km economy (irrelevant, because I doubt you'll want to nurse this car anywhere).
The guys at Tracktime had quite a system planned for us. With three laps of the track per car, we switched through seven hatch variants, before driving the 2007 Type-R and finally the 2017. I began the session in the SX, essentially the base model. No paddle gears (in fact just the CVT box) and no 'sports' switches to complicate things – just sit in it and drive. I honestly thought I'd be a little bored being on a racetrack in a 5-seat hatchback, but it was much the contrary. In 'follow the leader' style, we navigated road cones to get a feel for the body roll (or lack thereof) and hit the long sweeping corner at around 90km/h before heading up the home straight. The 1.8L/CVT powertrain combination may have whinged a little but reaching 152km/h is really not too shabby.
Next up for me was the RS Sport; the 1.5L turbo was a different experience altogether. It felt light and nimble, paddle shift was quick and (in Sport) it felt tight between the cones and quicker on the straight. Doing the same track experience while jumping from model to model (RS and SX, Sport and 'basic' hatch) gave us an ideal chance to compare – the RS won my vote, it's a great all-rounder.
Then it was time for the main event – Type-R time. The mature 10-year-old model chased after the all-new 2017 sportscar and, if I'm honest, struggled to get anywhere close, but there was something about its rawness that put a big smile on my face. It squealed around the racetrack and was a bit of a wrestle to keep exit lines – so quite the thrilling ride, or so I thought. Then I switched up into the 2017.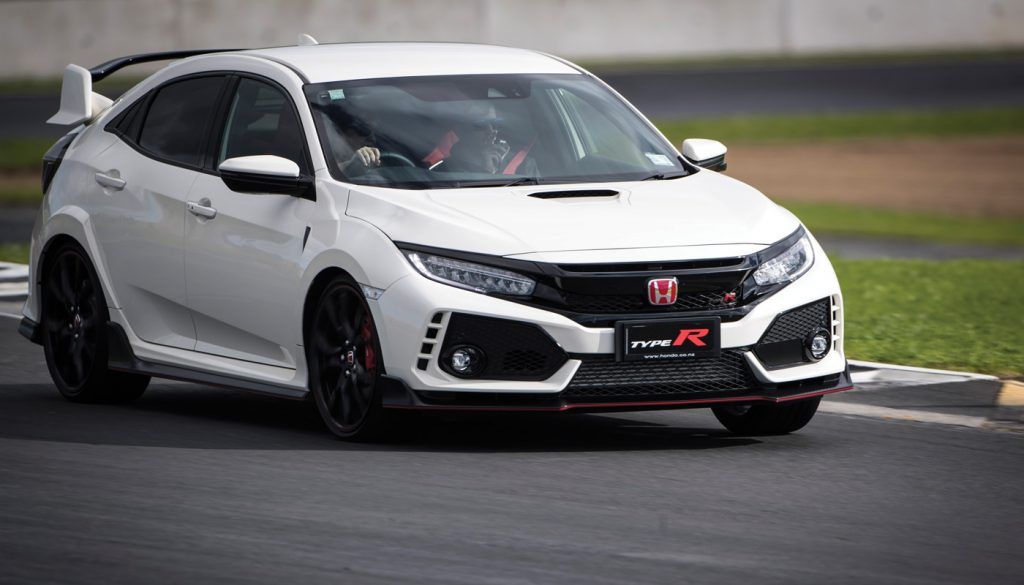 The first lap was in comfort. A 'softer and less enthusiastic' ride was the plan. However, it didn't seem that way. We raced around in impressive style; gear changing felt sweet and the speed felt quick. But as we came past the start/finish line and down over turn one, +R was selected… game on.
The Type-R flashed up a red car in the instrument cluster and the telemetry information changed, I didn't notice as I rushed towards turn two. Hard on the brakes and dapping down the manual box to second gear, the clever tech controlled the revs. Sharp turn in, and the car felt taut and firm. I blitzed through the cones and rounded the sweeper into triple figures, then raced up the hill and along the home straight; it felt fast (a shade under 200km/h fast). The Brembo brakes took a surprising amount of sting from the car's speed before I hit turn one again and I could have/should have braked later – ah well.
A speedy three laps just wasn't enough, but thankfully I'm getting it for a whole 24 hours very soon.
The new Civic hatch feels really well sorted. It's nimble and powerful enough for most day-to-day life. But the new Type-R more than lives up to the hype. It's muscular looking and oozes its sporty DNA from every angle. In saying that, it's also very forgiving; Honda has put a lot of effort into the behind-the-scenes technology and made it, well, fun to drive.
With hits like 'Making Plans for Nigel' and 'Senses Working Overtime', XTC has proven to be one of Swindon's biggest and most popular exports, however, I will concede that the new Civic Type-R offers far more thrill and desirability than an aging West Country rock band – maybe I could talk Honda into a limited edition of the Civic – The Type-R XTC!