If you had the chance to meet someone from fifty years ago; who would you pick? Hunter S. Thompson? John Lennon? Salvador Dali? Audrey Hepburn? Or Colin Meads after his last stint in a black jersey? All amazing people and the world is the poorer for not having them around anymore.  
Coming from a music background, I'd be tempted to go for Marc Bolan or Jim Morrison as my choice – mainly because the G.O.A.T. guitarist Jimi Hendrix had already gone by 1971. Luckily for me however the concept of virtual duets give us musos the chance to hear two artists from different times performing 'together' with arguably the best of these being; Unforgettable, the love song performed by Natalie Cole alongside her departed dad Nat King back in the 90s.
A virtual wine duet
There's a similar love song going on right now in the wine world with a virtual duet between two genius chief winemakers for the same champagne company – but separated by half a century of time. So, you'd get no points for guessing who Emilien Boutillat, the current Chief Winemaker for Piper-Heidsieck, if he was asked the above question. The answer would come with no hesitation: Claude Demière, one of Emilien's most revered predecessors at Piper-Heidsieck.
No slouch himself in the champagne stakes, Emilien was this year pronounced Sparkling Winemaker of the Year by the International Wine Challenge, an accolade which gave him quite a bit of leeway at Piper-Heidsieck. So much leeway in fact, he was offered carte blanche to fully express his creativity with the Champagne House's new HORS-SÉRIE collection. And with a sense of élan and audacity that only the French can summon, Emilien decided that his reinterpretation of a vintage blend dating from 50 years ago would be the first HORS-SÉRIE release. Yet he regards this release as more of a team effort; "HORS-SÉRIE 1971 is a vintage that I produced jointly with Claude Demière," Emilien said, "who conducted the blending in 1971, 50 years ago. It represents the legacy transmitted down to me by several generations of Chief Winemakers."
Émilien's decision was greatly helped by his experience last year in tasting Claude's work in the Piper-Heidsieck cellars. What initially drew him to the 1971 vintage was its reputation as the House's masterpiece. After removing some bottles from the remuage racks where they have rested for the past half-century and breaking open their seals, Émilien and his fellow Tasting Committee members were amazed by the wine's aromatic profile and spectacular vibrancy. As the youngest Chief Winemaker of a leading Champagne House and fully attuned to the times, Émilien was both stunned and excited by this discovery, as he at once knew today's champagne drinkers were ready to fully appreciate this historic vintage.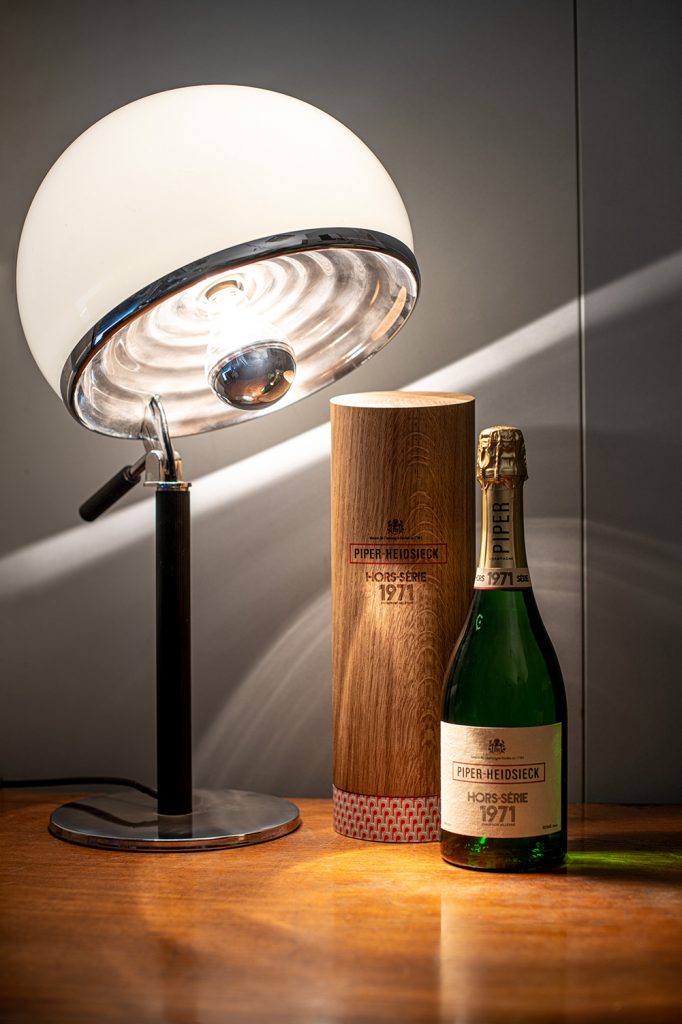 A spice to enhance the dish
But there is a lot more to releasing a historic champagne than just breaking open a few more seals, Emilien and his team had to disgorge the bottles of their sediment, then he had to choose the right 'dosage' to add to the champagne before it is corked and returned to the cellars for several months before its final release. 
Emilien sees the dosage liqueur as like a spice that enhances a dish. Get it wrong and fifty years of aging goes out the window – but get it right and all the best attributes of the vintage wine are unleashed. Emilien's selection for HORS-SÉRIE 1971, was a dosage of 10 grams produced from a 2019 Chardonnay, with no malolactic fermentation, as was the tradition in 1971. At the disgorgement in February fifty years later, the liqueur and the vintage were in perfect harmony. With this decisive, specific twist, Émilien Boutillat had intensified the vintage, elevating its balance and unexpected personality, liberating its vibrancy and enabling it to fully flourish in the glass. "I inherited the legacy of the 1971 vintage and wanted to reinterpret it with a fresh disgorgement to be able to share it with everyone. This is a fantastic opportunity to offer a journey through time." 
Individual personalities
So, what does a fifty-year old champagne taste like? Well, that depends on which bottle you get of course as, in another unique quirk, each individual bottle of HORS-SÉRIE 1971 has developed its own distinct personality. Not surprising really when you consider that fifty years of ageing allows a lot of time for each bottle to evolve differently. This fact is highlighted by the HORS-SÉRIE 1971 release as an ultra-limited edition of 2021 bottles, each individually numbered to reflect its unique tasting experience. So, while the iconic freshness of the Piper-Heidsieck style is ever present, a wide variety of impressions on the nose and palate unveiling a continuum of aromas and flavours that reflect the long journey in time that has passed since its original bottling. Its long finish coats the palate with a velvet touch, a perfect alliance of vinosity and lushness that is extremely vibrant, accented with citrus notes. 
Émilien Boutillat recommends taking your time to fully enjoy the adventure HORS-SÉRIE 1971 proposes, I would recommend you enjoy it alongside Natalie and Nat King Cole's Unforgettable – as gifts celebrating the very finest of two distinct eras.
Pick up a bottle for yourself from Glengarry.