You wouldn't think that being a nerd getting POTG (Player Of The Game) in your game of choice would mean you'd need to know anything about thermodynamics. But at some point you've been like me, with your tower PC pressed between two desks and a wall, with all it's heat pouring out the back with nowhere to go, perhaps cooking an egg on top of it for good measure. I'd say my rig in it's unideal situation is a mid to highish tier machine. Enough to run pretty much everything on max settings along with solid VR support. But it's got nothing on Predator's range of PCs and laptops.
Their Helios 300 laptop for example has a GeForce RTX 2060, when you're pushing it to it's limits you're squeezing 144Hz out of it's 15.6" monitor. How is it not melting a hole through your lap? Well they use a proprietary custom-engineered AeroBlades, or in other words, a fan. It's metal, not cheap plastic, and with no outer frame so it doesn't over-bulk the limited real estate of the laptop's interior. The ultrathin, axial-inspired airflow design increases airflow by up to 35% and it doesn't sound like an aircraft taking off either when things start getting warm. It produces 26% less noise compared with normal generic plastic fans. Who knew it was possible to reinvent the fan.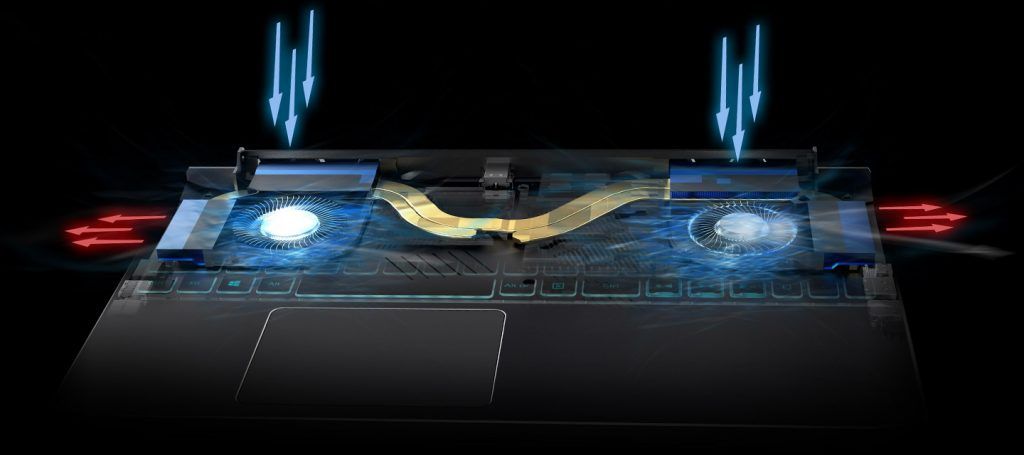 The Predator 21x has two overclocked GeForce GTX 1080's cooled by five fans, three of which are aeroblades. Nine heat pipes throughout it's design makes sure there's no residual heat kicking in your CPU and GPU's safety measures. But surely, you say, this thing is just going to become a giant vacuum cleaner for dust. It looks like Predator has thought of that as well, with an alternating airflow system called DustDefender. The fans can go either direction, meaning that at off-peak times the fans can reverse, and blow out any buildups of dust that may have occurred. No more opening up your gear to brush out 5 years of lint.
On the software side of things, they give you a bit more control over the fans with Predator CoolBoost, which can kick in around an extra 200-300rpm as needed to bring temperatures below 85 degrees.
As we've seen, it's all well and good chucking the gruntiest GPUs into your machines, but it's quite another to make sure it keeps a cool environment, and that's something Predator has spent plenty of resources in getting right.
Check out the Acer Helios 300 laptop here.
You'll also like: