Every year, teams of mates get together to challenge the Oxfam Trailwalker and push themselves to their limits while taking in the beautiful scenery of the Taranaki countryside. The goal is to walk either 50km or 100km and get the whole team across the line in less than 36 hours. Along the way, the teams raise money to make other people's lives better by giving them access to the necessities of life, safe water, toilets, education and sustainable sources of income. Through this event, with the help of participants Oxfam, raise over $1 million a year to fight poverty.
Team signups are currently underway for the 26 March 2022 event. If you're anything like me, you're probably a potato-shaped office lurker, but that doesn't mean we can't participate. I had the great opportunity to interview one of last year's participants Patrick White, who was going through a pretty tough health crisis of his own when he decided to take part. We spoke with him about what to expect, how to fundraise, and what we should do to train.
What inspired you to participate in the Oxfam Trailwalker?
Back in 2016, a group of work colleagues were keen to do the 100 km Trailwalker. They were looking for a support crew. I liked the idea of both getting into nature and participating in a cause greater than self. I was training to do my first marathon at the time so thought it was a great idea to roll a few things together! So in 2016, I made food, helped change people's socks, fed them and then did two legs in support of the team in what was the worst wettest Oxfam ever! All Oxfam junkies will remember it well!
Oxfam has kind of grown on me since, and with a couple of keen work mates that share the ongoing interest in the Trailwalker and being part of a cause "greater than self" – it has become just what we do in March each year! Oxfam has some pretty great ideals to not only alleviate world poverty, but also to help people stand up for their rights, and rebuild with strength and security – so they can ultimately thrive in the future.
2016 was the last Oxfam that we decided that we would only walk. If you want to join our team, you are welcome but we like running! In 2021, I called it fondly the "Ngamotu shuffle" – run the flats and the downs and walk the hills and when you're buggered!
You did the Oxfam Trailwalker 2021 after some pretty life altering treatments for lymphoma, could you tell us a little about what that did to you health-wise?
The lymphoma was located in my right sinus. An unusual place to get cancer. It was an aggressive sort, but thankfully stage 1. However, proximity to the brain made it a tricky one to treat. I underwent 2 types of chemo and also radiation therapy. R-CHOP was the first lot of chemo; like pretty much all chemo, it kills all replicating cells, so I lost all my hair. I didn't have a lot of that anyway! I will never forget a conversation with the haematologist at my first appointment. She said the Ministry of Health can pay money for wigs. I immediately had a vision of a purple afro and almost burst out laughing. Nooooo one would ever notice I was bald now would they!!!
Ongoing nausea was also an issue, probably the hardest. If I was hungry, I felt nauseated. Thirsty, no, you're nauseated. Tired, no, you feel nauseated. My taste buds really changed too, I couldn't eat anything too sweet nor starchy foods either. My family all know what a sweet tooth I am. I have stopped taking sugar in coffee for several years now, but still crave it (honey in my early morning doesn't count, eh!). But throughout all treatment and afterwards (even now to a degree), food just tasted really yuk. Bananas were so sweet that I felt like I would go into a diabetic coma from too much sugar. Bread – gross, revolting glug! Chocolate, sorry to say a friend gave me a bar of Whittakers for my birthday and it sat in my cupboard for 2 months; I ate 2 pieces and gave the rest away (I hope he's not reading this!!)
Fatigue was another one – unless you have had cancer and been through any sort of treatment, you really don't know what it's like. Chemo brain is a thing! I had to really push through it, even to just keep walking. Sometimes I would just stop and sit down on the trail for a bit until I felt I could have another go at it.
I was still running, but I didn't realise the high dose prednisone (one of the R-CHOP meds) would affect my joints. So I injured my left knee while running downhill from Kōhe point at Ohope around September 2020. After this, I was relegated to walking until I finished the R-CHOP. That was July to Nov. I also had an exacerbation of peripheral neuropathy which affected the three middle toes of my right foot.
2020's last gasp for me was in Waikato Hospital, getting another form of chemo called methotrexate. Potent stuff that given IV, goes past the blood barrier and aims to kill any cancer in the brain – very nauseating. New Year's Eve was spent spewing up the crumbed fish I had earlier for dinner (it really wasn't worth keeping!! Just saying!)
I had a couple of molars on my right side removed as part of the preparation for radiation therapy. Apparently the top right part of my jaw bone would lose its blood supply and die due to the radiation, making future dental work risky as the bone and teeth would not heal after treatment. I actually reckon I got off side effects and symptoms really lightly. I was in a Facebook lymphoma group with others going through similar treatments and sadly many experienced way worse things than I did. I can only thank God for this. A lot of prayer has happened for me and by me over this time. I think that really helped. Today, I am back at work and cancer free.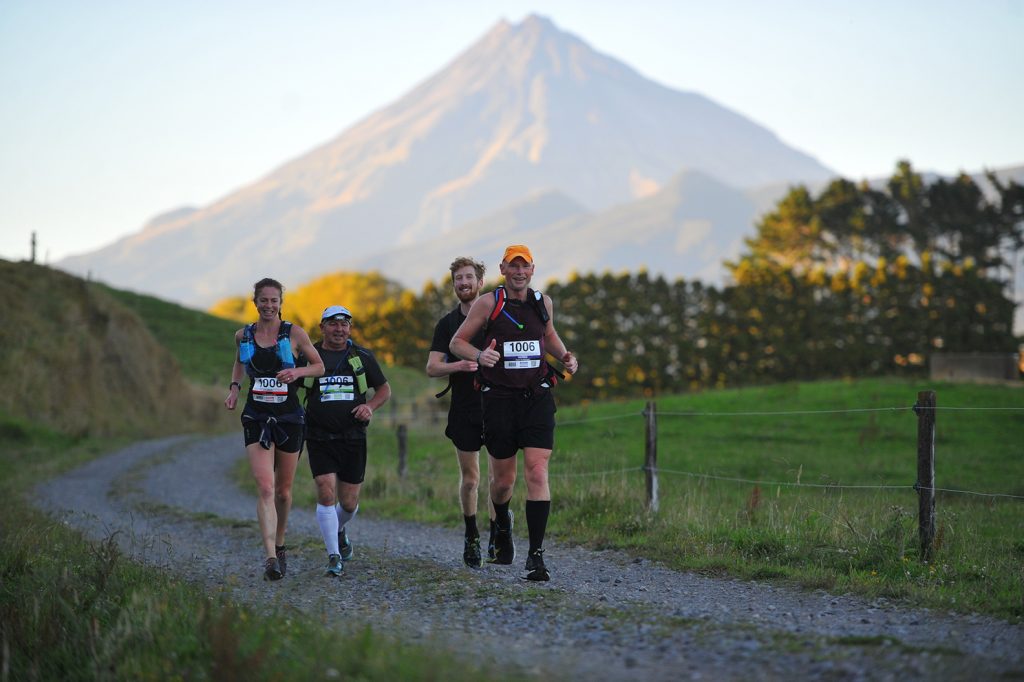 What kept you in the game to really push through and still do the Trail? Did you consider quitting the Trailwalker?
I think most people did not really take me seriously when I told them I was going to do the 100 km Trailwalker. I did say my "plan B" was to help out as a support crew. But in my mind that was never really going to happen. There was more than one time I had to back off training because I threw up and felt grotty on a run. But it didn't stop me from keeping going – bull-headed determination. One of the kaumātua in my workplace helped us name our team based on the idea, "Stand strong, stand forever, never give up" – "Mauri Tū, Mauri Ora". This really epitomises us, I think.
I was fairly fit when diagnosed July 7th 2020 and no stranger to the Trailwalker. Up until the cancellation of the 2020 Oxfam, I was running 3-4 times a week with a slow weekend half marathon length run. It was actually the exercise that made me aware something wasn't right – I started getting intense right head pain pretty much every time I exercised with any intensity from April 2020 until my first chemo on July 30. I know a reasonable amount about endurance fitness and have some great friends to thank – my mate Terry put me onto the Lydiard method and loaned me a copy of his book back in 2015 when I decided to train for the Rotorua Marathon 2016. So I learned what I needed to do in order to gain greater endurance and, having done 2018 and 2019 Oxfams as runs, I knew what level of fitness was needed.
But my big worry was if could I get/stay fit enough for this one with all the treatment going on. The radiation treatment finished on the 6th of March, just two weeks before the Trailwalker. I hadn't done any runs longer than about 10-12km. Monday March 15th I did a 25 km run/walk and managed it pretty much non-stop and without throwing up, just five days before the event! One of our teammates gave me heaps, saying that is the weirdest idea of "tapering"! But I just needed to know that I could do a decent amount of endurance work. I knew if I could do that, I had a chance of getting through the full event.
One other thing that kept me going was that one of my teammates dropped a hefty branch on his foot just two or so months before the 2019 Oxfam. It only came right about 2-3 weeks before the event, so he was unable to do a great deal of training for it. Yet we came in at under 18 hours (second team in with all 4 runners) that year, we just went a bit slower. We allowed him to call the pace. So, I considered my situation in the same fashion; we would just need to take it slower.
At the 60 km mark, I was toast. I didn't say anything to my team, but got someone to take a picture of me with the 60km trail marker – my thought was I will get to the next checkpoint and pull out. At least I will have a record that I got to 60 km – not a bad result! But once at the checkpoint, with food hydration and some drugs, I found a second, third or fourth wind and was able to finish.
Don't also underestimate the team synergy and the value of a good support crew. Basically, they all just dragged me around the course! Having two of my big kids there to cheer me on was an outstanding incentive to keep going. They are the love of my life.
How was your team composed?
Three guys and one woman. I'm the oldest at 58; Troy, our fearless leader and instigator of years of Oxfam Trailwalker teams is a year or two younger than me; Jim is in his late 20's; and Maria is 40 something. I.e. young! We are all working in the health sector. I am a RN working in mental health, the two lads are doctors and Maria is a physiotherapist in research; all live active lifestyles and keep in great shape.
Let's not forget the support crew; two of my adult children, Israel and Ataylia and her boyfriend Anthony – they were outstanding in being there for us with the food we wanted and items of clothing to change into, etc. Beven, Maria's partner and Ironman/ultramarathon runner, got us back on track so many times. None of us were crash hot at map reading. Actually we led the whole first wave of 100 km's the wrong way from the beginning!! Beven saved our bacon by showing up and finding us in weird places we shouldn't have been and saying, "What the heck are you doing here?" With my chemo brain, I didn't even bother trying to give advice about which way we should go!! Thanks to paired Garmin watches between Maria and Bevan.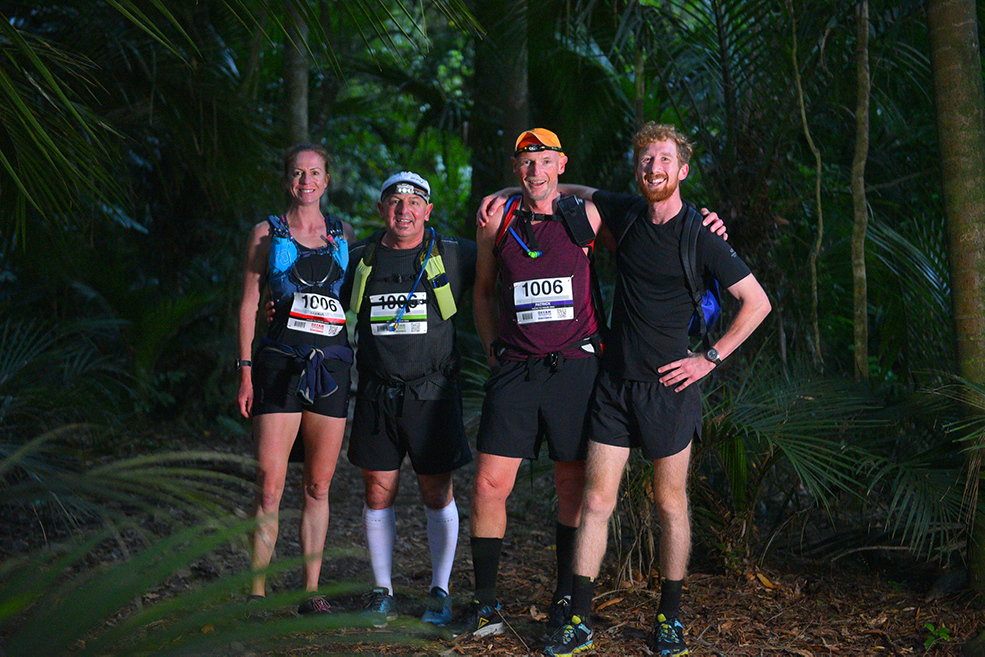 What sort of gear did you bring along with you?
We all carried various forms of hydration, either Camelbaks or water bottles. Food that can be eaten on the run, you have to learn how to eat and run. It's not fun or that enjoyable and more so when everything tastes like s*&$! Warm jacket, gloves and beanie initially and then ditched them at the first check in. I like variety; nuts, dried fruit, bananas, OSM bars, and at the last couple of legs, those jelly beans that have electrolytes. Good trail runners and good socks. Some basic first aid gear that mainly consists of drugs, band-aids and drugs! Actually, Panadol and anti-inflammatories (for me Voltaren SR) – which I only took at the checkpoint after the 60 km mark. Some team members were more medicated than I was!!
How long did it take you guys?
We were the third team in, at just over 16 hours. It was the fastest time we had ever done! There were a few factors in this time. Maria being the biggest – she was a tough task master and didn't let us sit around at check points for long! If it had been just us boys, we would have fluffed around a lot longer! The course was quite a bit easier than Whakatane in my opinion and it was short of the hundy by a couple of k's! However we got lost a few times so that just about makes up for it!
What was the energy like, how were the other teams?
Energy waxed and waned for us all. For me, the low point was the very steep leg at TOPEC. It was about the 5th leg. The street stuff was not that inspiring either but Ngamotu has some many beautiful spots and they were amazing. The vistas of the Te Maunga Taranaki were inspiring, especially early morning. The team synergy does an indescribable amount for energy. We didn't use it that much this year, but in times past in the later stages of the trail, we would put on some of our combined favourite music.
We had a team of three that dropped to two join us at about the 40 km mark. One of their team members went out too hard and got over-cooked. We were all a bit grumpy about them joining initially, but they couldn't have gone on with just two people and they were going at around our pace. So we had to put our big undies on and they worked hard with our team ethos and stayed the course. Our support crew were really great with them and we shared our food, etc, with them. We're a competitive bunch!
Do you reckon I should give it a crack? What sort of condition should people be in to pull through?
Absolutely! First, you need to figure out what way you want to tackle the Trailwalker. The idea to run/walk the trail is a minority thought, but why would you want to spend more than 20 hours on your feet? I think even if you plan to walk the trail with your team, adding some running to your training regime will really benefit you. Learning how to stay hydrated and fuelled when exercising is very important. You won't survive long distance events without understanding what your body can do; it will do more if gently and regularly pushed! Eventually, you get to enjoy it! I recommend Arthur Lydiard's slow endurance training – start where you are at with running and build on it for a few more minutes each time you run.
I have seen people of all sorts of sizes and disabilities do the Trailwalker. It is really inspiring to see people who struggle with their weight get out and have a go. It's you vs you really. Plus doing it with mates, now that is the wonderfully unique thing about the Trailwalker. There is so much fun that happens on the trail. We have fun taking the piss out of each other! But definitely don't roll out of bed March next year having done nothing – that will be a sure disaster.
Foot care is probably the biggest one to get right. I learned the hard way. You don't have to have blisters the size of your foot to complete a 100 km trail! Some tips: toe nails short, don't allow calluses to get hard – treat them with pumice, sandpaper, grinder or something!! Keep them soft – I use Gurney goo – I reckon there is something awesome in that cocktail of oils! Keeping your feet from getting wet from sweat and water is important. Well fitting trail runners or shoes (near new) – something that doesn't let your toes jam up in the bottom of the shoe on the down hills. New socks – don't use a sock that has already done 1000's of kms!
Personal fitness is one thing, fundraising for a good cause is another. Do you have any tips for the fundraising side itself? How did you get the word out?
We have done a bunch of stuff in the past. Selini wine – we were the biggest sellers of Selini in 2019! Letting friends and family know what you are up to by sharing your profile and why you are doing it on social media. Personal donations are probably the biggest thing we do. We believe in Oxfam, it's a good cause. So doing an extra shift or something is a quick way to boost funds. Guess the jelly beans in the jar was an idea Jim did – an easy $2-3 hundred. We have done a movie fundraiser too on occasion. I like the idea of the pub quiz – although it didn't work out so well for us.
How much did your team end up raising?
I don't have the exact figure – about $2,600.00, I think.
Would you do it again? If so, what element is the main driver for taking you back?
Without question. Mates are for life – I have made some fabulous friendships through doing the trail. I love the ideals Oxfam upholds for people and the environment. We have to do something to make a difference. Altruism – that idea of being part of a cause greater than self – it's part of the sort of person I want to be. For me, it's about loving God and loving others. I am unashamedly a Christ follower – my faith is a big driver for this.
Other thoughts: learning to work as a team; staying humble. Troy and his wife, Janine joined me to help run the Toi in November 2020 – it was part of my training plan. I didn't realise that it was the day of their wedding anniversary! That was so humbling. I have numerous similar experiences of training and doing the Trailwalker and other events with friends – it's great. Staying fit, being outdoors on the trail – all bonus! This is the most beautiful country on earth – why would you not?
Challenge yourself and help tackle poverty in the Pacific by signing up to the Oxfam Trailwalker now. 
Photos by Artur Francisco/Oxfam