The importance of healthy eating and exercise is immensely indispensable to any man. Everyone knows what a healthy lifestyle looks like – it's just the working to get it that's the problem. The Berlin-founded multinational meal-provider, HelloFresh, promote an easy, affordable and tasty way to achieve this health goal. The face of HelloFresh – part-time firefighter, part-time lover of family, fun and good, healthy food – Jaco Klutz is a family man, whose life revolves around his three daughters and living life to the fullest.
He did the yearly Firefighters Climb up Sydney Tower Eye and recently became involved in the Sky Tower Climb, to raise money for Blood Cancer and Leukemia research. He certainly knows what's important to him, and that, I guess is what made him a fantastic candidate for New Zealand's HelloFresh. You'd probably recognize him from several quite humorous advertisements. We got to chat to the man and talked health, recipes and promoting wellbeing.
Tell us a little bit about yourself…
I guess I am just a Kiwi bloke propped up by my amazing wife, whose life revolves around our three beautiful, full-on daughters. I spend some time as a firefighter in Auckland and try best to enjoy each and every day – be it at work, at the beach, park, playground or even just kicking back, taking in the serenity. I try not to take things too seriously and have a laugh on the way.
I was born in Wellington, grew up in Christchurch, now live in Auckland but try to spend every spare moment I can in Raglan. I've always loved playing sports and have dabbled in most sports known to Kiwis, with varying but enjoyable success.
Being a firefighter, checking in for your health must be very important. What are some steps that you implement each day to make sure that your health and body is being looked after?
Yeah, it is important. I know it makes a big impact on me when I have looked after myself, and not just physically but mentally too. Breakfast is normally first on my mind and I do believe a good breakfast (not just my mum chirping in my ear "breakfast is the most important meal of the day") sets you up for the day.
From there, I ensure we get some exercise in; nothing to out of control, chasing the girls is exercise enough. But something is better than nothing, just a walk for 20 minutes. Making "doing something" a priority will ensure it doesn't become days/weeks/months of doing nothing, it needs to form a habit.
Dinnertime is also a must and I was brought up with a family dinner and the TV off. I see having a good relationship with food and being together, important to living healthy. Lastly, sleep. I know from being a shift worker how sleep can affect so many aspects of your life. You need enough sleep and a quality sleep, put that phone on charge on the other side of the room.
The annual Sky Tower Stair Climb is an annual event that raises money for charity. How did you become involved with that?
It all started for us back when I used to flat with a bunch of firefighters from my rookies course. We all entered and trained together, it was good bonding, bit of banter and when it was all done and dusted it was a great social event after. I even met my wife, Dom, after one of the events. She still gives me grief about that night!!!!! Let's just say I didn't win her over straight away, although I did know I wanted to marry her from that point.
Seriousness and competitiveness aside, the event does such great things and has grown enormously thanks to the tireless work of those involved. It is really positive to be able to use our position as firefighters to raise awareness and funds for LBC (Leukaemia and Blood Cancer NZ) patients and families.
You've also been a part of Firefighters' Climb up the Sydney Tower Eye. How do you physically and mentally prepare yourself for both the Auckland and Sydney climbs?
Well, stair climbing isn't the most riveting event to compete in. But it is physically really hard and going up a stairwell hoping the floor levels are going up quicker than they are, is quite mind destroying.
Training, on the other hand, is great as you can be quite creative. This year, I bought a bike trailer for the kids and I rode up and down Mt Eden with them encouraging me along the way; the tour groups think I'm bonkers. There's also plenty of stairs in quite beautiful places near the coast, up the side of hills, etc. Chuck a few stones or filled water bottles in a backpack and you're off.
Mentally, I enjoy a challenge and a goal to strive for. And because both are two great events for charities which are close to my heart, I know all the effort, sweat and a few tears are worth it.
What does a healthy lifestyle look like to you?
A healthy lifestyle to me is balance. I've got to the stage of my life where I now realise health is about wellbeing, both mentally and physically. You need to live a life which is worthwhile and rewarding and learn not to sweat the small stuff.
This does mean you need to balance between your family, your work and yourself.
Family to me is everything, so you need to give them your time and effort; the greatest gift you can give someone is your time. And the rewards you receive in return are countless.
Work is always important as it gives your mind a challenge and the reward of accomplishment.
And lastly yourself, you need to look after yourself. Exercise, eat well and do something you enjoy, go surfing, fishing, read a book, whatever.
To balance all of this isn't always easy but at the end of the day, I try to sit down, have a cup of tea and look at what I could have done better and give it another go the next day. I have found when my wellbeing is healthy and vice versa, it is infectious to my family, friends and colleagues.
How does it feel being named the face of HelloFresh NZ?
It's pretty funny, to be honest but also extremely exciting. HelloFresh came at the perfect time for us, as we had just had our third daughter so to then be asked to come on board has been somewhat surreal. We've really noticed the difference. We love using HelloFresh as a family, it's cut down on shopping time, cooking time, deciding what to cook, making cooking meals so much more enjoyable!
What's crazy is I haven't needed to change who I am, all along I have just needed to be myself. And I guess, as we are quite occupied at the moment with three children under five, Dom and I haven't really had too much time to think about it all; just riding the wave!!
Promoting balanced recipes based on seasonal farm fresh ingredients is what HelloFresh is renowned for. What nutritional advice would you give to those who have busy schedules without time to prepare proper meals?
I joke with my wife Dom about how I always used to use mixed vege. It was my go to, as I realised the importance of vege. It was just extremely boring. Since using HelloFresh, the fresh farm ingredients have meant I haven't bought a bag of mixed vege since.
Dinner and meals are important, they develop good habits and routines. If you are time poor, it can be difficult but that's even more reason to emphasise your fuel and what will keep you going.
People nowadays get personal trainers, financial advisors, mortgage brokers, etc. HelloFresh takes out the planning and leaves you with convenient, stress free, fresh ingredients to create quality meals that not only you'll enjoy, but the whole family.
What's one recipe that you would recommend that's quick, easy and delicious?
I would say one I recommend was the honey soy glazed chicken and sesame fries. I cooked the whole thing on our bbq with a beverage in one hand, I loved being able to cook it on the barbie. It came out so good and the fries with sesame seeds on them were to die for. Plus, there was a tasty salad on the side. The whole family loved it.
You've made yourself known online in quite humorous little advertisements for HelloFresh. Do you think social media is a good way at promoting healthy eating and looking after yourself?
Yes, I absolutely think it is a good way to promote healthy eating and lifestyle. You can reach a huge amount of people instantly. The way of life seems to be that everyone is able to gain their information from online sources. I think it's an extremely powerful tool and I say it cautiously and with responsibility that in an environment saturated with choices, the ability to give people information about health, wellbeing and looking after yourself is a great thing. Encouraging everyday healthiness should be certainly encouraged. Which is why I was happy to promote HelloFresh as it genuinely helps provide a balanced approach to dinnertime.
What's the best piece of advice you've been given?
"Enjoy every moment life has to offer" – my Dad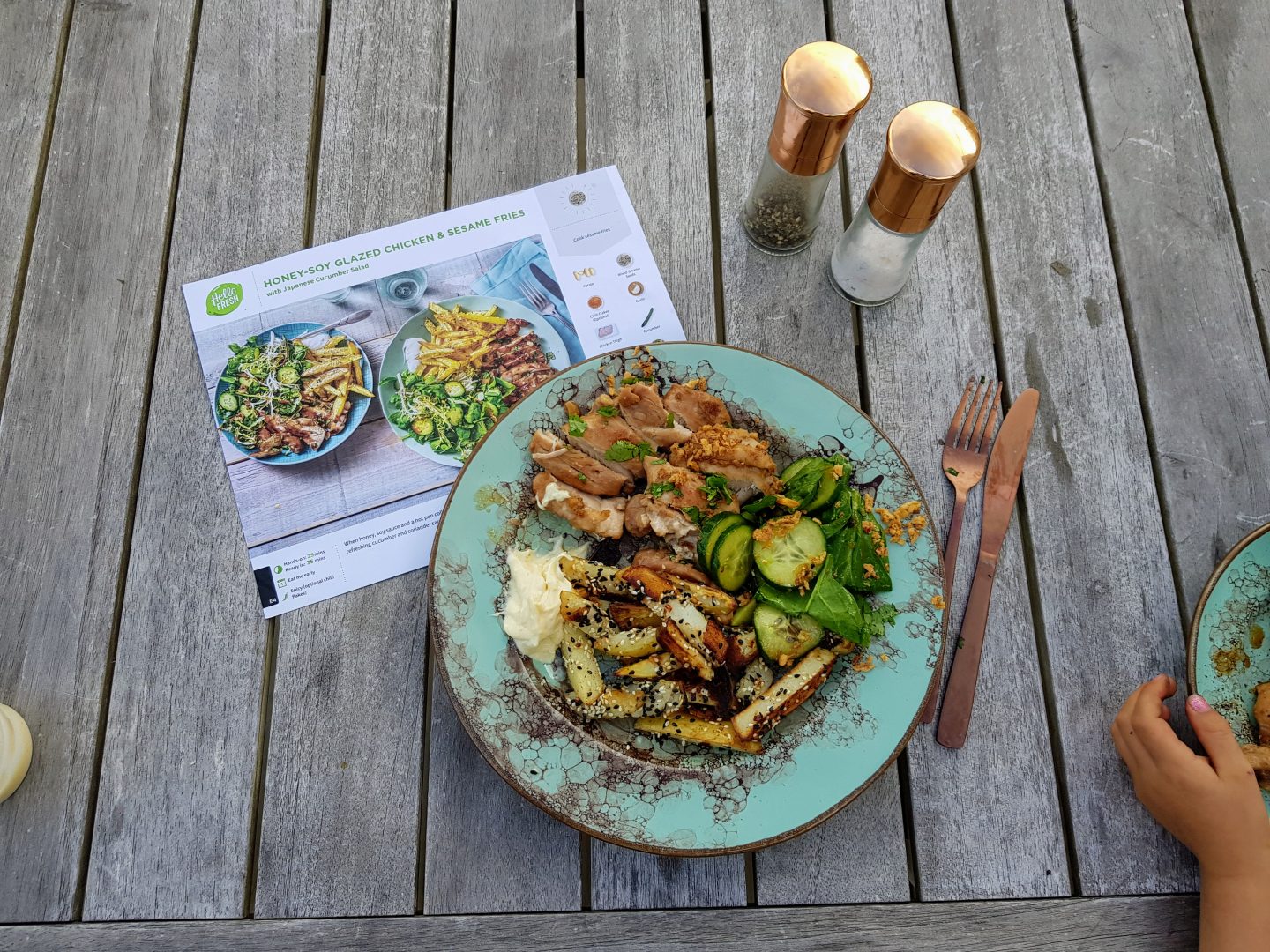 Honey-Soy Glazed Chicken & Sesame Fries With Japanese Cucumber Salad
Ingredients
2 potatoes
1 pinch of chilli flakes
1 cucumber
1 packet of chicken thighs
1 tub of Japanese Style Dressing
1 sachet of crispy shallots
1 sachet of Mixed Sesame Seeds
2 cloves of garlic
1 bunch of coriander
1 bag of mixed salad leaves
1 tub of garlic aioli
Olive oil
4 tsb of honey
2 tbs of soy sauce
2 tbs of rice wine vinegar or white wine vinegar
Method
Preheat the oven to 220°C/200°C fan-forced. Slice the potatoes (unpeeled) into 0.5cm fries. Place the fries on an oven tray lined with baking paper. Season with salt and pepper and drizzle with olive oil. Toss to coat then bake for 20 minutes, or until just tender. Sprinkle with the mixed sesame seeds and a pinch of chilli flakes (if using) and bake for a further 5 minutes, or until golden.
TIP: Cut the potatoes to the correct size to ensure they cook in the allocated time.
While the potatoes are baking, finely chop the garlic (or use a garlic press). In a medium bowl, combine the garlic, soy sauce, honey and rice wine vinegar and mix well. Add the chicken thigh to the marinade and toss to coat.
Thinly slice the cucumber. Finely chop the coriander.
Heat a drizzle of olive oil in a medium frying pan over a medium heat. Using tongs, pick up the chicken thigh and let the excess marinade drip back into the bowl. Add the chicken to the pan and cook, turning often, for 10-14 minutes, or until browned and cooked through. In the final 5 minutes of cook time, add the remaining marinade and simmer until reduced slightly. TIP: The marinade will darken and caramelise – this adds to the flavour!
In a medium bowl, combine the mixed salad leaves, cucumber and 1/2 the coriander. Just before serving, add the Japanese dressing and toss to coat.
Divide the honey-soy glazed chicken between plates, spoon over any remaining glaze from the pan and garnish with the remaining coriander. Serve with the sesame fries, cucumber salad and garlic aioli on the side. Garnish with the crispy shallots.