It's known as "The Sweet Science". Where mere millimeters mean the difference between slipping a punch or waking up gazing at the bright lights of a stadium ceiling. Where the right amount of torque and placement decides whether or not a punch becomes a knockout blow. Where timing is the difference between a successful counter punch or an oncoming onslaught.
Standing 6'4", with a 78" reach and a 24-0 record (18 by way of knockout) WBO Heavyweight Champion and Under Armour athlete, Joseph Parker is quite possibly the greatest boxer New Zealand has ever produced. With his WBO title on the line, Parker will square off against IBF, WBA and IBO champion, Anthony Joshua in a unification match — the winner takes home all the belts.
It's the biggest fight of Joseph's career so far, and we had the chance to chat to the champ ahead of his March 31st unification match.
Can you tell me where your love of boxing started?
It started with my Dad. He was born in Samoa, but he's named after Jack Dempsey, who was a champion from back-in-the-day. My grandmother wasn't into boxing, but she named him Dempsey when he was born. He loved the sport of boxing growing up, and had a lot of interest in it, but he couldn't box as a young boy. When he was a baby something was caught on his leg and caused one of his legs to be skinnier than the other leg. And so his body isn't really 100 percent. My younger brother and I both got involved with boxing from a young age. We started at the age of five, my dad introduced us to the sport and we started watching a lot of tapes. I had my first fight at 12, he had his first fight at about 10. I fell in love with the sport and found a passion for it and we wanted to pursue it as a career after getting some good results in the amateur scene. I remember when I was five, my dad would hold out his hands and he'd tell me to punch his hands…I'd punch back and he would tell me that one day I would be champion of the world. I didn't think at the time I would be. I learned a lot and then I started to believe it myself.
Having a parent there to plant the seed and help your dream of being the champion of the world grow, that's a really beautiful thing… It's the sacrifices and the belief. They didn't know that one day I'd be champion of the world. They had the belief and the faith and they sacrificed a lot. My coach, when I was an amateur, took out a loan to pay for me to go to Azerbaijan for a tournament. My parents took out a loan to send me to India, to send me around the world to represent our country. From those experiences and from those trips I was able to come back with some good medals, and that's what established me as a good amateur and allowed me to turn to professional after.
When you start encountering success and getting all these big accolades and achievements, do you notice people change or how circumstances can change?
You know the thing in becoming who you are, is that you change yourself. Some people change for the good and some people change, in a not-so-good way. I have seen a lot of people where the money and fame changed them. I still think I'm the same person that I was back then, but I tell my friends, and my parents and my family, "If I ever change, tell me". There are a lot of people that change and come and go in and out of your life. The best thing about accomplishing what I've done is that I was able to help my friends accomplish what they want in life. I want to do well. I want my brother to do well, my other brother and my cousins to do well. It's quite interesting that people do change but the most important thing is having a great team, having a family and having friends. They keep you grounded in all this and make sure you don't change as a person.
There's also nothing better than giving back. A lot of people get satisfaction from taking things, but when you give it's a lot more rewarding… Way more. I look after my family and myself, and I love doing well, but you can't get better satisfaction than you give and when you make someone else smile and make someone else's day. If I've experienced making someone else happier and helping them, honestly the joy that you get from that, it's a joy that you can't get from getting and getting and getting.
Has boxing always been the goal for you or did you have a fall back plan in place?
No, I had a fall back plan. I boxed, I had rugby, and I had other sports. Back at school when I was studying, I had a scholarship to attend Unitec for a construction course and that was going well at the time. I actually had to put it on hold because I was travelling the world so much and missing out on a lot of the course, but my fall-back plan was construction. I love construction and I was doing quite well in the class, but boxing took over. My parents and I sat down and said to me: 'if you want to do boxing then give it 100 percent, and we will see where it ends up but as long as you have a back-up plan'. You've got to think one day, you get into an accident or you get sick, and you can't box, what are you going to do for the rest of your life? I think it's important to know you want to do something, but in the back of your mind you have something else to fall back on. You have to be prepared for every situation.
Have you thought about the future after boxing?
Yeah, I want to give back. I already had something in mind, I want to open up a promotion company. But I'm not really fixated on just boxing prospects. I want to be someone who can get talent from all over the South Pacific, not only boxing, but singing and everything else and trying to help and push them to be the best that they can be. We've got so much talent in the South Pacific. Sometimes they are given the opportunity and sometimes they're not. I want to help them down a certain pathway and get them to where they should be.
It's a good idea. There's so much talent out there that just goes unnoticed.
Take myself, for example. I was given the opportunity. I had people like my parents who invested money in me. A lot of people did things for me and pushed me to a space now where I'm able to be a champion and now I want to fight for all the other belts. I have my own drive but if I didn't have the support then, I wouldn't be here today. I think it's important that we can identify those with talent and then given them a chance to see if they can accomplish it or not. If they can, good on them – they can go on to bigger and better things. If they can't at least they get to try, just as long as we're giving our best in giving them the opportunity.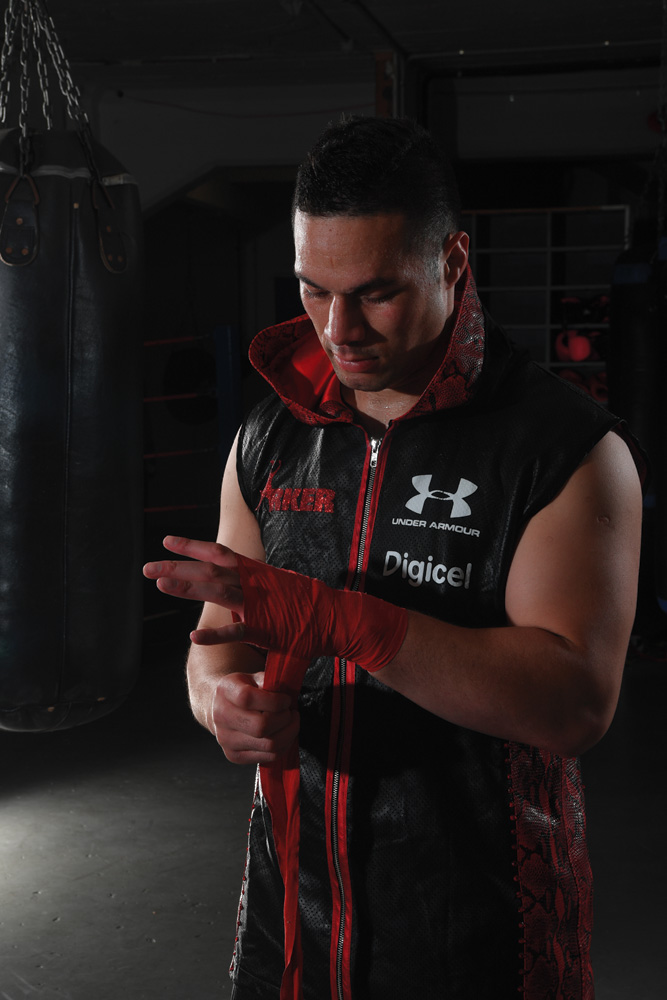 You have a big fight coming up and your record at the moment is 24-0 which is an amazing record. What are some of the biggest challenges that you faced along the way, not just in boxing?
There's a lot of challenges. The boxing itself is hard. The training is hard, it's intense, but I love it. I love to put my body through it. In the beginning, funding is a challenge. There's the challenge of people putting you down and the negativity. I feel like I have thick skin where it doesn't affect me anymore. Also in the world of boxing you need to understand that there's a lot of people who want to take, take, take and there's people who are there to help you. So you've got to distinguish who is a good person to help your career, and who's a person that wants to take from you and not look after you. I've been through a lot and I'm fortunate and blessed to have a good team and to have good guidance. I have my parents and my management team, I have a great lawyer, so I think I will be able to overcome a lot of the things that a lot of boxers do get caught up in.
Talk to me a little bit about training camp, because obviously with the lead up to the Anthony Joshua fight, what's your training schedule like?
I know you're in Vegas at the moment, but what's the day-to-day? This Vegas training camp is eight weeks which I feel is a good duration. We train from Monday to Saturday, three sessions a day. On Monday for example, we go for a five mile run in the morning. Have breakfast and rest. Then it's a boxing session for about two hours — we do a lot of pads, shadow-boxing, bag-work, skipping, all of that. Then lunch and rest. In the evening, there's conditioning, which is a hard-core session of different drills to help with speed-work and movement. In between it's very important we get rest. If we don't get the little naps in between sessions, we wouldn't be able to train as hard as we can. The food is also very important. Luckily I have Kevin [Barry – Joseph's trainer]'s wife, Tanya. She prepares all our meals, the lunches and dinners and snacks. She does all the washing and everything. It makes it easier for us to train.
They call boxing 'the sweet science'. How much of boxing do you think is mental?
A lot of it is mental. Not everyone can put on a pair of gloves and jump in the ring and punch someone in the face or receive punches to the face and the body. Anyone can give it a go and try, but it's a lot of mental work. I have my trainer, my family, my friends, I even have a mental coach that helps me with my mental strength and mentality.
In a fight when there are punches thrown your way and you're trying to think of your strategy, how do you stay composed in the moment?
It takes a lot of practice. When you're sparring, you have to try and implement everything you're learning in training camp. If you do it as best you can in sparring and in training camp, when it comes to the fight you're already in territory that you recognise. You recognise that you've already been here so you're able to stay relaxed under pressure, stay calm and composed and follow the plan that's put in place.
What have you learnt from boxing that's applicable to other areas of life?
There's dedication, there's focus, determination. I think a lot of people learn a lot from it. There are people with anger problems that learn boxing and gain a lot of control over their aggression. It also helps show you respect towards your opponents and towards those around you.
In boxing there are plenty of larger-than-life 'trash talking' personalities. You've got your Floyd Mayweather's…MMA fighter, Conor McGregor comes to mind too. What keeps you grounded in a sport with a lot of drama and antics?
It's the team that I have around me, they keep me grounded. I have a great team that want the best for me, but also advise me and keep me focused. It's also the standards that my parents instilled in me as a young boy. I think those standards have helped me and keep me respectful. Even though there's things said here and there, it's part of the game, but I think you can easily tell that it is. It's the values from my parents and the values from the church. Church plays a big part in my life, so I give credit to them as well.
Obviously this is a major bout that is pretty different. There are some big titles on the line in a unification match, does it feel different to you. How do you stop the size of a situation getting to you?
He [Anthony Joshua] is just another fighter that we're going to come across and it's a big event and there's a lot on the line. You mentioned titles, but you've got to treat it like any other fight. I think you've got to approach it by just staying calm and staying relaxed. If you over-think, that's the part where you start draining your energy. We've experienced big fights, not to this extent, but there's other fights that we've had that's helped us practice for this event. There won't be any problems for us. We're going to use it as energy. Walking out to this big crowd and use it as energy and drive. We're more excited than nervous.
Speaking of energy, obviously it's going to be held over in Wales in the UK. Do you think like a home advantage thing exists?
I guess there's always home advantage because you want to put on a great show for everyone around you. This is where you are, this is where you live. And sometimes the crowd can give you that second wind, so there's a lot of ways that the home advantage can come into play, but it's not going to worry us to be totally honest.
Are there certain holes or things you're trying to exploit in Joshua's game?
We both have holes and we both have weaknesses and strengths. My job is to train hard and listen to my coach. He's going to come up with a game plan where, you know, if he comes too high, we're going to know exactly what to do. That's why it's important to have a team around you that you believe in. I've got to believe in what my coach is going to do, and then he's got to tell me what to work on and what to attack, and we are going to exploit the weaknesses he has.
Let's just play a game and picture the scenario — you've knocked him to the canvas, you take home all the belts, what's next? Do you go after the Deontay Wilder and the WBC?
I would love to fight him. There's a rematch clause for Joshua in the contract however — if I win the fight, he gets a rematch clause. If he wins the fight, there's no rematch clause for me. I don't think I need one. For them to want a rematch clause shows they're a little bit worried about what might potentially happen, but I think a great scenario is that we win. We fight, we take the belts back to New Zealand, we celebrate and then we fight again towards the end of the year.
In boxing and all sports, success is defined by titles and statistics, but personally how do you define success?
That can be a way of looking at success. Ticking off those goals and the things you want to achieve, so in that sense that is success. But also, I think success is being happy in life. You don't really have to be rich or have everything in the world. I think as long as you're happy, your family is happy and everyone is healthy and well, I think that's success.
If you could go back in time and give a 16 year old version of yourself advice, what would it be?
It would be what Muhammad Ali said — train hard, suffer now and you'll live the rest of your life as champion. So work hard now and enjoy the future. Head down, work hard, stay focused, and don't lose track of what you want to achieve.
When it's all said and done, how would you like to be remembered?
I would like to be remembered as a good person. A person who was giving, a person who wanted to help those around them. A good New Zealand-Samoan person who wanted to help others, because that's all I really want to do, I really want to help others. I've seen the blessings that have happened in my life, when others have helped me. I've been able to achieve what I want to achieve in life, so I want to help others achieve what they want to achieve.
You'll also like: