Kanye West is one of the world's true enigmas. Not long ago, we covered the news that the Chicago native's highly publicized journey from college dropout to global icon will be immortalized in a Netflix docuseries. In that piece, we joked that it would hardly be a surprised if West gave the series producers some extra chapters to cover in the months between the announcement and the series opening, such is the predictable nature of his unpredictable existence. It hasn't taken long for West to prove that suggestion correct, as he returned for a period of relative obscurity last week with a much-ballyhooed listening session in front of a sold-out Mercedes Benz Stadium crowd in Atlanta for his long-anticipated album, DONDA.  
In a strange twist, the event went off without a hitch, didn't feature any of Kanye's trademark antics, and was considered a resounding success, including a reunion with somewhat estranged former best friend, Jay-Z. Suddenly, Kanye was back and it seemed as though he was about to deliver a relatively conventional on-time album release. However, it was barely a day later he announced that he would not be releasing the album later that evening as originally planned, but instead he would staying at Mercedes Benz Stadium taking up temporary residence in one of the stadiums locker rooms and converting it into a makeshift recording studio. There, he would apply the finishing touches to DONDA before dropping it in its final form on August 6.  
That all seems fairly reasonable on the surface, but in a hilariously Kanye-twist, he might have meant that more literally that we originally perceived. Case in point, Atlanta's local MLS team, Atlanta United played a home game at Mercedes Benz Stadium last Saturday, and who was spotted in attendance? Why none other than longtime Atlanta United superfan (unconfirmed, possibly untrue) Kanye West himself, immersing himself in the atmosphere in the home supporters area. Most hilariously, Kanye attended the game wearing exactly the same outfit that he performed in two nights prior, all the way down to the rather unusual full-face covering he sported at the listening session: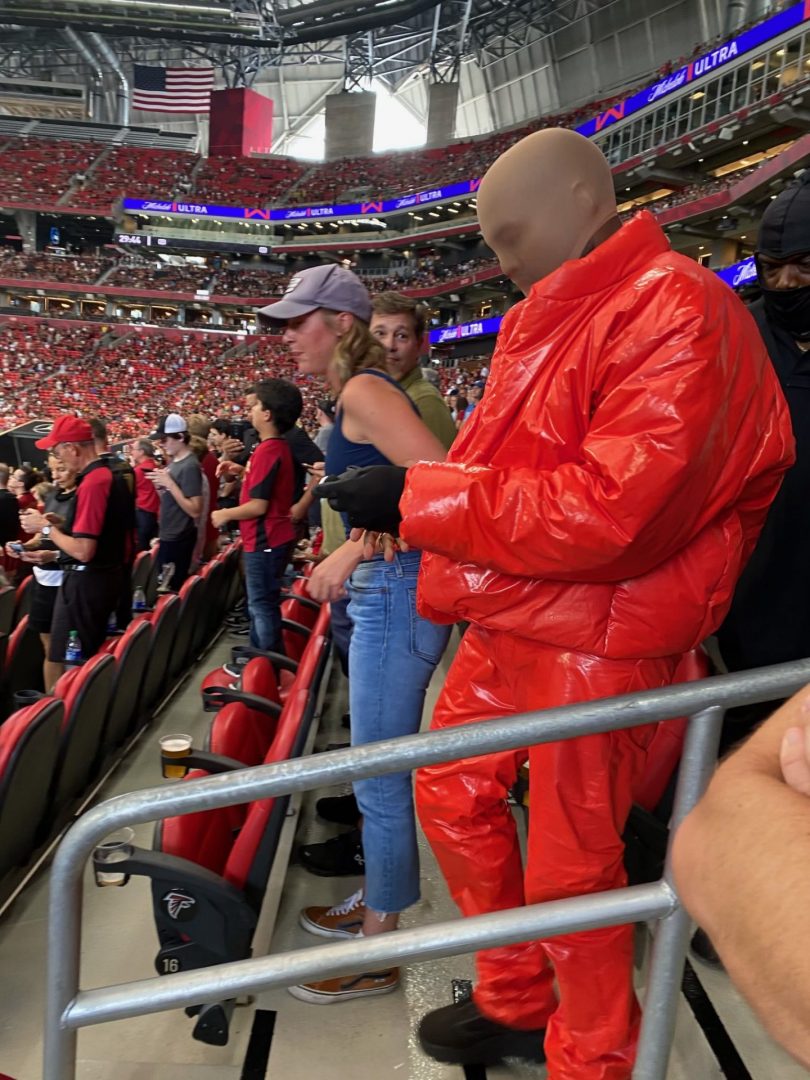 We hope he packed a spare change of clothes when he headed to Atlanta for the listening session, but knowing Kanye, it's highly possible he made the decision to delay the album on the fly and has been forced to adopt the old 'inside out' method. Regardless, we're just glad to have Kanye West back in the public space again after a long absence, likely induced by the end of his marriage to Kim Kardashian. The man is the master of generating publicity and his return last week has anticipation for his new album as high as its ever been. 
Top image courtesy of Apple Music