Fashion maestro, the late Karl Lagerfeld, has continued to leave his indelible stamp on the world, even from beyond the grave. His final hospitality project, a lavish 271-room hotel in Macau, officially welcomed its first guests on April 29, 2023. This property, part of The Grand Lisboa Palace Resort Macau, stands as a testament to Lagerfeld's incredible creative vision and penchant for grandeur, brought to life four years after his death.
Karl Lagerfeld was no ordinary fashion designer; he was a trailblazer, a titan of the industry, who had an uncanny ability to anticipate and dictate trends. Born in Hamburg, Germany, in 1933, Lagerfeld moved to Paris in his teens, where he began his fashion journey. He became a household name in 1965 when he joined Fendi, before taking the helm at Chanel in 1983, a role he would maintain for over three decades until his death.
During his tenure at Chanel, Lagerfeld revived the luxury brand, reinterpreting Coco Chanel's iconic tweed skirtsuits, little black dresses, and quilted handbags in a modern idiom. His larger-than-life persona, complete with powdered wigs, fingerless gloves, and dark sunglasses, made him a cultural icon in his own right.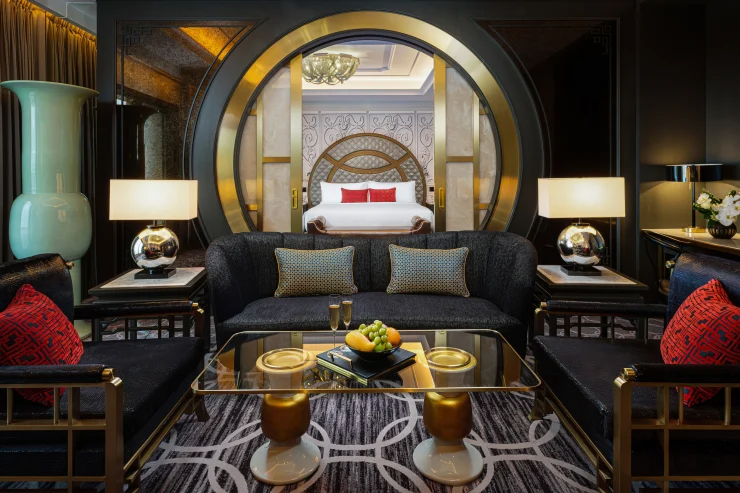 The fashion world was deeply saddened by Lagerfeld's death in 2019, but the recent opening of the Karl Lagerfeld Hotel in Macau serves as a potent reminder of the designer's immense creative prowess. The hotel is claimed to be the world's only hospitality project entirely designed by Lagerfeld, encapsulating his meticulous attention to detail, style, and grandiosity.
From large-scale installations to the smallest elements like bathrobes and bedsheets, Lagerfeld's creative influence pervades the hotel. 
The library lounge is another spectacular feature. Stacked with 4,000 hand-picked books, this space reflects Lagerfeld's well-known love for literature and books. The designer's personal library was said to contain over 300,000 books, a fascination that has been artfully woven into the hotel design.
What is particularly striking about the design aesthetic of the hotel is Lagerfeld's fusion of Eastern and Western elements. With 271 rooms and suites meticulously designed with modern chinoiserie elements, Lagerfeld deftly weaves Chinese symbols and silhouettes into a Western aesthetic framework. The influence of Chinese culture is evident in the custom-made round silver and gold headboards inspired by Chinese coins signaling prosperity, and circular room dividers reminiscent of classic Chinese moon gates.
A consistent moody palette of black, gold, and crimson stretches across the property's rooms and public spaces, conspicuously absent is the colour pink, which Lagerfeld famously believed wasn't "flattering" on anyone. This rejection of pink was characteristic of Lagerfeld, known for his strong views and sometimes controversial statements.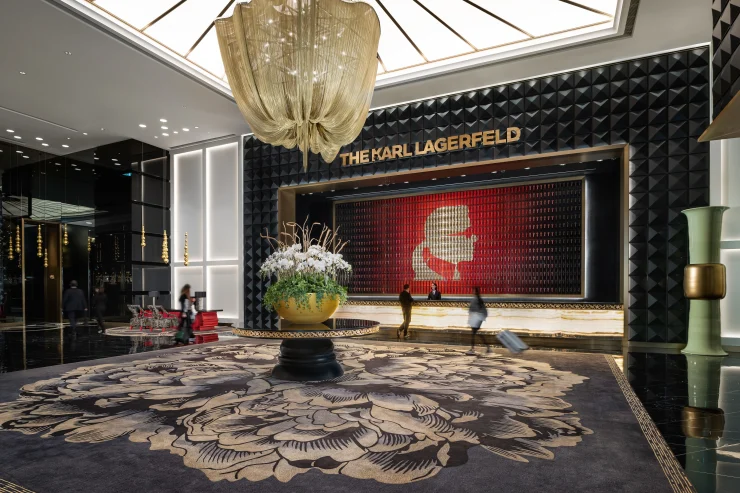 In collaboration with Italian design lighting brand Terzani, Dutch artist Marcel Wanders, and French artist Jean-Michel Othoniel, Lagerfeld was able to produce several commissioned works for the hotel. These collaborations resulted in the creation of unique chandeliers, furnishings, and sculptures that add to the hotel's exclusive character.
The hotel is the latest property by SJM Resorts, adding to a stable of brands that include Palazzo Versace Macau, Grand Lisboa, and Ponte 16. The opening of the Karl Lagerfeld Hotel came in the wake of the annual Met Gala, which was themed this year "In Honour of Karl". The event paid tribute to the late German designer's extensive body of work in fashion, even amidst criticism from activists who recalled Lagerfeld's legacy of controversial comments.
In the end, the Karl Lagerfeld Hotel stands as a testament to the designer's unique creativity, his lasting influence on the fashion world, and his passion for opulence. It serves as a fitting monument to the man who was not just a fashion icon, but a cultural phenomenon whose influence reached far beyond the realm of couture.