While many want the cold weather to hold off for a bit longer, those inclined to the decline are wishing for a repeat of 2018 when the powder came early and remained. For when the snow starts in earnest for 2019 though, visitors will be able to experience nationwide enhancements that have taken place at many of the ski fields continuing to build on the burgeoning snow scene in New Zealand. Friendly competition between the fields has seen massive investment in an improved skiing experience whilst making additions to spice the mountains up a little for those who make the pilgrimage as a matter of priority.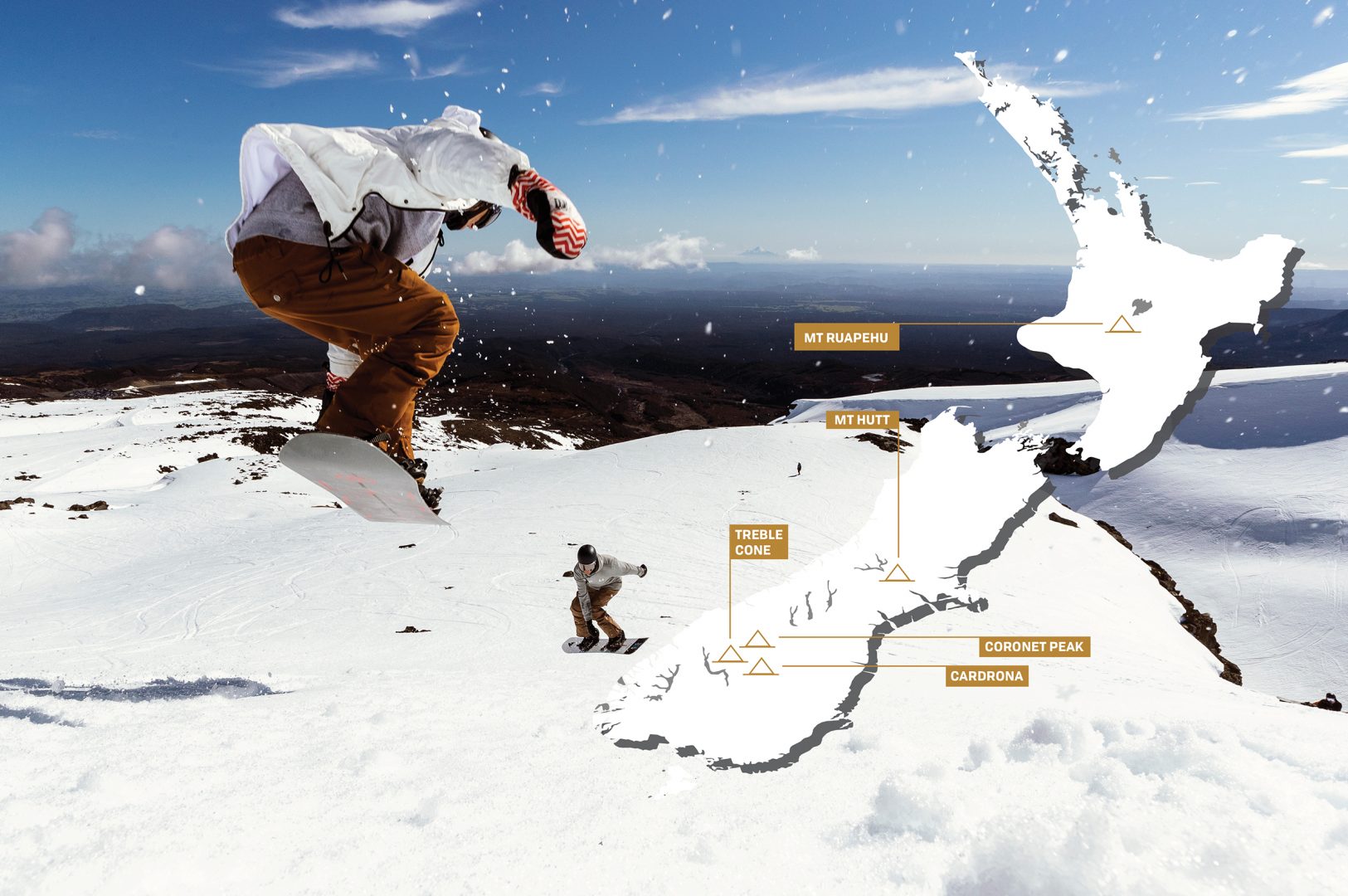 CORONET PEAK
Often touted by pundits as the country's best and most popular mountain, Coronet Peak has plenty for all levels, including the masters and the brave, both ski and board. As well as the impeccably groomed main runs, off-piste trails fringe the resort with multiple drop-offs and mogul runs. For the intermediates, there's a host of 'blue' tracks including a monster 2.4km run while beginners can cut their teeth in a designated learner zone. Night skiing is also a feature on the Coronet Peak slopes and because of its proximity to Queenstown, this makes the short trip a very attractive proposition. While not known for a huge amount of snow due its relatively low altitude, the Peak's snowmaking and grooming capabilities keep it in the top echelon of New Zealand ski fields. After 2018's bumper season, large investments have been made in Coronet Peak with a new Telemix Gondola/Chairlift in place as well as plans to change the summer usage of the mountain for bikers.
Season: June to October
Beginner: 15% Intermediate: 33% Advanced: 25% Expert: 27%
Lift Passes: Day passes from $69 with a range of multi-day passes, Night ski passes from $45, 3-peak season passes from $399 (Child) to $899 (Adult) – includes Remarkables and Mt Hutt
Accommodation: A minimum number of ski clubs dots the surrounds of the slopes but most roads lead to Queenstown for Coronet Peak accommodation. With only a short drive needed to hit the snow, the Peak's offsite bedding options are exhaustive with high-end hotels, motels, lodges and Airbnb's.
Travel: New Zealand's first ever commercial ski field is the closest to Queenstown with a 20 minute drive is all it takes. During the season, shuttle buses run from central Queenstown while public car parking is readily available. Flights from New Zealand's main cities fly direct daily to Queenstown.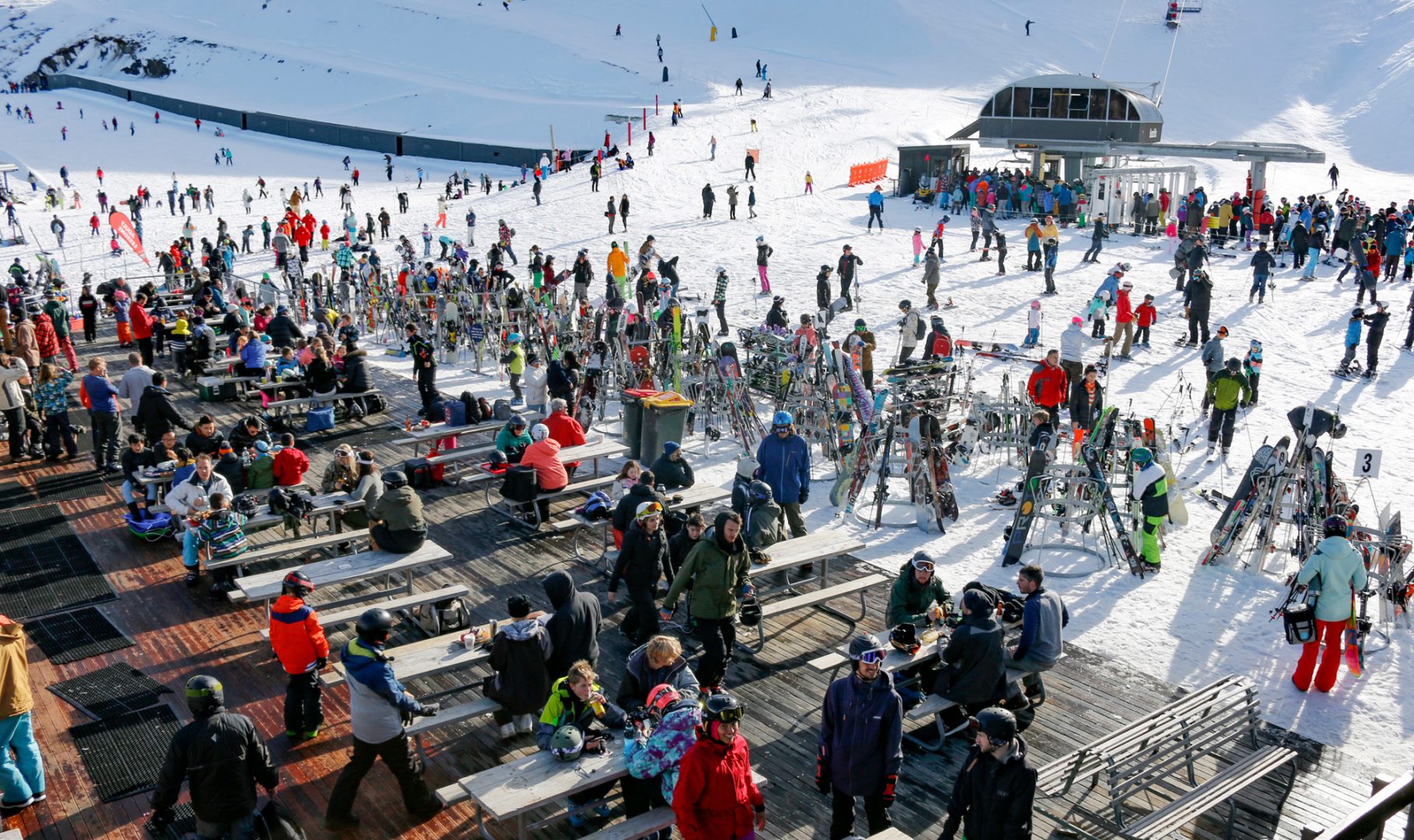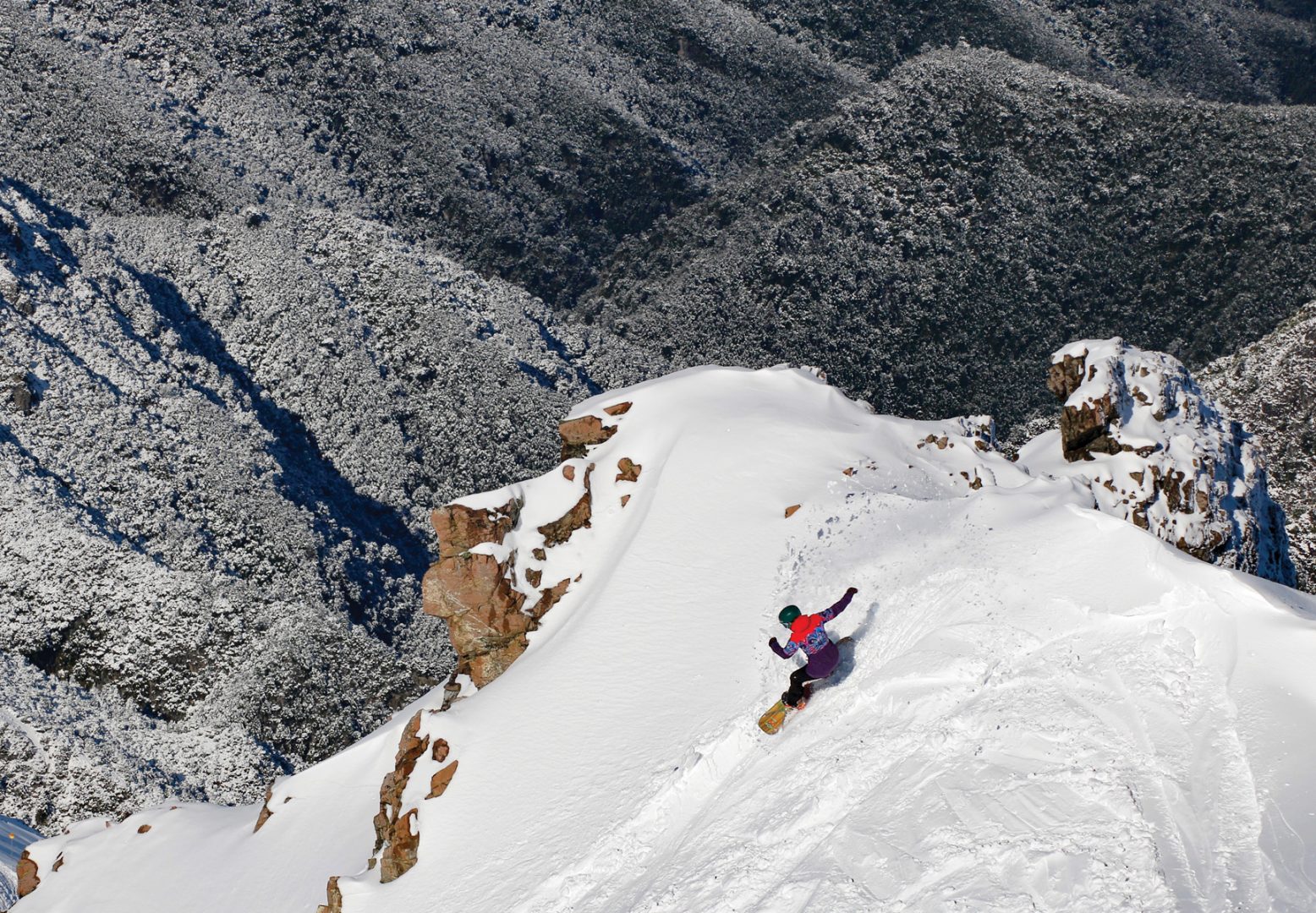 MT HUTT
The skiing gets a bit more serious the further south you go and the more discerning have a multitude of options. Renowned for its quality of snow and lift infrastructure, Mt Hutt sits on the doorstep of the Canterbury region and the town of Methven and is frequented by competitive overseas skiers in their off season. While it may not get the praise and offer the romance of Queenstown, Mt Hutt gives the guns what they are after due to its steep and reasonably long runs in places as well as a mix of trails for all abilities. There are five terrain parks on site for all levels of freestylers and boarders as well as a beginner's area for the kids. But don't take it from us, Hutt has been New Zealand's top ski resort four years running according to the World Ski Awards.
As all ski fields in the country have been doing, Mt Hutt has improvised to give their visitors more than just snow sport this winter. The addition of the highest hot tub in the country as well as Yooners – ski with a seat – have proved popular as have the little tweaks in operations like shorter wait times for food and beverages. Sometimes it's the little things that count.
Season: Mid June to early October
Beginner: 11% Intermediate: 37% Advanced: 32% Expert: 20%
Lift Passes: Day passes from $65 with a range of multi-day passes
Mt Hutt season pass from $399 (Child) to $549 (Adult)
3-peak season passes from $399 (Child) to $899 (Adult) – includes Remarkables and Coronet Peak
Accommodation: The town of Methven sits about 30 minutes away and is the closest source of most of the Mt Hutt accommodation. Lodges, apartments and Airbnb's are scattered through the town, but Christchurch is a reasonable distance away and easy drive for a day's snow action. Unfortunately, there are no beds up the mountain.
Travel: Reaching Mt Hutt is a cruisy under two-hour drive away from Christchurch with the ski fields accessible for the most part by car providing you don't need to hire chains. For a hassle-free commute, the shuttle bus runs a return route from Methven twice daily.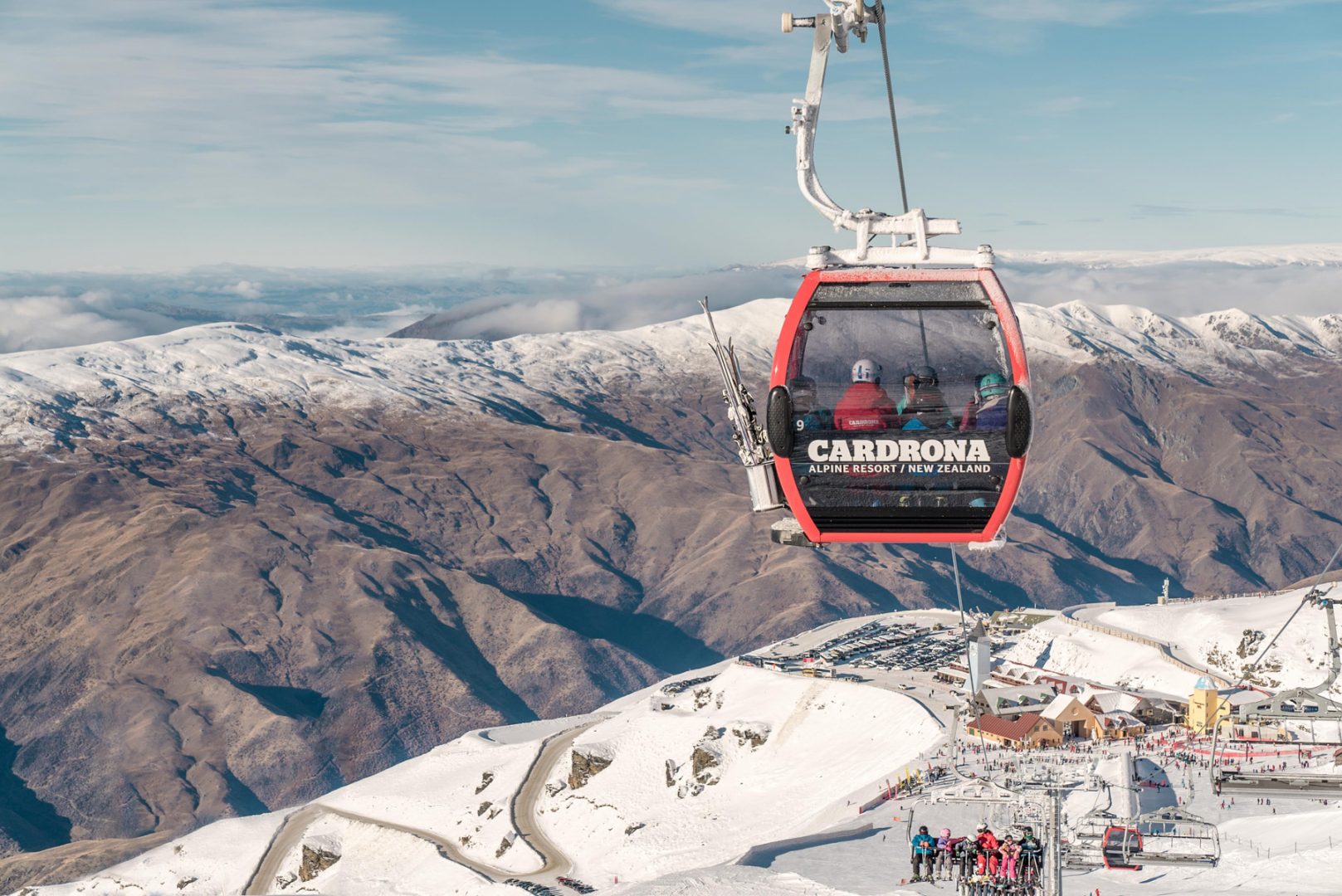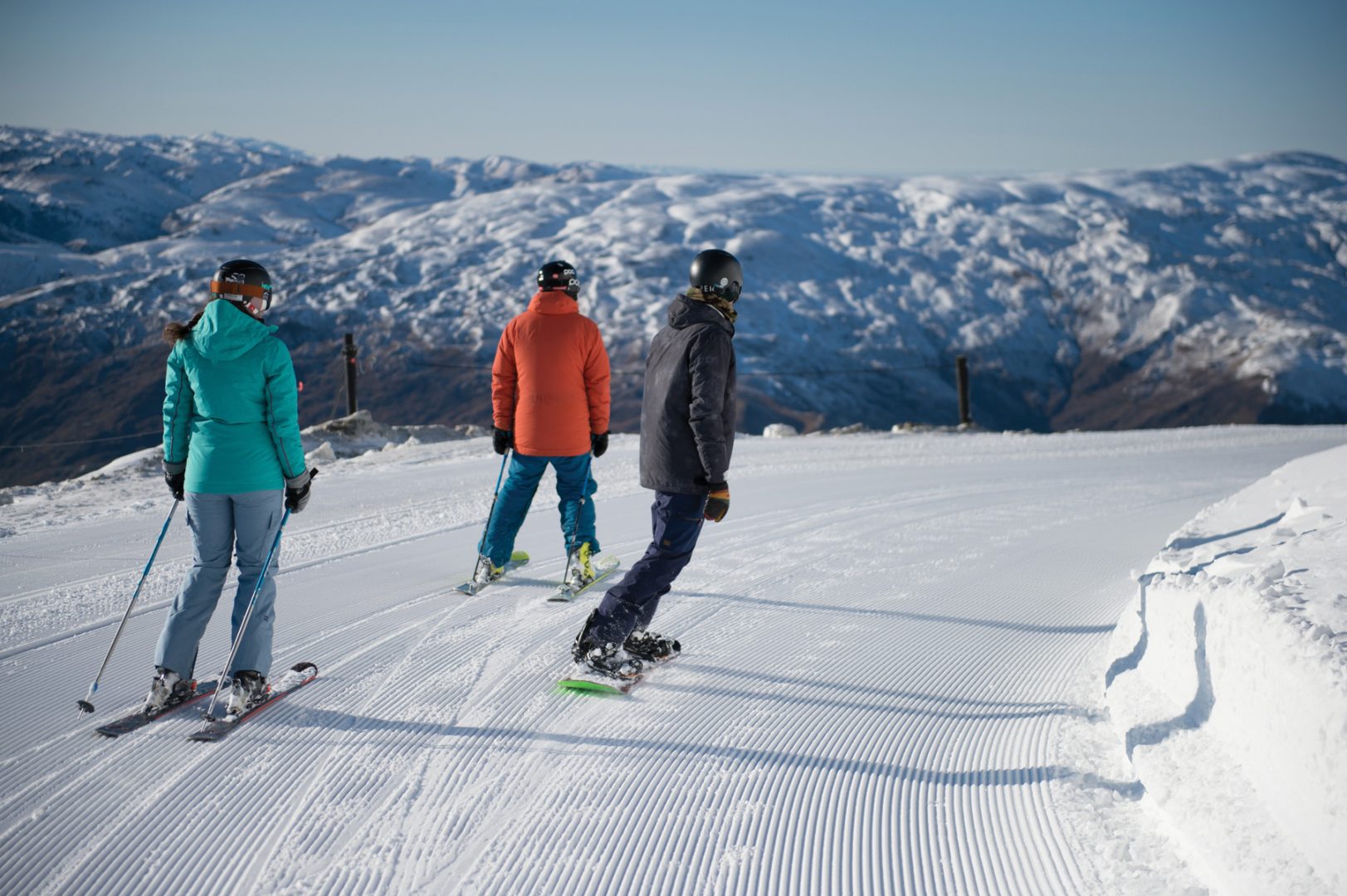 CARDRONA
As far as all-encompassing ski resorts around the world go, Cardrona represents the most similar in this part of the world. The broad range of skiing and boarding options couples with the on-mountain accommodation, something lacking throughout the country's commercial ski areas. Cardrona is renowned for an abundance of beginner and intermediate tracks, yet there are tonnes of off-piste options for the more advanced. Freestylers and boarders have options with dedicated runs and four terrain parks of differing difficulty. Three half-pipes and an Olympic sized superpipe bring the competitive boarders to the mountain from around the world and are favourites with the northerners in their offseason. For the experts overall, Cardrona may not possess the steepness, length of runs or the dumps of fresh snow that its Treble Cone cousin has in spades, but for a holiday experience for those not hellbent on pushing their limits, Cardrona is a brilliant allrounder.
The resort has worked hard in the summer to enhance the overall experience on the mountain while last year's announcement of the new Soho Basin addition will continue to intrigue as Cardrona is primed to become New Zealand's largest outright ski field by 2021. Presently at 345ha, Cardrona isn't just adding on a few runs with the annexed Soho Basin set to raise the holdings up to a massive 900ha with the project entering its fourth year in the five year construction plan.
For now though, Cardrona continues to host big local skiing and boarding events with the well-established Winter Games NZ taking place in late August to early September with the popular Jossi Wells Invitational immediately after. The events come thick and fast with Special Olympics New Zealand holding their Alpine Skiing competition in September.
Season: 1 June to 20 October
Beginner: 25% Intermediate: 25% Advanced: 30% Expert: 20%
Lift Passes: Day passes from $62 (Child) to $120 (Adult) with a range of multi-day passes, season passes from $359 (Child) to $899 (Adult)
Accommodation: The beauty of Cardrona is that it has accommodation options on the mountain. Apartments sit at the base of the complex which allows maximum time on the snow. If it's not on the mountain, then Queenstown is a scenic hour's drive away while the town of Wanaka is just over half an hour where there is a full range of smaller scale accommodation. Early birds may be able to snap up accommodation in Cardrona Village only twenty minutes away.
Travel: An hour away from Queenstown, the Wanaka field is readily accessible from the main hub and visitors choose between car and shuttle. To take the hassle of chains away, shuttle services run at set times from both Queenstown and Wanaka.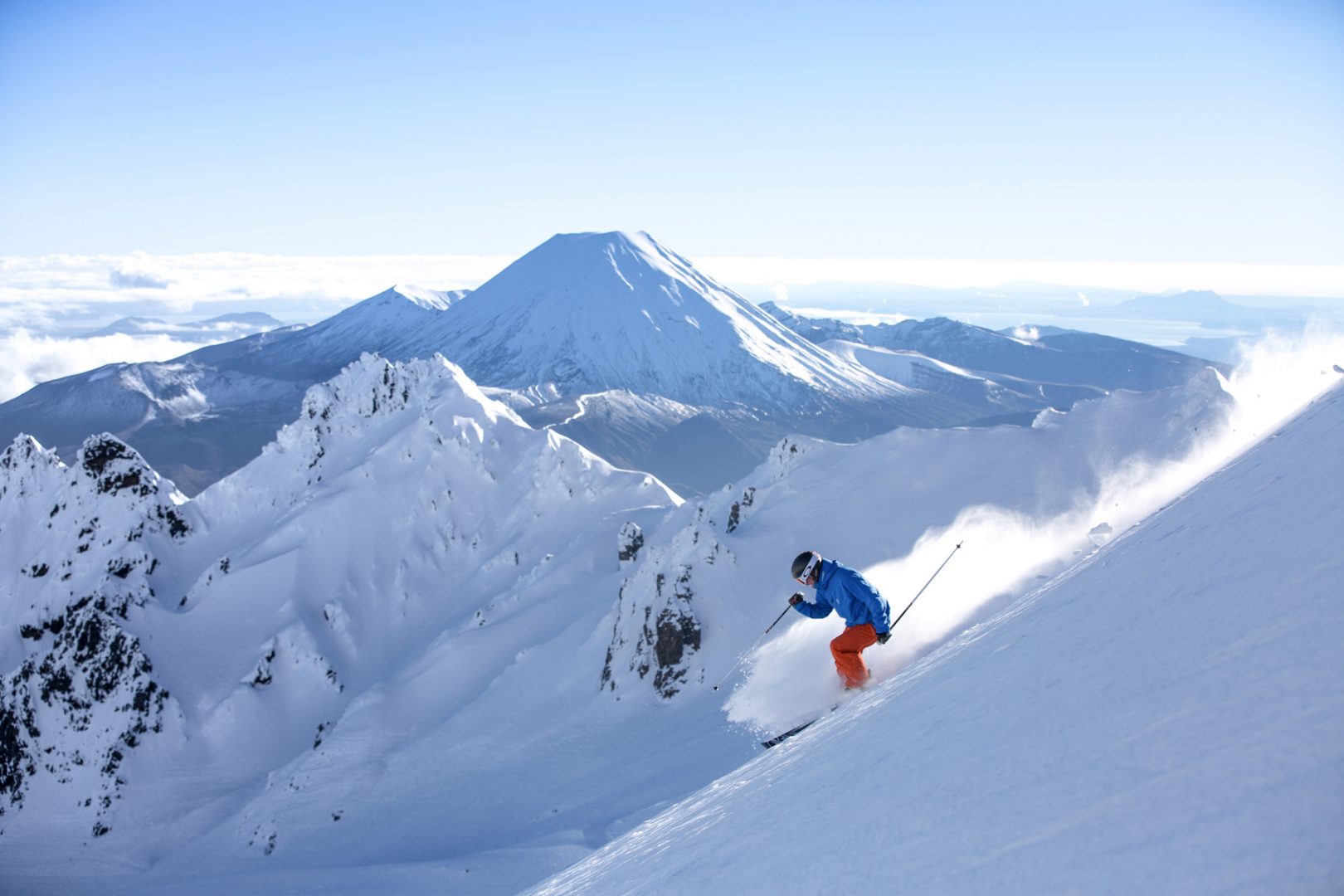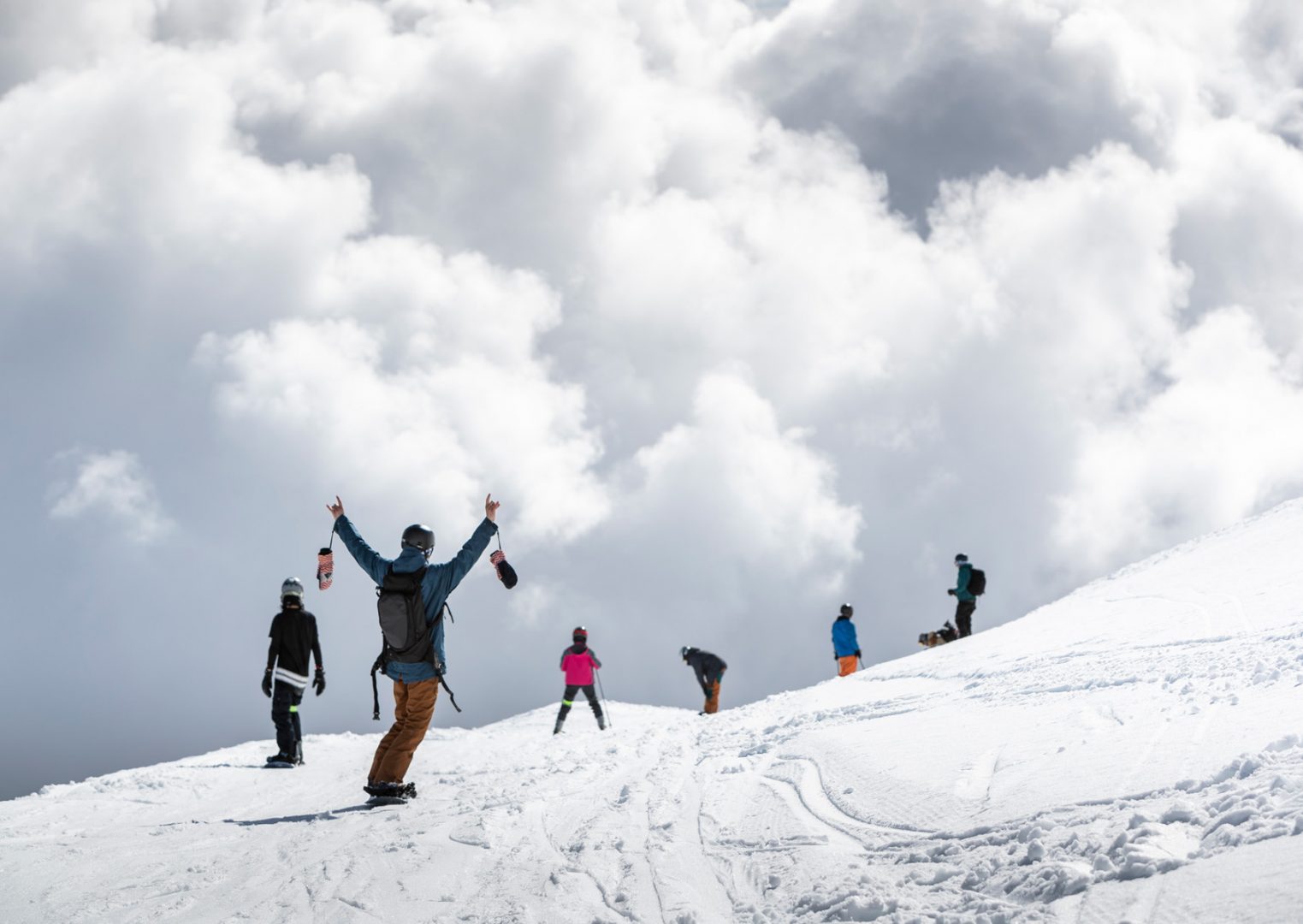 RUAPEHU – WHAKAPAPA AND TUROA
Surprisingly, the slopes of Ruapehu are open and skiable longer than any other in the country and this has been suitably boosted with the addition of night skiing on nation's most recognisable volcano. The night lights aren't the only new feature on the Whakapapa side with the long awaited 1.8 kilometre 'Sky Waka' Gondola ready for action allowing year-round access to the Knoll Ridge Chalet/Cafe at 2020 metres high. This brings the total number of lifts on the active volcano to 14. In the last few seasons, serious coin has been invested with the advent of the high-speed elevator taking visitors from the car park to the lower slopes amongst the improvements.
Whakapapa has always been family friendly so rightly the improvements didn't just cater for the upper slopes and the more advanced. For those wanting to keep it less technical, Happy Valley has added in a sledding track with carpet lift at only $20 for adults and $15 for kids with the sled included. There's also plenty of reason to venture over the crater at Turoa too where the ski field presents several surprises. Living happily in the shadow of Whakapapa it's often forgotten Turoa has the country's highest chairlift leading up to New Zealand's longest vertical run at 722m. The Turoa slopes have arguably more natural features to write home about and to keep up with Whakapapa, have added more beginner facilities like a sledding area for those more comfortable starting on their backsides rather than ending up on them.
Season: 22 June – 28 October (Happy Valley open 1 June)
Whakapapa – Beginner: 25% Intermediate: 50% Advanced: 25%
Turoa – Beginner: 20% Intermediate: 55% Advanced: 25%
Lift Passes: (Whakapapa/Turoa) Day passes from $80 with a range of multi-day passes, Season passes from $779 (Child) to $1299 (Adult)
Accommodation: Whilst mountainside beds are the domain of the ski clubs and the iconic Chateau stands alone, Ruapehu has a ring of towns including National Park Village, Ohakune and Turangi with motels, lodges and Airbnb's. Taupo is just over an hour away with options aplenty.
Travel: Central as you can possibly get in the North Island, Ruapehu is just under five hours from Auckland via car and almost exactly the same from Wellington Central. Planes fly into Taupo daily. Once in the Plateau region, dedicated shuttles are easy to find and book, and both fields have parking.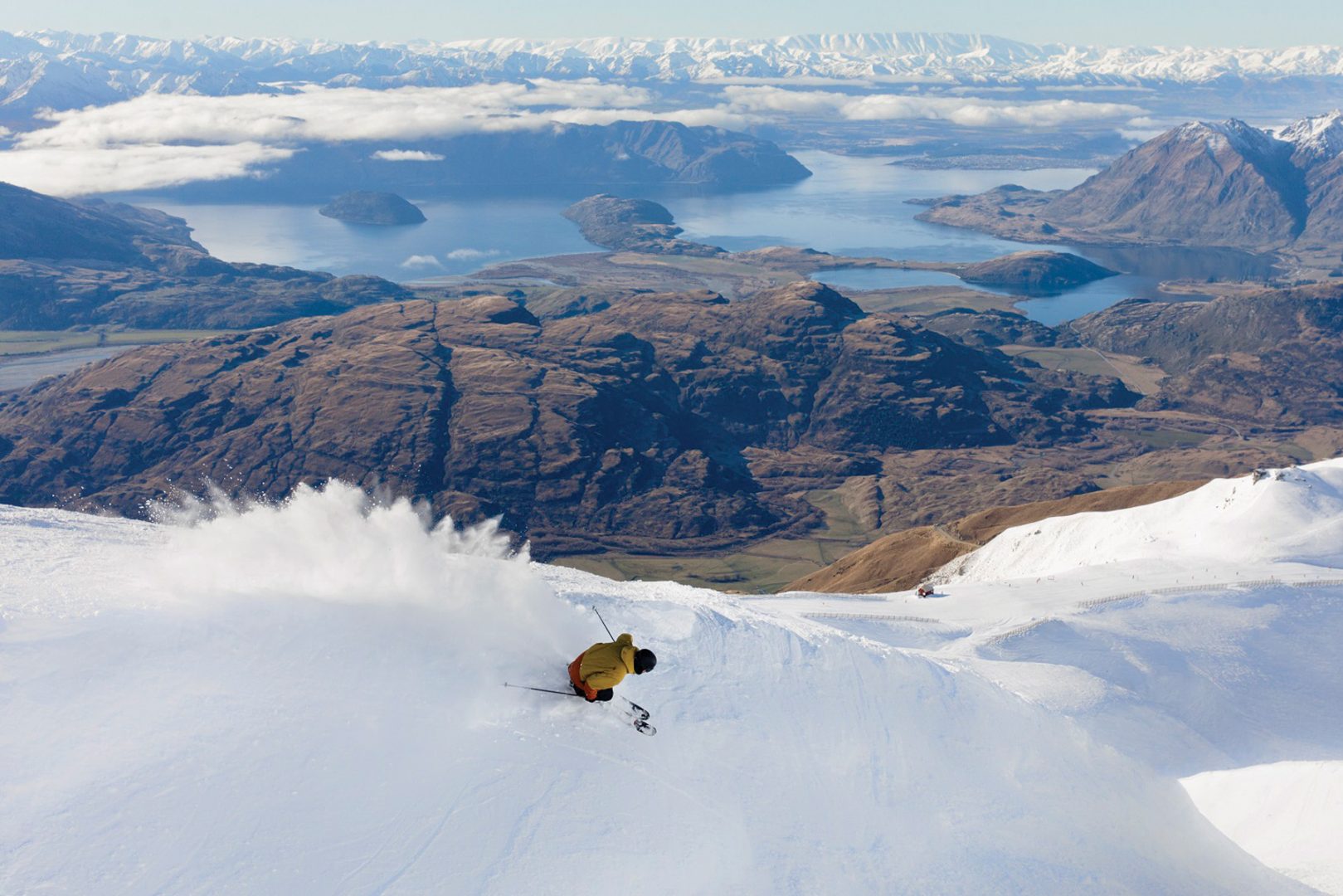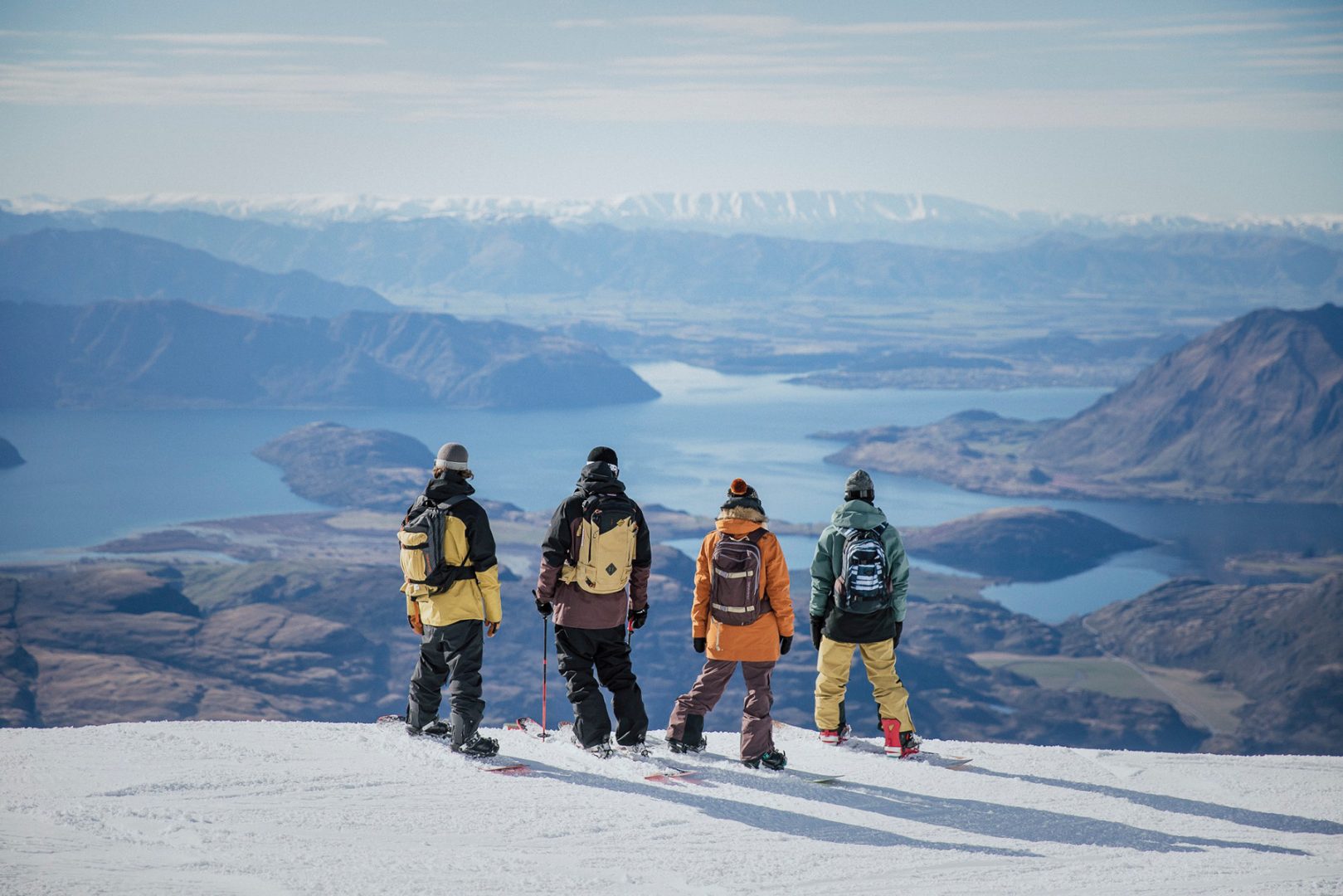 TREBLE CONE
With double the snowfall or more of any of its Kiwi counterparts, Treble Cone has a distinct natural advantage that complements its steeper-than-most vertical incline. It goes without saying then that the more advanced among us will find the largest current field in the South Island to their liking as well as the numerous off-piste trails and backcountry options. Several facets standout on the country's joint largest field (with Whakapapa) like a 4km run, a terrain park, a beginner's section and numerous intermediate trails throughout. While it caters for all, Treble is well known for having some of the most difficult runs in the country due to the sheer natural terrain. New and advanced grooming machines have been procured giving early birds more incentive to get up the mountain before the others with a new 8am opening time in July and August. At an additional cost, early risers can tack on the extra to be first on the fresh corduroy.
As per the norm, Treble will once again play host to several competitive downhill skiing events including the New Zealand Masters event in July and something for the boarders too with the Treble Cone Banked Slalom on the last day of August.
Season: Late June to late September Beginner: 10% Intermediate: 45% Advanced: 45%
Lift Passes: Day passes from $75 (Child) to $149 (Adult) with a range of multi-day passes, Season passes from $599 (Child) to $1999 (Adult), Backcountry passes from $60
Accommodation: Because of the travel time from the hub of Queenstown, a stay in Wanaka is more advisable to avoid a potential four-hour round trip. Wanaka has plenty of apartment, lodge and Airbnb options. Unfortunately, there are no mountainside digs.
Travel: Take your time on the half hour drive from Wanaka as the scenery is spectacular but add another hour if Queenstown is your base. Shuttle buses run from both towns with the latter taking up to two hours on a slow day. The 7km drive from the foot of the mountain to the public carpark has been described as 'white knuckle' driving.