The time had turned 7:10pm on Sunday the 25th of June, the night of the Auckland leg of Michael Bublé's seventh world-tour, in support of his 11th studio-album, Higher. My right-sided tremor (the result of a brain-injury I sustained when I was nine) was going like crazy. My heart was thudding out my chest. I was sweating in places I knew I'd never sweat before. Outside the packed-out Spark Arena, the dark had drawn itself in and the cold air was biting at the queues of fans excitedly lining up to see the internationally-acclaimed super-crooner. The last time Michael was here on these shores was in 2020 at Mission Estate, as part of his hugely-successful 'An Evening With Michael Bublé's world tour, with 36-piece orchestra in tow for a sold-out concert. Now, three years later, Bublé had returned to New Zealand for one night only. 
Starting back in August last year, the Higher tour has been to every country you can think of—from the US to Italy to Austria to Wales—and has been a sell-out every step of the way. Auckland was the penultimate step to the Higher tour, planning on bringing it to a close in Mexico in October this year. 
No surprises that he's been to every corner of the globe, the Grammy-winning multi-Platinum-selling singer is loved around the world. Whether it be his soulful, signature baritone, his dazzling showmanship, or his effervescent friendliness, Bublé is a music icon, through-and-through. Look him up on Youtube and you'll see—whether he is bantering with talk-show hosts or playing to thousands of fans in sold-out arenas, he never waivers on his ability to connect to others on that human level. He jokes, he swears, he's humble. He's uniquely himself, and he has millions of adoring fans to prove it.
Through the doors of the Spark Arena, and into the warmth of the venue, the excitement was palpable and buzzing. You had to be there to believe it. As everyone around me bustled about, getting their drinks and hot chips ready for the highly-anticipated show to begin, I stood nervously waiting to meet the man himself. Upon the release of the album, Higher, last year, I had been given the opportunity to speak with him on Zoom as he sat, 13,056km away in Canada. I thought I was nervous then, worried that I would stumble over my list of questions and make a fool of myself. You can only imagine what I was feeling about interviewing Michael in person before he took to the stage for his show. 
As I was escorted to the backstage area, and the doors swung open, Michael Bublé stood, smiling at me with a God-like aura about him—in the flesh and as bold-as-brass—dressed in all-black.  All nerves I had felt on the build-up to this meeting instantly vanished. It felt like I wasn't standing in the presence of an international superstar (even though he very much is one), it felt like I was just meeting up with a buddy. He warmly embraced me, saying: 'good to see you again, my friend'. Instantly, I melted. What a bloke. His kindness and humility, his warmth and grace, shone through him as we chatted and yarned, like two best buddies, about his art and his tour.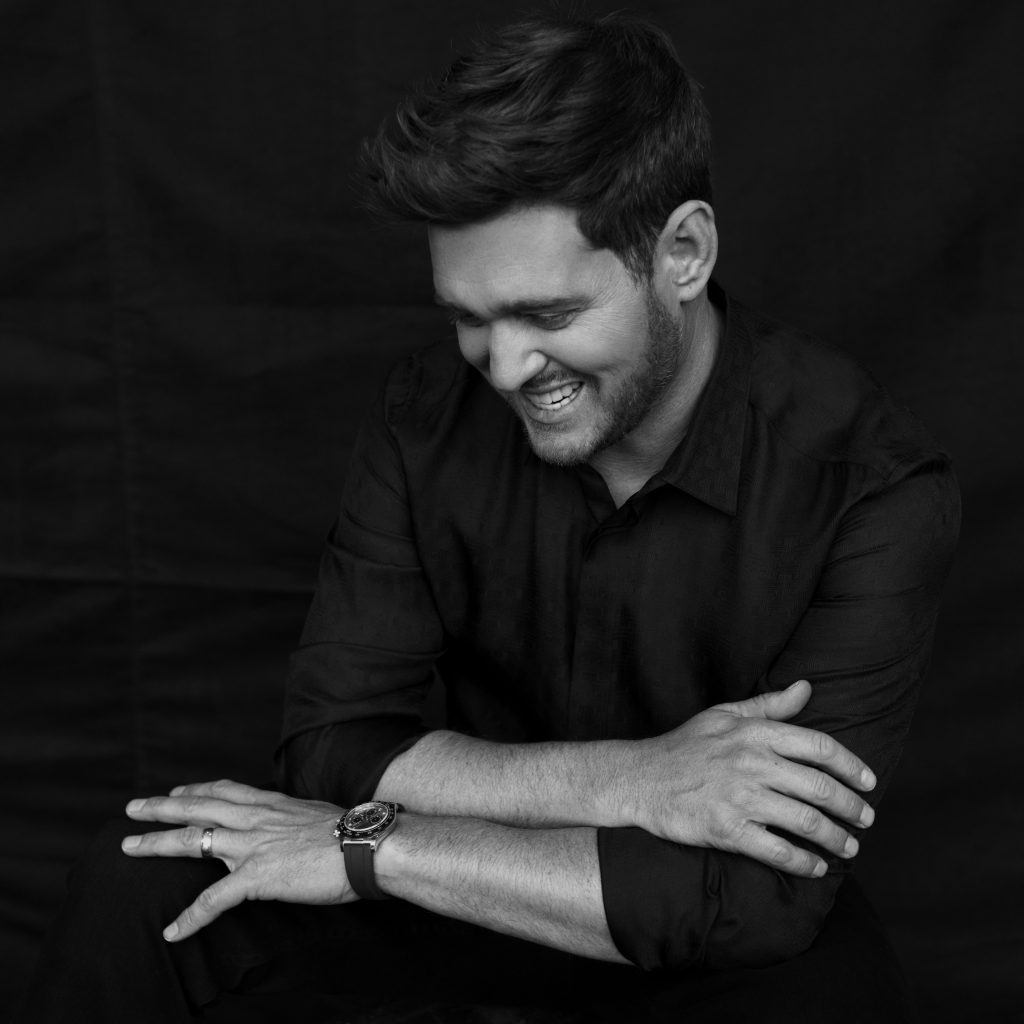 How does it feel being back in New Zealand?
I love this country a lot. Everybody says that they love the country they're in because that's what you're supposed to say—NZ is the exception. There's something here that's very peaceful, and it very much reminds me of my home city—my home country. There's a happiness that seems to sit here that's different to other countries. Very different from Australia, very different from America. As a Canadian, I would say the same thing about America. Aesthetically beautiful, I love it. My family really loves it here. A lot of my friends, when I tell them I'm coming over here, are always like 'oh I love New Zealand!' I feel like it's the best part of the Commonwealth countries. 
You're here in New Zealand for your Higher tour. How's the tour been going so far?
I have one country left [Mexico]—I've been to 44 country's so far. Tonight's show, if I'm right, is show 136. Man, it feels like I've been on the road a long time. Every tour is different. From the 'Crazy Love' tour to this one, I've always had such a great time touring. I've never had a tour as successful as this one critically. Commercially, probably the least successful because of the time we're living in. Economically, it really is redundant to go out and do a tour. I mean, heaps of my friends just don't tour—they've canceled, unless they could do some festival thing. 
As far as being a 'career tour', the words and the emotion comes and it just feels right. I knew when I first built this show (I was in England at the time and I did a practice run). I just knew. I thought at the time, I've never played an instrument, so I learnt how to play the guitar. There were so many influences too—I'd gone to see the Elvis film, the Baz Luhrmann one, and I was so inspired! I got to work with Elvis, I have records that I made with him, and got to know Pracilla very well too. So there were all these little moments of inspiration that came.  
This is quite heavy—but it's the truth—I spent 25 years of my career becoming a character, becoming my own superhero, my alter-ego. I had this alter-ego that I loved playing on stage and it was so different from me. All those insecurities and doubts I had. When I became that superhero onstage I lost all of those things. I became this larger-than-life persona—I was teflon. When my son went through his health-scare, I didn't know if I'd ever come back. When I did come back, I'd stopped playing the part, life got very real for me. I wasn't playing the part of this superhero. It felt liberating and wonderful, in a sense. But it was after that tour ended, I started to understand that maybe as good as it felt, as much as I enjoyed it, I wasn't sure that that was what the audience had paid to see. They didn't pay to see real-life. They didn't pay to see the vulnerable, insecure human-being—they'd paid to see the superhero. So before the Higher tour started, I called my wife and I told her 'ya know, I think I'm going to put that costume on again.' I did. She came to the very first show and I walked offstage and asked her what she thought. She said: 'I loved seeing my husband, and my kids dad up on stage, but it hurts because I completely understand why you became that alter-ego again.' 
It's weird, but we're selling a fantasy. It feels really good to play that part again. I'm an actor. And, by the way, when you gift me these books [*Bublé holds up two books written by the interviewer*] this is your superhero alter-ego. This is a deep part of you that people may not know. We're letting people see this part of us. It's a beautiful feeling of letting that out. 
It becomes a second-skin almost, right? Like a creative-armour?
Totally, absolutely, it protects you. I need that protection—we all do.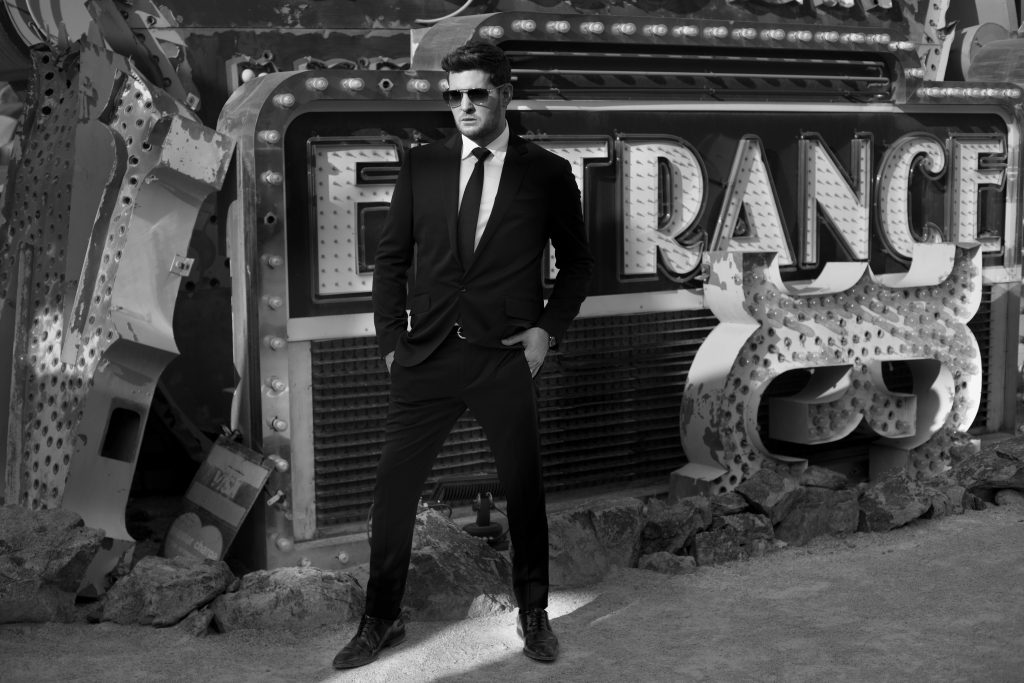 During the Higher tour, have you been getting creative and thinking of any future music? Or have you been focusing solely on the tour?
My wife will tell you that I never stop. I never, ever stop. I mean, I have an addiction to creating and to building. I love to make. I get bored quite easily. I've never been diagnosed with something—I imagine I have an OCD. I see it in my kids too. My wife is a very creative person. She's not fulfilled if she isn't making something. It doesn't matter if it's a TikTok, or if it's a play. As long as we're creating I'm good. So it never stops, it never stops ever. There's a frustration with it that also comes. I write a lot of my songs and I love ones I've written but I've come to an age where a lot of radio stations don't want to play them anymore. I've had to find different avenues where I can get my creations out there. It's made me want to create new videos and tell stories that touch people and move people. Really, at the end of the day, as a creative person you're not really looking for The Rolling Stone to hype it, or wait for some reviewer to tell you whether it's good or bad. Really, I couldn't give a s**t what they think. I put no credibility into those things. The moment you give birth to an idea, as someone who is a citizen scientist, I'm always driven with the ability to create something out of nothing. In science, it is impossible to create something out of nothing. Yet, everyday, you and me [*Bublé holds up one of the books written by the interviewer*]—because you do it here—we're able to go into a room and be like 'look, I have something'. It's like a religious experience what we do.
We last chatted in 2022 just before the release of your album, Higher. How do you think audiences have responded to it since its launch?
We're living in such a different world now. How people download music and how people receive their music. People don't listen to albums the way they used to. There was a journey—song one to 12. Now there are playlists. People now buy an album because they like 'that song', and they listen to that one song a zillion times. 
So it took me being imaginative with Higher to be like 'hey, look, here's another, and another'. One of my favourite songs from the album is the duet I did with Willy Nelson. It is so beautiful. If I go out and ask people, they have no idea it exists. They've bought the album from iTunes or Spotify and don't know it's there. So it's up to me, then, to market a way where I can show it exists. It's tough, it's really tough. Everything goes towards my love for creating. The fulfillment of creating something does go into those areas. I have a new single coming out, called 'Baby I'll Wait'. It was written by me and a bunch of others—John Meyer's in there—and we had come up with all these cool ideas for social media, for TikTok and influencers. It's been a lot of fun, yet quite challenging.
You've got to get on stage for your show, so last question. Do you have a before-show ritual that you're going to do in a couple of minutes? If you do, what is it?
No, I don't! I suppose I do, actually, but it's quite private. I make sure I close my eyes as I'm backstage and I hear the orchestra start to play the opening. I make sure I'm present and in the moment and, above all, I'm aware (and appreciative) that thousands of people took their valuable time and spent their hard-earned money to come and spend an evening with me. People might have waited months—maybe they've hired babysitters—they might've come a long way and paid for parking! Coming to see me might've been a Christmas present for someone, or a wedding gift. I just need that moment where I'm like: 'hey man, enjoy every second of this…'