From the backstreets of Rotorua to the NBA playing for the Oklahoma City Thunder on a four-year $100 million contract, Steven Adams is a Kiwi who's certainly risen through the ashes to become a big name on the world sporting stage. Born to a Tongan mother and English father, Adams grew up in a big family with 18 siblings, several of which have grown to accomplish great things in sport.
The impact of his father's death at age 13 motivated his break into basketball after his brother enrolled him in basketball college in Wellington. The path was paved from there as he grew to being the-one-to-watch in the 2013 NBA draft, and securing a four-year $100 million contract.
With passion, commitment and humour in this personal account of his life, My Life, My Fight, illustrates Adams' upbringing, the multiple challenges he faced growing up with the weight of the world on his shoulders and how he overcame them, and the importance of the sport he loves. Even though he's only 25, he's achieved enough in his life to warrant a book.
Below is an extract from this book which details his drafting for Oklahoma City Thunder and his true ascent into the spotlight.
---
Three days before the start of the 2012–13 season, the Oklahoma City Thunder traded James Harden to the Houston Rockets. In exchange, the Rockets gave the Thunder a whole bunch of players and picks, including the number 12 pick in the 2013 draft. Harden was the reigning sixth man of the year and a huge asset to the team when he got traded, so fans were hoping for a Harden replacement with the draft pick. I'm nothing like James Harden. I wasn't booed the way some players are, especially those who are drafted by the New York Knicks, but Thunder fans weren't exactly jumping out of their seats with excitement. Fans and media seemed to be in agreement that I wasn't a bad draft pick, but I wasn't going to be very helpful for at least a couple of years. Talk of the 'D-League' got thrown around a lot when discussing my rookie year. Now known as the G League, it is the NBA's development league that runs alongside the regular season. Teams will send a player to the G League to work on their game or get some time on the court if management feel they are not ready for the big league just yet. Sometimes players can do both, playing in G League games and NBA games in the same week. Thunder media and fans figured I'd be sent to the Thunder's G League team – then the Tulsa 66ers, now the OKC Blue – for at least my first season because I was 'too raw and undeveloped' for the Thunder. I also saw a lot of NBA 'experts' popping up in New Zealand saying it was a curse being drafted by a playoff team because it meant I'd be sent to the development league and might never make it back.
I heard all the commentary and I ignored all the commentary. I found out later that the moment I was drafted someone tweeted 'WELP STEVEN ADAMS TO OKC' and Kevin Durant apparently replied 'smh' ('shaking my head'). He deleted the tweet and replaced it with 'Welcome Steven Adams'. Not the warmest welcome I'd ever received, but my new teammates' feelings about me weren't my concern. My responsibility was working hard with the coaches to earn my spot on the roster for the regular season. Having MB right there on the bench throughout the Summer League meant I already had a long list of things to work on once I got back to Oklahoma City. But, first, it was back to New Zealand for the northern summer and my first unofficial Steven Adams Camp.
Everyone on the Thunder roster was on summer break and spread out across the country so I had some time to relax. And whenever I have time to relax, I want to go home. I told Mats that I wanted to go home and help out Kenny with his new basketball programme, New Zealand Basketball Academy (NZBA), and we came up with the idea of holding a training camp for kids in Wellington. Brook Lopez from the Brooklyn Nets shared the same agent and came along as our guest and all-star coach. The camp was just the one day at the ASB Sports Centre, but seeing 250 kids so passionate about basketball made it worth the trip. I fell in love with the mentoring side of the game and decided right there that I would grow the camp every year to try to reach as many young players as possible.
While I was back in New Zealand I went to see Mohi and spent a day on the farm. We drove around on quad bikes in the rain feeding the animals. I put up some photos online of our outing and was bombarded with messages saying that the Thunder management would be mad that I was placing myself at risk. It was my first insight into how protective organisations are of their players. Given they are paying us millions of dollars, I suppose the least we can do is not risk falling off a quad bike. On my way back to Oklahoma I stopped in Portland to do a promo for adidas, who had recently signed me on as an ambassador. Gav met me and we did a presentation for the adidas guys on how we had trained before the draft. I could see they were amazed that they were being taught things about basketball training and injury prevention from some random guy from New Zealand. I was so proud in that moment because it showed that I wasn't just working with a competent trainer, I was working with one of the best in the business.
By the time I had made my way back to Oklahoma City and settled into my new home, it was time for the Thunder training camp.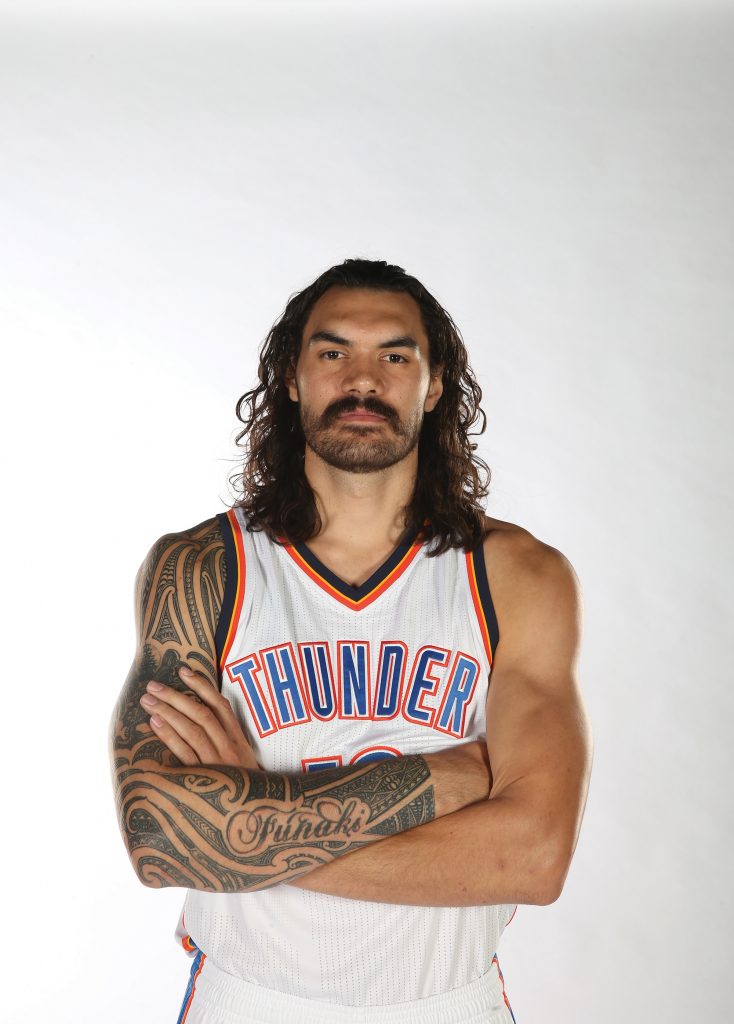 It was as hard as any training I had done on the court, but what made it horrific was the same thing that made it more enjoyable than most. That was the mental workout. Yes, I sweated and puffed more than ever – and I was supposedly at my fittest going in – but it was learning all the systems and how to adapt to them that knocked me out. Luckily, I knew that I was pretty much a clean slate and so was ready to soak up everything that anyone said. Some rookies come straight from being a superstar in their college team and have to adjust to being at the bottom of the totem pole. My advantage was that I was comfortable there and I knew how little I knew. There is nothing wrong with being ignorant, as long as you know it and are willing to learn. It became clear to me that my main influences throughout the season would be MB, Kendrick 'Perk' Perkins and Nick Collison. Nick and Perk had each been in the league for a decade already (Perk had a championship ring too) playing my position, and they knew that I had been brought in to eventually (hopefully) fill their role. Nick seemed happy to guide me through the systems and to try to get me up to speed as fast as possible. Perk? Not so much. Perk's a big guy and he's tough too. He's not about that friendly banter. MB had been working with me hard out to prepare for training, but with Perk it was still a shock. That guy can throw his weight around. I was used to playing in New Zealand against short rugby players who like to throw themselves at you, but at least I was bigger and could sort them out quite easily. Suddenly, I was the smaller one and here was Perk practically assaulting me every day at practice. It was time to adapt or die, and I wasn't ready to lie down just yet. I started to fight back. If he was going to tug shirts and hold down arms, so was I. He might have been bigger, but I had speed on him and would use that to annoy him. By the end of training camp, I thought I'd made good progress. Perk wasn't pushing me around as much and I was giving as good as I got. Maybe I was giving too much because as we were finishing up a scrimmage we got tangled up off the ball and I may have accidentally elbowed him. He retaliated by throwing a massive elbow into my ribs, winding me and yelling, 'I'm the only silverback!'
I was stunned. I thought I heard some of the other guys laughing, but I was too busy worrying that Perk would keep going and just kill me to save time. I had had scuffles with opponents, but this was a whole new level – and he was on the same team as me. Walking back to the changing rooms to shower, I realised I would have to get a whole lot tougher if I was going to match up against NBA centres throughout the league. As I was packing up to leave the gym for the day, MB wandered by and muttered, 'You know silverbacks have the smallest dicks, right?' It cracked me up. I didn't even know if it was true, but it reassured me that I must be doing something right.
I never spoke to Perk about that wee incident again. The next day he came into training and we said hello and got back to smashing each other on the court like usual. Perk was never one to hold grudges. If you annoyed him, he'd tell you, then expect everyone to get back to work. I followed his lead and didn't dwell on it. I figured I'd get much more of the same once the season started so I might as well get used to it. Turns out, the most pain I felt early in that season was when someone pointed out that the Thunder media team had Photoshopped my gold tooth out of my media day headshot like it was a pimple or something. Thankfully, they never did it again.
Looking back, Perk was the best teammate I could've hoped for in my rookie season. I went into training camp playing physical ball because I thought that's what the league would be like. But Perk was even tougher than I expected, and he forced me to quickly up my game. If I had gone to a team without a huge presence at centre already, things might have worked out differently. As it happened, I went into our first US pre-season game expecting a much more physical game than I got. It was in fact our third pre-season game because we had already played two in Europe against Istanbul and the 76ers, which we won. I didn't really count them, though, since it felt like I was on holiday.
It was also the first home game of the season – playing the Denver Nuggets – and I was nervous. The other guys didn't seem too pumped because pre-season games don't count towards a team's final win–loss tally, but those pre-season games were my chance to show that I could handle being in the Thunder squad for the regular season. I went out and played as hard as I could, which turned out to be harder than anyone wanted to face during the preseason warm-up games.
The game was going well. We had a commanding lead from the beginning. Perk was resting (remember, it was pre-season) so Hasheem Thabeet started in his place. I played 18 minutes and spent most of that time struggling to keep up with the plays. At the start of the fourth quarter, I found myself once again behind on the play, stranded in the middle of the key, with Nick handling the ball at the top of the key. He motioned for me to set an offball screen for Derek Fisher, who was on the wing, and I listened. Derek cut sharply to the hoop off my shoulder and Nate Robinson, who was guarding him, followed and ran into me before falling over. Derek ended up with the ball and shot it, so I went to get the rebound, but Robinson was still there. Without thinking I kind of picked him up and moved him to the side so I could get to the basket. I felt a push on my back and then, as I ran back down the court after Derek made the shot, I took another hit on my chest.
It didn't feel like much at all. In fact, I figured it was just someone turning around and nudging me accidentally so I kept running back to position. When I got there and turned around, Robinson was being ejected. I thought he must have yelled at the ref and was sad I missed it. Then I saw on the replay that he got ejected for punching me. So that's what the nudge was.
After the game I asked MB and the guys if I'd done something wrong that made Robinson angry. They laughed and told me to keep doing what I was doing. I did, and went home happy to have helped out the team, albeit in an unconventional way.
The next game, against the New Orleans Pelicans, I was rewarded with more minutes, playing nearly the whole game that ended in a three-point loss. It was my first taste of the endurance required to play at that level and, even at the slower tempo of preseason, I was gassed by the end. But I managed to get a game-high 15 rebounds to show the coaches that when I was given a task, I could complete it efficiently. My task certainly wasn't to score, not with KD on the court.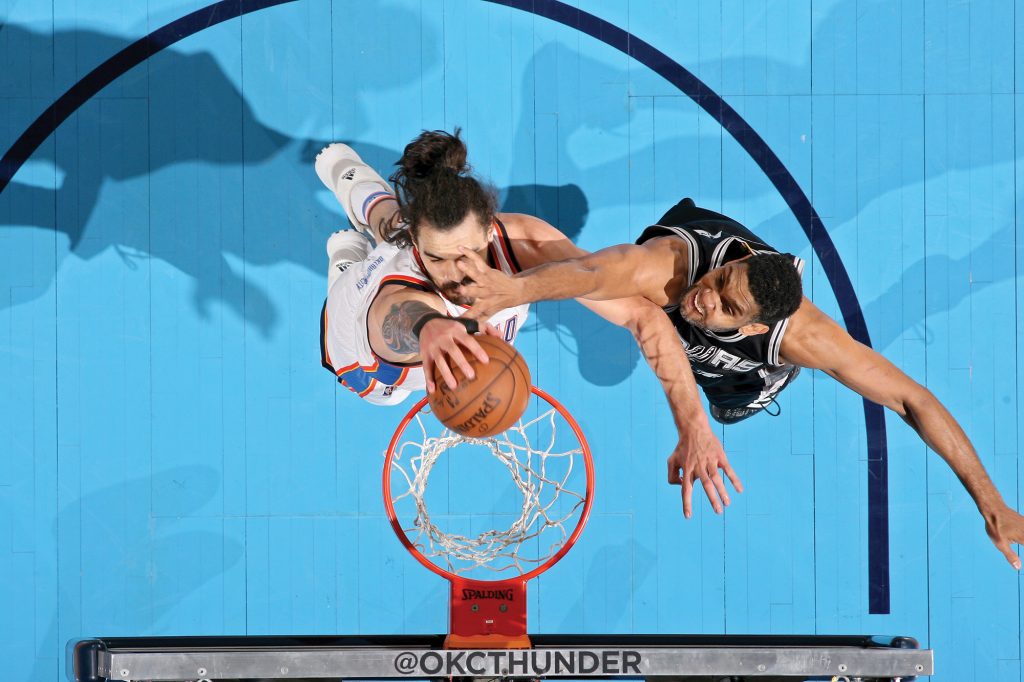 By the end of pre-season, I was feeling a little more comfortable on court and regularly topping the rebounding stats. At this point, nobody had said anything to me about playing in the development league and I wasn't about to bring it up, so I showed up to training every day and as long as no one told me not to, I showed up to the games.
Dre Roberson and I were the two rookies on the roster that season, so were each given a senior player to 'assist' on road trips, although we really had to do what everyone said, not just our veteran buddies. Dre was paired up with Perk, and I had Russell Westbrook. You hear stories about the hazing that has happened at other teams – the ritual humiliation of the newbies. There was nothing like that. The Thunder culture is more family than fraternity, so the only form of rookie hazing was just stuff that little brothers would be expected to do for their elders. I carried Russ's bags to the plane and picked him up food on the way if he requested it. Dre got fined a bunch of times for being late to the plane because Perk had ordered food from him. Fines are $750 for a first offence, then $3000, $5000 and on and on. I was always on time.
The Thunder plane is amazing. It barely counts as a disadvantage having to travel when you get to fly on a private plane with recliners and tables and a stocked pantry. Once we landed in a city for an away game everyone would go to their own hotel rooms before having a shootaround. I never took my own shampoo or body wash because the hotels would have all that stuff. But almost everyone else in the team was a bit more particular about their grooming, including Russ. Let's just say that I purchased a lot of body wash that season which I never got to use.
I don't remember much about my first ever regular season debut. I know it was against the Utah Jazz because I had a real nice New Zealand steak there that made me like the place. There were a lot more fans than during pre-season, but at the same time it didn't feel like a huge occasion because I'd technically already played six games with the Thunder, including one against the Jazz.
We won that first regular-season game and I got my first career points, ending with four points and three rebounds while marking a European centre called Enes Kanter. A week later I recorded my first double-double during a win against Detroit, with 17 points and 10 rebounds. I didn't do anything different that game, but after making my first few shot attempts, Russ kept looking for me inside.
I was looking forward to our second game that same week against the Dallas Mavericks because it meant I could see my old mate Dirk Nowitzki again. He didn't remember me enough to say hi and I didn't want to bother him, but I really felt our friendship grow that day. We won, and I thought that win would be memorable because it marked the first time I got 'faded' by Dirk. 'Faded' meaning scored on by his signature fadeaway jump shot. Instead it was memorable because I got the legend Vince Carter ejected.
I didn't mean to. I never mean to. I caught an offensive rebound in the low post and Carter was guarding me on my left. As every basketball player is taught to do when playing in the low post, I gripped the ball with two hands and stuck my elbows out for protection while I tried to pivot into space. But Carter is 6′ 6″ as opposed to my 7-foot self, so my swinging elbow clocked him on the side of the head before I passed back out for a shot. When the shot went up a second later, I tried to get past Carter again for the rebound and was hit on the cheek on my way through.
The whistle blew as I caught the rebound and heard Russ yelling, 'He can't do that shit, man!' I looked around and pointed to myself. Was he talking about me? I thought it was a bit late to be calling my elbow, especially since it was accidental. We formed a team huddle while the refs reviewed the play and I watched myself get elbowed in the face by Vince Carter on the huge TV. It looked kinda funny in slow motion, but I couldn't laugh otherwise I'd look bad, so I just watched and chewed my gum and tried to look nonchalant while the crowd booed for my poor cheekbone.
The refs ended up giving me a technical for my first (admittedly uncalled) foul, which was my first real technical ever. I'd had technicals that were defensive three-second violations, which aren't the same thing. As they announced it over the speakers, I thought it was all a bit unfair until they added that Carter got a flagrant two technical foul, which meant automatic ejection from the game. As I shot my free throws I wondered if he hated me and really hoped not. After the game I asked MB again if I was doing something wrong and again he said, 'No, keep doing what you're doing.'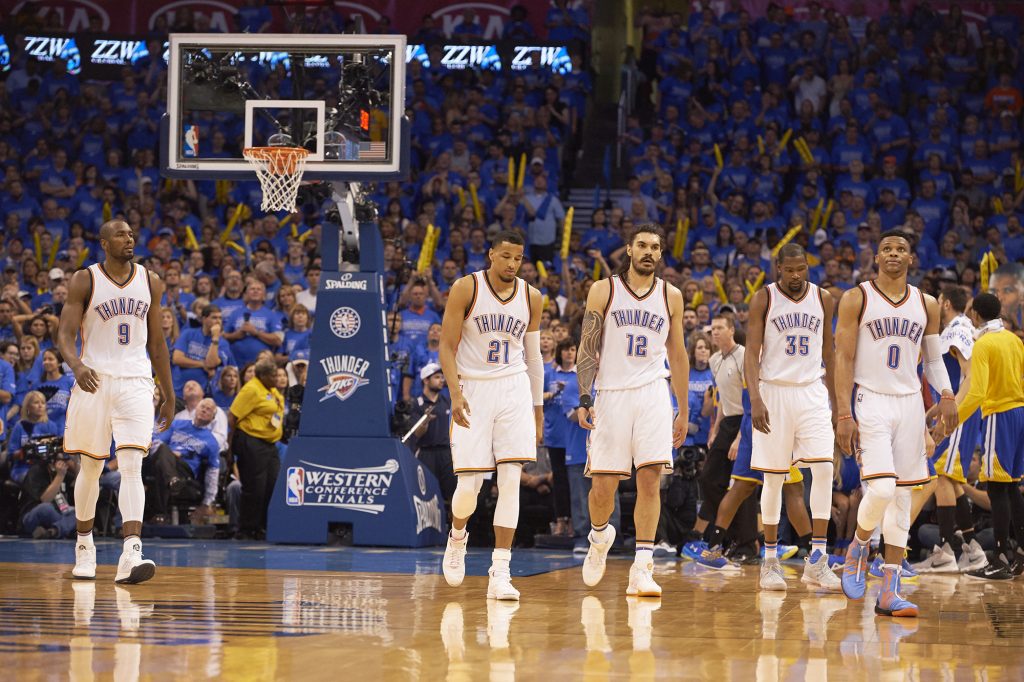 It took two weeks of pre-season games and one week of regular season games for people to stop saying that I'd be spending my rookie year in the development league. I wouldn't have been confident enough to bet money on it, but I definitely didn't feel like I was going anywhere. I'd already exceeded expectations by not being completely out of my depth, and the OKC fans were loving the fact that I was a Kiwi who wasn't dramatic. I knew all along that I had what it took to at least be a bruiser coming off the bench, but even I didn't think I'd be starting within two weeks of the season opener.
Perk's grandfather passed away the day before we were leaving for a series of away games on the West Coast. He couldn't make at least two games, so suddenly there was an opening in the starting five for a centre. I thought the coach, Scott (Scotty) Brooks, would start Nick, but when he named the starting five that day in Los Angeles, there I was. And there's nothing like matching up against DeAndre Jordan for your first starting appearance. I was almost glad it was an away game. The Thunder crowd are so loyal and supportive that they would have loved cheering me on, which would have made me nervous about not letting them down. The LA Clippers fans at the Staples Center in Los Angeles didn't give two shits that it was a big moment for me. In the end I had a quiet game because DeAndre Jordan is a big man who knows how to dominate the key.
Once the season gets going, all the games start to merge into one. Life becomes a blur of flights, hotels and endless different basketball courts. Players generally remember games specifically because they were really good or they were really bad. I was lucky enough not to have any truly bad games in 2013, the first
half of the season. I got Jordan Hamilton of the Nuggets ejected for perhaps the softest flagrant foul in NBA history (which is saying something). He was running on transition and I slowed down to get in his way. When he ran into me, he swung his arm out instinctively and hit me about as hard as a toddler hits their parent.
Because of his intent (to hurt me, I guess) he was ejected and suspended for a game. Other than that incident, the last months of the year were filled with steady progress and gradual stat improvement, which was exactly what I was working towards. While my friends back in New Zealand were celebrating the first days of 2014 by getting drunk and passing out in paddocks, I marked the occasion by fouling out in three consecutive games. My first foul-out was against the Houston Rockets, matching up against Dwight Howard, the guy with the bubble arms. I came in off the bench and went straight to fouling. A lot of the time when you get called for a foul, you know you've fouled. Even if you look all shocked and like that shrugging emoji, you know you kinda deserved it. The difference in my rookie season is that I got called for a lot of fouls that I genuinely didn't know were fouls. Early in the fourth quarter, when I was sitting on five fouls, Dwight (who was on four fouls himself ) and I got into it off the ball and were called for a double foul. Dwight was subbed off with five fouls and I was fouled out for the first time with six. There's a funny GIF out there somewhere of us reacting in unison to the ref 's call, but that's really the only good thing to come out of that game.
I managed to foul out in 10 minutes of playing time, which has got to be some sort of record. What it definitely was on the night was embarrassing. Fouling out is always stink because it means you're useless to your team and have to watch the rest of the game from the bench. Fouling out after starting on the bench is worse as it means you were supposed to be giving an energy boost and letting the starters rest, and instead you put yourself out of the game. Fouling out after starting on the bench and playing only 10 minutes is beyond stink. I pledged that day that I would never do it again.
The very next day we played the Golden State Warriors at home – and what did I do? I fouled out after starting on the bench and playing only 10 minutes. It might seem funny now, but trust me, it wasn't funny when it happened. This time I managed to not foul until the final minutes of the first quarter, which was a fairly rare feat for me my whole rookie season. But with three fouls before half-time, it was feeling a bit like déjà vu. Cut to the fourth quarter and I picked up my fifth foul. Before coach could even think about pulling me out, the ball went back down the court, Klay Thompson scored and we were back on offence, which I thought was a safer area for me foul-wise. On that play, I set up in the low post, pivoted and was called for a charge. Six fouls, back on the bench.
We had a rest the next day, so I could think about my 12 fouls in 48 hours, and then we were back at the arena playing DeMarcus Cousins and the Sacramento Kings. Cousins is easily one of the toughest guys to mark in the league. He's strong but also plays angry, so you never know what he might suddenly do. I can take a punch to the face better than anyone, but even I would like a bit of warning. I wasn't looking forward to playing him because he was physical, and when you match up with an enforcer, you can't help but dial up your own roughness. That almost always means more fouls for everyone.
As it turned out, I didn't get my first foul until five minutes into the second quarter, but I also wasn't getting anything else. My shot was off, and my confidence was low after the previous two games. I was doing a good job of making sure every Cousins shot was a contested one, but I was still fouling and was fouled out for the third time in a row with five minutes left to play.
Fouling out in three consecutive games made me question my whole style of play. It wasn't just one end of the floor either; I was getting called for shooting fouls, offensive fouls, loose ball fouls. I started to wonder whether the refs had had a talk and decided that all the things I was doing to piss off other guys and get them ejected would now be fouls. If that was the case, I was screwed. I spoke to Scotty after that third game and asked him if I should maybe try being a bit less physical so I could stop getting fouled out all the time. He didn't hesitate at all in telling me no. In fact, he said the only reason he'd get angry was if I changed how I played.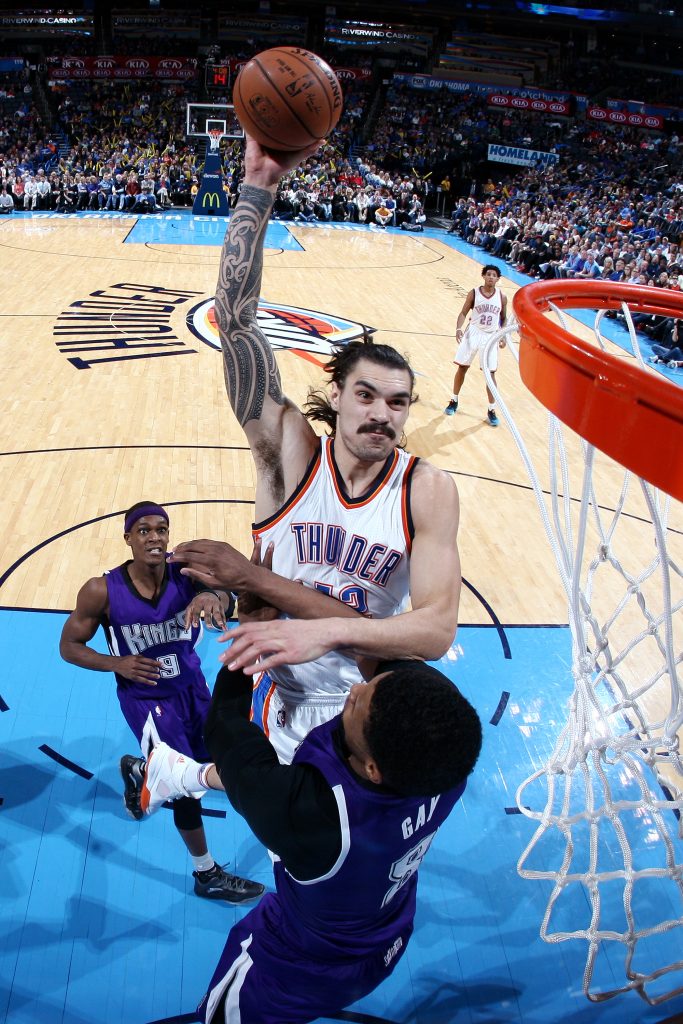 Turns out refs are just like players and need to study how teams play before every game so they know how best to officiate. When a bunch of rookies come in each season, refs don't know how they play and it can take a while for them to get used to the new players' styles. I was big and staunch, so when refs saw veterans ending up on the floor after running into me, of course they were going to call a foul on the big rookie. Nowadays, those same plays wouldn't be called as fouls against me because those same refs now know how I play. But, at the time, I didn't know what to do. I thought I'd keep getting calls against me and fouling out every game until I was forced to retire. It's something almost every rookie who gets decent playing time has to go through, and as the years went by I saw it happening to new guys every season. There's nothing anyone else can do but continue to encourage them and empathise. Nobody told me to do anything differently because they all knew it would pass, and it did. I didn't foul out the rest of my rookie season.
The next few games I tried to play like normal, but it's impossible to not adjust at least a little bit after fouling out so quickly three games in a row. Thankfully, it didn't take long before I was back annoying opponents and catching elbows. My last ejection of that season had happened a few days before my terrible fouling spree, against the Milwaukee Bucks. Once again it was a scuffle that happened off the ball. In the middle of the second quarter, Reggie Jackson set up on the wing for a threepoint shot while I cut to the basket, ready for the rebound. On my way in I bumped Larry Sanders. It was an intentional bump because no big ever cuts through the paint without making contact with anyone. So I bumped him and he bumped me back and it was all fun bumping, until he decided to bump me in the throat with his forearm. He was ejected and later fined $2000.
I didn't understand how all these players could react so aggressively to me all the time.
I figured they must all have grown up as only children. Anyone who grew up with a bunch of siblings knows that parents are basically just refs for the first 10 years of your life. The trick was to annoy your siblings as much as you could without being caught by your household ref. Nudge them, bump them, stand in their way, but insist you're not touching them. These are all little kiddie moves that work just as well on the basketball court. At home, if you cracked first and tried to punch your sibling in front of your parents, everyone got a hiding. But on the basketball court, if you lose your cool first, you're usually the only one who gets punished.
I grew up the youngest of 14 kids. My ability to annoy and my capacity to withstand physical taunts is pretty bloody high. I think what took those veterans by surprise was that I was a mere rookie and yet had the gall to annoy them and make them crack. I think some of them considered it disrespectful of me or some sort of dirty tactic. No, it was just that in that particular aspect of the game I'd had a lifetime of practice. When I started in the NBA I was already a veteran in taking hits.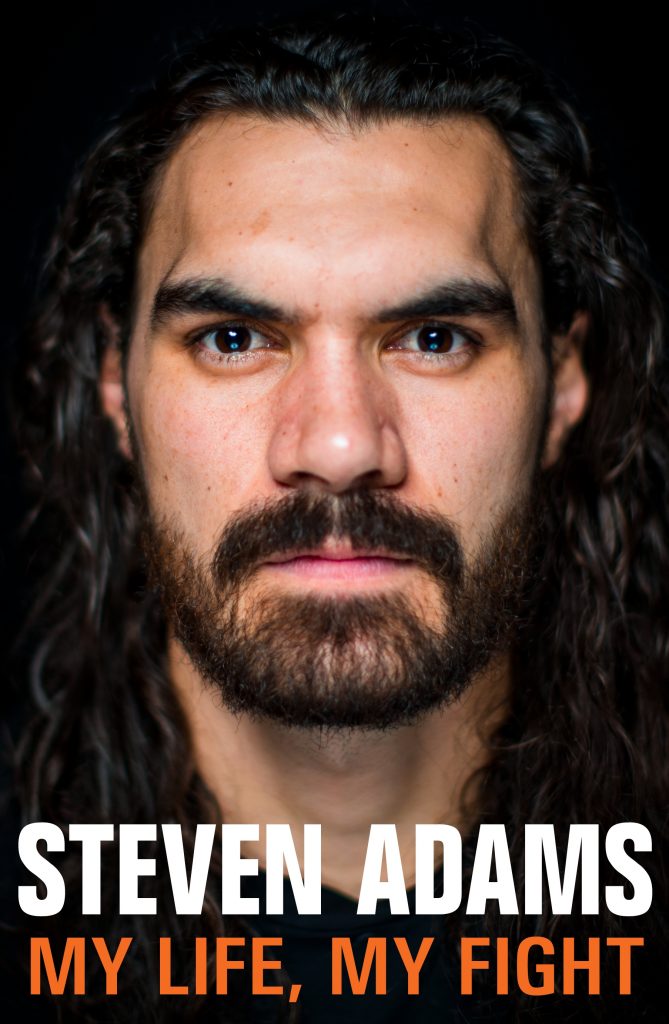 You'll also like: