My first visit to a boxing gym was to meet NZ UFC champ Israel Adesanya. His gym fit your perfect stereotype of the sweaty, smelly, hardcore fight club gym.
When Dwayne Rowsell decided to start a boxing gym for everyone, from your absolute beginner to your seasoned pro, he gave that stereotype a right hook to the face.
Taking the drive and passion from his days as an elite athlete with the Black Sticks, Dwayne put everything into creating a gym where anybody can come along and reap the physical and mental benefits of a boxing workout in a space that feels more like a Ponsonby cafe than a boxing gym (and that's a good thing).
Stepping into the Newmarket gym, I knew I was in a place completely different to the fight club I had experienced before. The whole experience begins from when you walk in the door, and rather than a smelly intimidating room filled with people hitting each other, the only thing I was hit with was a smile from the lovely reception desk, before being shown around the lush space and given my wraps and gloves.
Having never put gloves on before, I wasn't sure what to expect from the workout, but as the office fitspo, I expected to be able to hold my own.
Entering a dark room with teardrop shaped boxing bags hanging everywhere and house and hip-hop music thumping, your fears of messing up and looking stupid quickly fade and the intensity of the session begins. With punches that anyone can pick up in the first 10 minutes, the session works you out from top to bottom. The shortest 50 mins in the world passes and the next thing you know you're dripping in sweat, knees weak and arms heavy, but fully satisfied at unleashing your anger on a poor unsuspecting punching bag. And, as a result, keen and ready to dive into your day.
We caught up with Dwayne after a punishing workout to discuss life as a business owner, the fast growing fitness industry, his business plans for the future and why Studio Box is a knock out punch to the industry.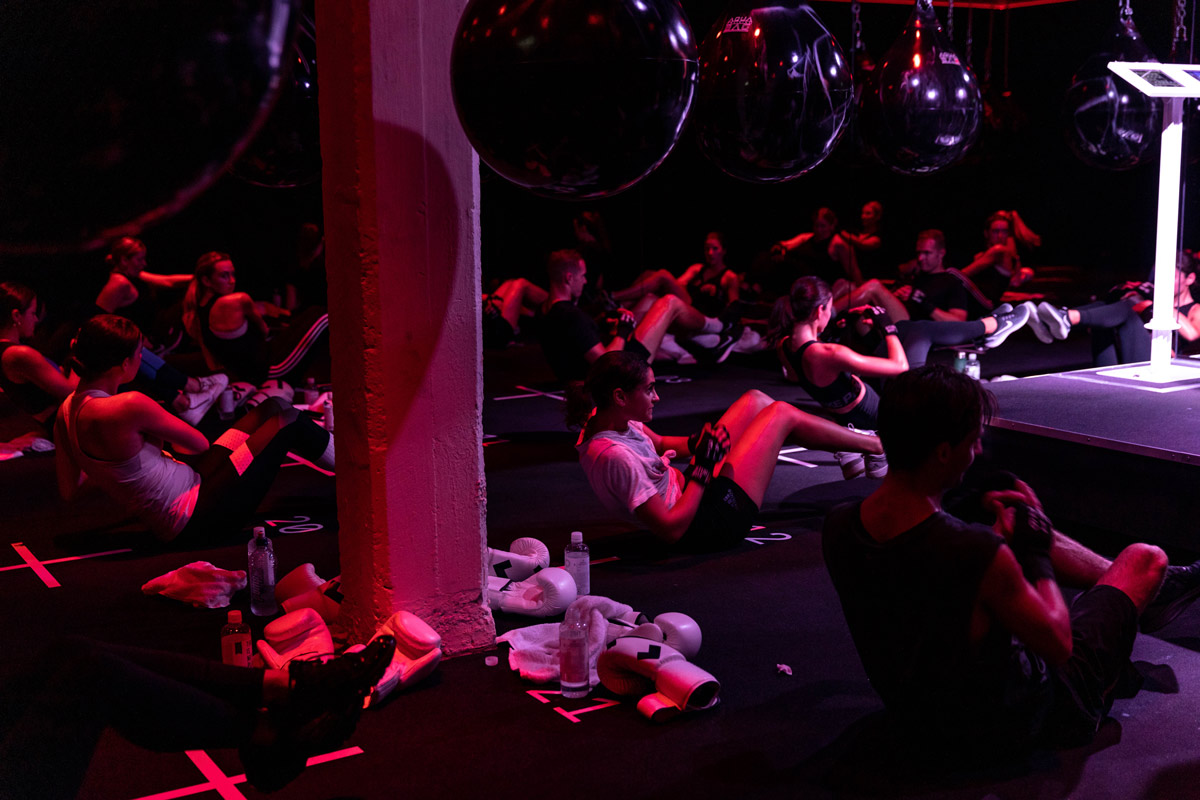 How do you start your day?
We've got classes from 6.00am, so up at 5.00am checking in with the team, making sure we're all good with everythings set. Then I get in the shower, grab myself a coffee and make my way down to the gym. I don't have a big morning routine, I definitely try and get as much sleep as I can.
How has your life changed since moving from an elite athlete with the Black Sticks to now being a business owner?
You're kind of owned by something the entire time. You're thinking is always there, say as a hockey player which always 'When is the next training? When is the next camp? What have we got coming up?' Your thinking is the same when you apply that to business as such, 'How did I train or how did the business go? What have we got coming up tomorrow? What's on the horizon for next week?'
You have to have a bigger view on everything and that totally translates to how you have to train as well. It's not just about the next session, it's about getting yourself ready for the World Cup or something in eight weeks' time.
Which lifestyle do you prefer?
Business owner, for sure. You just have a greater impact. I really enjoyed my hockey career; I got to see the world, I got to travel, I got to meet some like amazing people and some lifelong friends. But, I think it's about finding your purpose.
Boxing, giving fitness and that movement to people is something that I get such a kick from. People come in here, they're stressed, they've had a tough day or they're going really well. But they always walk out of class smiling and much more confident in themselves. I really believe boxing can help you in so many areas of your life.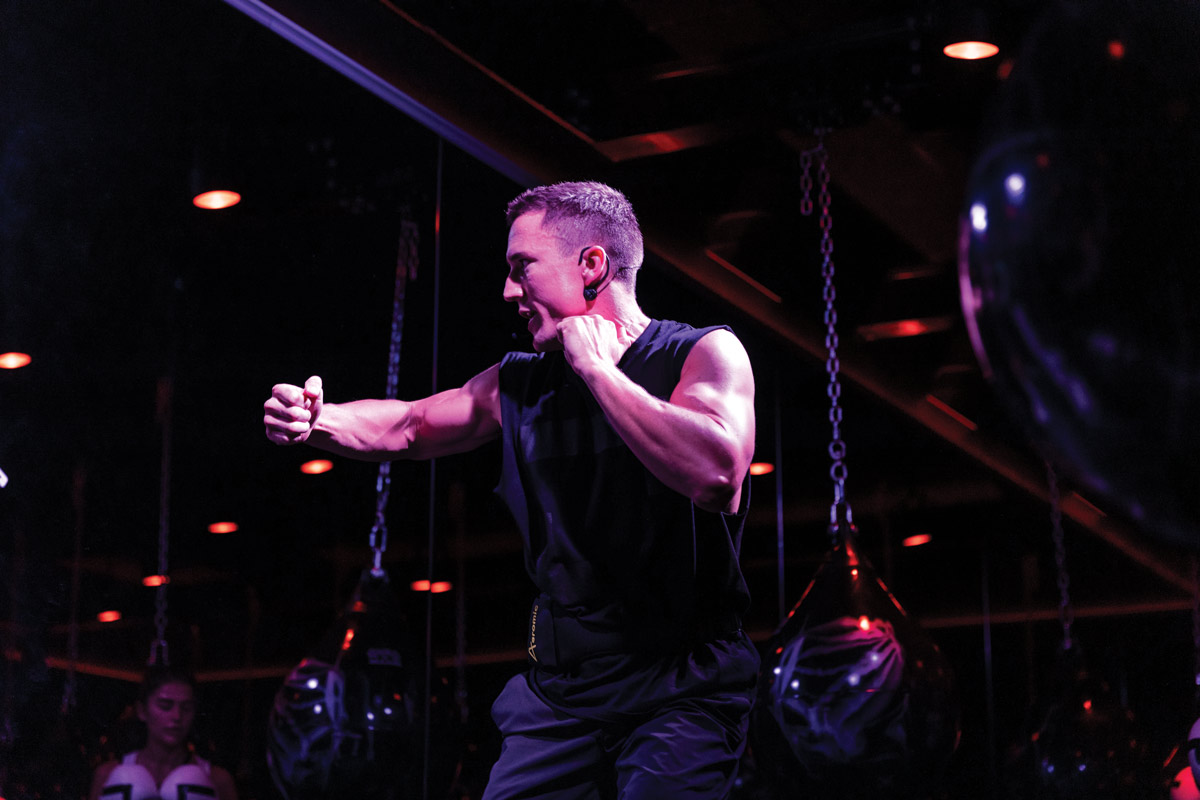 What's the idea behind Studio Box?
I was short of cash for a couple of years back and I needed something. I'd done the corporate thing; didn't work, didn't really enjoy it and I wanted something to sink my teeth in to. I'd had a couple of corporate boxer fights and trained in boxing. I was training a few friends and then their girlfriends wanted to train. So I got myself into it and I then realised I was only having this impact on one or two people from small group training sessions.
I could have an impact on a wider range of people if there was a concept that I was able to deliver that they really liked. One that was not intimidating, there was no fighting, it was just all about like the mental and physical benefits of boxing.
I started speaking to a client at the time about some things that I would do if this was our gym that we were training in. He took a real interest, we had a couple of coffees, sat down and ran some numbers.
We flew off to New York and LA to check out the fitness industry over there, that's the hub of everything. We really liked it. We tried treadmill, we tried running, we tried boxing, we tried spin and just really believed boxing was what we wanted to do. We want to give boxing to a new audience. We want to make it welcoming and we want the everyday person to be able to come in and learn boxing and learn a skill and keep coming back.
I think that's the attachment that people don't get with the gym. Whereas with us, we believe that people can learn something. They can have fun while they're working out, they can be motivated by the space, they can be motivated by the people that train there and, hopefully, that in turn will make them be better versions of themselves.
How did you get into boxing?
During my hockey career, we weren't like professional athletes, we had to hold down a fulltime job. I was working at Mainfreight on their graduate programme at the time and they had this freight forwarding boxing night, which I put my hand up for. It was great, good team morale and had my first fight and I really enjoyed it. I had another fight and then I eased on the fighting and just enjoyed the fitness side of it.
I was playing for New Zealand at the time and I wanted more from my training. The gym didn't motivate me like boxing did. I was able to squeeze in some boxing during my hockey career. After my hockey career, I fell out of structure. I didn't make the real impacts so it was a dark period for me. I didn't have hockey, I didn't have a big job going on. I sort of lost everything that I stood for.
I'd stopped training as much and then I just had to be real with myself and go back to what actually what made me happy. I went back to boxing and that changed my life.
I have so much respect for the owner of Boxing Alley. He's taught me everything that I know, and he wanted me to be a trainer.
We started training and it was just a snowball effect of clients. Client after client came in. I was just a welcoming and friendly face in the gym and people obviously loved that. They loved the results they were getting from our training. Then I guess this came about.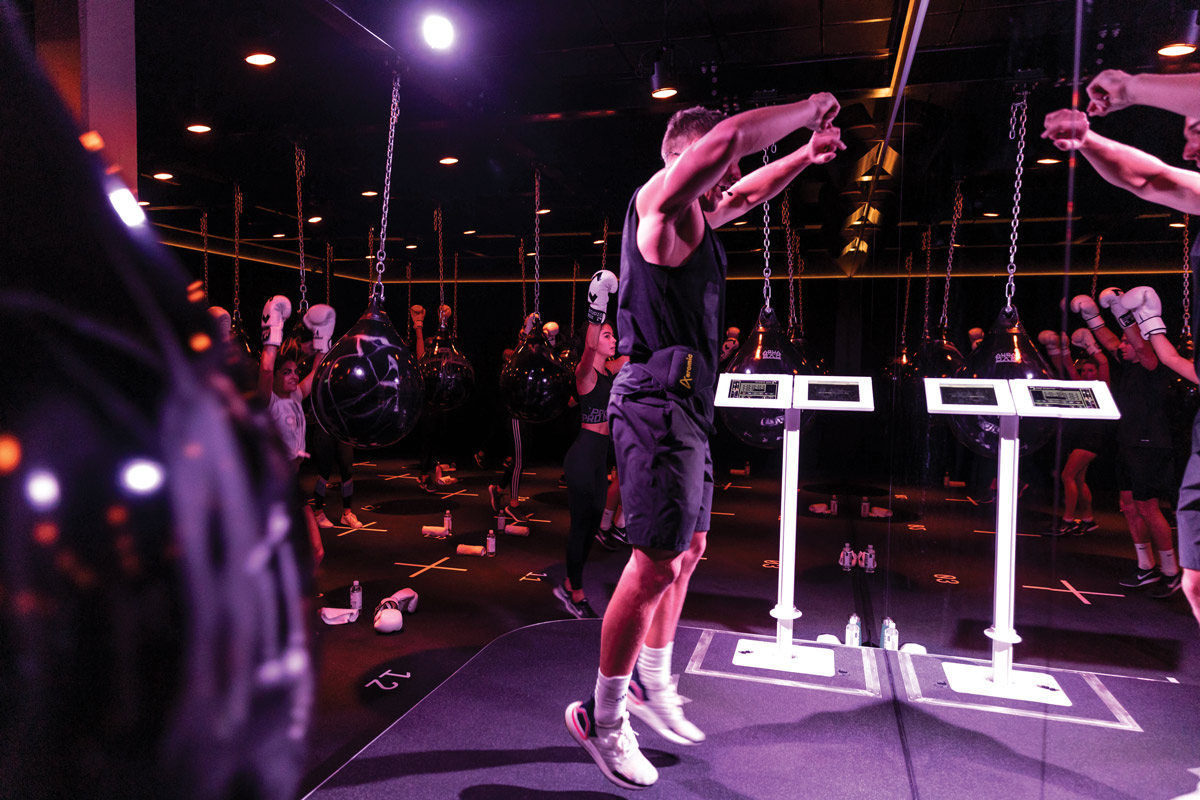 What kind of person is Studio Box for?
Studio Box is for everyone. I think boxing is a great skill to learn. It is a little bit of self-defence in its simplest form. It's how we first lived, we had to protect ourselves through fighting. While there's no fighting in the gym, you are fighting for yourself to be better every session. Fight for that promotion, fight to be a better person and for that relationship, or just turning up and doing it for yourself. That's what we're all about.
We are for everybody. You learn everything you need to, it's for beginners. They get the same benefits from the workout. It doesn't matter how fast you're going, how slow you're going. It's not about the person next to you, this is all about you on the back.
Where does this passion for sport and fitness come from?
I've got three older sisters and our family has always been super active. At 12, I was playing rugby and hockey in the winter; running from half a game of rugby, across to the hockey field. I've just always been go, go, go with fitness, and that never stopped.
I came down to boarding school at Auckland Grammar and I played hockey and rugby again until I was 16. I was slightly better at hockey, so I chose that.
All throughout those years, I've always been that friend who's really enjoyed the balance that fitness has given me. Not just the physical side of working out; it's always allowed me to bring people together. That's the side of fitness which I really love.
People are spending more on themselves and more on group fitness, because they know that they're getting more from it than they would going out for dinner. They might go out for dinner after, but they'll make better decisions with what they order, they might drink a little bit less and so then that night they'll probably sleep a little bit better. You start to feel that fitness then is starting to have such a big impact on them, than just the workout. We need to get to that stage and understand that.
What made you want to take that plunge to start your own business?
I've always thrived at being the small fish in a big pond. I had that calling when I was at a school of 200 and I looked in to Auckland Grammar, it's a school of like 2,500. I came down and I was so scared. I was so out of my depth. But then fitness and sport has always allowed me to excel and I ended up being a prefect at Auckland Grammar and within the First Eleven there. Sport and fitness has given me such a strong backbone for who I want to be and to help me through life.
Eventually things changed and Auckland then became the small pond. So I looked for bigger challenges and jumped across to Sydney and helped launched New Zealand skincare brand, Triumph and Disaster. Over there, I was managing our Australia business side, essentially working for myself in a way.
I just loved that feeling of like really steering the ship. I never, never ever let that feeling go. I had a couple of jobs after that when I moved home to train for the Olympics in 2015. I couldn't give myself fully to a job because it didn't feel right.
When these ideas came about, I had to follow it. This has been in the making for two years. In terms of those two years, I had to get my personal training certificate. It was the strangest feeling, I was in getting my personal trainers certificate while looking for a lease in Newmarket on a 350m² place.
It was this whole thing of I'm still such a baby in the industry, but have such big intentions or ambitions that I just knew that I'd come in and we would just able to deliver such a great concept. I think good things have to take time like that. We've done our research, we've proven the workout and now it's here for people to try.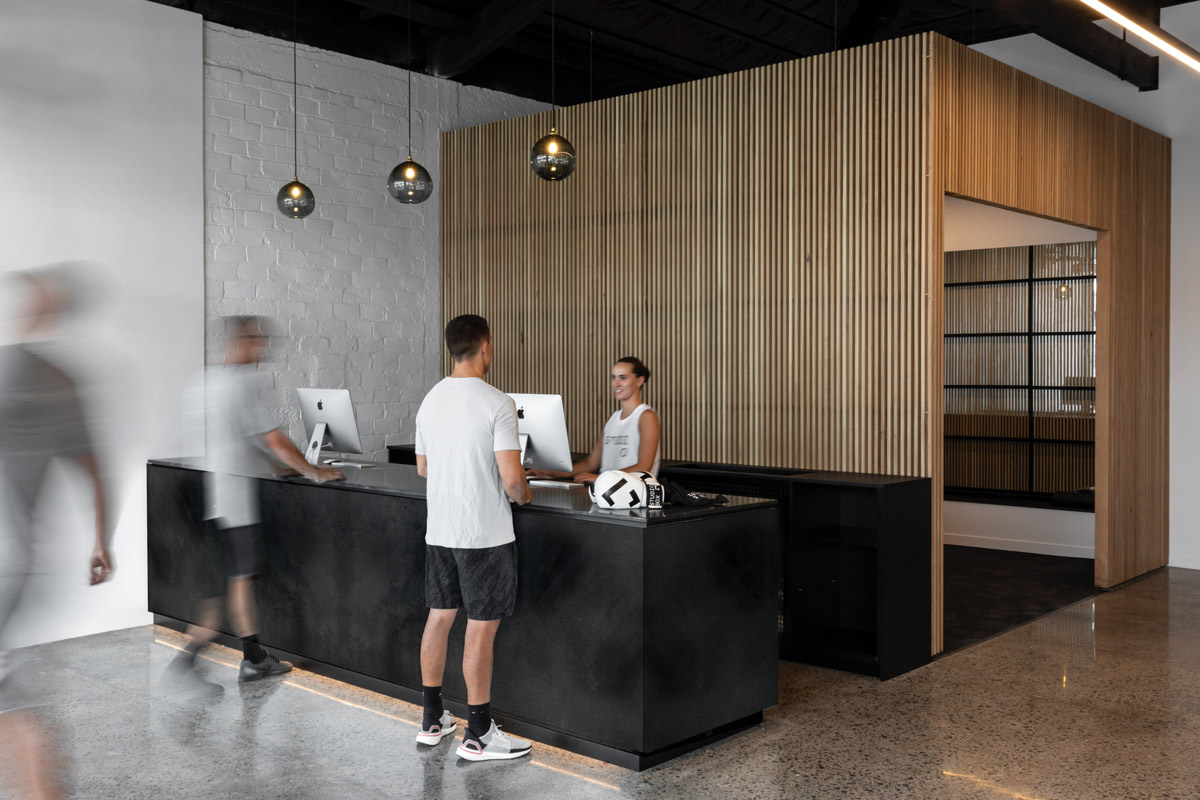 What skills have you taken from being an elite athlete into business?
There's three things that I'm big on; passion, persistence and hard work. Those three are my pillars to how I live. I was never the best at hockey, but I worked hard. I never got selected every time, but because I was persistent, I was able to get a breakthrough every now and then and prove myself.
Throughout the past two years, there's so many moments and you speak about the life of an entrepreneur where it is f**king hard. You get to a wall it seems and you could easily turn it around. 'This is too hard. I could go get a job, I could get a salary, get a car, get an office'. If that doesn't make you tick, that's not going to make you happy. You had to just persevere and keep working hard knowing that the work that you do today is going to set you up in two years' time.
It's a challenging mindset to have that some little spreadsheet you're working on back in November 2017 is going to help you run the business when you open in April 2019. I just had that in me, that drive. It's not even been like working for yourself, it's just about there having a bigger vision with this of giving boxing to everyone.
Adding to the fitness industry in New Zealand with a totally new concept, we have the best training facility in New Zealand. There has been in excess of a million dollars been put into this and there's nothing like it in New Zealand.
Going back, it's hard work, persistence and passion. I was passionate about fitness, it's always been my backbone about what I've done. But then you've got to really enjoy putting in the work. I think throughout times I missed, it really ground me down to the point where if you don't change your mindset and enjoy the process, enjoy the struggle, then it's going to weigh on you too much and you're not going to actually appreciate what you're doing.
I had to sit back and realise I'm so lucky that I've got this opportunity. Even though it's not about luck, everything I've done has got me into this position today, to be able to deliver this and I enjoy it. They're great problems to have, seriously great problems to have. It's worth it and there's no magic formula to any of it.
It's not just one book, it's not one podcast. It's everything you read or listen to, or everything you do will add up. If you keep working and keep going in that direction, the doors will open.
Why do you think the fitness industry has blown up so much in recent years?
Technology has definitely helped advance it. Traditional boxing bags are full of sand, the wear and tear on your joints was immense. We're now using teardrop shaped, water-filled aqua bags. You don't get the same wear and tear throughout your joints. You can train or you can punch harder and you can generally enjoy boxing more, because you don't have that same pain. That's just on the smallest form of technology, from sand to a water bag.
But I think people are really taking a better interest, taking better care of themselves I would like to think. There's just more concepts available around the world. There's been a movement away from the big box gyms into what they term boutique fitness now, which allows the user to connect with the brand more. There's more of a community feeling; you're not just another number, you're not just another membership.
This is not about signing up 50 new members and locking them in for a year or two and making money when they don't turn up. You pay for each class and we believe that you're invested more per class because you've paid for it. You're going to turn up and you're going to try that much harder because you've given that money to that class.
Now you've got what is perceived as these little guys focusing on one aspect of training, like boxing, yoga or Pilates, and absolutely delivering on the experience.
What are your growth plans for Studio Box?
These six months we are focusing on delivering the best group fitness experience there is in New Zealand. That'll obviously give us a whole lot of data, we need to keep growing the business and proving the concept that it works, that it is a scalable concept. We know it is, but we need the data to prove it.
We've already had requests for people who want it in Tauranga, in the Mount, down to Christchurch. If Studio Box can be a place that you can visit when you travel throughout New Zealand, and when you travel overseas to Australia, then we've definitely got our eyes on those markets. It is definitely our intention with it, but we know the next six months is so important to deliver what's big back home.
What have you got planned for the future?
These are those years of your life where you just get to work. Already there's 10 of us involved, that's going to expand to 20, 30 people. You want to allow those people to come in to the brand, you want to give them personal growth opportunities, development. You want to help them achieve their goals. I'm going to be a big part of it allowing them to do that. Giving them the freedom to express who they are at work and be themselves.
They're not confined by some big corporate. It's all about individual expression and fitness and people wanted to be given that opportunity. If they're allowed to be themselves, then they're going to flourish and do better for the business.
I am absolutely all in on this. It's going to hurt, it's going to be painful, but there's a great team. The business will take us into some other markets, which is going to be exciting. I love seeing other countries. I love Australia, I love Melbourne, I love Sydney. I think Asia's going to be interesting, there's a real movement on fitness scene then. I'm sure some travel will come from it and hopefully we can open some studios up all around the world.
What's the best piece of advice you've been given?
Mum and dad have run a family business for nearly 40 years now together. Family's big for me and dad said 'If you can work for yourself, you'll never miss your kid. You'll never miss a day of your kid growing up.'
That shone through. Mum and dad never missed a sports game, they just travelled all around the world with us. I think those family ties really give you some great values throughout life on loyalty, supporting someone, having someone's back.
In terms of advice around the business; no one is going to put in the work for you, but you have to put it in yourself. A friend of mine is a big believer in that, it's where I've heard it so many times; no one else is going to put in the work for you. I think it becomes very evident as you get older that you've got to drive your own car.
You'll also like: