We share our office with a highly respected business consultant. Unfortunately for those around us, him and I will often pontificate during lunch about the current hurdles of modern business and emerging management theories. It's all very interesting, believe me. Especially when the A3 sheets of paper come out to display a maze of business function symbols designed to decipher the hidden clues to unlock business growth. In spite of all of this, I think that success is really simply a dance between the details and the big picture. You have to know what it is all for, but at the same time you can't lose sight of the small things. I think this is relevant for anything in life really.
Exhibit A and a wonderfully tangible example of this is the Pinnacle Tower at Cordis Auckland – the new 17-storey tower which houses 244 premium rooms and signature Cordis Pinnacle Tower suites. Not only is it a large-scale testament to a grand vision, but this vision weaves its way down to the very smallest detail.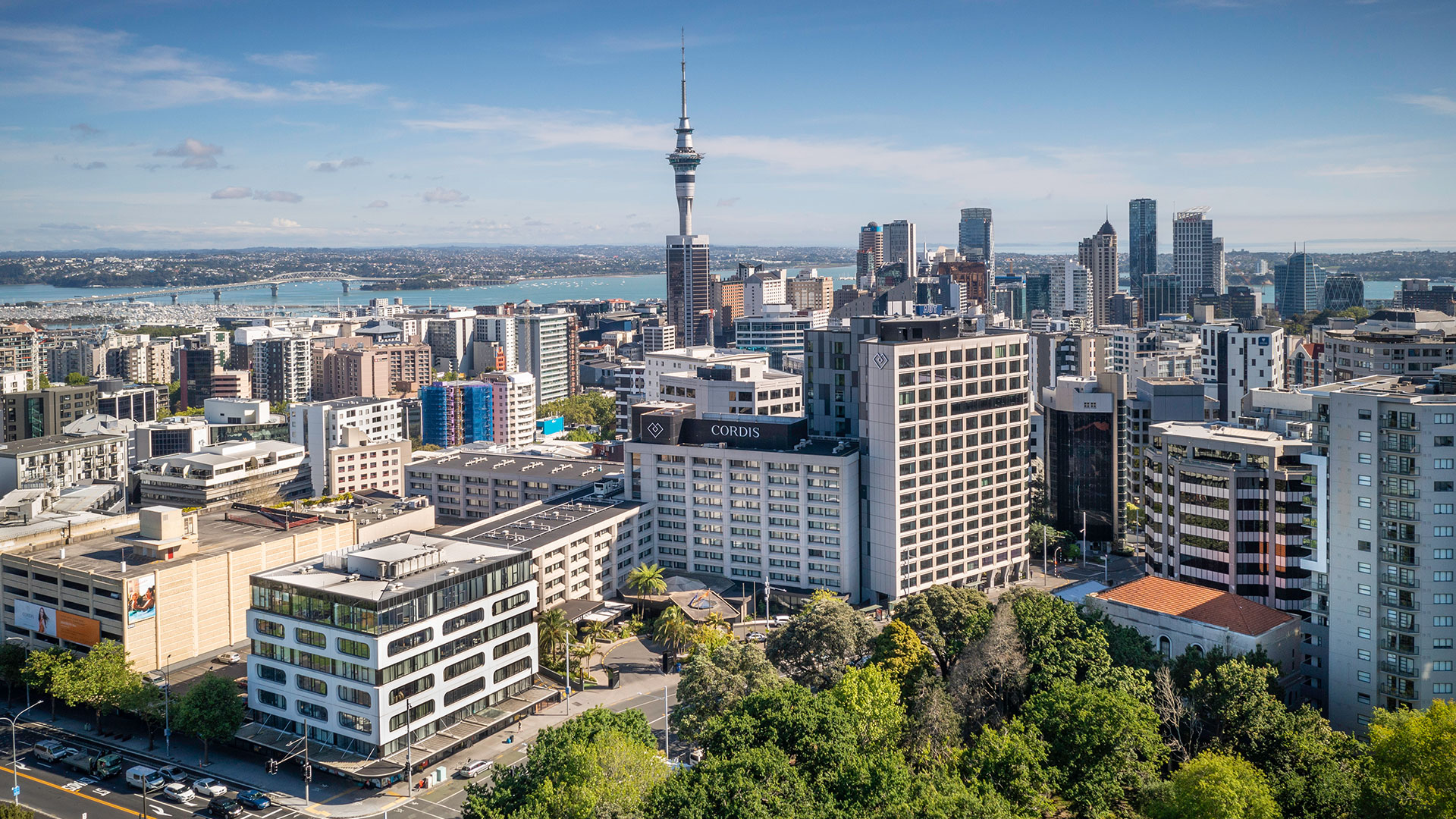 Helping guests navigate the tower are corridors designed to create a sense of graduated light "Te whei ao, ki te ao mārama" as guests enter their room. This is cleverly done using dark walls around the central core of the hotel which is juxtaposed with the walls on the opposite side where the doors to the rooms are, which feature light wallcoverings, with a continuous LED light above.
Inside each room is a spectacular tapestry of detail from the weaving patterns on the carpet, to the patterns on the bathroom blinds that incorporate water ripples and Adze carving patterns that pay honour to the cultural heritage of the land on which the tower stands. Further to this, room panels feature a Paper Nautilus shell – pūpū tarakihi in respect of Ngāti Whātua Ōrākei.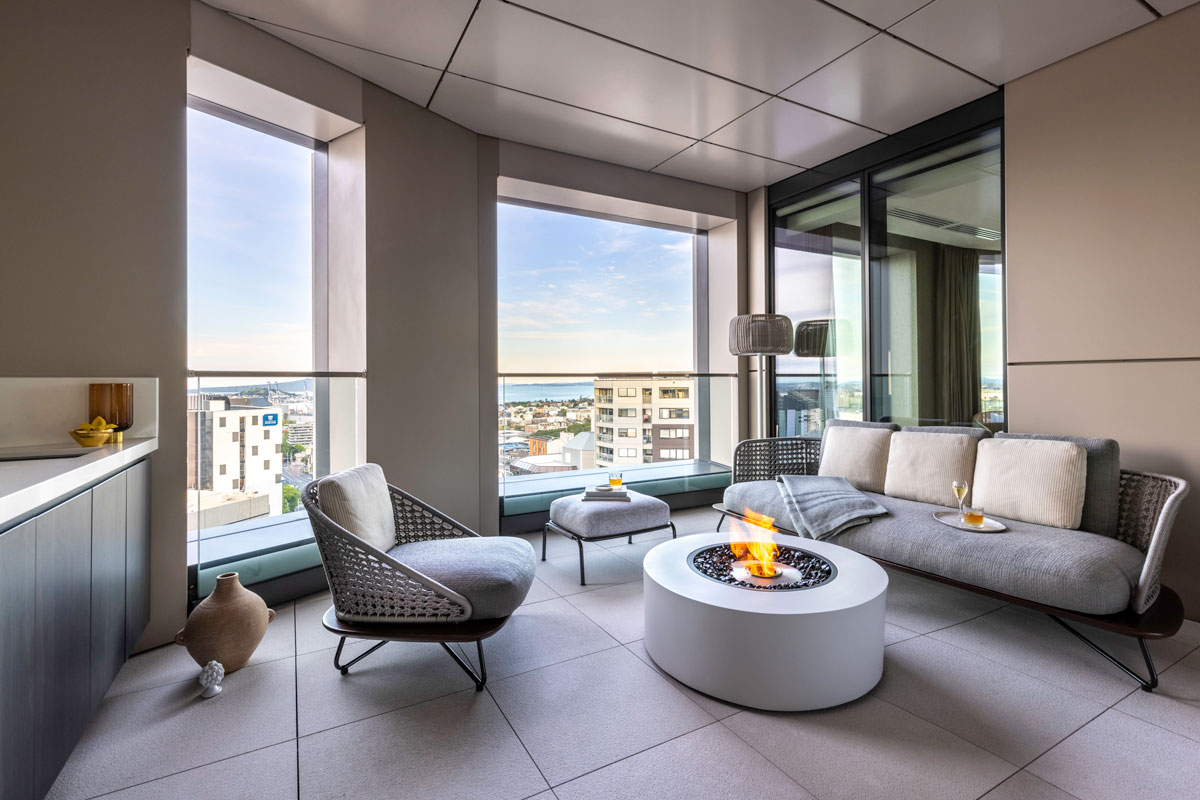 Another detail in the room panel is a defined central line that runs up through the middle of the carving. A similar strong central line is also highlighted on the façade of the tower. This Manawa line is the central artery, and represents balance and strength. This line represents the important relationship between Tangata Whenua (people with ancestral links to a place) and Manuhiri (people who visit that place).
So this isn't just about detail for detail's sake, it's a depth of thinking that creates a real sense of purpose to the design. At the same time as we are going on about all of this detail, it's also done in such a way as to create a sense of minimalist luxury. Having all of this deep layering of meaning and detail results in something stylishly minimalist which seems like some sort of voodoo magic on behalf of the designers, but however they have done it, it works well.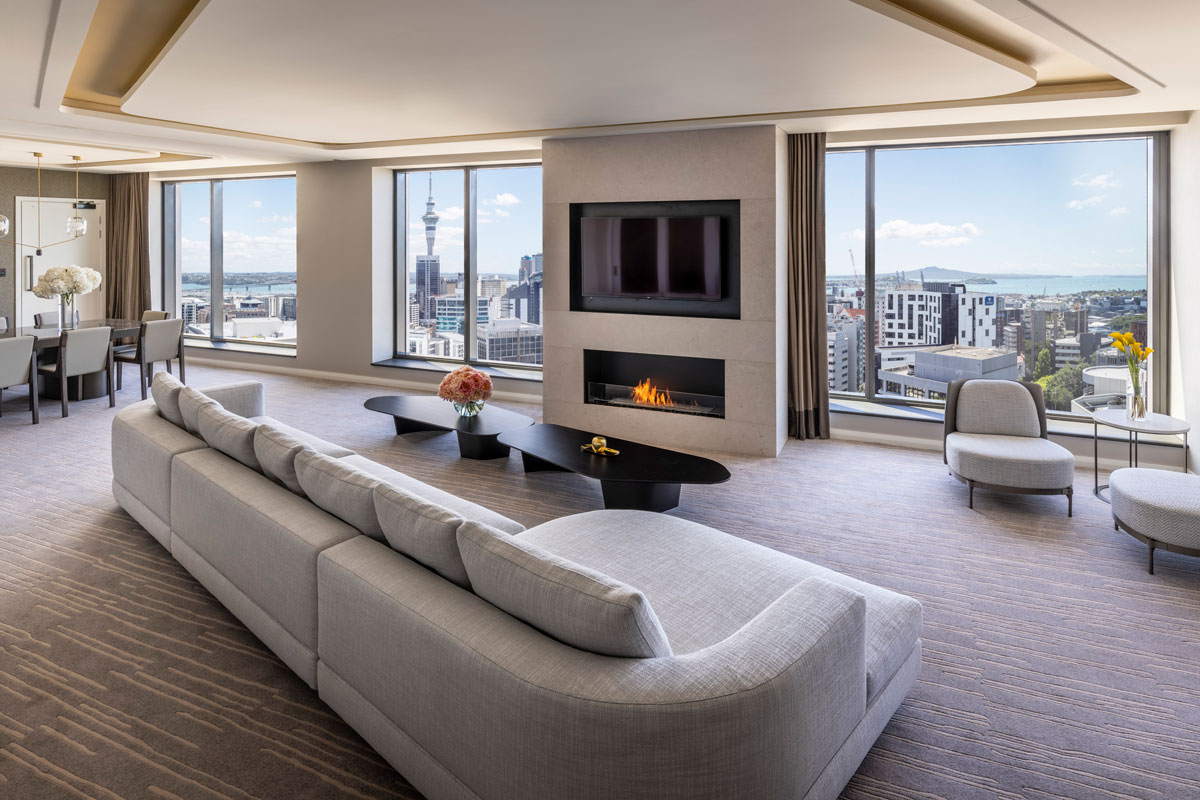 And once you have immersed yourself in all of the levels of detail in the various canvases (both literal and metaphorically) that the tower has to offer you might well be quite hungry. And luckily there are a few hot options, all with incredible attention to detail of course.
If you like your eggs with a view, I might recommend the Cordis Club Lounge on the 14th floor. This exclusive retreat offers complimentary afternoon tea, drinks, canapés, and a live breakfast station for made-to-order eggs for guests.
The hotel's famous Eight Restaurant has grown in capacity from 180 to 250 which is a good thing because this place is super popular for good reason. The concept here by the way in case you haven't experienced it yet, is to bring eight different kitchens with different specialities into the one restaurant. It makes for an incredibly diverse dining experience.
And if that wasn't enough, there's also the addition of a new destination bar, Our Land Is Alive, which exclusively showcases New Zealand sourced food and beverages.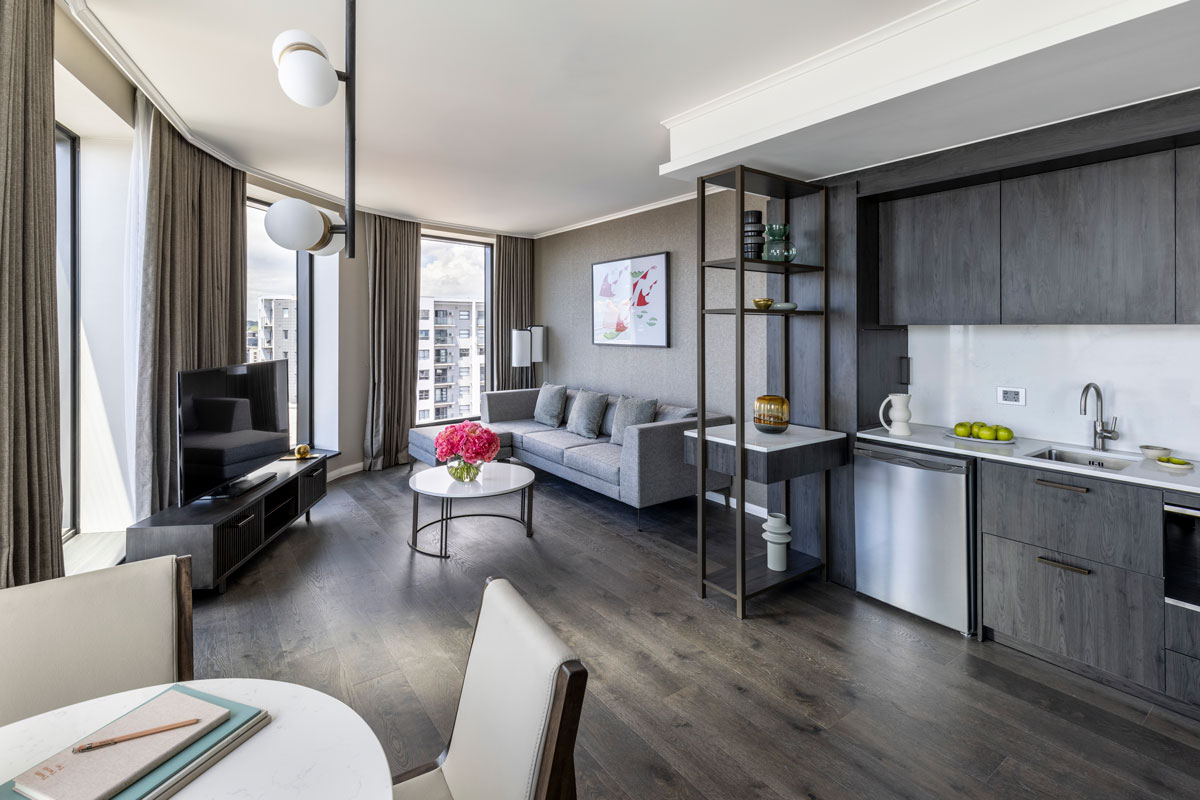 Oh, and if you crack the business world and IPO, your start-up success might inspire you to upgrade your room to the Chairman Suite. At 252.6 square metres of pure luxury, the Chairman Suite features a signature Cordis Dream bed, a dining area and spacious marble bathroom with an oversized circular soaking tub bathed in natural daylight, with floor-to-ceiling windows that look out to stunning city views. Finished with a selection of locally curated bespoke art pieces, custom-made furnishings, a fireplace and a large private balcony with a fire pit. Yes, it really is the little things. And also the big things. You know what I mean.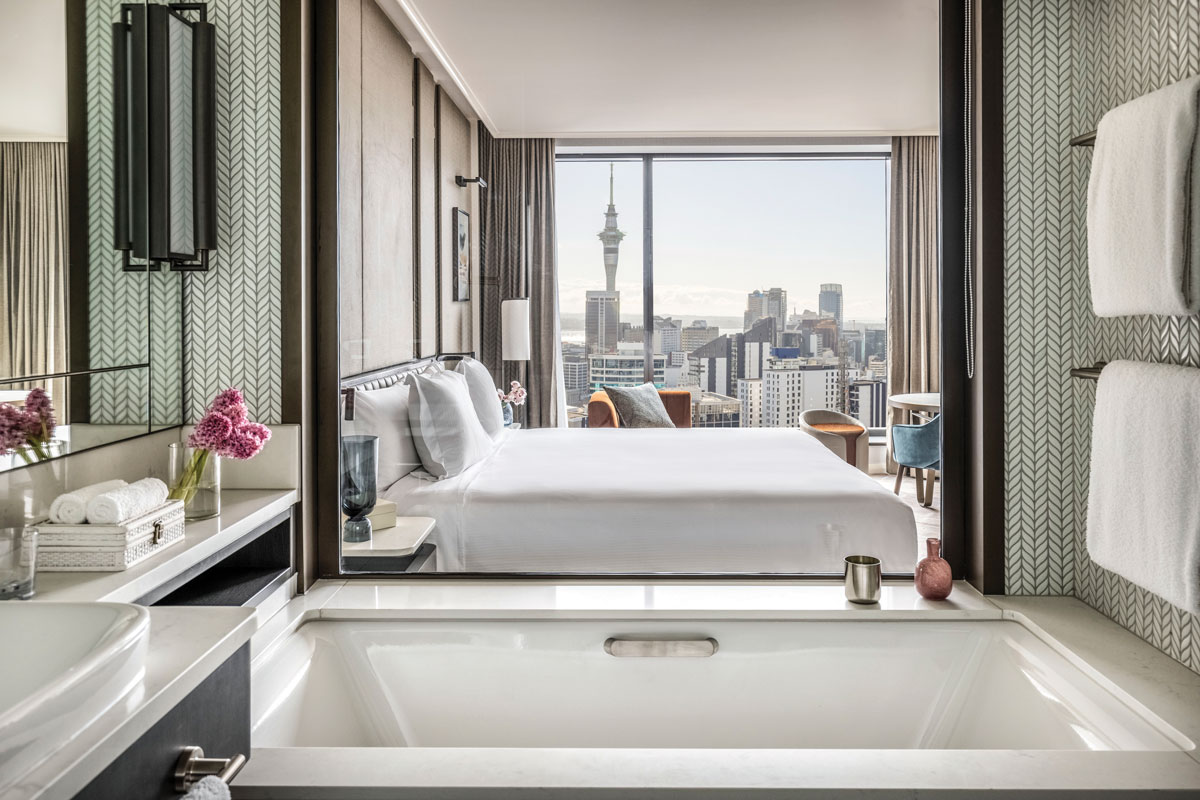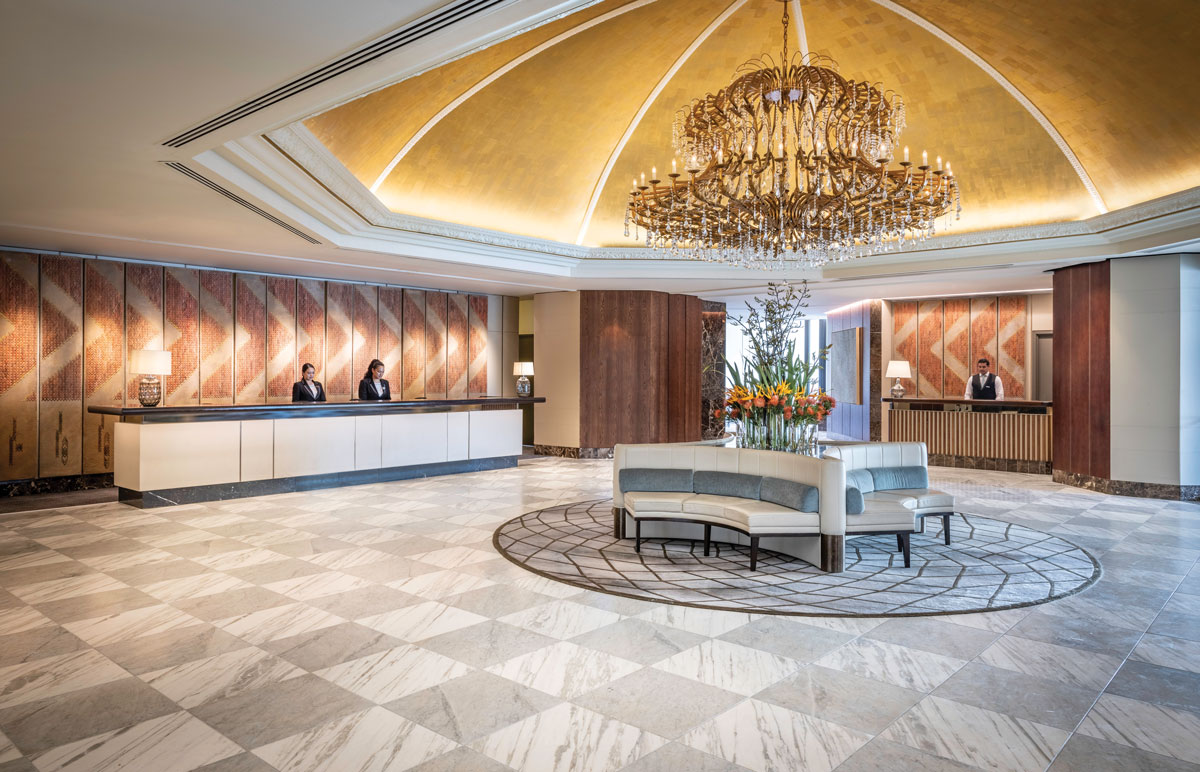 Experience the Pinnacle Tower at Cordis Auckland for yourself by booking via their website.