For any successful sportsman, setting goals is all part of the game. If you're a social soccer player, playing for a local Auckland football team on Saturdays, becoming captain of Manchester United wouldn't be a foolish dream to have. Or maybe if you play club rugby for, say, Linwood in Christchurch, becoming an All Black in later years wouldn't be unreasonable to imagine.
Photography by Stephen Goodenough
Styled by Paul Dean from Hugo Boss Christchurch
Imagine the thunderous roar of 50,000 spectators as you run onto Eden Park's hallowed turf—adrenaline streaming through you, the game plan locked as if in a scrum in your head. You take a brief moment to breathe and calm yourself. The anthem chants out over the almost silent stadium and you can't help but feel unified by the team that stand with you, the power of the silver fern emblazoned on your shirt, and the overwhelming love for the game that everyone around the country shares.
You can also feel the weight of expectation balancing firmly on your shoulders—a feeling, admittedly, that you've felt before after years of training with the aforementioned Linwood rugby team. But that feeling is one that drives you forward to achieving yet another one of your many goals. That's a feeling that All Black fullback, Richie Mo'unga can definitely relate to.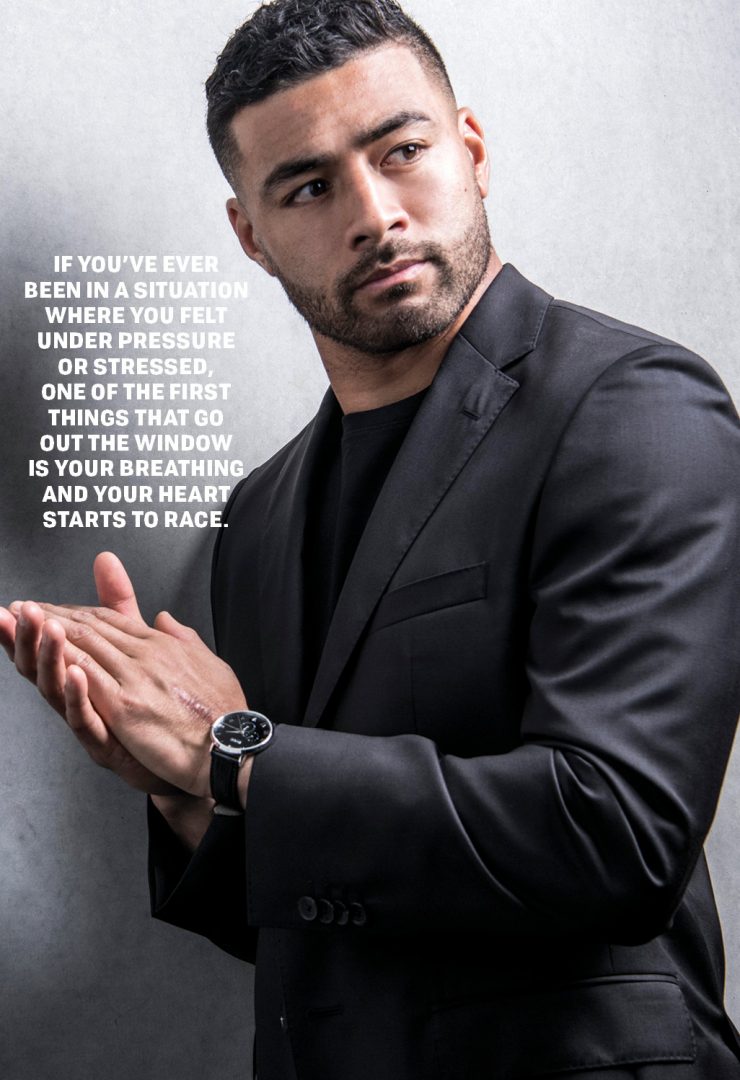 Born in 1994 in Riccarton, Richie Mo'unga has always had a hunger for striving for greatness. He got his love for sport from watching his two brothers playing rugby and his sisters playing volleyball and netball. In his youth, he was offered a scholarship at St. Andrew's College where he played first XV and went on to become a member of the prestigious Canterbury Academy. He then joined the Canterbury team for the ITM Cup, where he made his mark by scoring 25 points and Man of the Match during the 2017 final.
In 2017, he was the highlight of the Crusaders in their Super Rugby-winning campaign against the Lions. It was apparent that Mo'unga was fighting to reach that goal that seemed almost a universe away from playing rugby for Linwood.
In 2018, after an impressive Super Rugby season, where he was named Man of the Match in the final, Mo'unga was capped as an All Black. From watching his brothers play the sport he loves in his Riccarton home, to standing in Eden Park wearing the All Blacks jersey proudly, it seems Richie Mo'unga's goal-making and hard work had paid off. He now stands as one of the most exciting additions to the All Blacks to date.
We sat down to talk with Richie about his success in the game, how he works with that balance of expectations, and what legacy he wants to leave behind.
In terms of other players and coaches, there are so many different dynamics along the way with different teams and different levels, how do you react to that?
When you chop and change between teams and there are different people in charge, how you play as a team might be different to what you are used to. For me, it's about bringing what I'm good at and my strength to the game and bringing that to the team. I don't change too much between the environments that I'm in. The best thing I can do is be myself in my environment and be the same.
Things are different in different environments, depending on what head coach you have. Obviously if you compare the All Blacks to Super Rugby, it's definitely a lot more contentious because you're playing with and against the best players in the world so there's no hiding that. You can't leave any stone unturned during the week, you have to prepare like it's going to be the toughest match you'll ever play.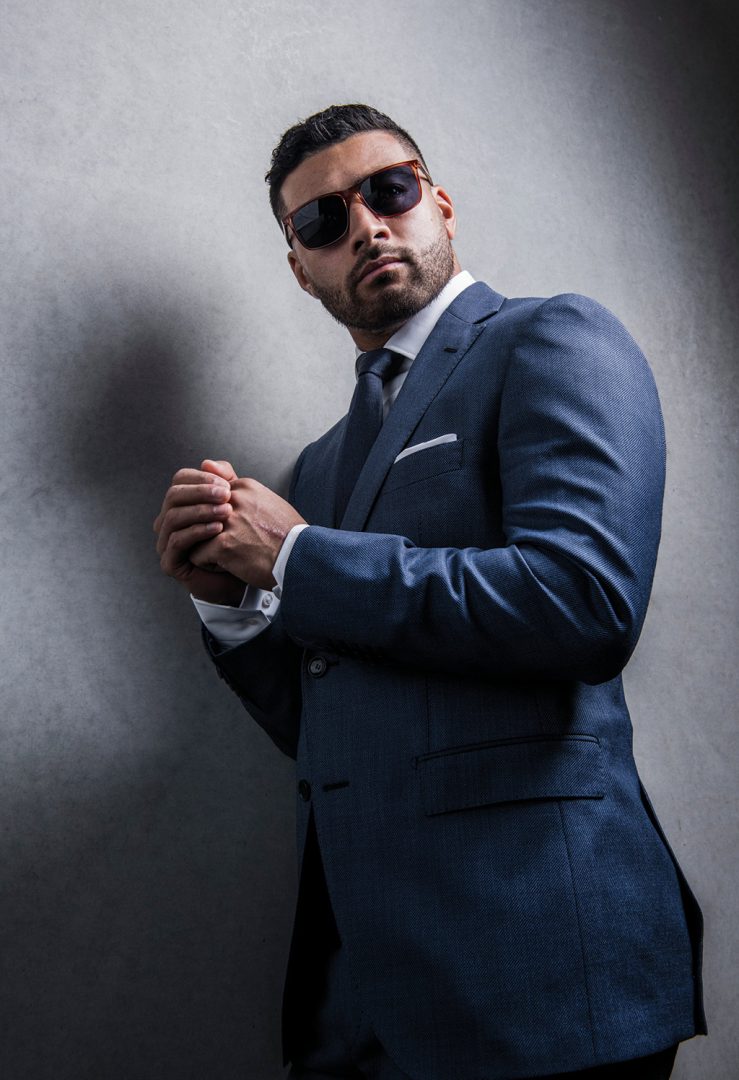 With the psychology of it, are we talking about a whole other level of pressure as well?
I'd say from my first hand experience in the All Blacks, you're a lot more vulnerable to media and to how you deal with expectations and the pressure. You are vulnerable to it, but for me it doesn't change anything.
It doesn't change what I do on a Saturday or how I prepare for a game. It's still the same. But mentally, it is tough. It's challenging, but as a footy player, those are all the things that you want in a game.
Can you talk about some of the things that you do to block out some of the noise?
For me, I've just got to do my job and do my business and play rugby the best I can. I know at the end of the day, it's just a game. It's not what I hold my values in or what I hold my hat on.
At the end of the day, it's about being a good son to my parents and being a good brother and uncle and partner. That's where I hold my values of being a good person. I make mistakes as a footy player, but that's just the way footy is.
Mentally, I think I put myself in a good position to perform the best I can on Saturday.
Talking about things that you don't hear often that people do mentally to switch off. For me, I do a lot of meditating and breathing, visualisation, and just a whole lot to make sure that when I get on the field, I can just back myself.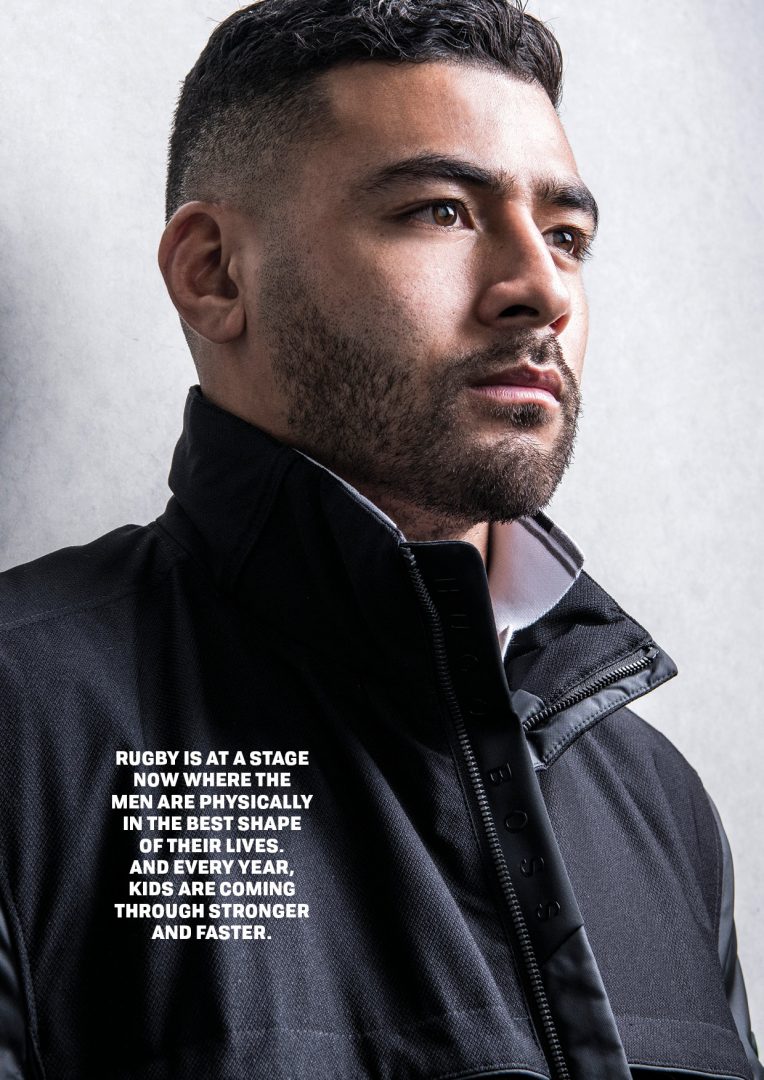 It's interesting that meditation has become so prolific amongst high performers in any field in recent years.
Rugby is at a stage now where the men are physically in the best shape of their lives. And every year, kids are coming through stronger and faster.
How you can set yourself aside from the other players is what you do mentally and how you prepare when it comes down to tough challenges in a game. To be mentally ready, that's the difference and if you don't put in the work, that's when you crack under pressure. That's when you fall into bad habits.
What does meditation do to prepare you for that pressure?
It's about visualisation and breathing. If you've ever been in a situation where you felt under pressure or stressed, one of the first things that go out the window is your breathing and your heart starts to race.
For me, when I'm kicking a goal or I'm trying to make decisions out on the field, if I can control my breathing, all of a sudden that effects my decision making and I can make better decisions.
For my visualisation, I try to see my goals out on the field before I even do it, so when I get there, it's not new, it's not foreign. It's something that I've been thorough and something I've prepared myself for.
How do you prepare as a team in terms of trust and culture?
It is hard at the start when you're getting to know your teammates. For me, culture is what you do in your environment. It doesn't have to be in a rugby environment, it can be here in a work environment.
Culture is what you do and the way you speak. It's the language and the vibe you get. In our environment, it's about trusting the players and knowing they are doing the work as well.
If you're part of a great team, your team members will do anything they can to be the best on Saturday.
I'm in no doubt that all my teammates are doing that now. Whatever they are doing with their preparation, they are heading towards the same goal.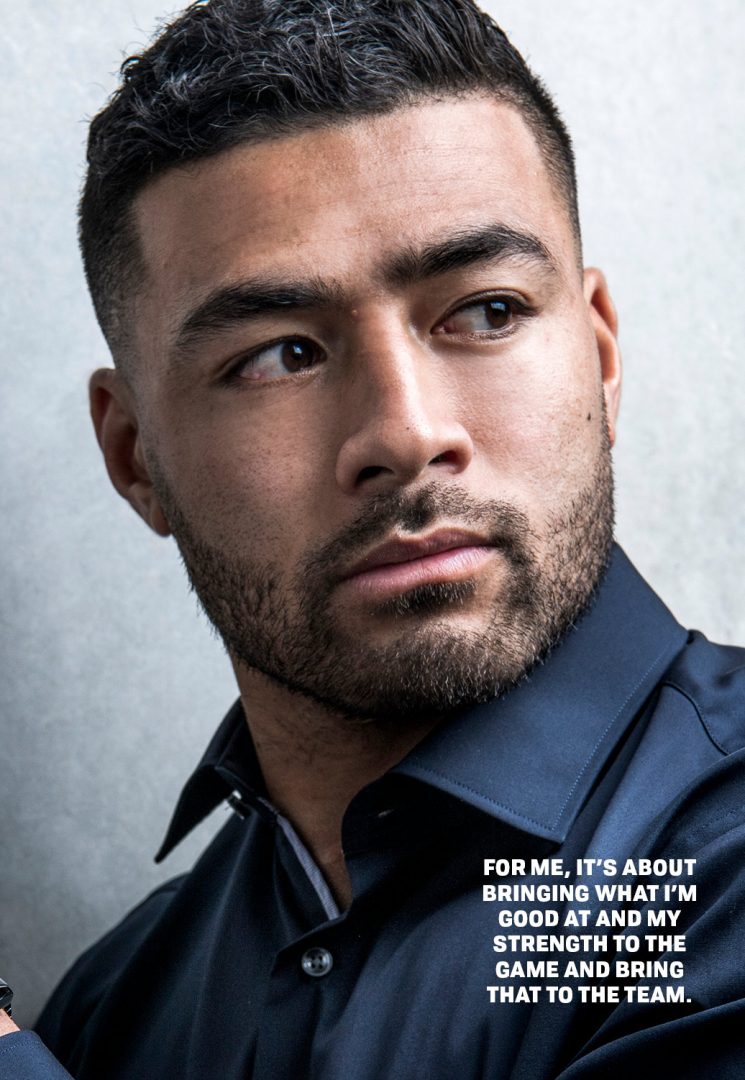 What advice would you give for any team wanting to have that high performance culture?
I've been lucky enough to be part of a few rugby teams that have had success. I think culture is a huge part of that. Culture is what you do, it's a language and how you interact with each other.
As a part of any rugby team, your vision is always to win the competition. I don't know what that looks like for any other business, but I assume it's to be the best you can and to be the best in your field. If you have a vision for that and everyone buys into that, that's a simple way of putting it.
As for rugby players, it's about being better everyday. It's about working on our weaknesses and in an office, I don't see how that's any different. Being smarter, trying different things.
Buy into something that you see as a vision and an end goal for your business, then simply don't let anything stop you from doing that.
You mentioned being in a team that has legacy and success. Is that like a double edged sword sometimes?
Since I've been in the All Blacks and part of this team, one thing that I've understood is that this is a huge opportunity for me to add to the legacy. It's a huge legacy of the people who have worn the jersey before me. It's a huge challenge, it's not easy.
As All Blacks, as New Zealanders, it's a challenge to walk towards and not to shy away from. We see that pressure and we see that challenge and we love it.
As a young kid, that's what I knew the All Blacks did. They turned up time and time again, so for me being part of it, it's not anything different.
Does it feel like you've got this legacy of support of these people that have come before you?
For sure, every time you step out, you're not just representing yourself or your family. It's the men who have worn the jersey before and I think that's what makes this team so special with the legacy that it has.
I know that everytime we have the opportunity to wear it, you can add to it. I think the important thing for the current players, when our time is up, is when we put the jersey back down, that we leave it in a better place. Everything we do and everything learn, we try and strive for that.
You'll also like: