There's a simple law of oenophilia: if you like wine, you'll love port. That's because port has all the things about wine you appreciate; flavour, body, pleasing colour and a mild alcoholic buzz – but without the risk of ending up with a wine you don't like. Ports are blended wines, so, if you like one bottle of Taylor's, the next will be just as complex, smooth and delicious as the last.
Ports are usually aged for at least several years – ten or more if they're a vintage – and they are fortified. This means that neutral grape spirit has been added at one stage or another during the production process – early if it's a sweeter port or later if it's to be dry. This stops the fermentation process in its tracks leaving a greater or lesser amount of grape sugars in the wine.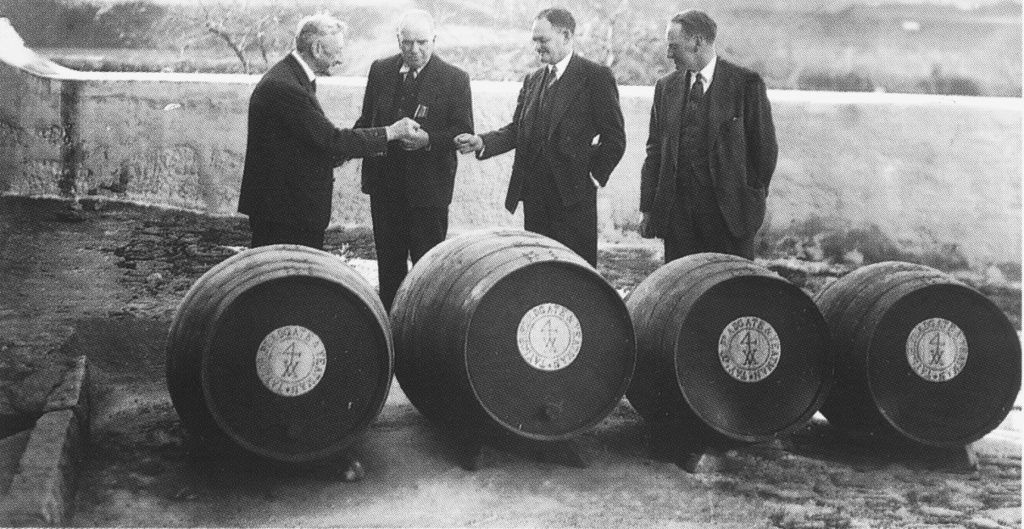 Proper port – or porto – only comes from Portugal although variations are made all over the world. It got its name from Porto (Oporto), the seaport in Portugal where port was first exported from back in the 17th century. Port wine comes from the mountainous eastern reaches of the Douro Valley in northern Portugal, where wine has been made for at least two thousand years. And, like all wine, port gets its distinctive character from the combination of local climate, soil, grape variety and wine making traditions. The Douro Valley's terroir is pretty unique, with steep rocky hillsides bordering the Douro River and narrow terraces supported by hundreds of hand-built dry stone walls for all the vines. Seriously cool!
So while a good port is a fantastic wine to just sip away at all day, you don't just have to drink it on its own. Like most other alcoholic drinks, it can be mixed with other ingredients to make awesome cocktails too. Here's a few to try out for yourself…
These cocktails use Taylor's Chip Dry White Port. Taylor's was the first to develop a dry white aperitif port by blending their Chip Dry White Port in 1934. Chip Dry is produced like any other port wine with brandy being added to halt fermentation and preserve some of the grape's natural sugar in the finished wine. But with Chip Dry, the brandy is added later, when much of the sugar has been converted into alcohol, producing an unusually dry port. Sourced from selected grapes grown in the eastern area of the Douro Valley, the pale straw-coloured Chip Dry is mainly made from Malvasia Fina grapes.
Port & Tonic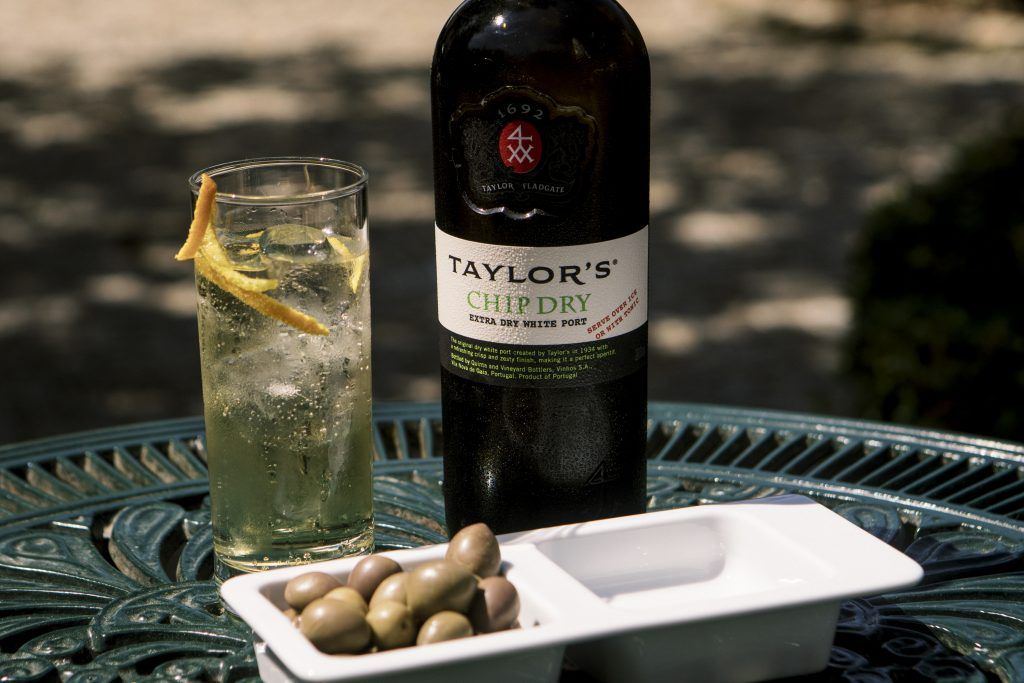 INGREDIENTS:
2/3 Tonic Water

Mint Leaves

Lime
 PREPARATION METHOD:
Pour the Taylor's Chip Dry Port into a glass, full of ice. Add the tonic water carefully. Stir slightly. 
Garnish with mint leaves and lime zest.
Canary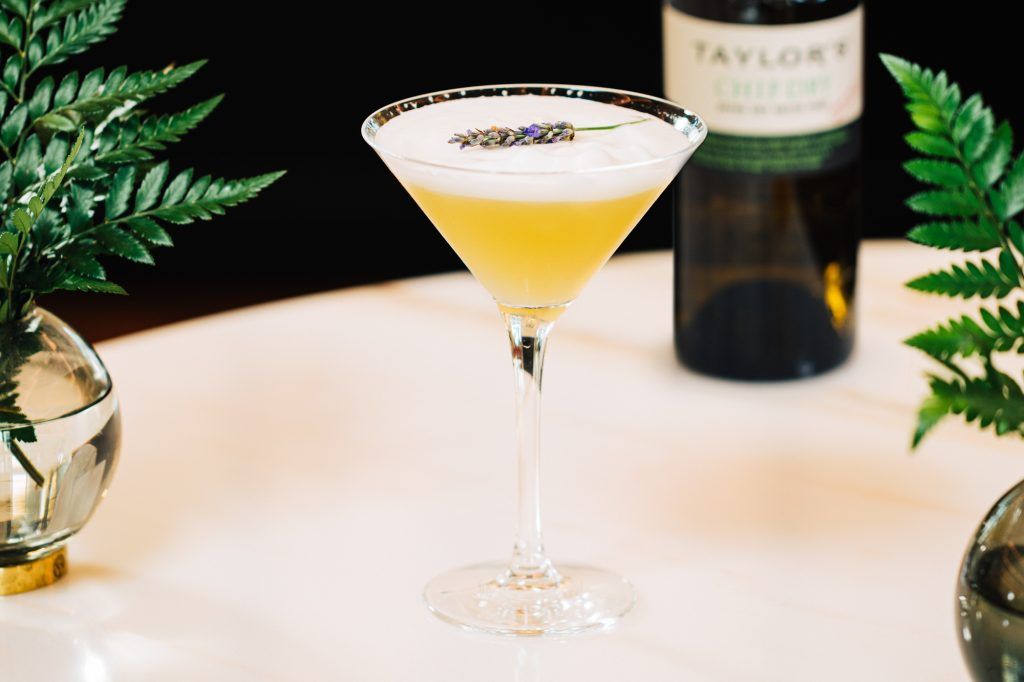 INGREDIENTS:
3cl

 Fresh Lemon Juice

1,5cl

 Honey

3

 Egg White

5

 Mint leaves
PREPARATION METHOD:
Dry shake all the ingredients, then shake again with ice. Double strain into a chilled coupe. Finish with lavendar garnish.

Douro Cobbler
This cocktail uses Taylor's LBV Port. LBV, or Late Bottled Vintage, was developed as a high quality but more affordable alternative to Vintage port that you can enjoy anytime. The main difference from Vintage is the way each port is matured. Vintage mainly ages in the bottle whilst LBV stays in the oak casks for between four to six years. During this long time of wood ageing, an LBV matures and settles down –  so it is ready to drink when bottled, does not need to be decanted and can be dipped into for several weeks after the cork is drawn.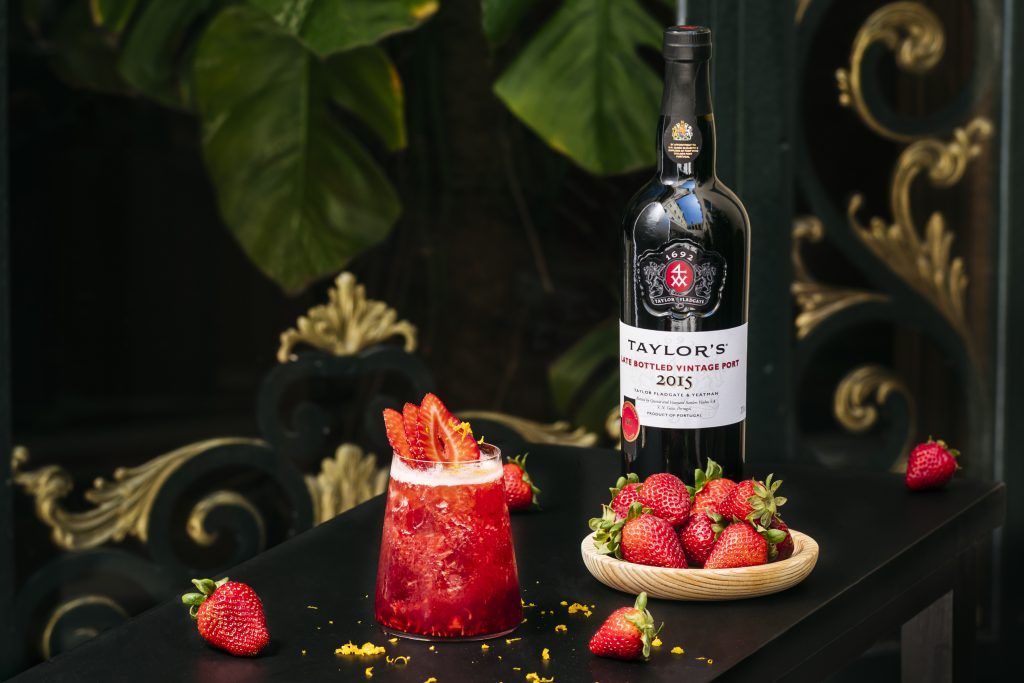 INGREDIENTS:
9cl Taylor's LBV

1,5cl Mezcal Del Maguey Vida

0,5cl Mezcal Del Maguey Chichicapa

3cl Fresh Lemon Juice

1 Strawberry

1cl Agave Syrup
PREPARATION METHOD:
In a shaker tin muddle the strawberry with agave syrup and the lemon juice. Add the two types of mezcal and the Taylor's LBV. Shake and strain over crushed ice into a doublerocks glass. Garnish with strawberry and orange slice.
Try these cocktails for yourself by visiting Glengarry.
You'll also like: