In 1999, 17-year-old Milot Zeqiri walked from his home in a central city apartment complex in Kosovo with just the clothes on his back. Together with his parents, younger sister Kaltrina and older brother Labinot, the family joined millions of others and left the only home they knew; a home that had become a place of war, of death and of fear. 
Twenty years later, his most distinct memory of that day is looking out the window before he left and seeing burgeoning masses of people lined up, all leaving the war zone on foot and heading in the same direction.
"It's a feeling that's still hard to put into words. The comparison I can make now is that it was like looking out the window and seeing people queued up across a distance from Parnell to Glendowie – a mass exodus from a city that was no longer ours."
A few months later, the same 17-year-old set foot on New Zealand soil for the first time as a refugee. It was a world unknown to him, and one that immediately presented both challenges and opportunities. "The first major adjustment for me and my family was seeing police officers and understanding that there was no need to be fearful of them," Milot says.
Between 1998 and 1999, the Kosovo War claimed more than 13,000 lives and displaced more than one million Kosovo Albanians.
"That first night we left our house, we slept outside. Part of the long journey to our destination that night was by train and when we arrived at Blace Refugee Camp in Macedonia, it was dark. When I woke up the next morning, I realised what I had thought I was resting my head on the night before was not what it had seemed in the dark. It was someone's gravestone.
"While it was an experience that's hard to explain, I think it was more shocking to my parents who were more aware of the atrocities happening around us. It was commonplace for trains to be stopped and men pulled off the train and killed, leaving families separated."
These are the experiences that shaped the man who has since worked tirelessly to achieve his goals. That's not to say though, the experience of becoming a refugee as an adolescent was a defining one for Milot. In fact, his drive is something he believes he was born with; a quality he inherited in the most part from his mother.
"I remember my parents telling me the story of when I was a young boy, I used to walk to my mother's work after school every day. I would sit there, rain, hail or shine, and wait for her to finish. My aim was to convince her to buy me a pair of Nike shoes – shoes that would cost half her monthly salary."
Sitting in his glass-walled office in Parnell, Milot laughs about the memory. "They all thought I'd give up but I never did and after six months, my father asked me to come with him one day and he bought me the shoes I had asked for every day for half a year. It's that kind of persistence that I think has always been a part of me, and something that drives me to achieve my goals."
After attending Auckland's Selwyn College for two years and learning English, Milot completed a Bachelor of Design at Auckland University of Technology. His first job was at fast-food giant Wendy's where he flipped burgers conscientiously before turning his hand to sales where he excelled. At 22, he bought his first home in the affluent central city suburb of St Heliers. By 30, he owned six properties.
"What I quickly realised in life is that if you are determined, you can achieve whatever you want to achieve."
However, it wasn't always a story of success for the Zeqiri family. In fact, for the first four years after arriving in New Zealand, the situation was dire for the tight knit family. "When we got here we thought we had survived; we thought we were free. We had escaped the bullets, we had escaped death and fear."
Sadly that wasn't the case and Shpresa, Milot's mother, was diagnosed with advanced breast cancer aged 46 just four months after arriving. She was given about a year to live. "This was absolutely devastating for us all. We had thought we were free and while we had escaped a hell, this was a new one, and one we couldn't escape from. The passing of our mum changed the way we all looked at life I think. You just never know what's around the corner. You can escape with your life from a situation where bullets are flying past you, but you can't run from nature or disease.
"Mum was such a determined woman. She fought for four years – it was a miracle she survived for that long. Her legacy lives on in the drive and determination in her children."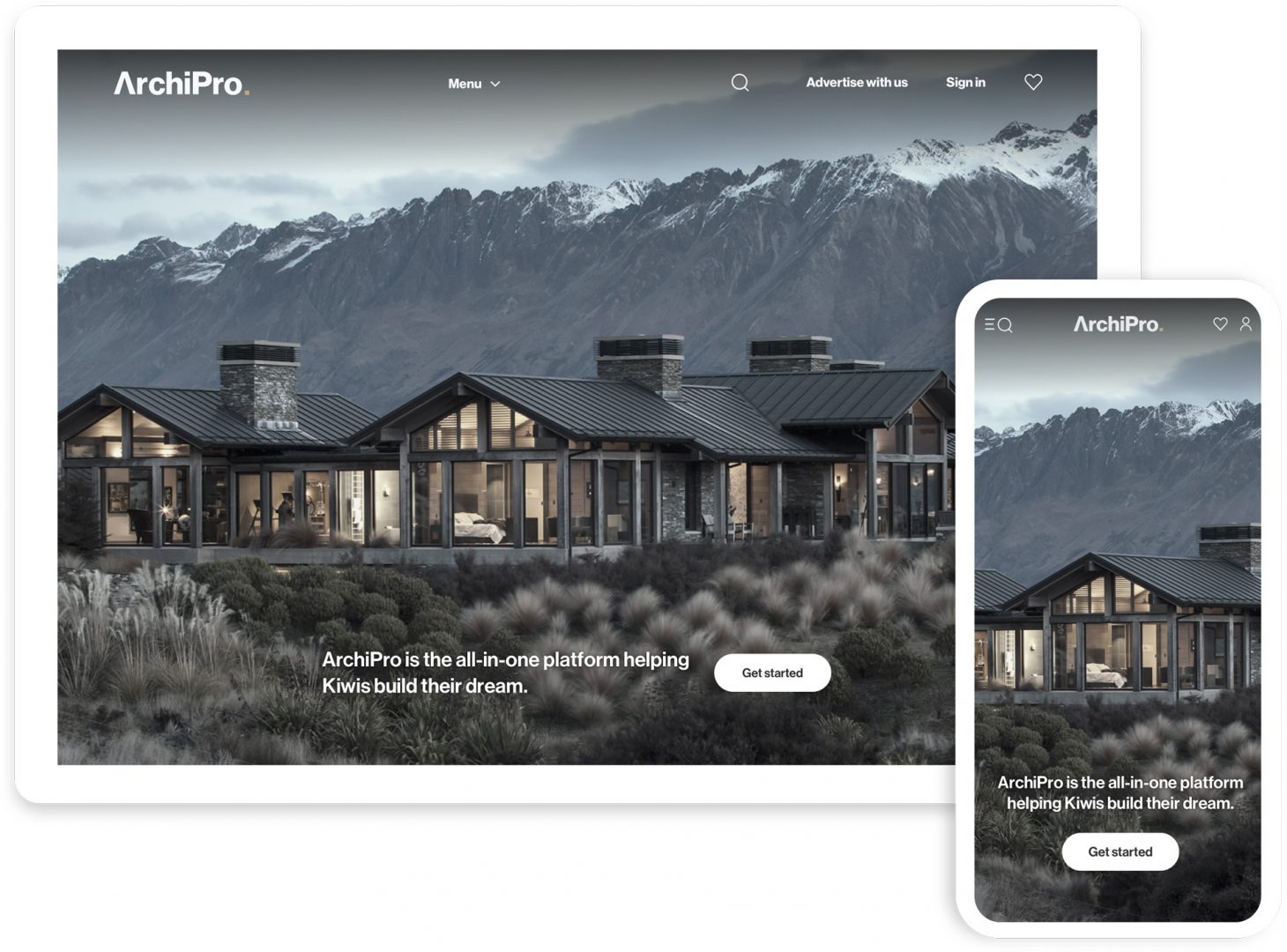 The beginning of ArchiPro
It's this drive that led to the beginnings of what is now the country's largest architectural platform, and one of the fastest growing online companies in New Zealand.
ArchiPro was not the first business Milot had started – in fact, it was the latest in a long run of innovative, ingenious and sometimes debatable ideas. This one, though, was special; Milot knew it and so did his wife Brittany. So, rather than working on the business as well as working full time, the pair quit their jobs, sold the investment properties they owned, downsized and moved into a small unit with a self-contained downstairs area that would become ArchiPro's first headquarters.
Both Milot and Brittany were frustrated with the difficulties they were having finding the best products and professionals to use in their renovation projects and decided to respond to the challenges with a solution: ArchiPro.
"While I enjoyed creating these beautiful homes and felt a real sense of pride every time, the process of getting to that final result was difficult. At the time the idea for ArchiPro came about, we had been living in building sites for a decade, working to renovate and transform these homes.
"Often, we would spend hours trawling google and different websites trying to find suitable tradespeople, designers and products and when we did manage to hire or purchase something, invariably we would end up with substandard workmanship or cheap products that weren't suitable and would inevitably need to be replaced. This led to projects going over budget and taking much longer than expected. We realised this was a common occurrence for people wanting to build or renovate and that having an all-in-one platform where people could select products and hire professionals with confidence, knowing that they represented the best in the country; that those companies and professionals listed were a select network, would ultimately improve the experience of building in New Zealand and drive innovation.
"So that's what we set out to do from the very beginning with ArchiPro – we set out to transform an industry with technology, to be the starting point for beautiful spaces, and a hub of innovation and inspiration."
The decision for Milot and Brittany to downsize and take a significant step back with their finances eventually paid off, but it was not before years of round-the-clock work, sheer determination and an unwavering focus on the goal.
"When Brittany was about to give birth to our second child, we both lived in the hospital for a week. Right up until (and throughout) her labour, Brittany was on the laptop working, and I was next to her with mine. It's this sort of commitment that we both made to ensure we achieved our goals right from the very beginning."
"Even though the business started making a profit quite quickly, we made the decision from the outset to put everything it earned back into the business to continually improve."
The continual evolution of ArchiPro has never stopped, and with Milot at the helm it's unlikely to. "I drive the developers mad with the continual changes, but if you aren't evolving and improving, you aren't going to get anywhere. As a person, I'm always striving for perfection and that translates into the business. If there's potential, it's worth exploring and pushing the boundaries. Our goal has always remained the same. We're here to transform an industry with technology; an industry that has largely operated the same way for decades while other industries have seen vast changes due to technological advances. It's how we achieve that goal that has unlimited scope for development."
Five years on, that goal is still in the early stages but it's one that has seen some significant progress. The exponential growth of ArchiPro is highlighted no better than in the numbers. Nearly 1.4 million Kiwis (around 28 per cent of the population) have used ArchiPro. Since launch, ArchiPro has had 12.6 million page views, and users have spent a total of 165,295 hours on the platform (or 18.87 years). Now, ArchiPro employs 35 staff and is a force to be reckoned with.
"It's a place designed to connect people and products. ArchiPro is place for product manufacturers and designers to easily market their products to the right audience, and it's a place where consumers can easily find the right professionals and products for their project. Ultimately, our aim is to improve the quality of our buildings and the health and wellbeing of the people who inhabit them."
Now, 36, Milot is motivated both in business and personally, as a husband, father and employer of a growing staff. "I'm always inspired and motivated by the small things. It's these things that empower you to achieve your goals in the long term."
Known around the office for his seemingly insatiable hunger for idea generation, most staff members are familiar with the distinctive grin that immediately precedes a new concept forming, or the development of an existing project into a superior one. A calm yet decisive leader, Milot is passionate about personal development and takes pride in working with members of staff to achieve their potential and excel in their area of expertise. ArchiPro headquarters is a place of ever-evolving innovation. It's a place of shared goals, of gritted determination, and a space where bettering the built environment is at the forefront of every journey.
"Achieving our goal as a collective is a journey I'm proud to be part of," Milot says as he looks around the well populated office. "For me, determination comes with a desire to notice the small things and take joy in them. It's these small things that keep you excited and keep you motivated to achieve long-term goals. What those are always changes. One day it might be a comment from my daughter, the next it might be an idea from a team member – whatever they are, the ability to pursue your dreams is about making the most of what you have here and now and finding joy in every day."
In his personal life, Milot has very much settled into life as a Kiwi. "I'm so grateful for the opportunities that New Zealand offered me as a young person. Those opportunities were a huge motivation for me. I was never going to just accept them. I'm determined to give back and that's what we are doing with ArchiPro.
"Brittany and I balance each other out. I'm the ideas, the big-picture dreamer, while she's the practical organiser of us. Brittany runs ArchiPro while I drive its direction. For us both, it's a project that we have always put our heart and soul into, like everything we do. If you're not going to give something everything, it's not worth doing."
Looking to the future, the goal is for ArchiPro to become a household name in New Zealand and abroad, and a platform that provides the information, connections and insights to transform the industry and the way we build. "I don't feel that we have a choice. We can't continue building the way we are, leaving houses and buildings for the next generation that are substandard or designed to last only a few years. The New Zealand Building Code is well behind other countries' standards and it's not good enough. We need to design buildings that are superior; that are designed to last, and that are built with quality materials and methodologies, with sustainability and the wellbeing of their occupants and the environment at the centre of all decision making."