For men, having the sweats is oftentimes a sign of a job well done. A visit to the gym, working on a DIY project with the lads or maybe even just chilling at the beach can give us a healthy glisten. 'Look!' we exclaim proudly, pointing at our sweaty faces, sparkling dad-bods and dampened underarms. 'I'm a hard-working man, eh!'
But it is when a man sweats excessively that the spark disappears. No longer do they want to show off their shiny foreheads and clammy backs, but hide them away, embarrassed and secluded to the air-conditioned safety of their houses.
Hyperhidrosis is a medical condition that affects many people around the world. Very difficult to control, the sweating affects various parts of the body including face, hands, feet and underarms and is usually from an unknown cause. Stresses, anxiety disorders, thyroid malfunction, nerve damage or a side effect of certain medication may be the cause, but who knows…What we do know is that it can get very tiresome very quickly.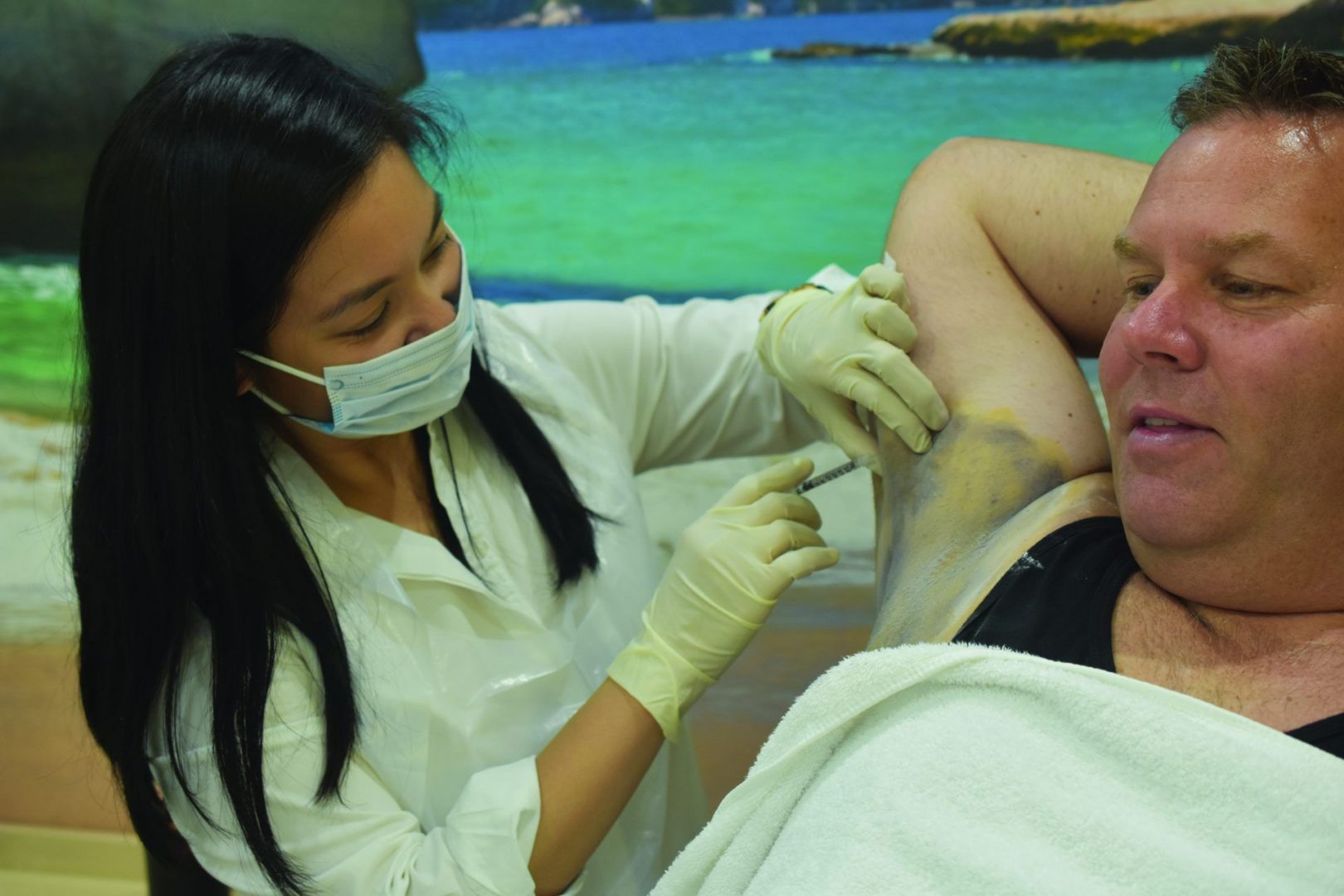 Nestled in Auckland's North Shore and Britomart precinct, multi-award winning medspa, The Face Place offers a clever solution for such concerns through the use of natural cosmetic injectables. A starch-iodine test is performed to show the overactive sweat glands, then tiny injections are administered into the specific localised areas of excessive sweating. Research shows a 95 percent success rate with a single treatment lasting about 6-12 months.
The Face Place was founded 2001 by Dr. Catherine Stone as the first medical spa in New Zealand. Dr. Stone was actually the first doctor in New Zealand to go full-time into offering Botox and is also a local and global trainer in cosmetic injectables and a global trainer for the Vampire Treatments. Vampire Treatments are a range of treatments which involve using PRP (the healing part of your body), one of which is the P-Shot, used for sexual rejuvenation in men.
Nearly 20 years after founding The Face Place, Dr. Stone and her 26-strong team across her two Auckland clinics have built a leading reputation for their education and assessment of non-surgical treatments and pride themselves on safe and simple procedures with natural looking results.
The Face Place has a reputation for being the experts in their field, with experienced medical skin therapists focused on skin treatments, and a medical team of cosmedicine doctors and nurses who are passionate about the life-changing procedures they provide. Patients often describe the result of excessive sweating treatments like 'turning off a tap', with just normal levels of sweating remaining.
If excessive sweating is a problem for you The Face Place might have the solution. For more information, or the procedures on offer:
Call 0800COSMED, visit thefaceplace.co.nz or download the My Face Place app on Apple or Android.