Located in the heart of Eden Terrace, the Sid At The French Cafe is a rich tapestry of homegrown flavours fusing alongside different cultures. The fierce heat, the delicious aromas wafting from the stove top and the passions that manifest in it paint a picture like a brush to canvas. Owner of Sid at The French Cafe, head chef and 'king of the kitchen', Sid Sahrawat, truly drives an army of chefs to create some pretty outstanding food. And – needless to say – he's got it all under control.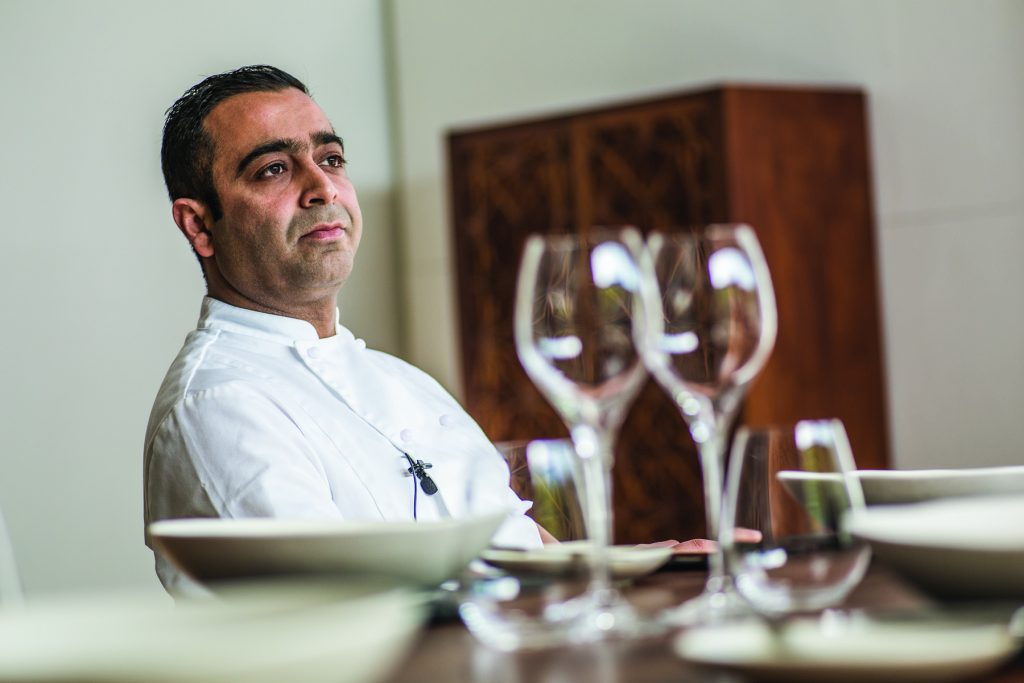 Keeping calm and striving for that stable mind and stable physical balance really helps Sahrawat too. He wants his calmness and passion to follow through into his teams at his three restaurants to balance not only their flavours, but also their motivations. He tries to keep his work life and business life separate too.
Sid Sahrawat spent nine years circulating the dining scene, making his mark with innovative and unique cooking on the way. Growing up in India, his life was speckled with the taste of the kitchen. With his father working in the army and his mother as a professor in business, Sid had to teach himself all the tricks of the trade and also learn from his own curiosity. His conventional upbringing did bring expectation, with his father wanting him more to follow in his footsteps, but Sid strived to make his dream work. Maybe it was the discipline of his family that inspired the fire of food in his heart and in the kitchen?
From Oman, Sid moved to New Zealand after landing a job at the Toto in Auckland and seemed to like the way things were done. From there, he continued to practice and research the different fine dining eateries around New Zealand and the rest is, more of less, history. His first restaurant, Ponsonby-based, Sidart (which he recently sold to long-time friend and chef Lesley Chandra) was awarded the 'Best New Restaurant' in 2010, his Indian-fusion restaurant, Cassia was awarded the 2016 and 2017 Metro Peugeot Restaurant of the Year, and gained Two Hats in the prestigious Cuisine Good Food Awards 2017 – also winning Best Specialist Restaurant. So it's no surprise that he eventually rose up to another challenge – taking ownership of the world-renown The French Cafe.
The renamed Sid at The French Cafe – located in Eden Terrace, Auckland – was founded by Simon Wright and Creghan Molly-Wright over 20 years ago – the renowned eatery is a fine-dining experience for contemporary, New Zealand cuisine. The opportunity to own the world-famous restaurant came about when Simon Wright, former owner of The French Cafe was toying with the idea of selling the iconic eatery 'to the right person' and that person was Sid.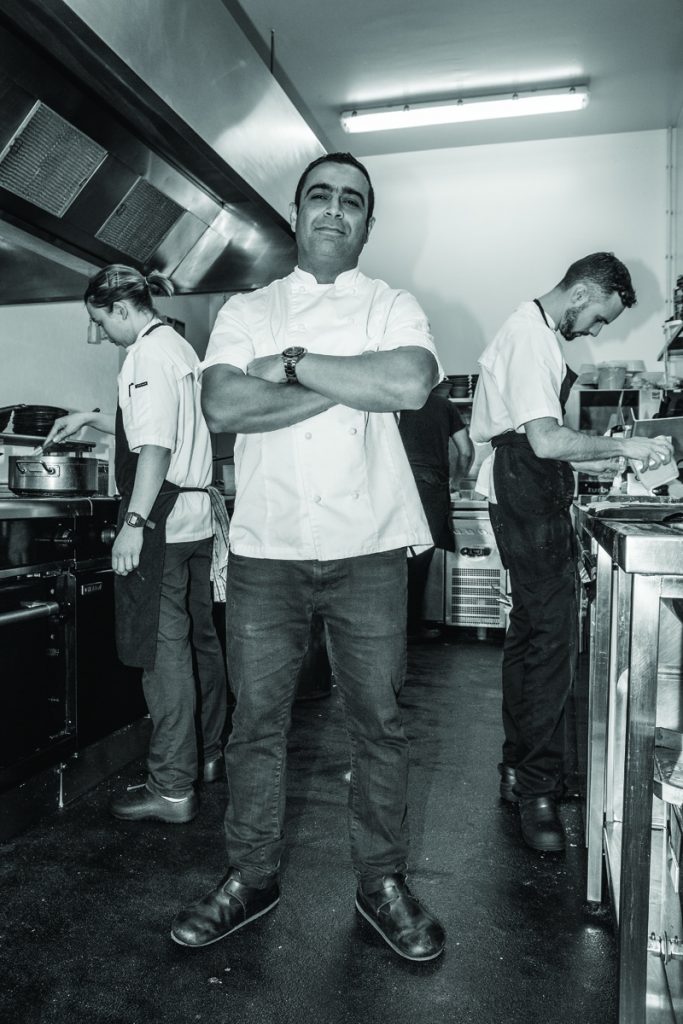 Is there an average morning for you?
There are some days when nothing goes to plan. When your morning is not as good as you want to be, but very rarely.
Do you have ways to deal with things if they don't go to plan?
I try and keep as calm as possible most of the time and I think that's usually the way to deal with stress for me. We do have a very strong core team between the places so that really helps me in keeping calm as well.
Aren't chefs meant to fiery and swear a lot?
That's the old school people. It's changed a lot since then. Sometimes to achieve perfection, it can take you to that angle but not as much as it use to be. A stable mind and a stable physical balance is so important these days.
Are those things that have you learned along the way?
I just formed myself over the years to be like that.
A kitchen can be a stressful place as it is but then when you add the business side of things in there as well, does it add a whole new level of stress?
For sure. That's the thing when you're head chef in a restaurant, there's so many entities and scenarios you need to take in to place or take into account that you may not encounter when you're just running a kitchen or the front of house. We always have very strong players out front and back and the kinds of relationships we form are people who understand each other, who really grow together with the restaurants and that's the people I rely on all the time, otherwise I would not be able to open another restaurant.
Can you talk about how the opportunity at The French Cafe came about?
We started hearing rumours and we thought it was just rumours, and we weren't looking at opening something else anyway. I spoke to Simon [Wright, former French Cafe owner] and asked him if the rumours were true. He said he would sell if the right person came along. At that time, me and my wife Chand had talked about how that could be very cool for us because we love the space and Sidart has always been a little bit tucked away in terms of the size and things, we want a bit more space. And then things moved quite quickly.
So Sidart evolved with those changes?
Yea, Sidart is more progressive Indian now because we didn't want too similar styles for the restaurants. Coming up in its tenth year, we wanted to give Sidart a new change as well for the diners and for the team, everyone. And it stimulates us more to do something a little bit different. French Cafe is doing what Sidart use to do but with an angle that's more New Zealand driven. A garden is something that we really want to showcase in terms of what appears in the dishes.
Is there any legacy left from Simon here?
Oh totally, the consistency and attention to detail they've had for the last 20 years is something that we would definitely like to carry on and breed ourselves and look after our diners.
Is it like having children?
Yeah, so this is the youngest child for us but it's actually the oldest in terms of its legacy.
Do you have to be mindful of keeping a balanced focus between each restaurant?
Totally. French Cafe will always be the main focus because we are still trying to develop a lot of things and we are forming systems and we are still tweaking food and service and the whole dining experience. After that though, hopefully I can have a nice balance.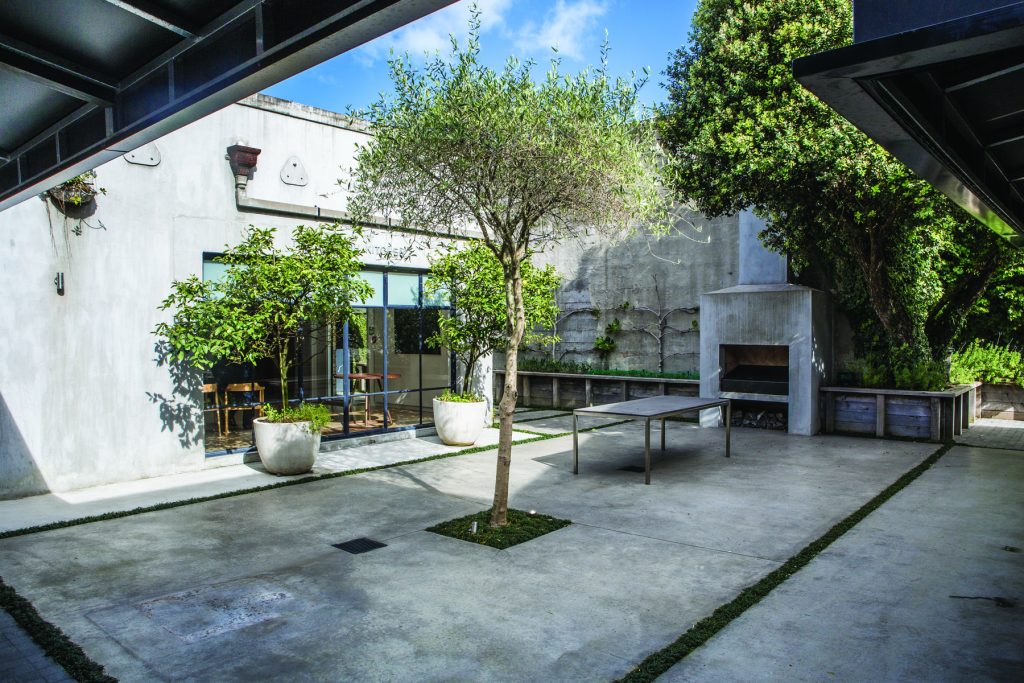 From an operational perspective, are there certain efficiencies to having multiple restaurants?
The biggest thing is your team. If you don't have a strong team in each place or in any restaurant, like any profession in the world, it's never going to be successful. That's something we're quite pleased with and that's one of the reasons why we thought we'd take this challenge on. Consistency, perfection, a clear vision of what you want to put across to the diners, these are the major things.
Because the restaurants are different, are you able to lean on one to help the other with things like staff?
We don't swap them around too much because everyone is quite busy doing what they do. But I go everywhere and having three different places now gives me very fresh eyes. So when I go to one place, I can see what is looking really good or what needs a bit more work. Whether it's the aesthetic look of the restaurant or something to do with the food, all of the overall detail of the restaurant.
Is there crossover in terms of diners?
Yeah, heaps. A lot of people go to all three restaurants which is really nice.
You have trailed the latest economic growth since 2009. At the same time, has it been tough along the way?
For sure, we've seen a lot of hurdles and I think that's what has been quite humbling. When we opened Sidart, it was in the middle of a recession and opened in a mall on the second floor. It was never going to be easy and it wasn't until we started getting a few reviews and accolades. After that it was quite consistent, which was nice. When we opened Cassia, I fell quite sick just before we opened and got over that. There was not many restaurants that opened that year, until then anyway, and we were busy straight away but then it dipped a little bit. Every restaurant has their honeymoon period, so you'll be busy and then you suddenly drop and wonder what's happened and you've just got to persevere and keep going.
Are there easier ways to make money?
Ah, I don't think so. If there are, I'm not too sure what they are. We do this because it makes us happy. It makes everyone happy in terms of the team and in terms of the diners and it's a very rewarding profession to be in.
As you were opening up a restaurant in the middle of a recession, in a mall, you must have had people saying 'you're mad!'
Yeah, a lot of people doubted the location big time, they just didn't understand why I took that location but I believed in it. It's quite easy to open a restaurant in a busy street because you know you'll get a lot of walk ins. We wanted to be a little bit off the beaten track and that's why we went for it.
Even in spite of some of that feedback from those who doubted you, what gave you the drive and vision to carry on and build something out of that?
I was just determined to make it work. I couldn't give up. So we just kept going and always saying 'OK, how can we make the restaurant better? What's our direction?' We stuck to it. We took our A La Carte menu off at Sidart which is a big decision, not giving people any choice, just having the same experience. It was intimidating for some people but we had to stick to our vision and we wanted to create this experience that was the same for everyone and that was really cool.
Where do you think other people go wrong in the restaurant business?
There can be a lot of reasons but the biggest one is not knowing what your actual concept is or what your vision is. If you're not sure of what you are able to offer, it can be confusing for diners and yourself. If you don't have your quality as good as other places, then that can be a problem.
How would you describe where the vision comes from? Do you do market research and get feedback or does it come from your gut?
From your gut, for sure. There can be a lot of things going on and if that's not your thing and your just trying to copy a fad or if you're just trying to tick a box, it's going to be half-hearted and it's never going to be a success.
You must have seen an evolution in terms of diner expectation and what the market is prepared to pay for. How would you describe that evolution?
It's changed so much since I first came to the country in 2000. I don't think people were very open-minded to trying obscure ingredients and cooking styles. Today modern Asian has kicked off so much, degustation is so solid around the world, everyone is so accepting of change and something new, fresh and exciting with all styles of dining, which is nice. So you can have a bistro doing some amazing stuff, and then you can have a wine bar or a fine dining restaurant doing equally good but still having their own niche.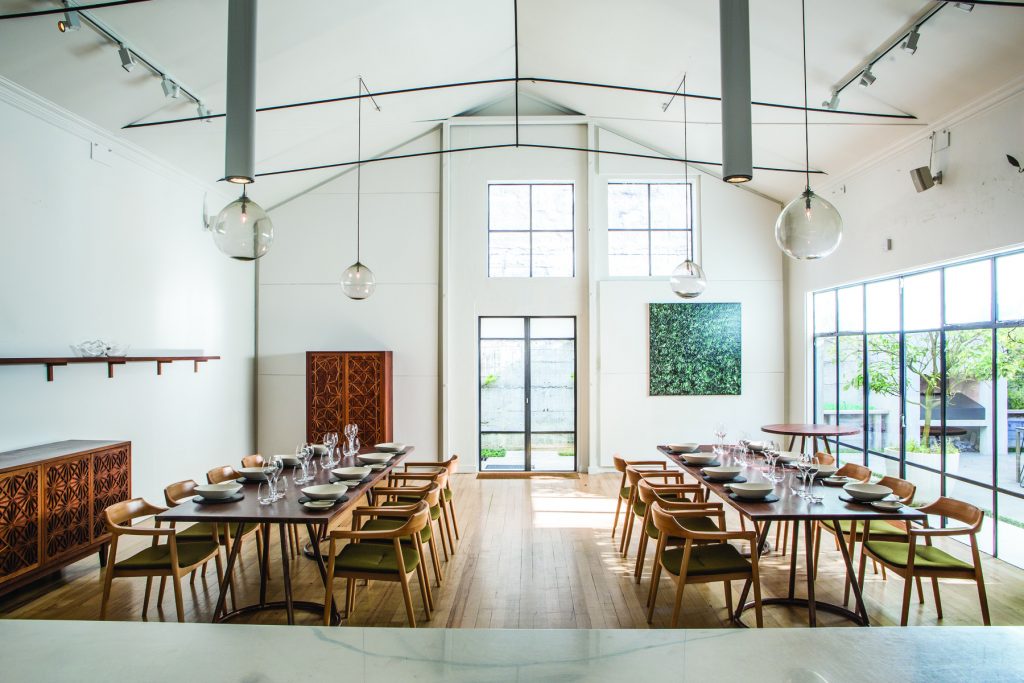 Are there places where you will draw your inspiration from?
Totally, there are so many amazing places in New Zealand and in the world. But I still think it's quite important to do it in your own way.
From a personal experience since coming here in 2000, is there a way in which your own tastes have evolved? Have you been influenced by the food that is here and the resources here?
I was 20 when I came here so I was quite limited in terms of my pallet and I was more inclined to do Italian because that was what I was trained in, a little bit of Indian because that is my background and a little bit of Japanese but still not too much. But now I enjoy everything, there's not a cuisine that I'm not happy to eat.
Do you think we still have a way to go in terms of defining our cultural food identity? Whether that's influenced by Pacific or Maori?
Definitely, there could be more Maori cuisine, there's not enough in Auckland or in New Zealand. But in terms of multicultural dining, there is such a melting pot of different cuisines in New Zealand now that you can really celebrate the best of what Auckland offers. So I think we're in a very good position. You go overseas and eat at some places and when you come back and see that in Auckland, for a third of the price, the food is most of the times very phenomenal now. The quality of food, the quality of service, just the whole package.
There are other elements of influence such as locally grown produce, even within your own garden.
When you do something from your heart, you don't have to make a song and dance about it but it's got to tell some sort of a story that shows why you're doing it. Whether you grow some herbs and put them on a plate, if you've done it for a reason, it could be the best thing you've eaten all day or month. It's got to tell your story and it's got to be done out of love.
Speaking of why you're doing this, was there a catalyst when you were growing up that made you decide that this is what you wanted to do with your life?
When I was about 15, I decided I wanted to be a chef but at that stage I had no idea that I would have three restaurants, so that's been pretty amazing. I was never doing this because I wanted to have my own restaurant, it was over time that I started getting inspired to do my own thing.
Is there any important advice that you would pass on to any younger potential restaurateurs out there?
They have to give it 100%. They have to love what they do and know what they are trying to create. Once you're in, you have to stay there until you make it work.
Is there a vision for where you'll be in another 10-20 years?
In 10 years, hopefully everything will be so sorted that we'll be in a very happy space. We already are, but in 10 years I think the level will be higher. In 20 years, I'll be 57 so hopefully I'll be sitting on a beach, reading a nice book and having a glass of wine.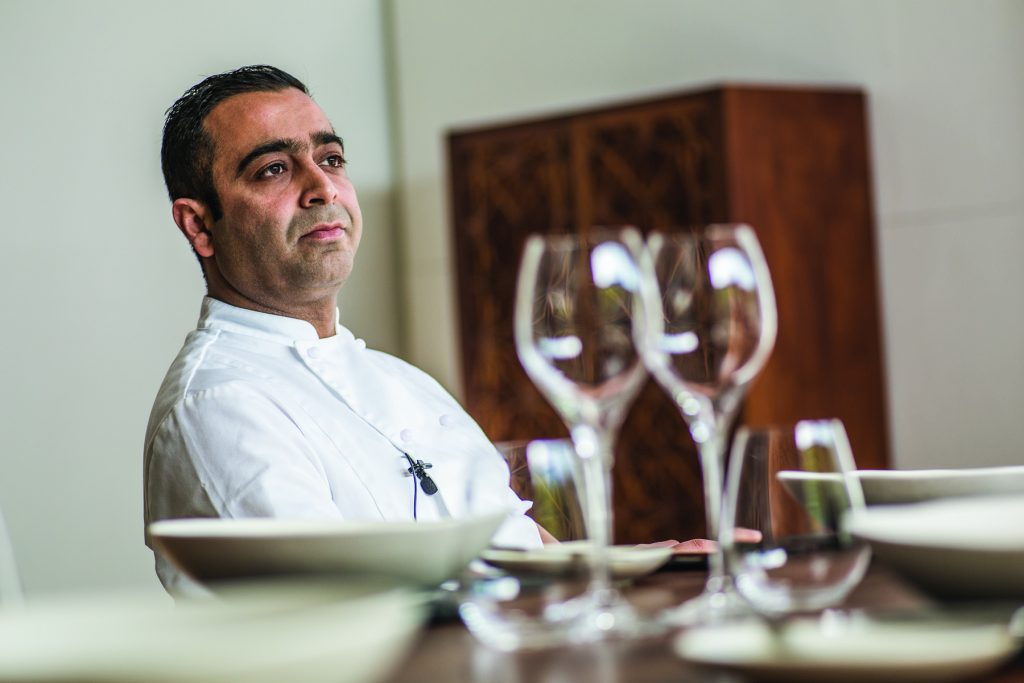 Has it been hard along the way to have a work/family life balance?
It can be hard. There are some very long hours for all of us in hospitality. It's very testing at times and it can be very frustrating from many different angles. Whether it's someone not being happy with what you're cooking or the style of cooking or they haven't enjoyed the style or service or pressures with staffing or not being able to find the right people to do the job. There's definitely some big pressures every now and then.
Things have changed a lot since 2009 in the way that people can share their views on social media, is that another added pressure to this?
I would say so. Social media has been a big factor in everything improving. A lot of us look internationally, not just locally, to see what's going on in the world and trying to be as good as some of the top restaurants in the world.
Sometimes you see people using social media for bad with negative comments.
It's not all positive and I think social media should be positive.
What's the best piece of advice have you been given?
Just believe in yourself and just keep going.
What kind of things do you recommend I have in my pantry?
Definitely butter, some nice cheese. Salt is one thing you definitely need to have. Nice Chardonnay and always nice to have some freshly baked sour dough, then anytime of the day you can make a nice snack.
Do you come home sometimes after preparing amazing meals for everyone else and just have baked beans on toast?
See I'm not big on baked beans but I definitely might have a cheese toasty, especially towards the end of the week when you just want something a bit naughtier, but not all of the time.