British-Born Max Patte washed up on New Zealand's shores 10 years ago and has been a credit to the country ever since. As an Associate of the Royal Society of British Sculptors, he took his skills to Weta Workshop. Max has quickly become one of our most successful artists and has been courted by patrons from around the world eager to support his art.
We caught up with Max to discuss his evolution as an artist, as well as his career.
Was there a specific event or moment when you realized that art was the thing you wanted to pursue in life?
I grew up in a creative family so it's no surprise I followed a career in the arts. My mother was always encouraging us to enter the 'Blue Peter' (BBC kids TV series that ran for a few decades) art competitions and art was definitely one of my favourite subjects at school. At age 13, I remember the Easter holidays having to decide which subjects to take for exams the following term, which would lead on to GCSE then A-Levels then university so it kind of felt like a crucial time and, at age 13, a BIG decision. I worked in a garden nursery filling polystyrene compost trays ready for planting for weeks on end and all the time trying to decide which subjects to take and which to drop and what I'd like to do 'when I grew up'! All I knew was that I wanted to work in the creative field. Art, furniture, industrial design… I hated maths, so architecture was out of the question.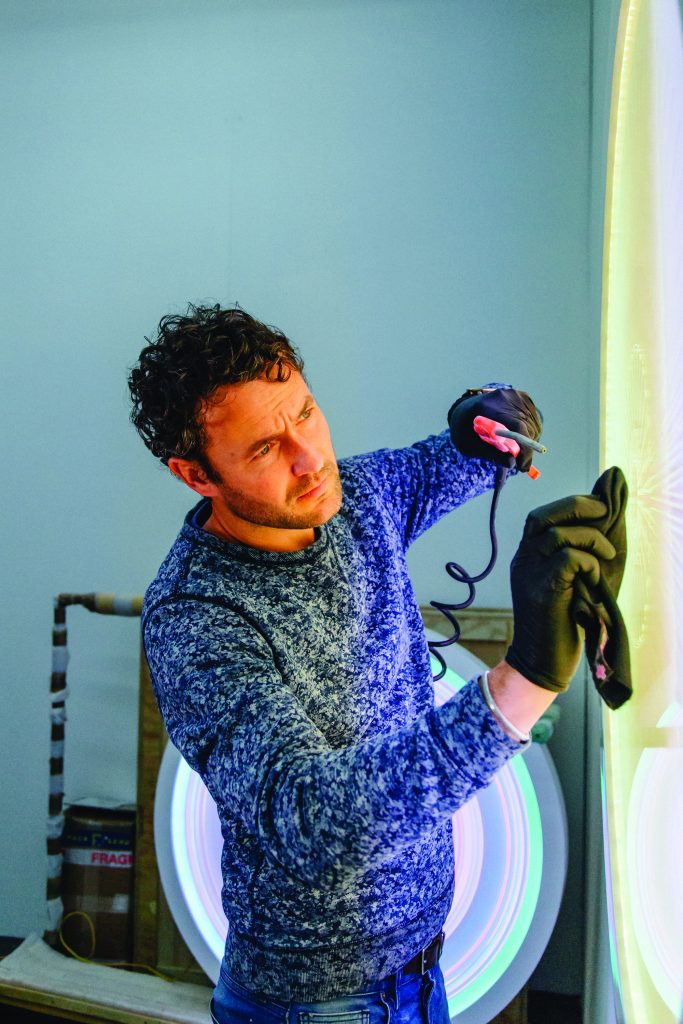 What motivates you the most to create your work?
The next piece. The next fix. The next high. It's like anything in life, you always want more. Bigger, brighter, bolder, faster. As soon as I finish one work, I want to do the next. Do it again, make it better, make it different, add a bit more of this, a bit less of that. It's like an itch that can't be scratched. Or sometimes at the end of a particularly labour intensive or complicated or problematic work, I just want to turn it all on its head and do something totally different. Either way, the need to create doesn't die.
Your 'Solace in the Wind' piece on the Wellington waterfront is iconic, it feels like a love letter to the city. Are there any other cities you envision your pieces to standing in?
I like works placed in obscure or unexpected locations. Sites that aren't obvious and invite the viewer to a place they may otherwise never go. I have a collector who bought one of the 7 full size Solace in the Wind editions for a location in the outback of Australia. I'd love to visit it one day as I've never even seen a picture, or perhaps I just like to live with the vision I have of it in my mind.
Who or what are your biggest inspirations?
Have you ever heard that quote by the famous American painter Chuck Close? 'Inspiration is for amateurs— the rest of us just show up and get to work'. I'm sure that's not true of everyone but it's certainly true for me. My biggest inspiration is the act of creating itself. Learning how to use new materials, machines, techniques, experimentation, failure, 'the happy accident'. None of these things occur outside the act of actually doing it. I am never less inspired than when I'm on holiday! But that's not to say I don't enjoy a holiday!!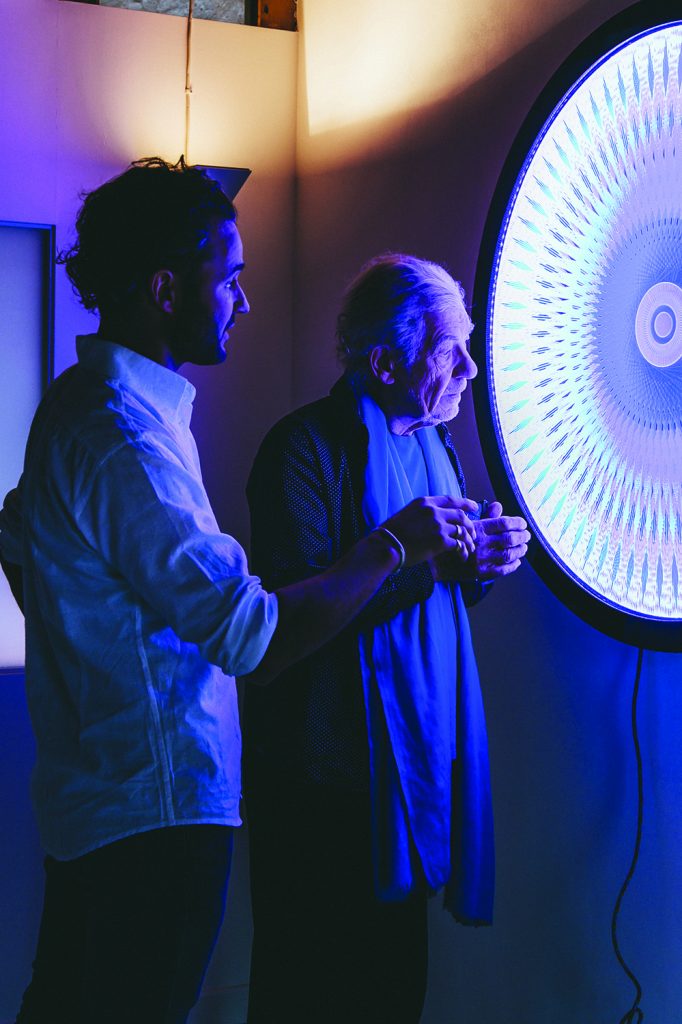 You worked at Weta Workshop for a time, what projects were you involved in during your time there?
I was the head of their sculpting department for 8 or 9 years. I was involved in everything from film, television, public art concepts, private commissions. I loved it there and what it offered me. Mostly the space and the freedom to grow my own practice.
Do you feel like you've evolved out of that environment?
Hmmm, that's a tough one. I never intended to be in the film industry. I wanted to be a fine art painter but as sculpting took over at art school and some friends got summer jobs on film, it seemed like a good way to extend the learning. I always looked at the first years as a kind of apprenticeship, a way to learn about new techniques, materials, making a mould, taking a cast, anatomy study. So much of what we learned at art school only scratched the surface and the film industry offered an opportunity to professionalise those techniques. It also taught me a really good work ethic. The majority of my peers in the UK industry had come from art school. I can't describe how much I loved those years in London and the friends I worked alongside but I knew it had a limited time period. I knew I'd always want to have my own studio and do my own thing. In the UK industry though, there was just never time. Those were 14-16 hour days. Here it was different, here is where I found my own voice or my own style. It took a long time to get out of the industry and it was hard to move away. I have very fond memories of the nearly 15 years between the UK and Weta but I wouldn't change any of it.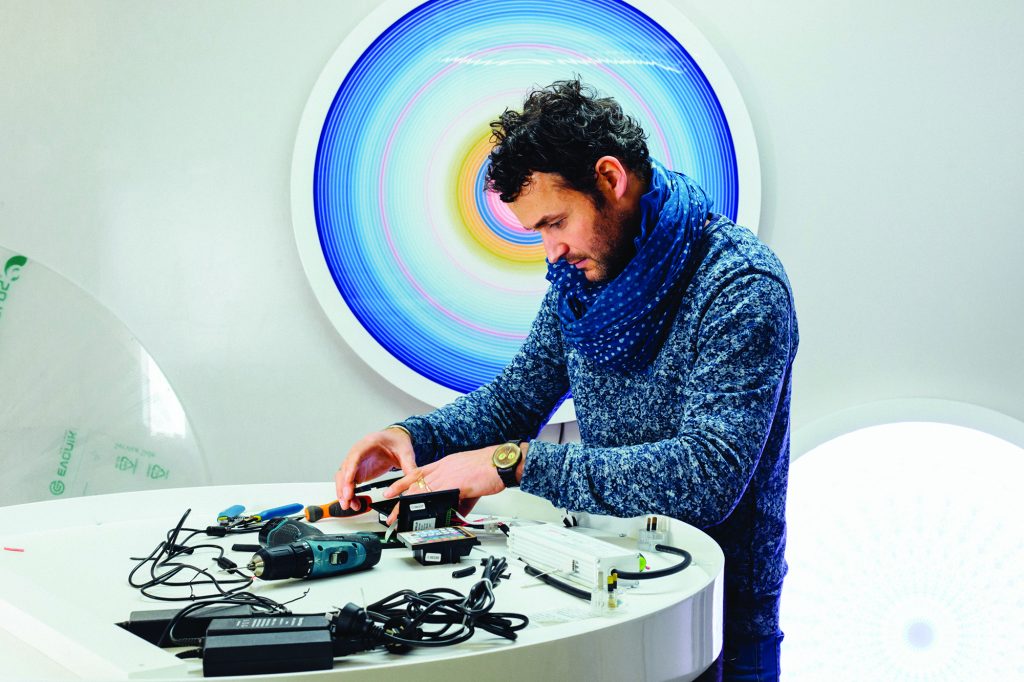 What's it like knowing your work is in the hands of the likes of Sir Ian McKellen?
Incredible. He's one of the most generous and passionate art collectors I've met. He opened his home and offered the use of it for my first London solo show. To know my work is admired by someone I admire so much is a great honour, although it's an equal honour to know there are modest collectors in modest homes who've saved for a long time to buy something they love.
As a fairly new dad, has that changed your perspective on the work you create at all?
Absolutely. My work has become more colourful, playful, outward and not inward looking. Although I do savour the time on my own and like to have my studio far quieter than I used to! Take it while you can get it!! With number two on the way, maybe it'll all change again.
Your work has really evolved over the last couple years going in quite radical directions. What sort of themes and mediums are you exploring?
Light, colour, experience, environment. In a nutshell, I want the viewer to be immersed in my work, for it to change their environment or experience of it. If it works, it shouldn't have to be looked at directly to be felt. I aim for all my pieces to have a presence and I'll use any medium I can to pursue this aim. I've just had my web page re-worked and have added information on concepts for each series of works.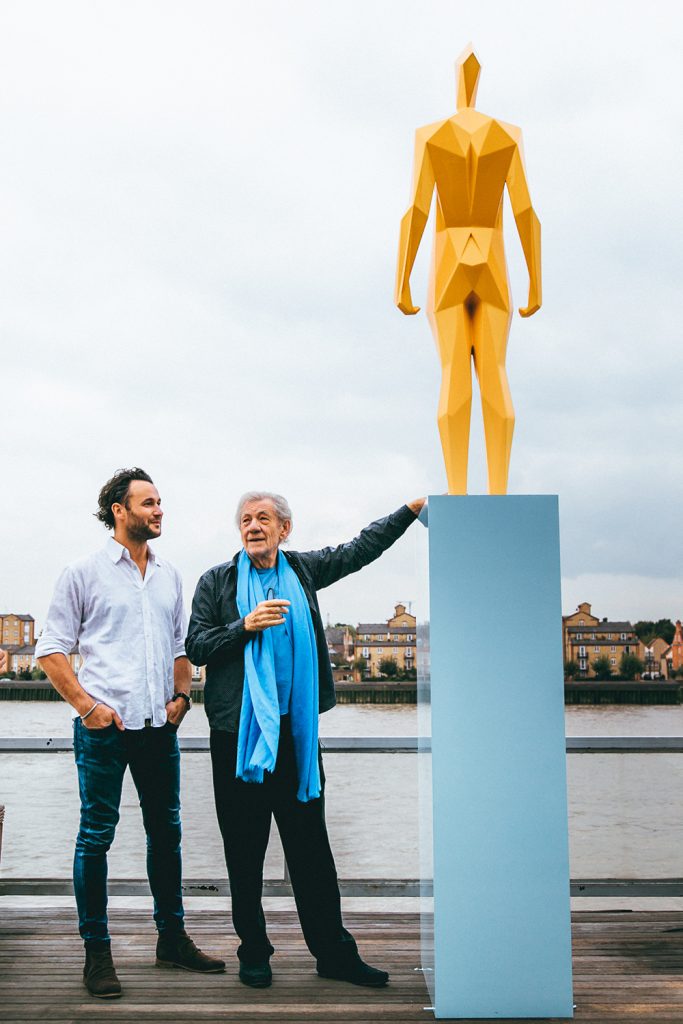 What's the one piece of art you want to be most remembered for?
I hope I haven't made it yet but if I have, I'm sure it would be Solace. It's the one piece that set me on this path and the one I owe everything to.
If you had unlimited funds and mediums, what piece of art would you most like to create?
It would actually be a building. It would be a studio in which I could create all the other works. It would be somewhere warm, with orange trees and a sea view.
What is the best piece of advice you've been given?
If it's not a challenge, it's not worth doing. My landlord in Wimbledon Village in South London who was a retired doctor told me that just as I was about to embark on my first commission straight out of art school. I was terrified at the prospect of doing a monumental sculpture of Bobby Moore (England captain when we won the 1966 World Cup) to be installed outside West Ham Football Club. I didn't think I could do it…and I didn't, I turned it down. Probably my biggest career regret but at age 20 with very little experience, it would've probably ended up looking like a chewed toffee so maybe it's a good thing I hadn't got the nerve. Career save!!