Turning 40 is a momentous time in our lives.
For many men, this is the time when they get a sudden hankering for dressing head-to-toe in lycra and head out for long bike rides on Sunday mornings. It is also when they suddenly take up surfing, riding Ducati motorbikes or playing jazz licks on the saxophone. This is also the time when their political views switch from one extreme to the other and they get assertive with anyone who dares to disagree with their well-Googled opinions. They also develop an uncontrollable desire for wishing to attend high school reunions and get very sentimental about the old movies they watched in their youth. 
In short; for most people turning 40 means the beginnings of a serious mid-life crisis…
Looking Forward Not Back
But not everyone goes the same way. Footwear and outdoor gear company Merrell – makers of hiking shoes like the insanely popular Moab – turned 40 this year but unlike most, they refused to succumb to the usual traps that befit such an age. The secret to Merrell's success was in making a conscious decision to look forward rather than back. Company president Chris Hufnagel certainly sees it that way; "While we certainly respect the past, our eyes are looking at the next horizon and how we can make sure the next 40 years are better than the first 40." 
So, for their 40th anniversary celebrations, rather than celebrating the previous 40 years of trading, Merrell launched Future 40 – a program that focuses on the next 40 years of supporting new generations of outdoor lovers. So Future 40 is purely focused on Merrell backing current and upcoming initiatives and communities centered on inclusivity, sustainability, and empowerment.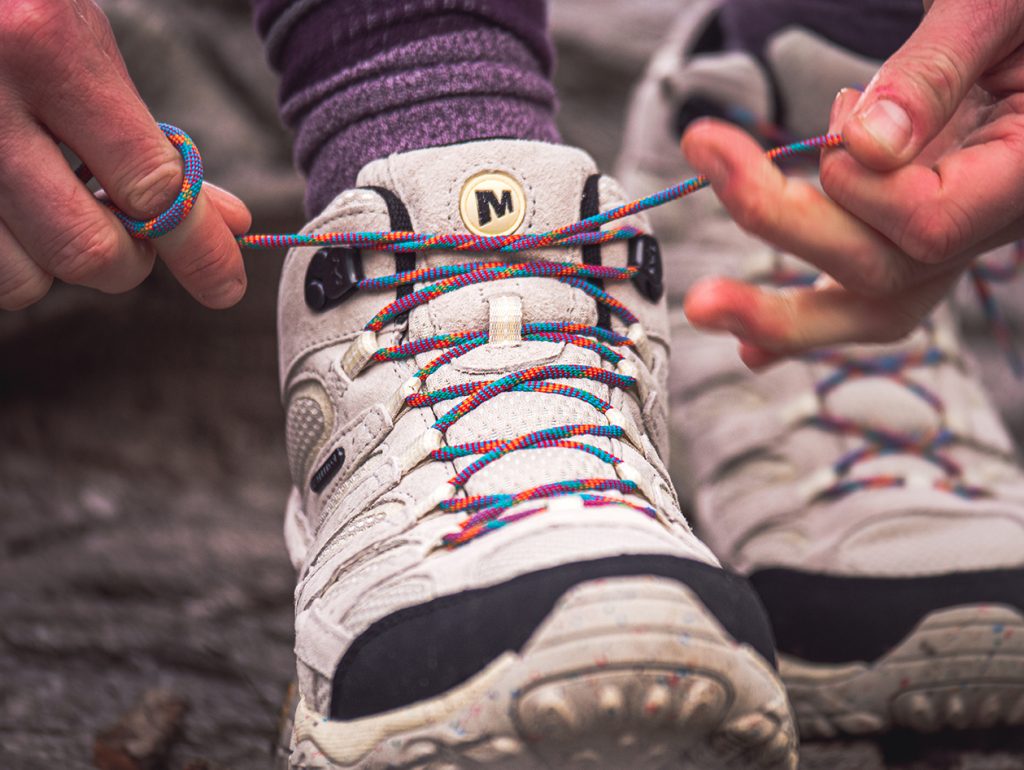 This means continuing with their successful current programs like their partnership with Jenny Bruso's Unlikely Hikers, a "diverse, anti-racist, body-liberating outdoor community" that gives a voice to the people who are traditionally underrepresented in the outdoors. Merrell even worked with the Unlikely Hikers to develop a shoe, the Zion Mid X Unlikely Hikers, and to help their work bringing true liberation to the outdoors.
Another partnership Merrell is keen to promote is Big Brothers Big Sisters which has a focus on getting young people off into the great outdoors. Currently this is a US-based program where Merrell provide gear and financial support to the organisation for pairing young people in need with adult mentors, while also focusing on creating outdoor exploration experiences for children who would otherwise not have an opportunity. Then there is the We Hike to Heal – Outdoor Journal Tour, an organization that helps women dive deeper into their personal development and growth by hiking through beautiful landscapes.
40 Under 40
One of the new initiatives Merrell is undertaking as part of their Future 40 celebrations, is the 40 Under 40 search. Merrell wants to find 40 changemakers under 40 years old to share their unique passion for building a more inclusive and sustainable outdoor environment for all. Then we can all celebrate those rising to the occasion and ensuring these next four decades are better than the last.

A Celebration in Every Step
But of course, at the end of the day Merrell is about footwear – and iconic ones at that. Alongside the original Wilderness legend in leather dubbed the "forever boot" by outdoor enthusiasts, take the equally enduring and ubiquitous designs inhabiting that juncture of fashion and function such as the ultimate, low-maintenance Jungle Moc, the easy-on, easy-off hiker in the Chameleon and the lightweight, uber-comfortable Moab hiking boot to name just a few of Merrell's triumphs of their presence in the outdoor space.
So as a birthday present for both Merrell followers and new inductees to the Merrell Universe alike, Merrell have kickstarted their 40th anniversary of breaking new ground both on and off the trail, by launching a limited-release collection of reimagined trail legends. And landing specially on our shores will be the 40th Anniversary Merrell Moab 2 Mid Waterproof boot, comprising a festive remix of past and present in an eye-catching Funfetti palette. Truly a momentous – and appropriately forward-looking – way to celebrate turning 40!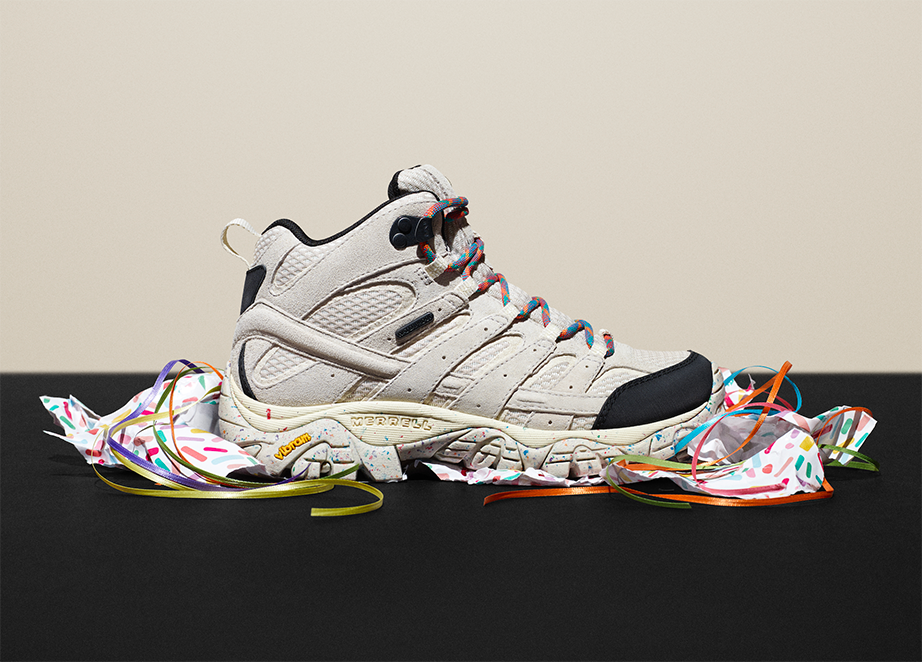 Moab
The 40th Anniversary Merrell Moab, the world's most popular hiking boot has been reimagined with the celebratory appeal of a milestone birthday. What better way to make the outdoors more accessible to all! 
Soft midsole foam gives the gift of all-day comfort

Gold-standard Vibram® rubber sole offers traction that's all singing, all dancing