A recent staycation at The Hotel Britomart has not only given me an existential crisis but it's also given me a whole lot of optimism for the future. The existential crisis part comes from the realisation of how much things have changed and how nuanced things are now. Things used to be a lot more black and white. Back in the 80s, if you wanted to know how to eat healthily, you just looked at the food pyramid before you loaded up on sweetened cereals and bread. And if you wanted to be environmentally friendly, you let the V8 Holden Commodore coast in 5th gear for a bit.
Nowadays we are thankfully a lot more informed and a lot more conscious, but there is still the idea that luxury and sustainability are two different ends of the spectrum. The Hotel Britomart would beg to disagree though. Not only have they created one of the most luxurious environments possible, but they have also created one of the world's most sustainable hotels. This uncompromisable focus on sustainably and equally uncompromisable focus on luxury, style and comfort seems like an impossible physics question where two kinds of opposite forces exist in the same universe. But through some kind of anti-gravitational force of magic, The Hotel Britomart pulls it off beautifully.
Not only does the hotel have a strong day-to-day focus on sustainable practices, but it was actually something that was set in place at the foundation of the building. It was designed and built at the outset to 5 Green Star standards established by the NZ Green Building Council, which means that 80% of construction waste was recycled, and the hotel's annual carbon emissions are expected to be 50% lower than a building designed to the minimum standards of the New Zealand building code. The design also helps to reduce ongoing energy consumption by maximising natural light and ventilation, reducing the need for artificial lighting and air conditioning. All timbers used in the hotel were sustainably sourced. 150,000 bricks used in the hotel facade were hand-made from 80% recycled crushed concrete and roof-caught rainwater.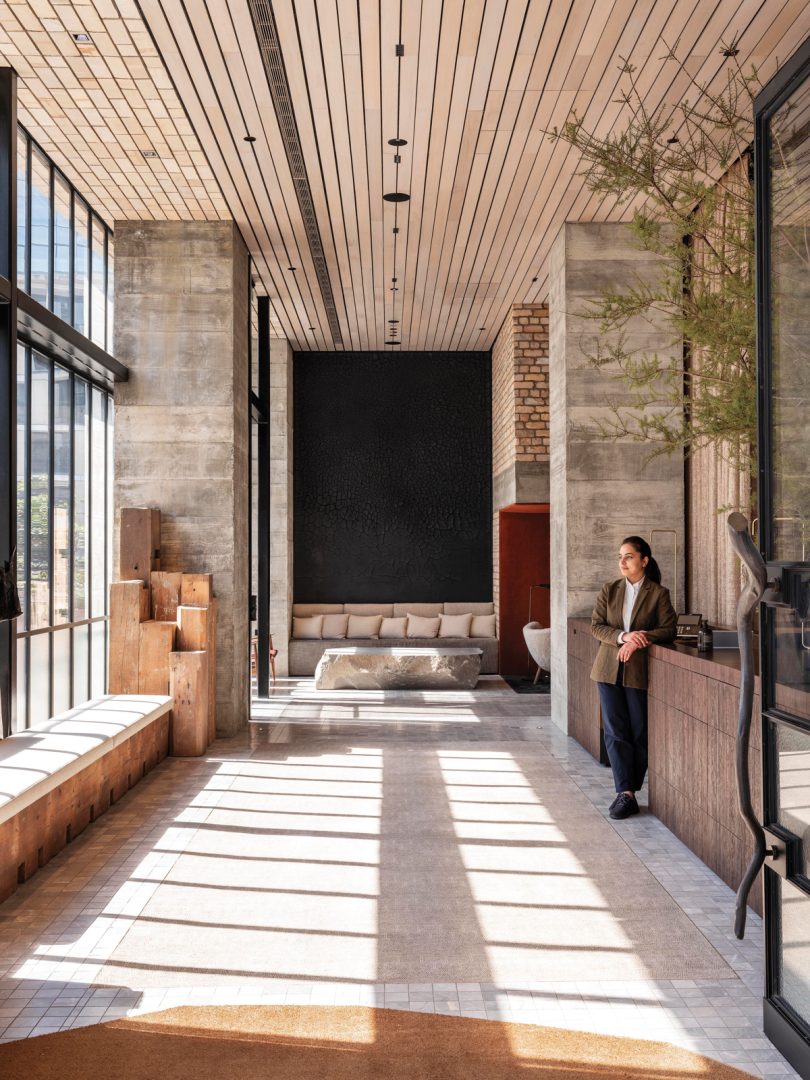 The hotel operates with 50% fewer greenhouse gas emissions than a building that meets the minimum requirements of the NZ Building Code. This is achieved by various initiatives like low-energy LED lights used throughout the hotel, mini-fridges and televisions with low-energy ratings, and high insulation and double-glazing designed to retain warmth and minimise external noise.
Water conservation is also a priority at The Hotel Britomart, with all taps and toilets rated with a 4 or 5 star WELS (water-saving) rating. The hotel also uses low or zero VOC (volatile organic compounds) paints, stains, and other finishes to improve the interior air quality.
The hotel's bedding and bath products also adhere to eco-friendly practices. Towels and linens are 100% organic cotton, while duvets and pillows are made from a microfiber derived from recycled plastic bottles. Even the hotel slippers have a cork sole, are made from recycled materials, and can be composted at the end of their life.
The attention to detail extends to the hotel's uniforms, which are locally designed and made and can be re-dyed, recycled or composted.
The hotel also has a comprehensive recycling program in place, and it uses eco-friendly cleaning products. In addition, they have partnered with local suppliers to ensure that they source their products sustainably. For example, the hotel's restaurant, kingi, sources its seafood from local suppliers who practise sustainable fishing methods.
But as mentioned, all of this focus on sustainability has not taken anything away from the luxury side of things. And don't just take my word for it. The hotel has been picking up a load of accolades including the Best Luxury Hotel award and the Best Restaurant award for kingi at the 2022 Hospitality New Zealand Awards. kingi was also acknowledged with two hats at the recent Good Food Awards.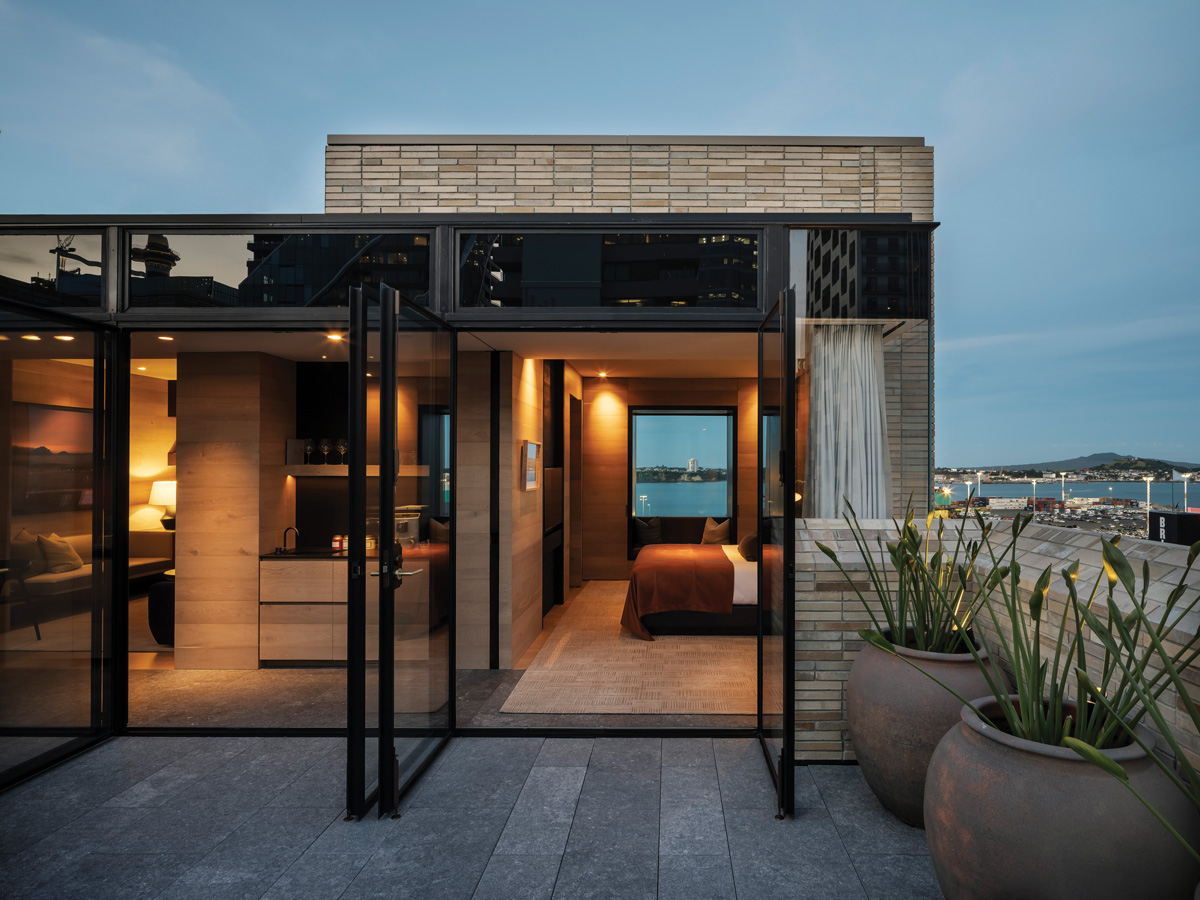 And I think this focus on sustainable use of materials has actually created a really unique framework for architecture and design. Cheshire Architects, who have been involved in the wider Britomart development from the start, emphasised showcasing local materials and craftwork throughout the hotel, with many fittings made from recycled and ultra-local products.
The main lobby, located beneath the brick mass of the new building, has a sandblasted oak greeting desk with a live Totara tree emerging from a hole in its surface. It sits opposite a bench crafted from recycled kauri wood. There is a seating nook in the lobby that features a blue stone coffee table sourced from the port city Timaru and a wall of black cracked plaster made using Auckland clay. And despite the scale of this project, there is not a detail that has been left unconsidered. The hotel also features custom objects such as the timber bedside lamp and lanterns in the rooms, tree branch bronze handles and moulded glass for the chandelier. It's this really interesting and eclectic collection of elements that just somehow works cohesively together to create a multiscale work of art.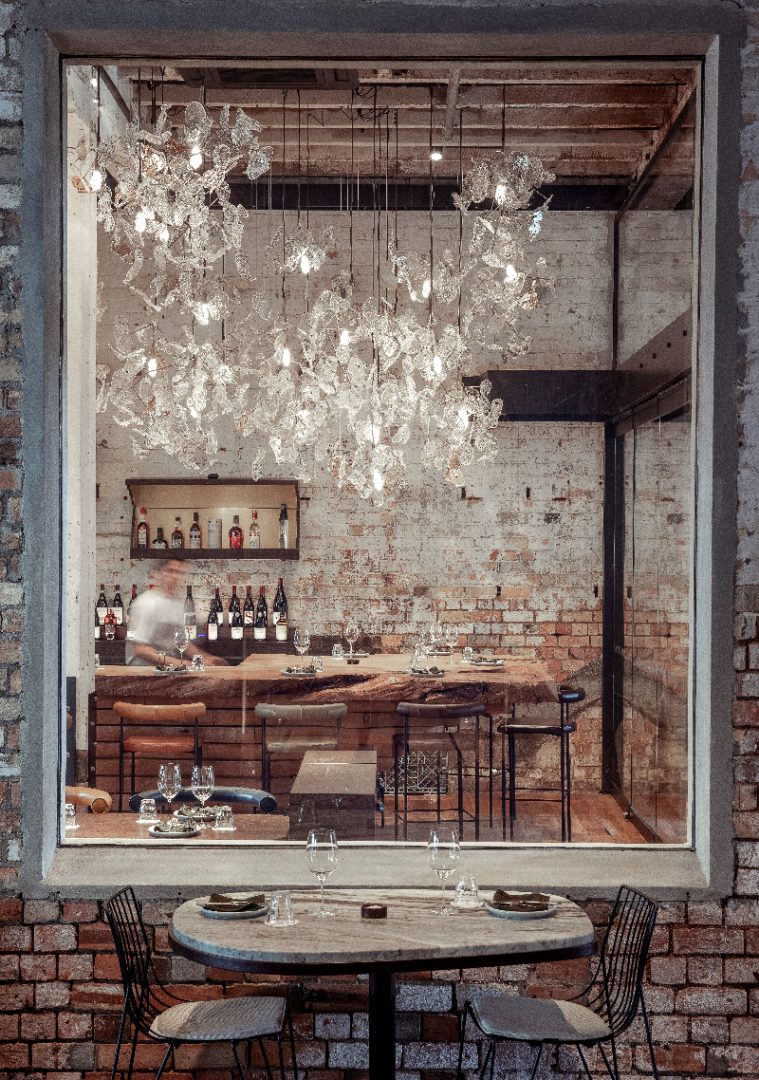 The hotel has 99 rooms with three different colour schemes, depending on their position and light levels. There's also five rooftop Landing Suites, three of which have private terraces overlooking the harbour, designed in collaboration with Seattle-based Lucas Design Associates.
The other contradictory mindbender about The Hotel Britomart is that it is such a celebration of New Zealand on every level including artwork and books throughout and of course the aforementioned design elements, but at the same time it is so unlike a typical New Zealand hotel. In many ways, it is like a cool pocket of Manhattan. I commute past Britomart, and this staycation gave me such a different perspective on the area. It's like a real love letter to local, but with a kind of worldly scale. Honestly, this hotel is such an enigma to try and pin down. It's like a spinning top dancing between sustainability, luxury, design and comfort, local and international. It really is an inspiring feat.