The cool thing about concept cars is that they allow a snapshot into a future imagined by designers without being bound by the realities of production. This allows for some fantastic exploration that pushes the envelope of design. The unfortunate thing about concept cars is that they allow a snapshot into a future imagined by designers without being bound by the realities of production. This means that the reality can be very different to the concept. So great is the gap often between concept and production that they could almost come from two different universes. One is an Instagram hazed world, where everybody looks as though they have come out of a casting call for a music video. The other is an Excel spreadsheet superuser convention. Somehow though, Lexus combined these two paradigms in a swirl of utter fantasy and cold hard reality with their Lexus LC 500.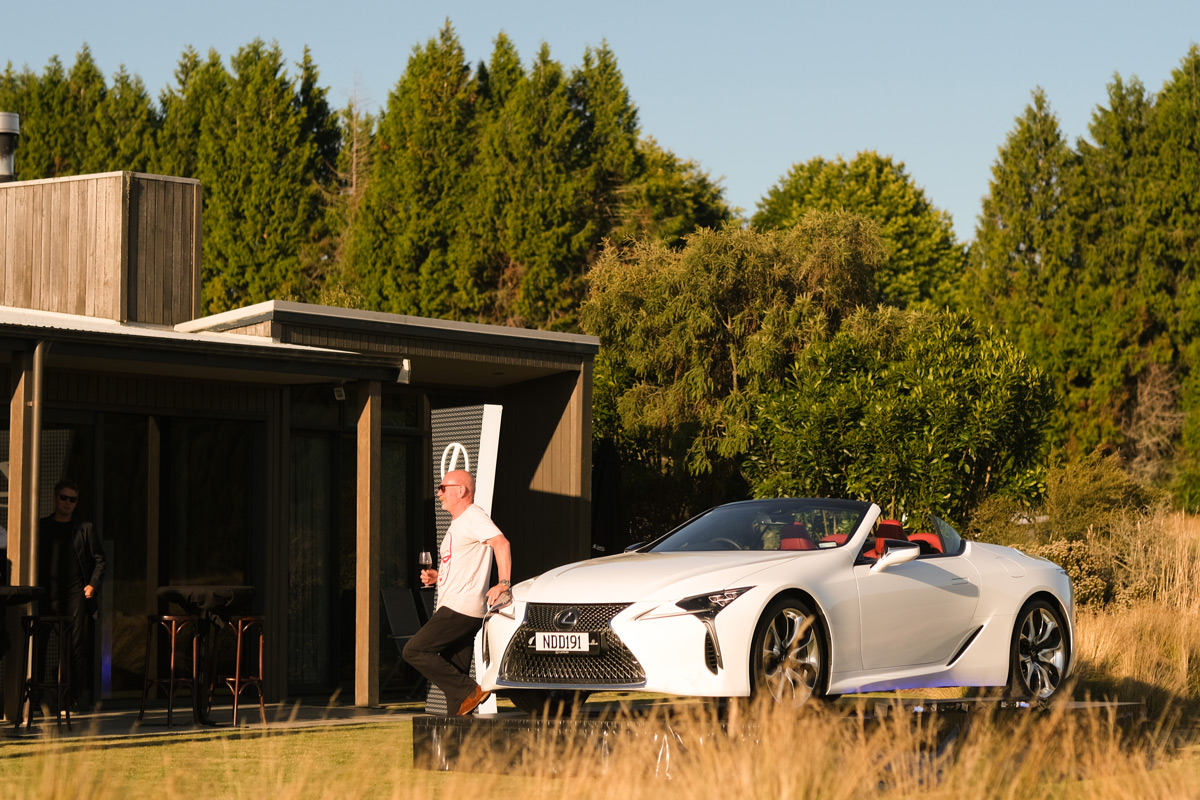 Back in 2012 at the Detroit Motorshow, the Lexus LF-LC Concept was the hottest offering on display. Sleek, sweeping lines flowing from that iconic puckered grill made it seem almost like the lovechild of a stingray and a Frank Gehry dream stuck its tongue in a power socket. In simple terms, it was spectacular.
The amazing thing is that somehow that 2012 vision of the future actually became a reality in the form of the Lexus LC 500, a production car that you can actually own and drive. I mean, you could place it on a large slow spinning disc and have people come and look at it if you want, but it is so much more fun to drive it. And it has just become even more fun with the arrival of the LC 500 Convertible.
Lexus not only know how to make hot cars, but they know how to launch them too. And so it was that we had the fortunate experience of driving the LC 500 from Palmerston North through to Kinloch for a bit of Lexus-style hospitality, before heading to Hampton Downs for a track experience.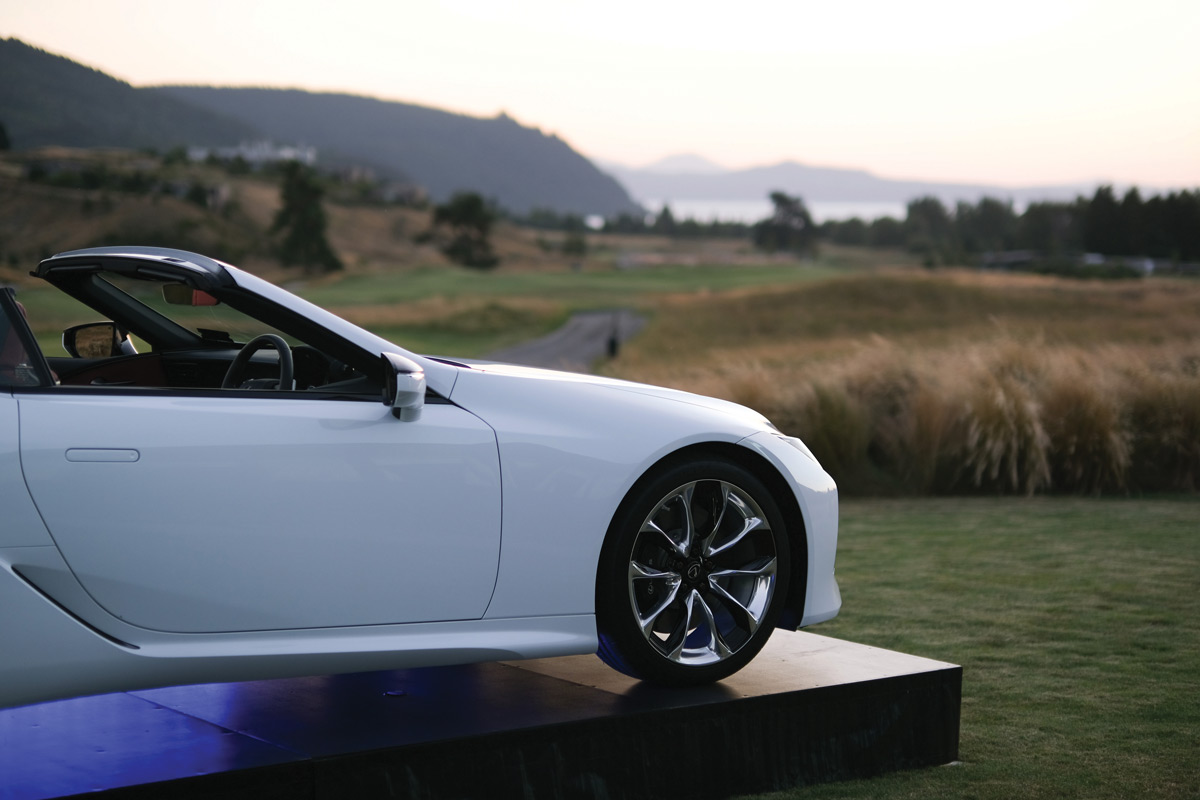 A summertime drive up the Western side of Lake Taupo and a blat around a racetrack are, of course, two slightly different styles, but the LC 500 Convertible will handle either without breaking a sweat. To be fair, the LC 500 is a true soft top cruiser which, with some clever aerodynamic manipulation, provides a wonderfully smooth, unturbulent ride, even with the top down at open road speeds.
It is almost eery how quiet the wind noise is, which is actually great as it allows more opportunity to enjoy the wonderful tone of the 5 litre, naturally aspirated V8. This powerhouse transfers energy to the rear wheels via an insane 10 speed automatic transmission which really works its magic to get the best out of the powerband in any scenario. The natural aspiration helps anyway with this sense of instant power, but the transmission just amplifies this instantaneous acceleration when needed while also creating total ease in more of a cruising situation.
This kind of flexibility really becomes apparent in a track situation when the moments between footdown acceleration and hard on braking become a tighter affair. The basic power fundamentals of course help, but the nature of the soft top's lower centre of gravity, a new lightweight die-cast aluminium suspension brace, and a performance dampener, just glues the LC 500 to the road, allowing you to sweep through the tightest Hampton hairpins with ease before being rewarded with the echoed roar of that beautiful V8 through the back straight.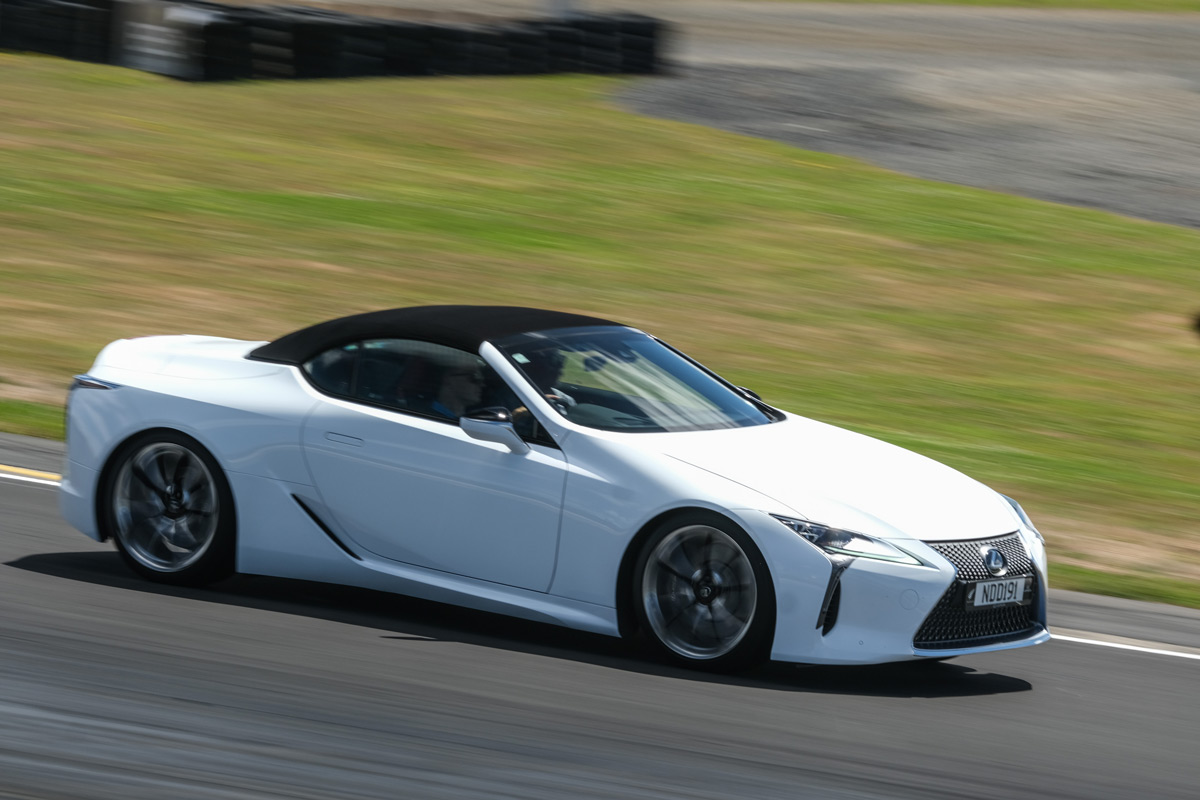 Ok, so chances are that this kind of carry on won't be the average daily use for your LC 500, but it is nice to know that underneath that suave exterior is the beating heart of a pure race car. Even sitting still in a carpark, as we found, it is a head turner, people will walk out of their way to come and check it out. And if you are worried about the wrong sort of people being drawn to it, you will be please to know that the soft top is "stab proof". I hope that capability wasn't developed from an actual customer experience, but it is nice to know that the interior is protected.
And quite an interior it is, by the way. The designers in charge of the interior obviously didn't want to let the exterior get away with all of the show car limelight so they pulled out all of the stops. Soft leather, intricate stitching guiding sculptured bodyformed seats and sweeping, waved door skins combined with perforations and delicate piping throughout, create this kind of human crafted juxtaposition with the high-tech gadgetry, info screens, illumination and elements of the wonderful Mark Levinson Reference Surround system, which includes 13 speakers and an 11-channel digital amp. Still, you can travel along way to the rhythmic tone of that V8 without needing music.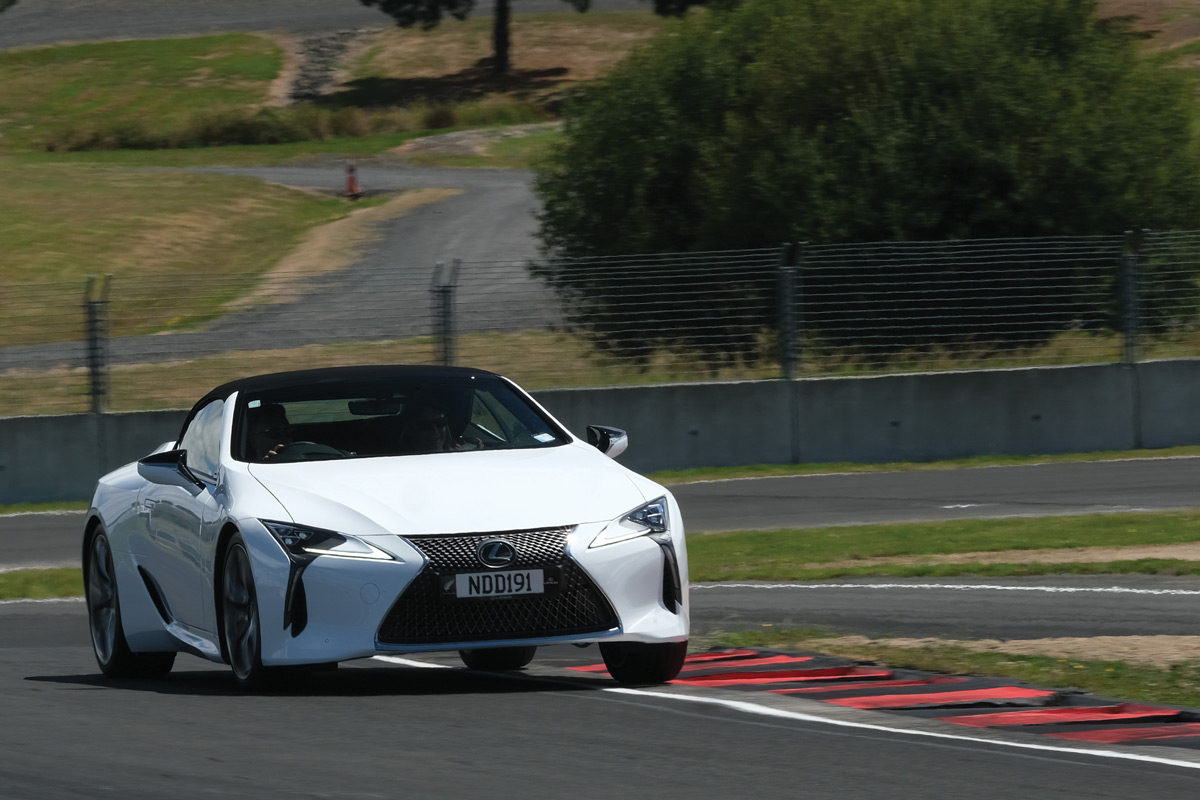 The LC 500 is such a contradiction in many terms and somehow manages to straddle this line between utter insane aggression and plush comfort. And if the trajectory of a lot of concept cars had been followed, those elements would have been broken up and found themselves as maybe a door handle detail or grill treatment in a far more conservative production car, but somehow the LC 500 became a thing and for that to be evolving into other iterations, like a convertible, is something really special.