Without Villains Bond is just a guy who picks up women at hotel bars for one night stands. Without villains the women wouldn't end up inexplicably dead a day or two later to send him a message. Without villains, he'd have to have awkward conversations with them later when they catch him at another hotel bar picking up anyone in a cocktail dress.
So it's safe to say that villains play a major role in Bond's mating ecosystem. But withall joking aside, a great bond film is defined in part by its villain. You'll remember a couple great gadgets maybe, the car that he inevitably prangs, and the villain waiting for him at the end with an elaborate torture device to kill him with. Over the years there have been some great villains, and today we're going to take a look at the top ten.
Raoul Silva
Skyfall
Javier Bardem
When it comes to doing scary, no one can do it better than Bardem. Many people will first remember his iconic portrayal of Chigurh, the merciless killer with a captive bolt stunner in No Country For Old Men. He captured all the steady persistence of the T1000 and brought it to life, killing everything in his path. In Skyfall he plays a much more camp Raoul Silva, a man intent on making MI6 feel his wrath after M trades him for six prisoners with the Chinese. The Ex agent turns to becoming a cyber criminal and successfully brings an end to M's life. He isn't out to destroy the world (at least not today), he's doing it because it's personal. Bardem's portrayal is memorable and electric which makes him instantly stand out as one of the great bond villains of all time or at the very least of the Craig era. He also brought new life to the monologue as he did it in one long take while slowly walking toward Bond.Silva brought more true villany to the table than any other before him. Burning down Bond's childhood home, killing M, wrecking a perfectly good Aston Martin DB5, when will the horror stop? Oh yes, he shoots the Bond girl in the head after Bond refused to.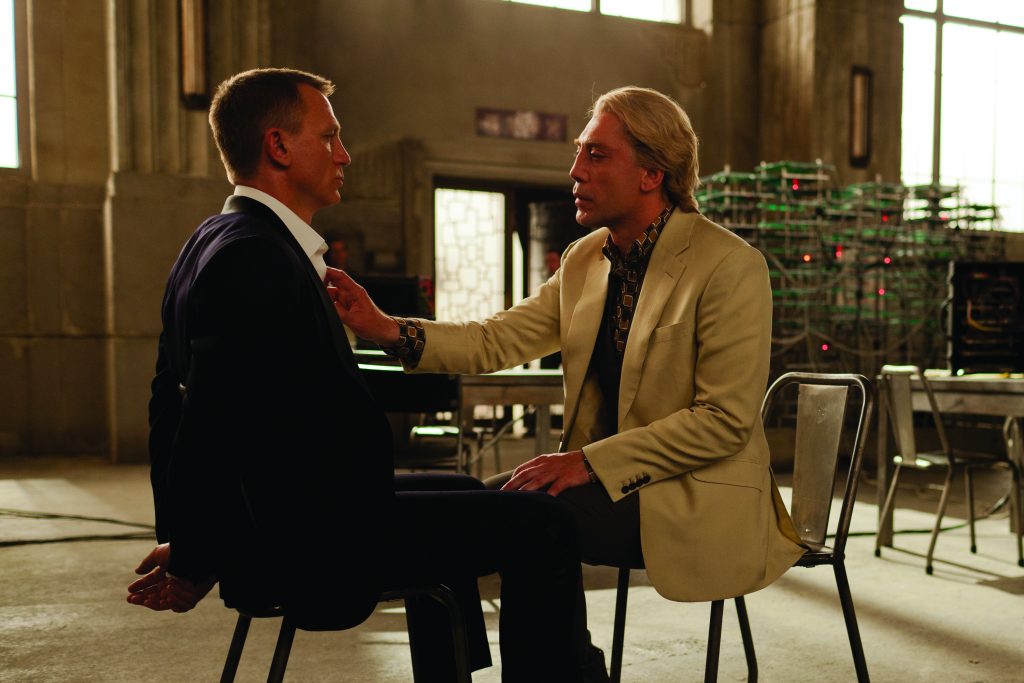 Alec Trevelyan
Golden Eye
Sean Bean
Agent 006 represented yet another grim reflection of Bond. As brothers taking different paths 006 managed to bring out actual hate and melancholy from Pierce Brosnan's Bond. Their fight scene was as equals, and the chemistry between the two characters made it a true grudge match to enjoy. As for setpiece moments dropping Sean Bean inside of a giant radar dish was a good one. Sean Bean originally auditioned for the part of Bond, but was beaten to the punch by Brosnan. However it looks like he still got a very fitting role because as we all know, Bean's characters are never allowed to survive long.
ALEC TREVELYAN
"FOR ENGLAND, JAMES?"
JAMES BOND
"NO, FOR ME."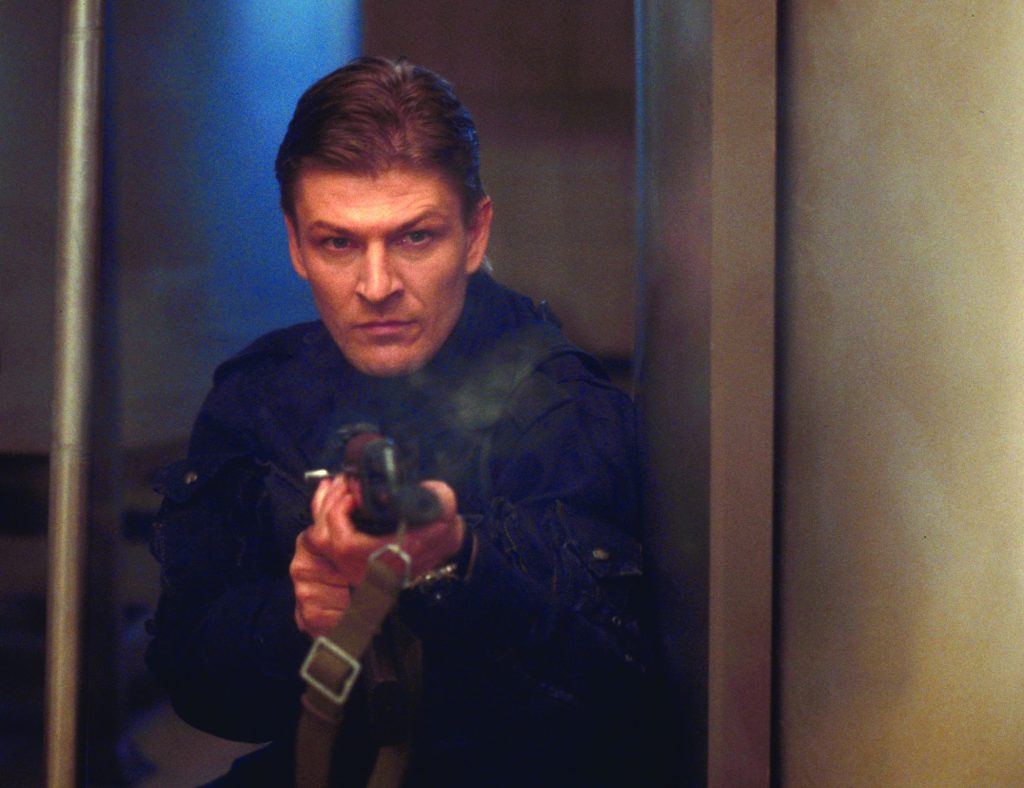 Honourable Mention- XENIA
Gimmick goons are the best, and Xenia the hitwoman played by Famke Janssen had a great one (depending on what you're into). Her victims were strangled by her thighs as she gets off on the whole thing. As far as femme fatales go she's a classic. Her last name "Onatopp" is also a throwback to earlier Bond girls, which were all about the innuendo. Famke Janssen didn't muck about either. In her love scene with Brosnan she broke a rib. There's jokes about safe sex there, but I'll leave them to you.
Francisco Scaramanga
The Man With The Golden Gun
Christopher Lee
Scaramanga, The triple nippled assassin who makes a pistol out of a cufflink, golden waterman fountain pen and a cigarette case literally weaponised fashion in a way that Bond had only ever done figuratively. The Man With the Golden Gun was a product of its time, aka, terrible. Movie goers wanted westerns, karate movies, and weak scripts. Scaramanga was a wasted villain, But he was still great.
Scaramanga was brought to life by Christopher Lee, who rivals Bardem for being able to bring a solid villain to a movie. From Lord of the Rings to Count Dracula, he could do it. In fact he was such a hot pick that Ian Fleming had him pinned for his first choice to play Dr. No. Unfortunately Lee had to wait till the Roger Moore era to have a crack at being a part of the series.
FRANCISCO SCARAMANGA
I LIKE A GIRL IN A BIKINI. NO CONCEALED WEAPONS.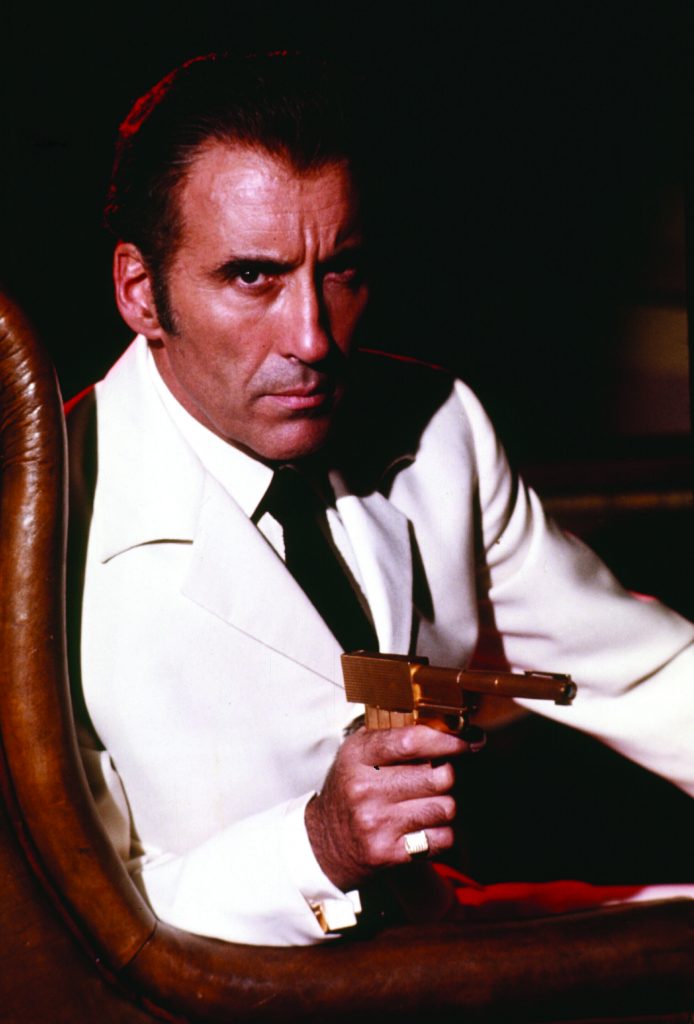 Mr. Big/Kananga
Live and Let Die
Yaphet Kotto
What other evil genius can run a country while also leading a double life as harlem gangster who smuggles drugs into the USA? He's a reasonable villain who doesn't want to kill off the planet because that would eat into his bottom line.
Kotto is known for playing some pretty iconic characters in Alien and Running Man. Although he went through a lot to play such a unique villain. "They were afraid the public would react negatively to a black villain so they didn't play my character up. That hurt me a lot, man," he told Big Issue. This was in the same interview he mentioned that whoever plays bond next shouldn't be black. "James Bond was established by Ian Fleming as a white character, played by white actors. Play 003 or 006, but you cannot be 007. A lot of people say we should be allowed to play everything. Don't be ridiculous. If I say I want to play JFK, I should be laughed out of the room."
I still think that Idris Elba would be a good shake up for the series.
DR. KANANGA
TEE HEE, ON SOLITAIRE'S FIRST WRONG ANSWER, YOU WILL SNIP THE LITTLE FINGER OF MR BOND'S RIGHT HAND. ON THE NEXT WRONG ANSWER, YOU WILL MOVE ON TO MORE.. VITAL AREAS.
AURIC GOLDFINGER
Goldfinger
Gert Fröbe
You know that you have a good villain on your hands when you name the entire film after him. Goldfinger has one of the most iconic lines of any Bond film, and as far as plots go his is one of the best. Setting off a nuke under Fort Knox to irradiate the American gold reserves to increase the value of his own gold. Now that sets a bar for all evil geniuses after him. Some of the best Bond villains have been reflections of Bond himself in some way or another. But Goldfinger is his polar opposite, except for easily being smarter than Bond. Although he could have been a little bit smarter with cutting Bond in half with that laser, surely? Gert Fröbe the actor has his own interesting story to tell. He was part of the Nazi Party in 1929 at the age of 16 and left in 1937. When the regime was running the place he helped hide two german jews that were being hunted by the Gestapo. The fact that he was a part of the system was enough for Israel to ban all his films (including Chitty Chitty Bang Bang) until two people came forward to say that they wouldn't be alive today without his help during that horrific time.
JAMES BOND
DO YOU EXPECT ME TO TALK?

AURIC GOLDFINGER
NO, MR. BOND, I EXPECT YOU TO DIE!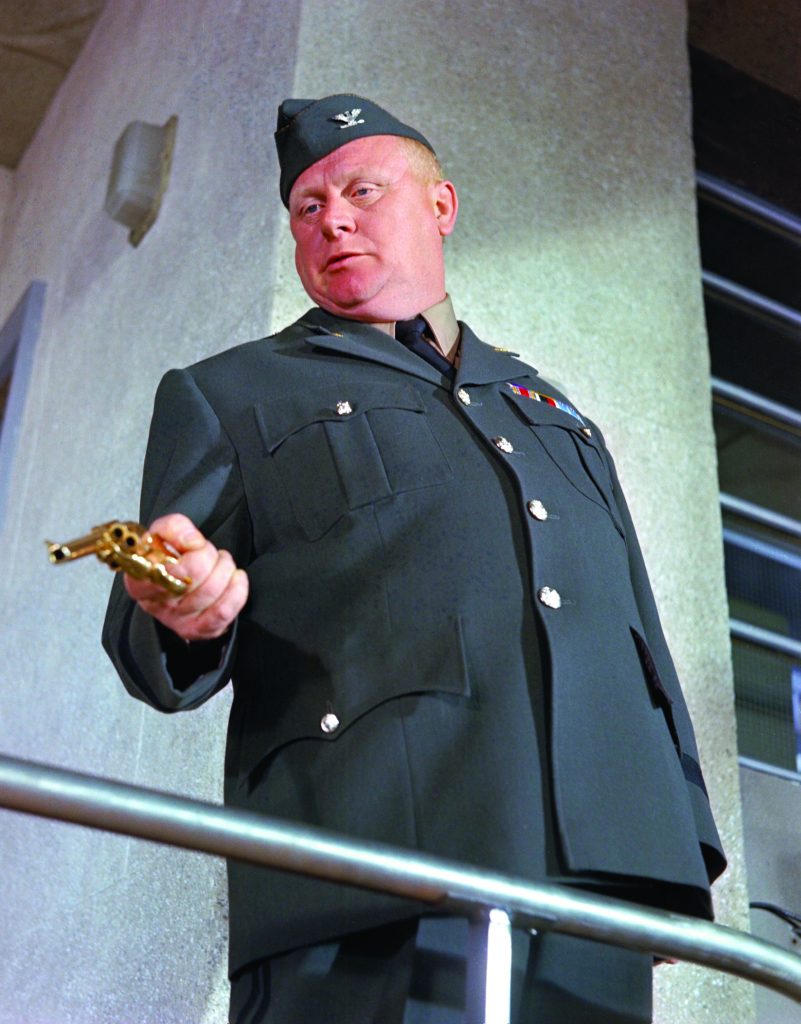 Honourable Mention – ODDJOB
You can't talk about Goldfinger without also mentioning Oddjob. He's the perfect hire, he does everything you say. "Paint a woman gold", he goes off and does it without complaint. "Break someone's neck with your metal-rimmed hat", before you know it you have dead people all over the floor. Oh he's also a decent caddy when he needs to be as well.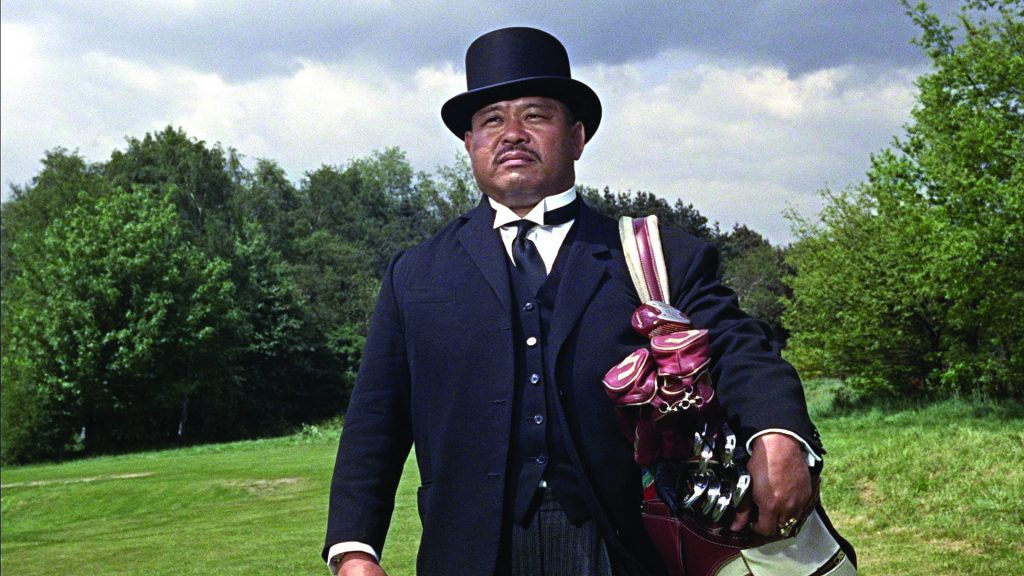 Red Grant
From Russia With Love
Robert Shaw
Grant is the first Bond Doppleganger, his counterpart in every way, except Russia edition. Along with his watch that has garroting wire in it he's a force to be reckoned with, even if he gives himself away as a dirty communist when he orders a red with his fish.Their end fight in a darkened train carriage is rough and deserving of a Jason Bourne film.
JAMES BOND  RED WINE WITH FISH. WELL, THAT SHOULD HAVE TOLD ME SOMETHING.

DONALD "RED" GRANT
YOU MAY KNOW THE RIGHT WINES, BUT YOU'RE THE ONE ON YOUR KNEES. HOW DOES IT FEEL OLD MAN?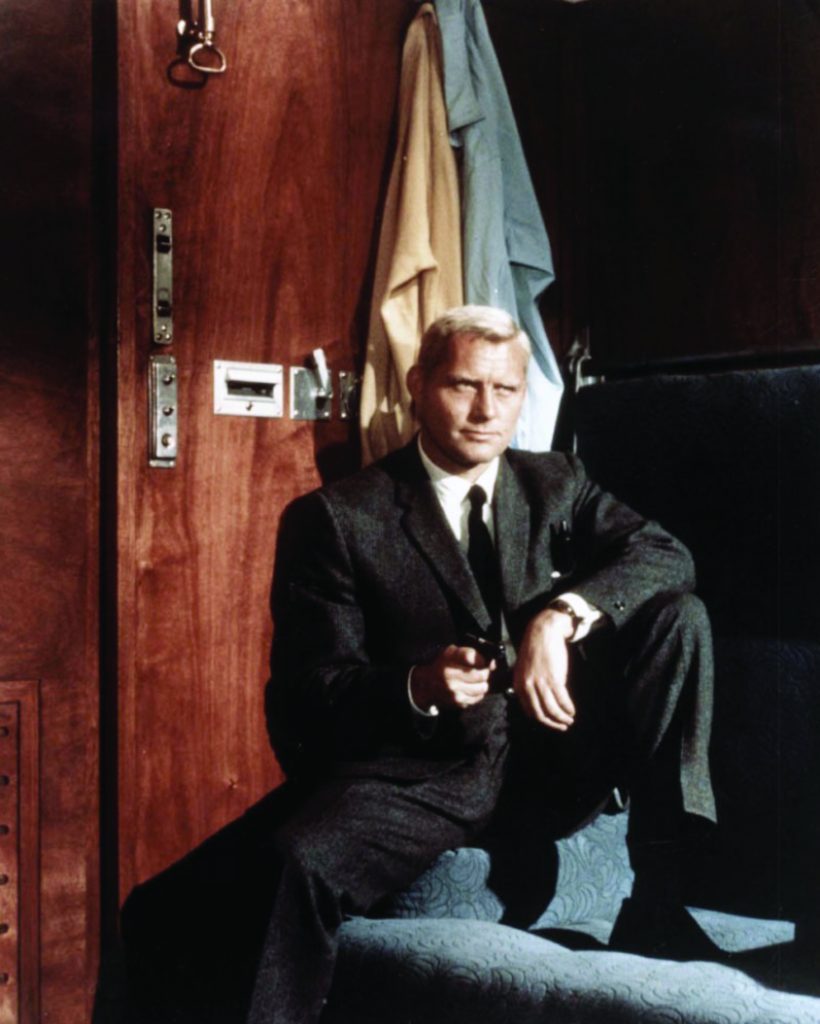 Honourable Mention- JAWS
As far as gimmicks go, a seven foot killer with steel teeth is a good one. He's formidable and memorable in a film that itself already had a lot going for it. He overshadows Karl Stromberg, the main villain of The Spy Who Loved Me and he didn't even need any spoken lines to do it. All you need to become iconic in the Bond franchise is to bite your way through a couple necks, a padlock, and a lamp. A knee to the groin can't even bring him down, and in the end he even becomes an unlikely ally to our martini shaking protagonist.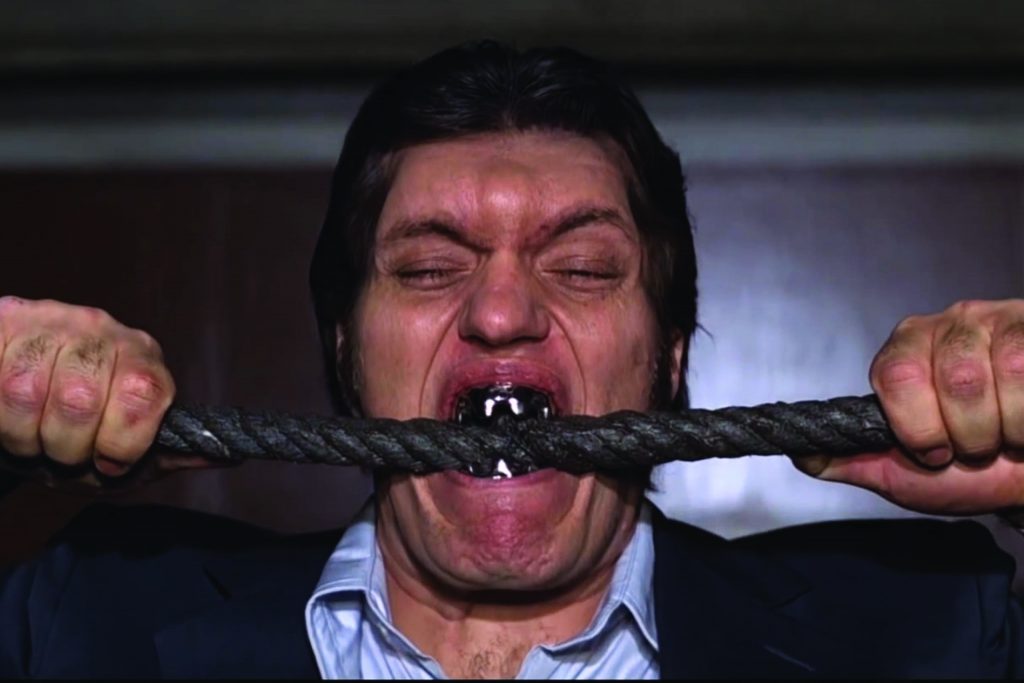 Ernst Stavro Blofeld
You Only Live Twice
Donald Pleasence
Blofield is THE Bond Villain. His classic look has been copied by such acts as Mike Myers as Doctor Evil and Kim Jong Un as the leader of North Korea. He's a man so evil that when he first appeared he needed two people to act as him, one as his body (Anthony Dawson) and one as his voice (Eric Pohlmann) in From Russia with Love and Thunderball. That's the sort of thing that's only reserved for the likes of Darth Vader. These two of cat stroking aficionados are the only ones to ever reprise their roles as Blofield. As controversial as this might be we have to pick one
actor that represents the villain the best, and that would have to be Donald Pleasence's Blofeld from You Only Live Twice. He was the blueprint which all Blofelds after him have had to measure up to. The cat stroking, the scarred face. He's the one you remember, and not even Christoph Waltz in Spectre could reach the same iconic status.
ERNST STAVROS BLOFELD
JAMES BOND. ALLOW ME TO INTRODUCE MYSELF. I AM ERNST STAVRO BLOFELD. THEY TOLD ME YOU WERE ASSASSINATED IN HONG KONG.

JAMES BOND
YES, THIS IS MY SECOND LIFE.

ERNST STAVROS BLOFELD
YOU ONLY LIVE TWICE, MR. BOND.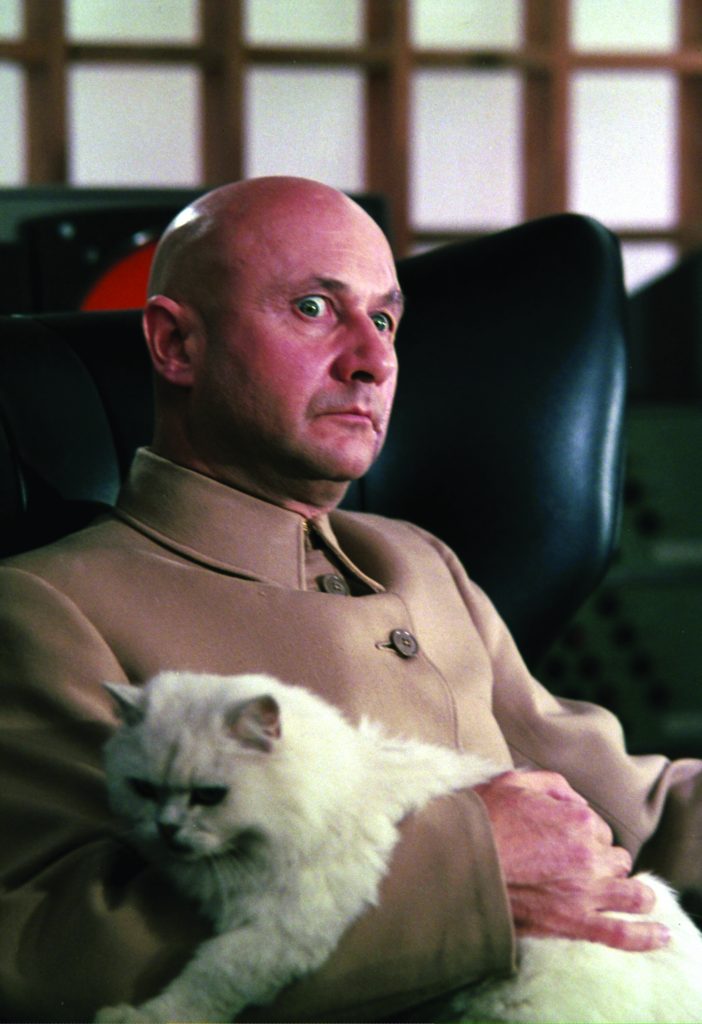 Elektra King
The World Is Not Enough
Sophie Marceau
The only time the lead Bond Villain has been a woman, and her abilities to dupe Bond are off the charts. He's just not built to deal with it. She tricks audiences and Bond alike early in the film as what everyone thought was another bedroom conquest. She dances around M, Terrorists and Bond alike in her tricky games. She even manages to get a terrorist to commit suicide for her in an attempt to nuke all of her oil competitors out of existence. Even at the very end she gives a memorable performance. Convinced that Bond couldn't shoot a lover he crosses a line we didn't think was possible, and shoots her while she's unarmed. In some ways all these villains find a small piece of Bond to chip away at, while he may win the battle, he may not win the war.
ELEKTRA KING
THERE'S NO POINT IN LIVING IF YOU CAN'T FEEL ALIVE