A video projector is truly one of life's great social pleasures. I used to have one back in my flatting days which proved ideal for All Black tests and multi-player video game sessions. We had an L-shaped lounge so I'd hang one of my mangy (washed!) old bed sheets up at the junction as a screen and we'd set up a grandstand at one end and I'd back project onto the sheet from the other. It was a fantastic way to turn the usually fiercely individualistic experiences of watching TV or playing games into mini-parties as we'd have a couple of dozen people show up each time I busted out my projector. Our mates would all cram into our armchair grandstand, drink and cheer while they watched actual-sized rugby players or game characters strut their stuff.
Of course, video projectors have moved on heaps since the days of my crude three bulb blaster, with the brand new Epson EH-LS500B being the pick of the bunch as far as I'm concerned. Best used with Epson's ALR (ambient light rejecting) screens, but can be projected onto any surface, the sheets can stay in the hot water cylinder cupboard and all those clunky pull-down screens can stay the heck out of your lounge too.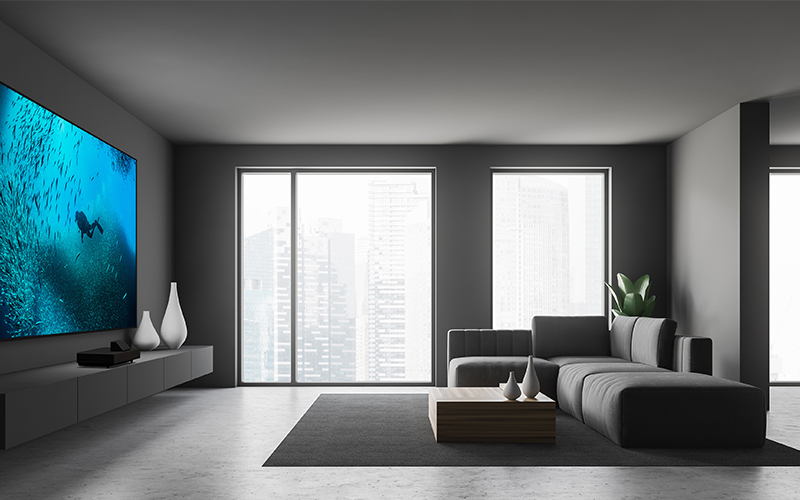 The most amazing thing about this Epson projector though has got to be how small it is and just how close you can put it to the surface you're projecting onto. As an ultra-short-throw (UST) projector, you can sit it literally centimetres away from your screening area and it can still beam up a supersized image that is, well, as big as your wall – or at least 1.5m by 3m. Gone are the days of needing to bolt a great big ugly box onto your ceiling or screaming death threats at anyone walking in front of the lens and casting massive silhouettes over your movie. Being so close to the wall also means there's no chance of tripping over any cables either and with two built-in 10w speakers there's no need to rig it up to your sound system. Despite its slim size, there's even a secret compartment to store a 4K1 streaming device at the front or you can use the three HDMI inputs for whatever your sources.
Of course, the most important aspect of a projector is the picture quality and this is where the Epson really kicks butt. With a high brightness of 4,000 lumens and a contrast ratio of 2,500,000:1, it pumps out vivid, lifelike content and defined shadow detail with deeper – or 'crunchy' as the art directors love to say – blacks. Always a good sign of quality! Epson's 3LCD technology also means up to three times brighter colours while the Detail Enhancement technology ensures sharp and smooth images too – and no more 'rainbow effect'! Even in bright rooms.
Maybe I should re-arrange a few armchairs in the lounge and put out an APB for bods keen to test out the new projector…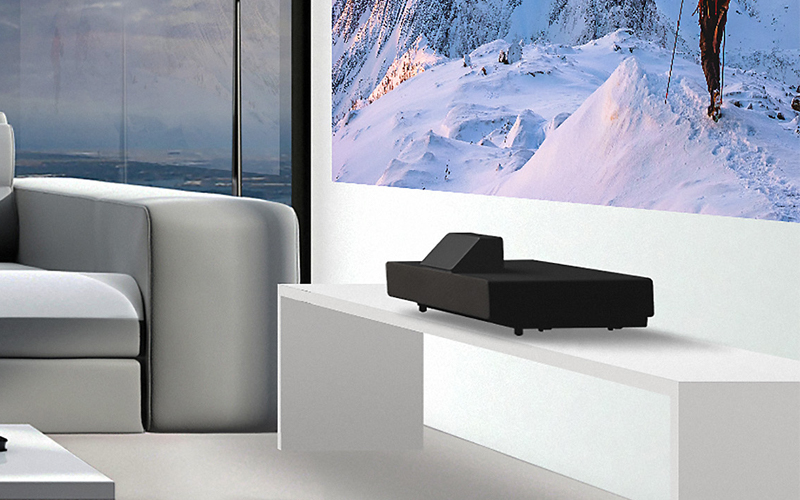 Key Features
4K PRO-UHD1 laser ultra-short throw: Watch 4K content and place this stylish model close to the display area

Movies, box sets and gaming: Set the size of the display between 65 – 130″ to suit what you watch

Simple to use: Three HDMI inputs and space for streaming devices

Bright colours: Equally high White and Colour Light Output

Watch content every day for 10 years3: Long-life laser light source of 20,000 hours in Eco mode
Find out more by visiting Epson's website.