When one files through the Spotify playlist of artists that have helped create the artistic landscape of Aotearoa, certain names pop out, for sure. Dave Dobbyn, Split Enz and Six60. Kimbra, Marlon Williams and Lorde. Stan Walker, Fat Freddy's Drop and Tiki Taane. All these names, admittedly, hold such huge weight on how music is perceived from Aotearoa, New Zealand. Our music has heart, and emotional drive. It's cutting-edge yet raw, new-age—a sound that takes risks, no-matter-what. Music from this corner of the globe continues to wow global audiences on an epic scale so when one of these big names do a project out of their comfort zones, the world listens in anticipation.
One of those names that is currently raising eyebrows (in a good way) around the world is that of Tiki Taane. You wouldn't be a Kiwi music-lover if you didn't know his name. He first rose to fame as the front-man to Salmonella Dub, a band that truly introduced drum and bass to New Zealand. Then, after 11 years, Tiki decided to go solo and start doing his own thing. Still he had that style—that reggae-dub-hip-hop mixture we all love and adore from him.
His debut solo album, Past, Present, Future, made it to number one on the charts (quite rightly knocking Chris Brown from the top spot after seven weeks) and made 'Always On My Mind' the highest-selling single ever in New Zealand. Also, 'Always On My Mind' successfully made it into our hearts. We know the words, and the tune, and are quietly singing the song as you read this, aren't you?
Taane's a Kiwi icon, for sure. Tiki's latest project, Tiki Taane In Session With CSO, is a 68-minute documentary-film shot all the way back in 2021 at the fully-refurbished Christchurch Town Hall. It's a stunningly shot and wonderfully mixed film that certainly shows the award-winning, Kiwi icon at his very best, with a 50-piece orchestra in-tow. As you sit and watch Tiki's latest achievement, there are so many things that pop out at you. The music—obviously—is phenomenal. But each shot feels like you're there, in the room, with Tiki. This project truly fuses together culture and performance in such a unique way. The film has already garnered huge acclaim overseas in places like Paris and Germany, and it is to be released on these shores on the 11th of August. An album too, tilted Tiki Taane in session with CSO Live Album, is to be released the same day.
M2 got to sit down with Tiki and talk about his latest project.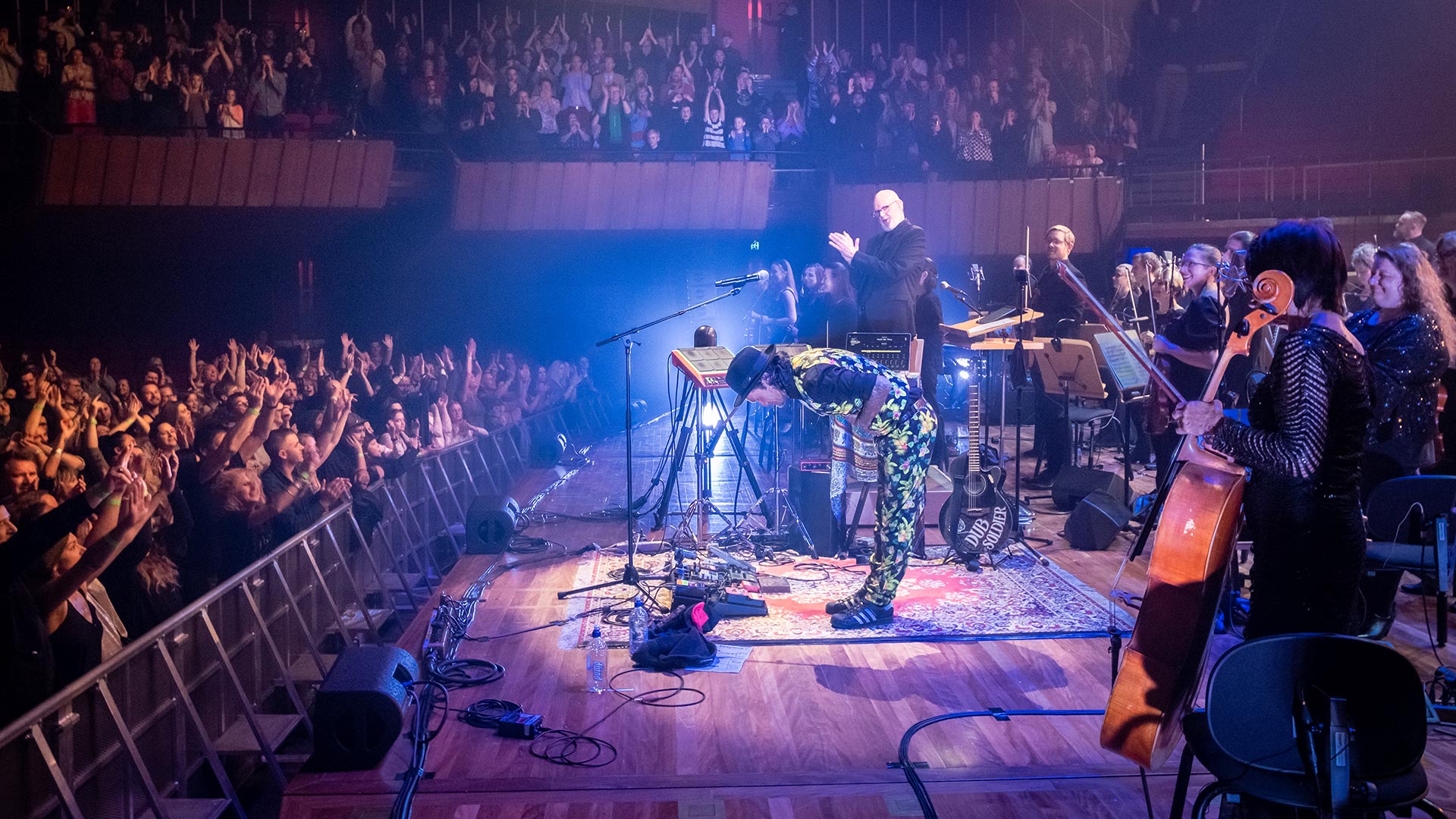 How's your day been so far?
I've been driving up from Papamoa (which is like a three-hour drive) so it's a good time to listen to podcasts and new mixes. I actually really enjoy it…All you can do is drive and listen to stuff.
What sorta stuff have you been listening to?
I follow Lex Fridman and he's very much on the pulse of AI. He's always got someone on [his show] who's cutting-edge and they usually discuss where AI is heading. It's crazy, mate.
I need to take my interviewer-hat off and thank you for 'Always On My Mind' (which came out in 2008). What a banger, mate. That song took me through high-school, for sure.
Bro, that's so cool. Thank you very much, I appreciate that. You never know when you write a thing, the power of it. When you create something and it connects to someone else, it's so raw and vulnerable. I'm very appreciative that it still resonates.
When you go to write something, do you always keep that connection in mind?
I think the connection for me is about the believability of myself. I have to believe what I'm singing about, and what I'm saying. If I can articulate that the best I can into a musical format, then I've done the best thing I can do. I know then that that authenticity may perhaps help someone else. For me that's the important part—I can record it, get it down with as much spirit as possible where people are gonna put their headphones on and listen to it and stream it. Once you release it, it's gone into the world and then you just move onto the next one.
With your next award-winning project, Tiki Taane In Session With CSO, what was the most fulfilling part of doing that?
There were so many steps along the way that were amazing and fulfilling. I think the first big fulfilling part of it was sitting down with the arrangers—Tom Rainey, the conductor, Hamish Oliver, Reuben DeLautour and Ewan Clark. You can only imagine how much out of my comfort zone I was! There they were trying to write orchestral pieces to my songs. I had to sit with that and really articulate what I wanted to have happen with the orchestra. At the end of the day, I had a 50-piece orchestra at my disposal. I was surrounded by these incredible musicians and incredible human-beings who are all so talented. That was so humbling and fulfilling.
Going from that creative space into the rehearsal—actual humans sitting there reading the music—was incredible. 48 hours later we had a sold-out audience in Christchurch at the Town Hall. It was after the earthquake and just going out and seeing everyone just so moved and being part of the whole experience of us doing this once-only thing. That was another extremely fulfilling thing. Being on stage and not knowing if it's going right. I'm trying to film it and record it too. Being able to smash the gig and walk away going 'that was f**king awesome'. Then the real mahi started. I took all those recorded files home and for a year/year-and-a-half I was in the studio and going through up to 90 channels-worth of recorded audio that I had to mix and get right. A long process. At the same time I was making a video as well which ended up turning into a film. The whole process—from talking to Gretchin at CSO about it right up till now sitting with you and promoting it—has been the most challenging thing I've ever had to undertake but it's been so fulfilling too. And it's not even out yet!
I just didn't want it to be a gig and that was it. I wanted it to be an opportunity where I could throw some cameras at it and record it. This whole thing was independently done, so it was all self-funded. My friend Mark Russell did the editing of the footage. It was very hands-on. I didn't know what I was doing at times but I worked it out (trial-and-error) and to get to this point it's just been amazing. I think that's the message I want to send out to other musicians and artists. It's actually obtainable. You can do it if you have the time and drive, you can obtain something on this scale. Dreams are obtainable—I want to inspire—if Tiki can do it, I can do it.
You do inspire, Tiki. Who inspires you?
Oh, gosh, everyday people. You inspire me! 100 percent. The story of your brain injury is inspirational. Musician-wise (they're actually all dead)—Jimi Hendrix, Bob Marley. I've always been inspired by people who are quite rebellious and outspoken. The ones who use music to empower, to activate, to make-a-stand. Bob Marley stands out though. He was a prophet and his messages were very strong and resonated fully. I vibe most with the ones who push on for the underdogs, or push the status quo, or shine light on things that need to be talked about.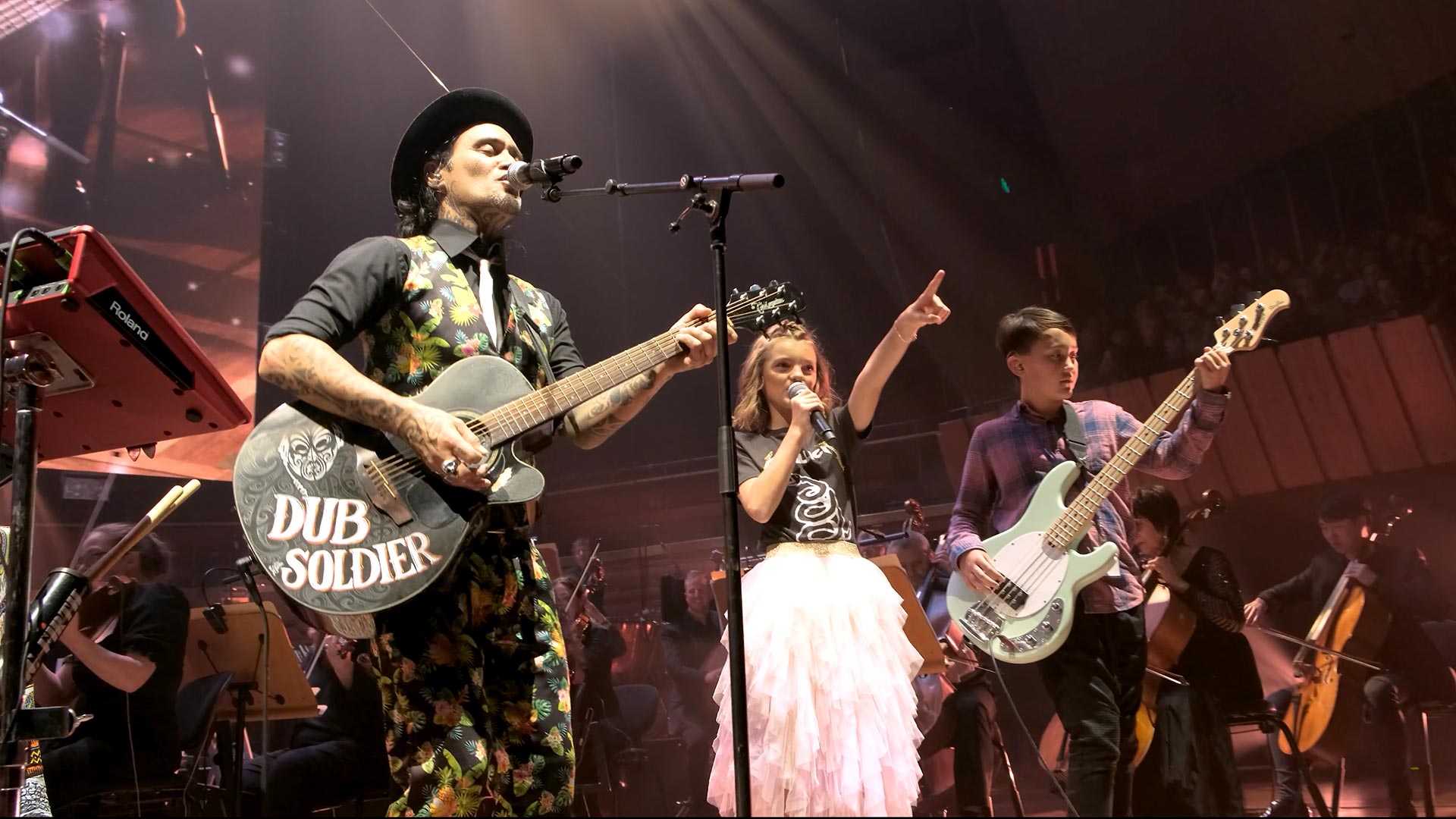 In doing Tiki Taane In Session With CSO, what was the biggest challenge and how did you overcome it?
The biggest challenge, I guess, was imposter syndrome. Where I was standing there surrounded by these musicians and artists that are reading the music and I wouldn't have a clue what it is. I trained myself to use muscle memory and flexibility and be able to pick things up very quickly. That was probably the thing that made me feel like I was out of my own depth. I had to remind myself that I had gotten to where I am by putting myself into that stuff. By leaning into the unknown and trusting my intuition. Then going into thousands of hours of mixing and editing, you sit back and go: holy s**t, I've got a f**king big mountain of work to do.
Working at it everyday, and doing mixes, chipping away, until I get to a point where I feel I can't get this any better. That's a skill in itself, knowing when to put the paint-brush down—not overcooking it by getting too critical. Sometimes you gotta have the rawness to make it authentic. You need some cracks in amongst the polished-up bits. That was a challenge, to keep the film and the album still raw without shaving too much of it off.
Yo, I vibe with that. In that same vein, you're a multi-talented, genre-bending musician, so do you find the malleability of music a way in which to stay raw?
I've always been interested in why music sounds like it does. Why does the speaker come out like that? How is it doing that? I've always been really interested in that. I remember, when I was young, listening to the radio and having a pad on my lap, and I'd be drawing squiggles and sound-waves. I didn't know what they were—still don't, to be honest. It sorta felt like I could hear music in a different way. With technology getting more advanced and people being able to see those soundwaves, I was like that was what I was drawing when I was a kid!
I started getting really interested too about sound and how sound could affect humans in a room. The music itself is a frequency of mood and energy, so if I were to play a certain chord, it'd make a room feel like that. Why does the bass sound make the audience go rrrrroar! I love working that out, man. I love having this instrument that allows people to go crazy. Trying to work on the mechanics and spirituality of sound is super interesting to me. Reverse-engineering songs too and being able to dismantle them and then put them back in a different way is such an awesome experience and I love it so much. It has an emotion to it I can't explain.
That's cool. I guess audiences can feel that frequency too, right? When they're listening to your music (or watching you on stage), you, I'm sure, can feel this seismic, spiritual change from their heart to your heart. Good music (that raw emotion) digs deep and changes people…
That's the believability stuff. You gotta deliver that—putting it all on the line. You can tell if artists are faking it and going for an emotion that really isn't there. But when the emotion you're putting out is raw and honest, that's what you strive for as an artist. No matter what crap is going on in your day—you had a fight with the wife, your kids are pissing you off—you gotta learn how to use the frequency to change and learn. Everything is a learning curve on how to achieve that flux state. Being able to play music as a conduent, or antenna, of zenergy.
So there's still more to learn for Tiki Taane?
Oh, everyday I continue learning. I go into my studio, off the side of my house, and I open the door, take a deep breath and I'm always so f**king thankful. I'm thankful that I have this space set up exactly how I want it to. It's all solar-powered so I get to make music powered by the sun. In that moment, I get to be like: right, what are we gonna learn today!
Whatever project I get to work on for the day, I learn s**t-loads. Even if it's the simplest thing, like how to make a beat quicker, it allows me to extend my knowledge base and speed up the process. It's a way to upgrade my productivity too. When you put yourself in a space, you know you're just going to get better and better at it. I'm getting more efficient, I guess, at creating. That's a massive learning process in itself.
One of the wholesome things about Tiki Taane In Session With CSO is that you do also have family connections to the CSO…
Yeah man! So my great-great grandad, Hedley, was in the very first incarnation of CSO (it was called something else back then, but I can't remember their name) back in the 50's in Christchurch. My aunty too was in the CSO as a double-bassist in the late 70's before she went to Australia to play in the Sydney Opera House Orchestra. To be able to then do my thing and to also be able to have my kids on stage with me—it's multiple generations right there!
Having your kids up on stage with you is awesome. That must've been a proud moment for you…
It was, definitely. You can imagine for a nine year-old and an 11 year-old, walking out in front of two-and-a-half thousand people with cameras on you, ready to play with a 50-piece orchestra, it'd be pretty terrifying. They're great those kids. I mean, that wasn't even their first gig. Their biggest was playing in front of millions of people for the All Blacks and Australia game. We played in the middle of the field during half-time, and there were 60,000 people in the grand-stand—beamed out to millions around the world. Crazy, right.
Also they played in the Music Awards, live on TV to millions around the country. I've definitely been able to put them in that space. We did lots of rehearsing and I just knew they could do it and pull it off. I also paid them—stuck them on the pay-roll! I gave them per-day rehearsal and performance fees, which they were so stoked about. I just wanted them to know about the business. But in getting my kids up on stage, it's showing other kids that they can achieve that kind of stuff. Of course I had to take a manager's cut! 20 percent, at least.
As well as collaborating with your kids on the doco, you also had other collabs…
I got to work with wonderful musicians, like Big Sima. He's a New Zealand-based hip-hop artist from Christchurch. I remember him, back in the day, when we were very young, him championing hip-hop in Canterbury.
I remember thinking: I have the full scope of this orchestra. What can I do so I can cover all these genres and styles that I'm into? I wanted to do something with the use of taonga pūoro (Māori instruments) with lots of breath-work—something deeply spiritual, but also something quite progressive. I did a cover of a song by Salmonella Dub, my old-school band, who were very loved in Christchurch.
I got Tali too, for her drum and bass. Her and I grew up in Christchurch. We met in 1996-1997 and have been best friends ever since. Me and her, we sorta helped build the drum and bass culture here from those times. She's done amazing things, both in this country and internationally. With Big Sima doing hip-hop, and the orchestra in-tow, I personally hadn't seen that be done in New Zealand. Showing my friends, my family, those I love dearly, a broad style of music that can be appreciated in a different way. Something that anyone can look at or listen to and be like oh yeah, that's cool. I don't like his music, but I like that!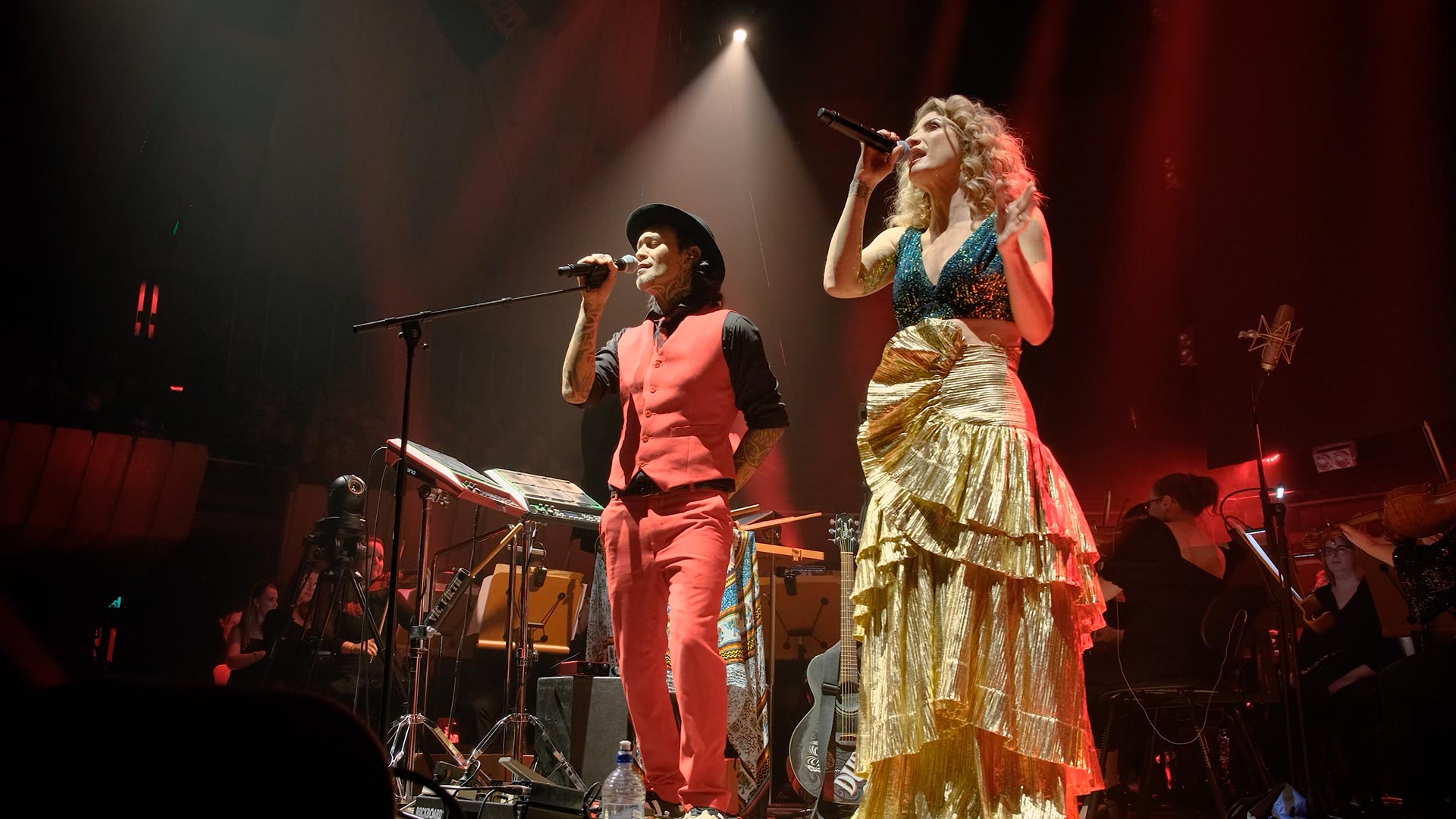 As well as doing Tiki Taane In Session With CSO you've also got your own TikiDub site…
TikiDub is a company I started just before I went solo. It's basically a production company, TikiDub Productions, and tikidub.com is my website. It's cool, if I can be so bold; super proud of it!
I checked it out this morning. It is, indeed, pretty rad.
I've started doing live-streams too. There was a live-stream of a gig I did this weekend at Leigh Sawmill. So I'm just very slowly trying to build something that's super independent. I don't want to rely on other sources. You can do live-streams on Facebook or Instagram, but you can get shut-down. Bro, I've been shut down from performing on Facebook, but I was singing my own song, because of f**king copyright! I'm like bro, it's my own song!
I've also got all my services on there, so you can hire me as a producer, as a musician, or give talks—I even do birthday shout outs! I've just got all these things in place so that I can be super functional. You can read a s**t-tonne about me, also my discography, and all my songs—from like 1996 to now. There's 350 songs I've done in the last 20-odd years. There's a lot of stuff there. My sister, Maureen, helped build it. It's a real whanau thing, which I like. We're a production company, record-label, we do live-streaming, sell videos! A one-stop Tiki Taane shop!
I'll feel like a kid in a candy shop when I visit it next time! So, the doco-film with the CSO comes out on August the 11th. What do you want audiences to experience when they go see it at the movies?
I just really wanted to capture a beautiful, bright moment that was happening in my life. It was a one-off show that is never going to be repeated again. I captured it in a way so you can feel like you were there. You can feel like you were the audience, or one of the musicians. You can feel like being part of my journey and understand what to do when you take on a project of that size.
It's a show, I guess, that's very independent. It's very Aotearoa. It crosses those genres. I hope the audience takes away what it's like to live as a producer, a singer, a creator, even a film-director. Also being able to enjoy a concert without being at a concert.
I've been sending it to film festivals around the world. It's been doing super well. It had its premiere in Maui in Hawaii. It's been all around the world too. Paris, Germany. August the 11th is part of the International New Zealand Film Festival. They've been amazing! We're going to Auckland, Wellington, Christchurch, Dunedin, Tauranga and Hamilton. Then I'll take it away and it won't be available until January next year for all to see! It's been an awesome ride, for sure.
This is the first time I've ever done anything like this! I've done three films, but this is the first one I've directed and written. It's such a big labour of love, and a great learning experience. I've just been loving the opportunities it's offered so far.
Last question, what's your definition of success?
I think, from my point of view, because I'm so independent in a whanau-run business, success is being able to do everything I've set myself to achieve. Achieving a goal of getting the art, music and mahi out to the people is success for me. It's getting everything in my head and getting it out to the people is me reaching my potential as an artist, musician, director and producer. When everything I do gets out to the world exactly as I want it to, that's success for me.