Submersibles are wonderful pieces of technology. Small, nifty little marine machines designed to go under the water… and yes they're so much more than just a submarine…
People remember James Bond for the tuxedos, vodka martinis, beautiful women and spy adventures. The actors behind it, legends in their art…Sean Connery, Roger Moore, and Timothy Dalton, to name but a few. But I would bet good money that the Lotus Esprit isn't the first thing on your mind. Don't you remember? Bond drove it in the 1977 blockbuster, The Spy Who Loved Me which morphed into a submarine and dropped to the bottom of the ocean to escape from henchmen with his damsel-in-distress, Anya Amasova. We all know and recognize Aston Martin as being the 'Bond' car. Stylish…sexy… ready to go save the world with its suaveness.
When the DB5 rolled onto our screen in 1964's James Bond film, Goldfinger, the audience was stunned by the beauty of the winged badge. Aston Martin vehicles are ones that follow in the finest of luxury and sophistication, as well as stamping its mark on popular culture by being the 'suave spy's' set of wheels.
The car manufacturer started in 1913 by Lionel Martin and Robert Bamford, and has followed through the years as a key cultural icon. It has certainly been keeping its head above the water with its latest DB11 and V8 Vantage models.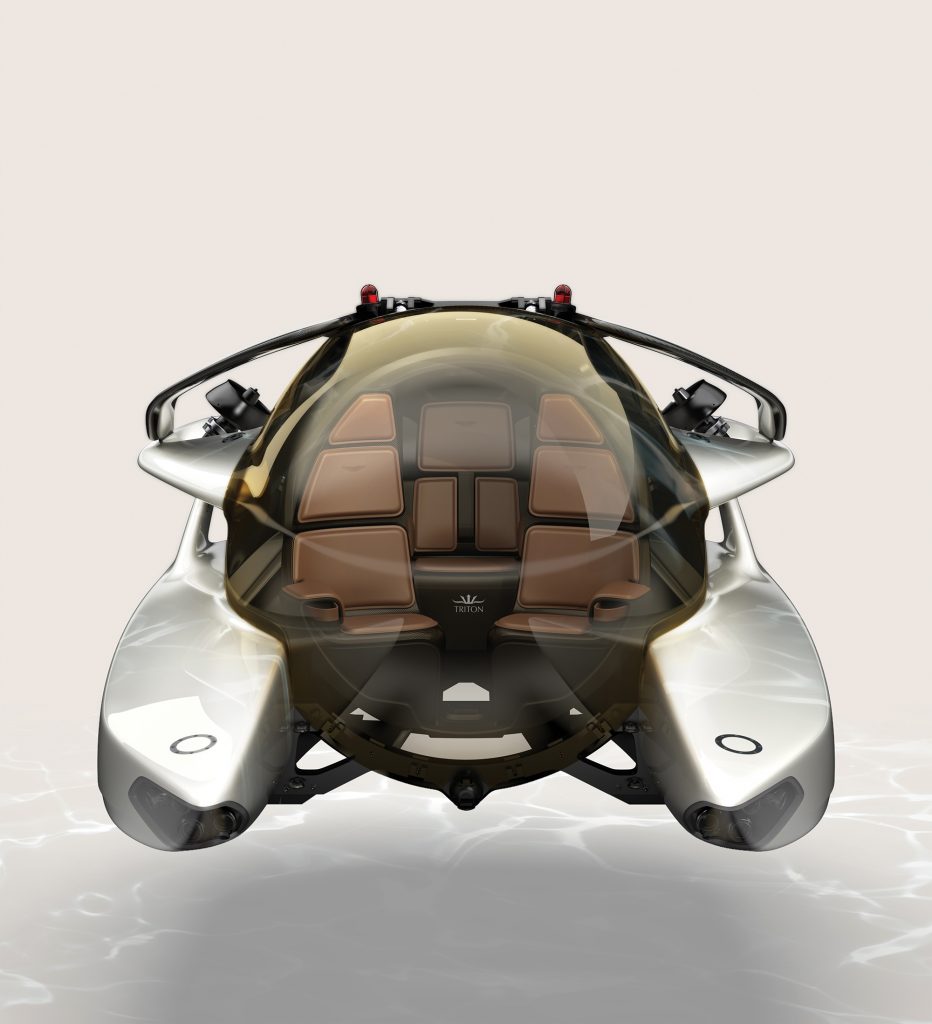 Now, Aston Martin has welcomed another tool to their toolbox. Not a car, no. A submarine. Named Project Neptune, this latest project is to be made in collaboration with Miami-based, Triton Submarines, and had to adhere to the British marque's badge of honour. It has a sleek interior, is reliable, and offers a 360 degree view. It can dive 500 metres and drive around the ocean floor. Underneath an acrylic canopy, the very Aston-esque interior puts the two passengers and single pilot in the lap of luxury with hand-stitched leather seats and carbon fibre trim. The Aston Martin team has developed three styling specifications, each offering a mixture of colors and trim selected to accentuate the vessel's mix of sporting, luxury and maritime qualities. The hydrodynamic productivity increases the power of the machine to five knots, approximately hitting at nine kilometres an hour. That might sound a bit slow for an Aston Martin machine, but it's actually four times faster than any other Triton Submarine model. The sub can operate between six and eight hours on a twohour charge.
The cost of Aston Martin's new submersible vehicle is around $4 million and counting. The LYBRA Superyacht Show, which happened on the 2nd to the 5th of May, showcased Project Neptune and advertised to possible buyers from around the world. It might be a bit pricey for the average vehicle buyer, but it'd definitely be an investment if you could afford it. Project Neptune is being launched late next year at Aston Martin's HQ in Gaydon, UK.
DISCOVER SIMRAD
High Performance Marine Electronics for Powerboats