Mike Horn has circumnavigated the globe more times than a NASA satellite. He's climbed to the top of numerous 8000+ metre peaks (without oxygen), walked unassisted to both Poles and all the way around the North one, swam the Amazon, played with sharks and piranhas and even had a lap dance from a polar bear.
With such epic and 'fate provoking' expeditions, people understandably ask the South African-born explorer if he has a death wish, but his response states the contrary; he has a life wish, a desire to live life to the fullest, to explore even more places and squeeze every last drop out of the sponge of life.
From the initial 'death grip' handshake (of which I was forewarned) to his larger than life persona, Mike Horn is a man who makes an immediate impression. He's a bundle of relentless energy. He strides rather than walks, he jumps rather than steps, he laughs and jokes infectiously and seems constantly on the lookout for adventure – which is pretty handy, given his chosen career.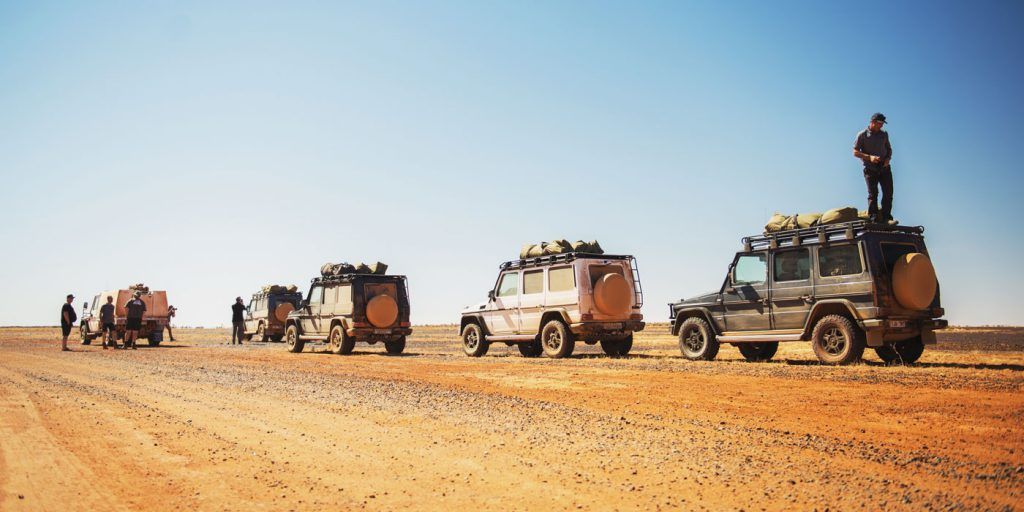 Mercedes-Benz had invited me to join the man dubbed The World's Greatest Modern Day Explorer on part of his latest exploration 'Pole2Pole' – a two-year quest to circumnavigate the globe via the two poles. It was a four-day experience filled with adventure both physical and – even more – mental… let me explain.
Pole2Pole is planned to have Mike Horn cover 38,600 kilometres and cross six continents. It began in Monaco, and Horn and his two Mercedes G-Wagens have travelled south, crossing the length of the African continent, had his Mercedes-Benz-powered 'ice breaking' yacht, Pangaea, drop him off at the Antarctic (where he became the first human to trek solo and unassisted across the widest section of the continent – passing over the South Pole), and then transport him to New Zealand where he traversed our own rugged South Island mountains. However, we (myself and a few other carefully selected journalists) joined him in somewhat less taxing circumstances, namely the warmer climates of the Simpson Desert in Australia.
As we flew into Mount Dare, he had already been on the go nigh on a week. We would be camping out in the wild(ish) parts of the Outback and punishing our G-Professional wagons extensively, as we travelled over the very unforgiving, desolate inner-Australian 'roads' and terrain – with our personal objective being to watch the sunset at Uluru.
Witjira National Park was our first Aussie home for the night and the first introduction to the compact tents we would be sleeping in, this was certainly not a glamping experience. Located almost 1000 kilometres north of Adelaide, Witjira is both remote yet popular due to its arterial springs and the 38+ degree Dalhousie Spring Pools – we (of course) all immediately jumped in and soaked our flight and travel-weary bones as we began listening to some of Horn's epic stories.
Mike Horn is a guy who has been there and done that, quite literally. Yet rather than brag about it, he relates his adventures in a matter of fact way that fascinates and simply captivates his audience – stories so good that even the Pope invited Horn to the Vatican to shoot the breeze with him!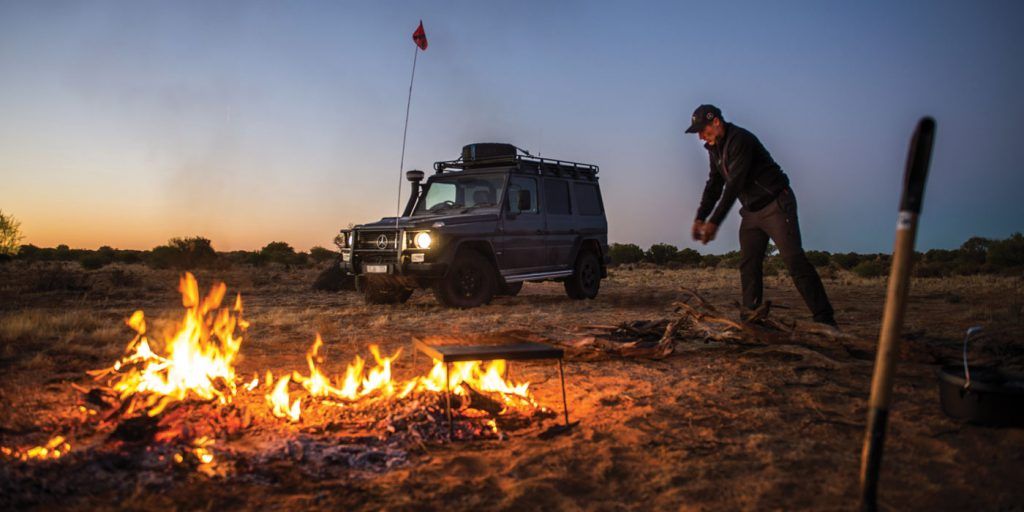 From his falling into the icy waters of the North Pole, to the tales of oxygen-deprived hallucinations on mountain peaks, even the way he describes his home in the uppermost regions of Switzerland (with its roaring fires and rustic appearance) has you with him every step of the way."
His wins and his losses, his great achievements and ultimately his will to succeed – he isn't just motivational, he's inspirational. We ended up staying in the hot, mineral-filled water until our skin had pruned.
The next morning we took down our tents and shoved our sleeping bags into sleeves that seemed way too small, before heading to our next location – Old Andado Station, 240 kilometres south-east of Alice Springs. Old Andado is one of (if not THE) oldest Australian homesteads. Set in desolate, red dusty land, I know the trip was planned but we seemed to stumble upon it from nowhere. After learning some of its history from the Station's caretaker, we were given the opportunity to walk through 'Molly Clark's place' before setting up camp alongside. It was a look back in time to those pioneering days and, in many ways, the spirit that surrounded it.
After having had a full day of punishing the G-Professionals in 30+ degree heat and the thick desert dust (it really does get everywhere), it felt good to shower and relax beside a big camp fire with a feast of crocodile and kangaroo.
With a good night's sleep under our belt, we packed up again and hit the trials. This time we hugged the Finke rally road and headed for a night at Oak Farm. Rock climbing (from behind the wheel) and more 4-wheel torture were part of the day's activities and although we spent a long time in car seats, the campsite was again a very welcome sight. Upon arrival, we started to gather wood for the fire but we needn't have bothered, Mike Horn had disappeared with his G-Wagon, only to return shortly thereafter towing a tree… I kid you not, a tree! After some crafty chainsaw action, we had a fire that could be seen from space.
With another spectacular dinner out of the way, we circled around the open flames, drank red wine (and some moonshine) and listened to more tales from Horn.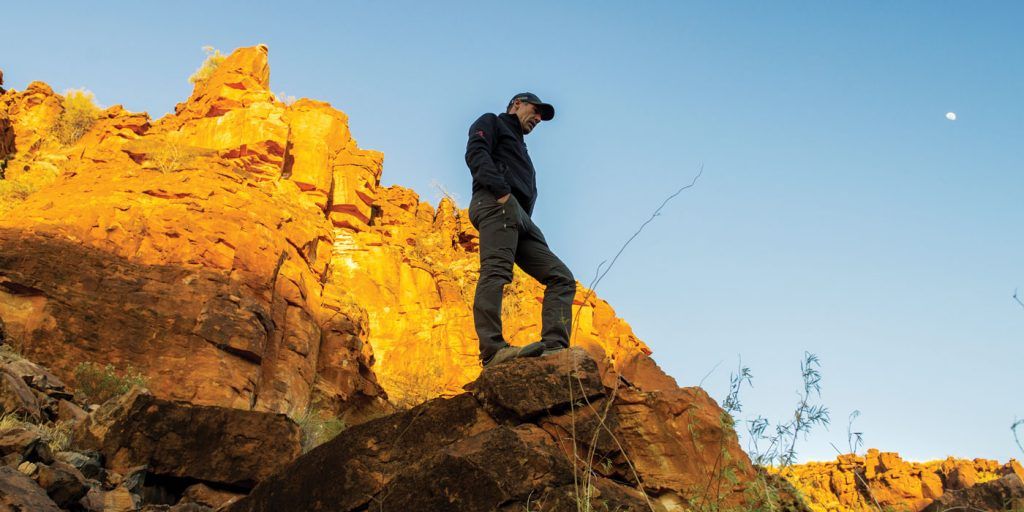 His yacht Pangaea (which Horn interprets to mean 'one world' and relates to a time when the entire world was just one continent) was built in Brazil. He went to the local favelas (essentially slums) and hired locals to build it. At that point, he didn't have the funds to pay them but ended up selling his name to the Richemont Group (owners of luxury watch brands such as Panerai) for several million. I couldn't help but hum the song 'Horse With No Name' by America at that point – the lyrics speak for themselves. As a footnote to this story, the lovely people at Richemont gifted his name back to him a short while ago.
Horn's Special Forces background became extra handy when swimming the Amazon. He joined the Brazilian Elite squad to learn how to survive in the forest – he was keen to know what would kill him and what would not. He explained it like this: "I was given a stack of books with images of what was good and what was bad; it was immense. I tore out the pages of what was good and focused on the bad. I thought, if I learned what to avoid, the rest would be easy – it cut my learning time in half at least." It's that simplistic approach that crosses over to all aspects of his life.
He is neither optimist nor pessimist – to him, the glass is neither full or empty, it's just a glass. He takes lessons in his failures: "We all fail, it's part of being human." For example, not making it to the North Pole (and in the process, him having to remove one of his fingers) gave him the impetus to return and circumnavigate the entire region.
There have also been a couple of setbacks on this Pole2Pole adventure too, meaning the timing for getting to the North Pole has been delayed. However, rather than using the downtime simply relaxing on a beach somewhere and waiting (like any normal person), he is in the process of gaining permission to climb to the summit of two previously unconquered c8000-metre mountain peaks in India.
I asked him how he handles fear, or whether, indeed, he even has any? He replied that he always believes he can do something BEFORE he attempts it. It's only when he gets there he looks back and knows he can't. I had to think about that.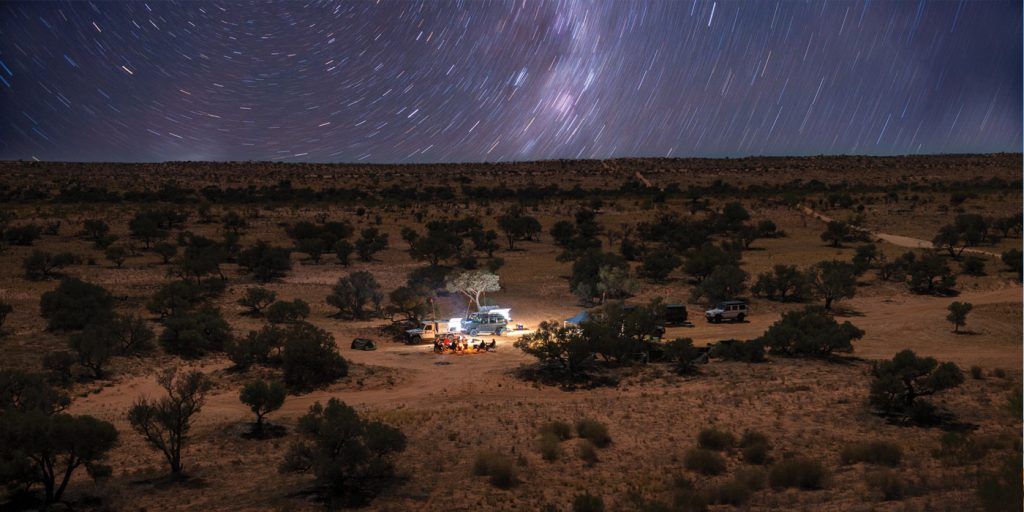 Although he is comfortable with the solitude that comes with walking alone around the North Pole for two years and three months, or climbing to the top of a mountain (when he gets to the top of the mountain he celebrates alone), he is also more than happy to be met at the airport by 15,000 adoring fans and (this may sound funny, but it did amaze me) is incredibly social around people.
From an ambassadorial point of view, Mike Horn is quite the catch. He has more than 150,000 Instagram fans – and he posts imagery with meaning, (rather than mind-numbing images of surgically enhanced pouts or another shade of blusher), he has pictures of some of the most impressive scenery our blue planet has to offer – basically because he's been there!
When I asked why he does it, he said he gets to the top "to see what's on the other side" and then immediately begins to look for his next adventure.
When I asked how he does it, he said "it was about determination". If (on an expedition) he sleeps in one morning, he will make up the time at the end of the day. Similarly, with packing down his gear – if he takes longer than he feels it should take one day, he will ensure this time is more than recouped at the other end'.
When I asked who inspired him, he stated that he garnered his outlook from his father – a man he speaks of warmly. His father taught him life lessons via stories and thus allowed Horn to discover the meanings for himself (a tradition he continues with his daughters).
The stories he told flowed as easily as the wine we drank.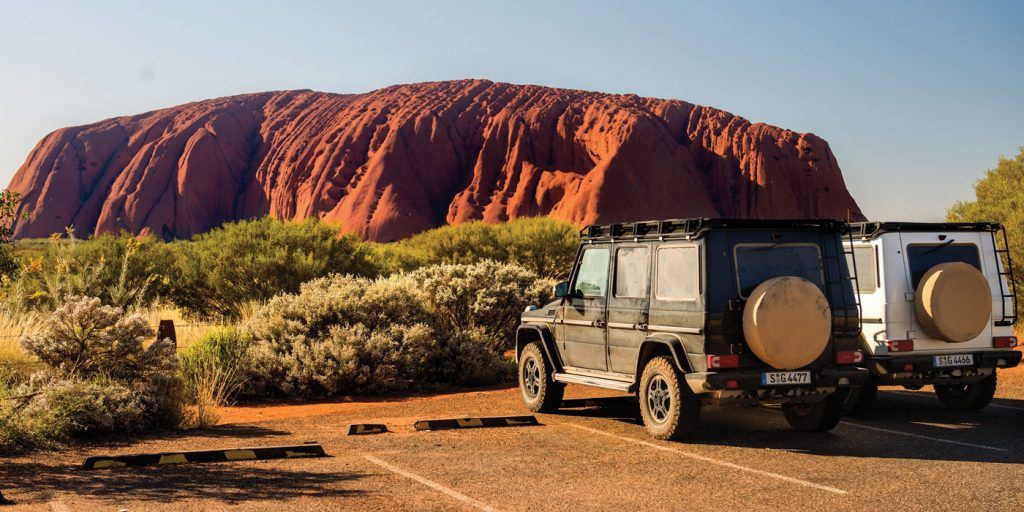 Mike Horn is no stranger to death, either; he's experienced a fair range – from his military service duties with the South African Special Forces, to even staring down a firing squad. And then there was the loss of his wife of 25 years, Dunedin-born Cathy. They met in a bar in a European ski resort. Horn was looking to order a beer with his first pay cheque, but couldn't due to language barriers – Cathy came to the rescue… a theme that continued. Shortly thereafter, Horn had a paragliding incident resulting in him being hospitalised. Cathy came to his bedside and the cast was set.
Over their years together, they planned out many of Mike's expeditions (often in the middle of the night when an epiphany would strike). They had even planned the current Pole2Pole adventure before her unfortunate loss to breast cancer. It was their daughters Jessica and Annika that urged Mike to follow through with the expedition.
The next morning we headed out for our final leg to Uluru. Opting for the off-road 'freeway' we took our wagons up to 110km/h (the legal limit there) and let the suspensions take a pounding, they didn't care one bit.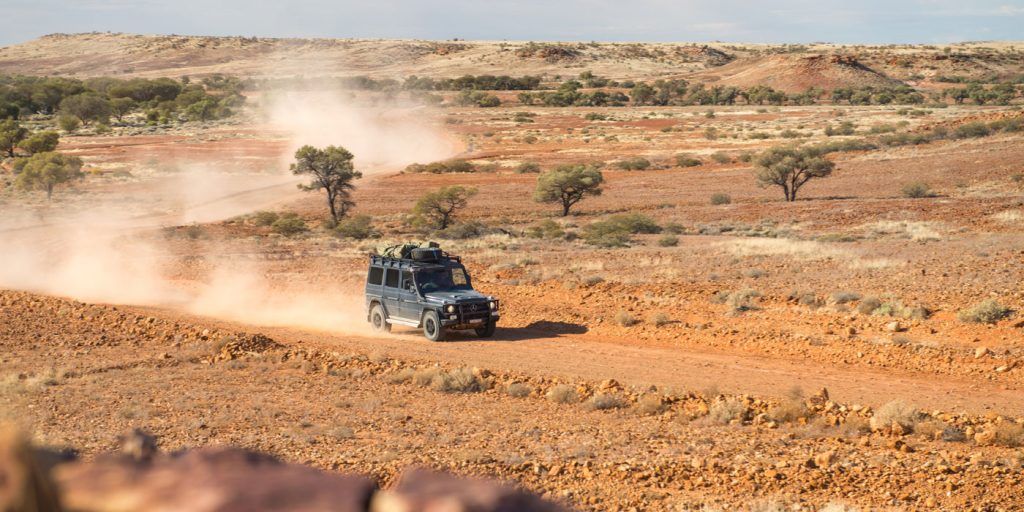 We arrived at the Australian core with ample time to freshen up and head for a great sunset vantage point. We took up positions on top of the Mercedes and (for those not driving) had a celebratory glass of room temperature red. As the sun went down and the colours of Uluru went from bright red to a deep purple, I think we all had a sense of self-accomplishment. It was a wonderful trip culminating in an amazing sight.
What began as a handshake ended in a bear hug. As I said at the beginning, the whole experience was outstanding both physically and emotionally – It's hard not to grow spiritually when you are around such a dynamic personality.
And talking of bears… there was one on that North Pole trip… the big white beast rummaged for food through Horn's sled and then backed up to eat (inadvertently sitting on Horn in his tent). Oh, and if you needed any more convincing that the mantle of adventure is firmly held in Mike Horn's hand, then ponder this: our own Sir Ed, just before his death, sent Horn a $5 note with a message that handed over 'the flag of exploration' to him – I can't think of a greater endorsement.
So, what happens when an unstoppable force meets an immovable object? Well in Mike Horn's case, he climbs it, goes around it, swims it – quite simply; he conquers it!