Do you have skin? Great, then let me introduce you to Bulldog Skincare. Bulldog is a no fuss, no BS range of skincare products for men that have made waves over in the UK and are already well on their way to do the same here in NZ. 
Bulldog is purpose built for men, and does everything from skincare, beard-care to shaving, with products appropriate for both normal and sensitive skin. No man left behind. All with an eye for sustainability and giving guys what they want, a product that does it's job. 
​Simon Duffy started Bulldog because his bathroom was full of products he used but didn't particularly love. Since he launched in 2005 Bulldog has been pumping out products for guys that are simple and straight forward with no fluff of complex jargon to bamboozle you into compliance. 
It's not hard to leave out the jargon since they don't rely on any nasty microbeads, synthetic fragrances, artificial colours, or ingredients derived from animals meaning even vegans can rehydrate their skin guilt free. Any man-made ingredients included have been carefully selected to maximise performance at an affordable price. They're also cruelty free because you can't have a cute bulldog as a mascot and then do animal testing. 
That's enough hype, let's see what they've got. Here's the gear we recommend to get started on your Bulldog gear journey: 
Original Moisturiser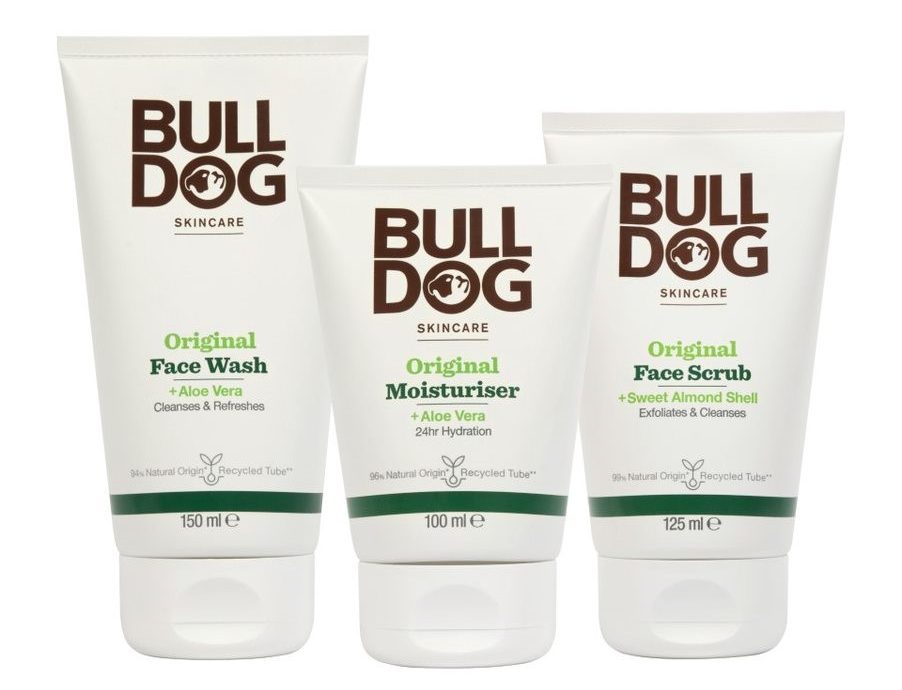 Original Moisturiser is the all-rounder, no matter who you are you should always be on the lookout for ways to keep your skin happy and healthy. The hydrating formula is perfect for normal or dry skin. It won't leave your skin feeling greasy or sticky either, and was developed for quick absorption because Bulldog knows you don't have time to laze around with cucumbers on your eyes. 
Best results come from using it twice daily morning and night. Just apply evenly to face and neck after cleansing. Make sure you apply it as a base-coat before chucking on anything else like sunscreen. This guy also pairs nicely with the Original Face Wash or Face Scrub for your ultimate skincare routine.  
As we mentioned at the top Bulldog likes to keep things natural, so it's almost made entirely from natural origin ingredients including aloe vera and a 100% natural blend of essential oils (so it will leave you smelling great too). The packaging itself is a tour de force in sustainability. Bulldog Skincare was the first men's skincare brand to using sugarcane in their tubes. At least 50% of their tubes are made of renewable sugarcane grown in Brazil. 
Original Glass Razor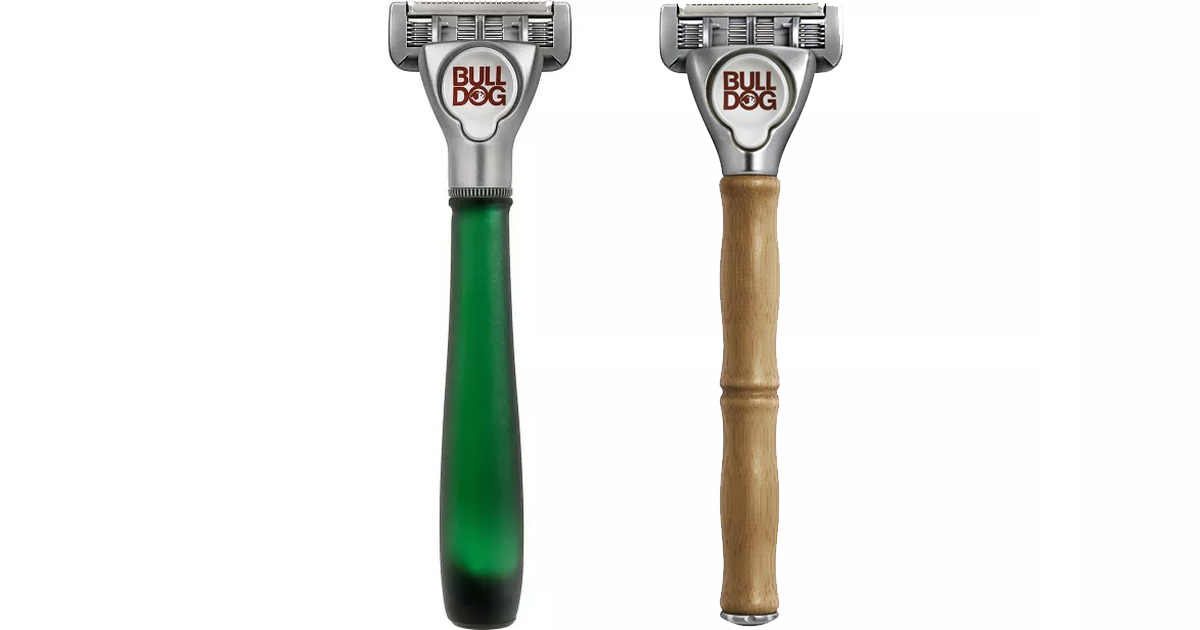 Bulldog are disrupting the razor category with their Original Bamboo & Glass Razors, two razors specially designed for men who want a quality shave from a beautifully crafted, environmentally conscious razor they can show off on the bathroom shelf. 
The brand's razors take sustainable design to a new level and bring the razor category into the circular economy. What sets the Razors apart from the rest is the focus on lowering its environmental impact.  If you're thinking that the handle of the Bulldog's Original Glass Razor is reminiscent of a Heineken bottle that's been rounded out by the ocean surf then you aren't entirely wrong. The Original Glass Razor handle is made using 70% recycled glass from durable beer bottles and are fully recyclable themselves. That's not where things end though, every glass razor comes with a recyclable metal stand that matches the brushed metal head of the razor itself. The base keeps the razor upright to help aid in keeping the heads dry. 
The head takes the Original Steel Blades. With 5 tempered steel blades, a pivoting design and purpose-built lubrication strips, both razors provide everything needed for a close and comfortable shave whether you have normal or sensitive skin. 
All of this comes packaged in recycled and recyclable packaging, because there's no point repurposing all that glass if you're going to undermine yourself with a bunch of single use plastics. Currently they're the only men's product to put this much effort in, proving that only doing as much as the competition is not where you should call it a day in terms of doing your bit for the planet.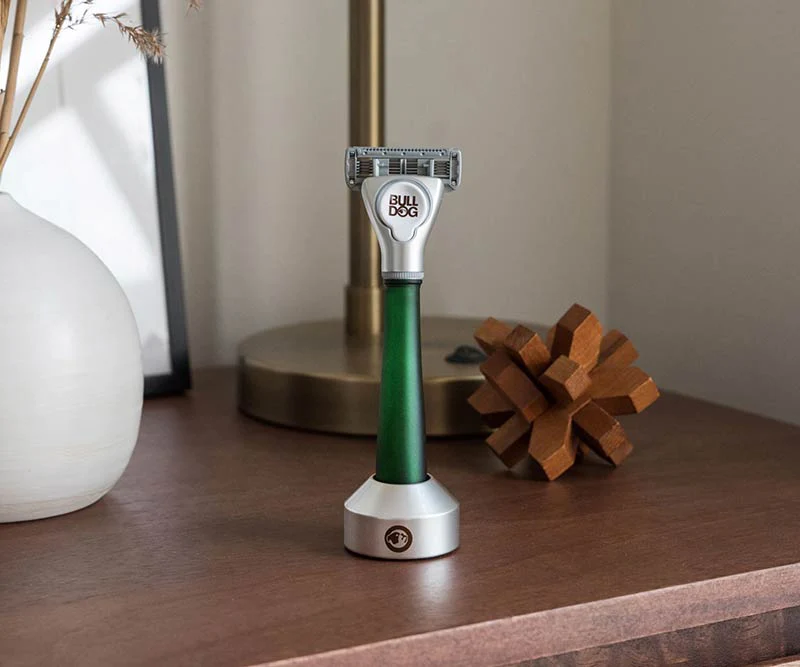 We're not here to shill you everything they've done under the sun, but if you were going to keep things on brand we also recommend for all the gentlemen reading that are not planning on using the razor anytime soon the Beard Oil, Beard Balm and Beard Shampoo. It's all good stuff! 
No matter whether you're deciding on switching over for their face scrubs or their beard care, everything Bulldog does is pretty solid and easy to understand. It gets the job done, and it does it well, just like a good tool should… If it was in liquid form.