On Monday 26th of March 2018 while the April issue of M2 was being printed we learned of a tragedy involving one of our feature profiles, Volvo Ocean Race sailor, John Fisher. His team, Sun Hung Kai/Scallywag reported that John had been lost overboard in gale force conditions whilst the team was racing through the Southern Ocean, some 1,400 miles west of Cape Horn. Despite an exhaustive search in rough conditions, the team was unable to recover their teammate. We had one of the last interviews with John before he embarked on this leg and his passion and dedication to his sport will stay with us. Our heartfelt condolences are with John's family, friends and his crewmates who race on in honour of his legacy.
Sailing around the world would seem like an ideal holiday for many. Imagine anchoring somewhere in the Mediterranean, jumping into the glowing blue sea to cool off, and then retreating back onto the yacht to soak in the creature comforts. The Volvo Ocean Race, however, is many, many nautical miles away from that experience.
Billed as the longest and toughest sporting event in the world, The Volvo Ocean Race is held every three years and brings together the world's best sailors in a round-the-world race that not only tests their sailing skill, but their will and mettle. With extremely strict criteria and specifications for yachts and crew, the Volvo Ocean Race seeks to eliminate variables that can be seen in other sailing codes. Equal boats on an equal playing field (or sea) – it's sailing for sailing's sake.
At the time of writing this, the seven teams in competition are currently in port in Auckland's Viaduct Harbour – Team AkzoNobel, Team Sun Hung Kai/Scallywag, Dongfeng Race Team, Team Brunel, Turn the Tide on Plastic, Vestas 11th Hour Racing and MAPFRE.
Hot off the heels of a thrilling Leg 6 from Hong Kong to Auckland that saw teams away at sea for 21 days, AkzoNobel beat out Scallywag in a neck-in-neck finish with only a two minute time difference. Teams will have just under three weeks to recollect, recover and reassess, before heading off for Itajaí, Brazil for a Leg 7 that covers 7,600 nautical miles.
We had to the opportunity to chat with John Fisher of Team Sun Hung Kai/Scallywag while he was the City of Sails, and talked about the rigours of the race, being at the ends of the Earth, and self-growth while out on the seas.
What song or what movie do you think best encapsulates the Volvo Ocean Race?
Jesus, that is definitely an interesting question! I suppose in some respects the interesting thing is this race is actually quite often described as the Everest of sailing. On the tune side of things, that's actually quite hard!
Maybe something more along the lines of "Eye of the Tiger" rather than "Six Months In A Leaky Boat", right?
Oh for sure! Definitely more along the lines of something with a little bit of fight and a little bit of grit and determination.
What's a general day like out on the seas?
On a normal day we'll operate these boats in a shift system. So when we are out on the seas, it's a rotation of sleeping, getting woken up, getting your gear on, going on deck. This next race for instance will be cold, lots of spray, lots of rain, being out and working hard physically, and then in your short amount of off-time trying to grab some food and some energy. It's generally at the end of the day you end up working. Some days you get nice amounts of sleep and other days you get a very, very slim amount of sleep. For the guys who sort of fight out the day, a short amount of sleep is down to about an hour or two. It can all be quite entertaining, or quite painful at times, but you are still quite busy. The challenge is there, and everybody's here to do that challenge. We're all pushing forward to try and do our bit – whether you are a young guy that's just started out and been inspired by the great early sailors that have done it in the past, or whether you are the guy who has a lifelong ambition to do it, everyone ends up pushing as hard as they can.

From left: Leg 3, Cape Town to Melbourne, day 7, John Fisher and Luke Parkinson grind on board | Leg 6 to Auckland, day 5, with 20-25 knots in 3-4 meters waves | Leg 2, Lisbon to Cape Town, day 19, with Sunset Squad John Fisher, Alex Gough and David Witt.
Being out there in the race there are so many different discomforts to deal with out there, but what's the one you struggle with the most?
Sleep deprivation is one of the things that everybody struggles with quite hard. Being very tired makes it worse, but it also makes it dangerous. It generally makes people cranky and with a team that has people in confined spaces, it's all about trying to keep everybody in a good mood. Tiredness is the one thing that basically pushes everybody and makes everything very hard mentally.
Aside from the sort of obvious sailing skills required out there, what are the common traits needed to be part of a crew in the Volvo Ocean Race?
In races these days everybody has to bring their champion skills to the game, so whether you've got a sail-making skill, whether it's electronics, whether it's boat building, or anything like that. Basically when you go through most of the crews, you've got guys involved who would have a little bit of a speciality to their game and that's a big thing. Good mental toughness and resilience are needed too, but everyone tends to have a specific skill these days.
With the Volvo Ocean Race, parity and eliminating the variables is paramount. Can you sort of go into the factors that are accounted for? How are they trying to equalise "the playing field", so to speak?
Everything here with the One Design team is extremely tight. Volvo do an amazing job of making everything identical, so basically it takes out those variables, compared to the old days when we had self-designed and individually designed boats. When you go into the variables across the boats, the variance in weight without us putting our gear on is about 30 kilos, so it's incredibly tight. It goes back to sailing skill and the decisions that people make while they are actually on board it.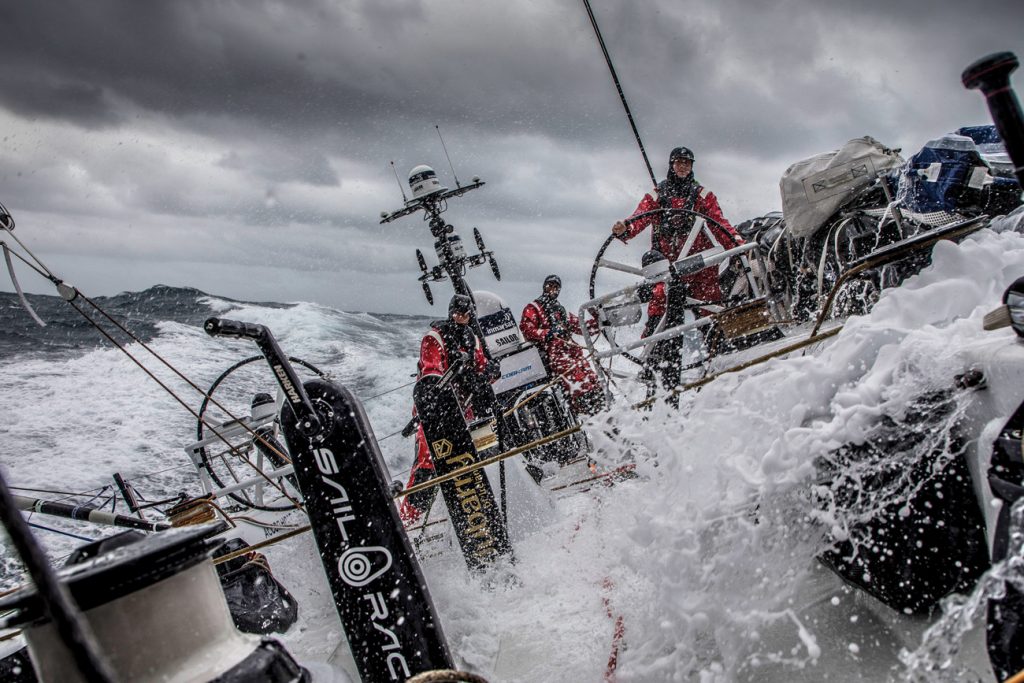 The Volvo Ocean Race is quite possibly the most gruelling sailing race in the World. How do you even begin to prepare for a race like that?
Well everybody goes through a lot of training. Everyone works hard in the gym on their days off. There's a lot that goes on with diet and the gym. Pretty much every team has a nutritionist involved, so everyone is working on their plan and monitoring their health as we go, and Volvo also do that as well. All the sailors get weighed at the beginning of the leg and then as soon as we've finished a leg they'll weigh you again, just to see how everybody is going and to make sure that nobody's losing too much weight.
So everything is accounted for even down to the sailor's health, wow! Yeah, on average you will see that sailors will be eating between 4,000 and 6,000 calories a day on a 20 day leg. Guys will lose between 4 – 8 kilos, so health is paramount.
What has it been like since leaving Alicante?
It varies massively from leg to leg. Obviously, the legs crossing the Equator are very patchy, we run through the Doldrums and then there's Southern Ocean legs that are hellbent and hard, so yeah the difference is quite astounding. I think the Southern Ocean legs, the temperature now stands between 5 and 7 degrees and when we cross the Equator it was more like 45 degrees. So physically they're enormously different, but just an incredible experience racing these boats in close quarters against each other. There's an enormous amount of distance, so its quite a challenge.
You're in Auckland right now, soon to be heading over to Itajaí, Brazil for Leg 7. That leg has a reputation for being a sort of defining leg in the Volvo Ocean Race, can you go into what makes this leg so special?
I suppose there's an enormous amount of history steeped in going around Cape Horn, it's always been one of the best legs and it's not quite traditional. Auckland is a massive part of this race, it's been involved in 11 of the 13 editions, so it is one of the big traditional legs. Cape Horn is the leg in the race where we go to the most extreme points of the planet. Just going how far south we go, how far we are away from land and the mystique of it all is always a big, big thing. That's one of the things that makes it so special. You know you are going to somewhere where very few people ever go in the world.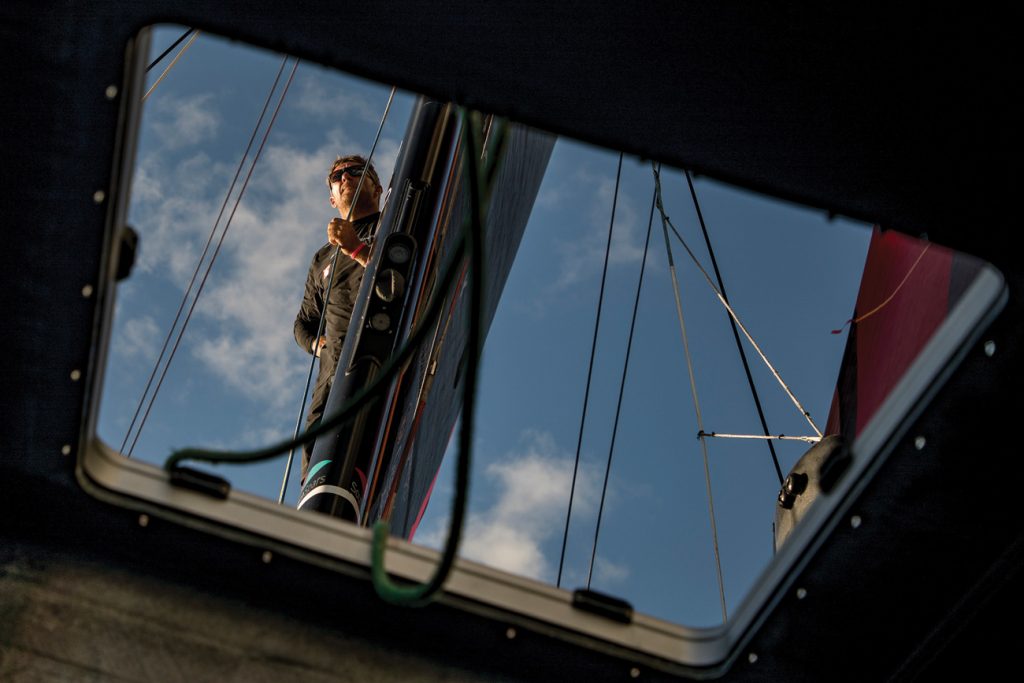 It's a one-of-a-kind opportunity.
Oh, for sure. People have an absolute regard for what we are going to do, but also there's a big excitement and a big feeling of actually how lucky we are to have this opportunity to go and do something so special.
Having time before heading into a leg, does it kind of feel like the calm before the storm? What do you do with your time in between?
These races are fairly different now, we've got an enormous amount today. We've got four corporate races with an enormous amount of involvement with all our sponsorship. They all get to come and have a play today, take pictures, and enjoy sailing on the boat for a day.We're out on the water until about 6 o'clock and then tomorrow is a full day packing, then final prep to start on Sunday's hip. In the old days, the guys used to come in and possibly have a month off and everything else, now generally we have a whole week's worth of sailing and work to do just before we set off. It would be fair to say it's not quite as relaxed as things used to be.
With the physically and mentally demanding nature of the race and the amount of time spent on the seas, is there anything you learn about yourself when you are out there?
I think everyone does. Everybody that's involved in this race, if you haven't done it before, or if you have done it a second time round, I think everybody learns a little bit about themselves. Just thinking about what you can take, how you are, whether you've learnt to have more patience, there's plenty that we are all learning about ourselves in these roles. There's a lot that we are all learning. Self-growth is fantastic, whether we have gone through all of this before or not. Sometimes you think, "Am I really doing all this? Am I really up to this?" and you just go, "Yeah!" How you pull yourself out of it is quite an interesting one.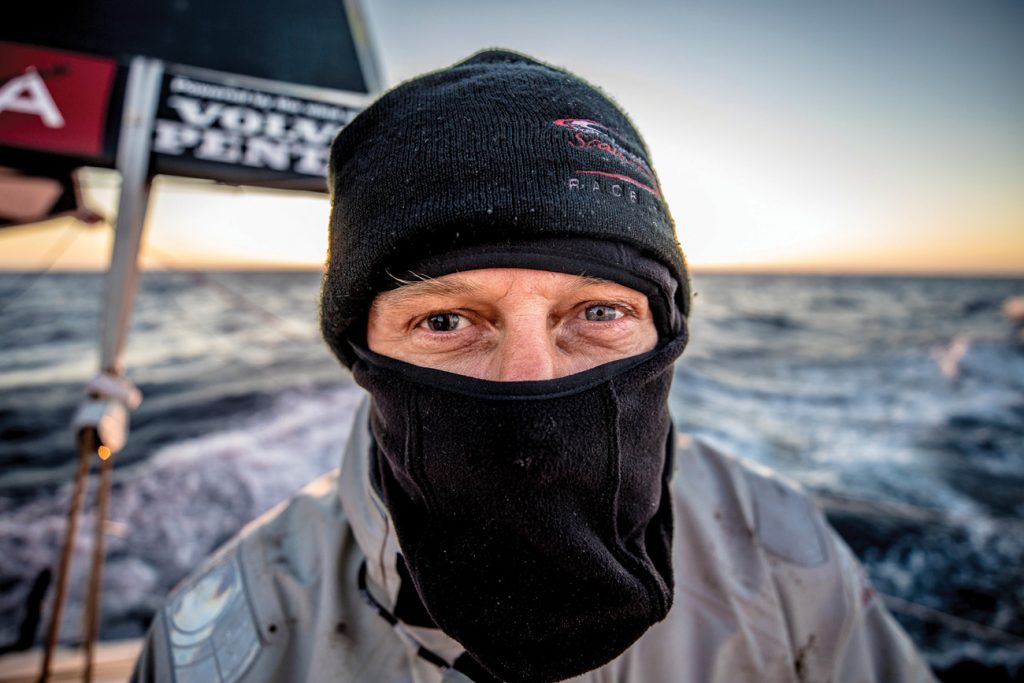 What do you think you and the team from Sun Hung Kai/Scallywag need to work on looking forward?
I think we've made massive strides in our books. It's the little 1% decisions, so we need to just keep working on those and making sure that we are doing everything right.
I know the June finish at the Hague is a while away, but what are your plans for when the race is over?
We have other boats that we're racing within the group, so for us we will go straight into preparations for racing back in Australia and racing for Sydney/Hobart at the end of the year, so the team will roll into just going into that.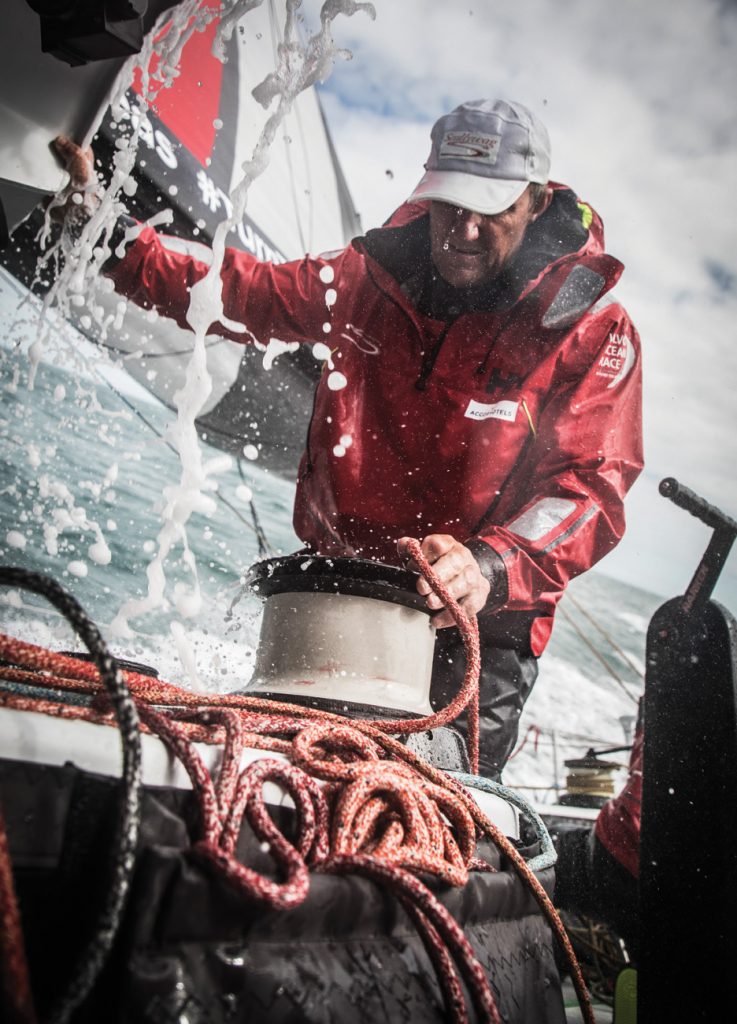 Photos courtesy of Volvo ocean race