Say what you want about Taika Waititi; the man doesn't like to sit on his laurels. Fresh off another fine year in 2021, the eclectic Kiwi creative is coming to us with another exciting new project to kick off 2022.  In an era of film and television that boasts two warring factions; the franchise lovers who mark each MCU release on their calendar like it's their birthday and the cynical traditionalist who endlessly complain about 'homogenised entertainment' and for the days of original content; Waititi seems to be one of the few Hollywood creatives to be seamlessly floating between the two and gaining the plaudits of both sides.
Waititi has both directed one of the MCU's most beloved additions in Thor: Ragnorok (and his follow up, Thor: Love and Thunder is due to be released later this year) while still pumping out a number of his own more personal projects, most notably 2019's Jojo Rabbit (which garnered him his first Academy Award for Best Adapted Screenplay) to critical acclaim. Last year was another big one for Taika, with the first series of his co-created FX series Reservation Dogs becoming for many, the sleeper television hit of 2021. Now, he's back with another effort for the small screen, serving as executive producer and on-screen supporting star in a comedy-swashbuckler titled, Our Flag Means Death.
With fellow New Zealand native, Rhys Darby, at the forefront, the shows the adventures (or more likely, misadventures) of a privileged Barbadian aristocrat turned pirate named Stede Bonnet and is loosely based on the stories of the real-life 18th-century figure of the same name. The trailer features already hilarious quotes like "why can't you be a gentleman and a pirate?" and "we're swashbuckling, let's have fun with it!" so you can get the gist pretty much straight away that this is going to be more Jack Sparrow than it is Jack Aubrey (that's Master and Commander, for those not well versed in the genre).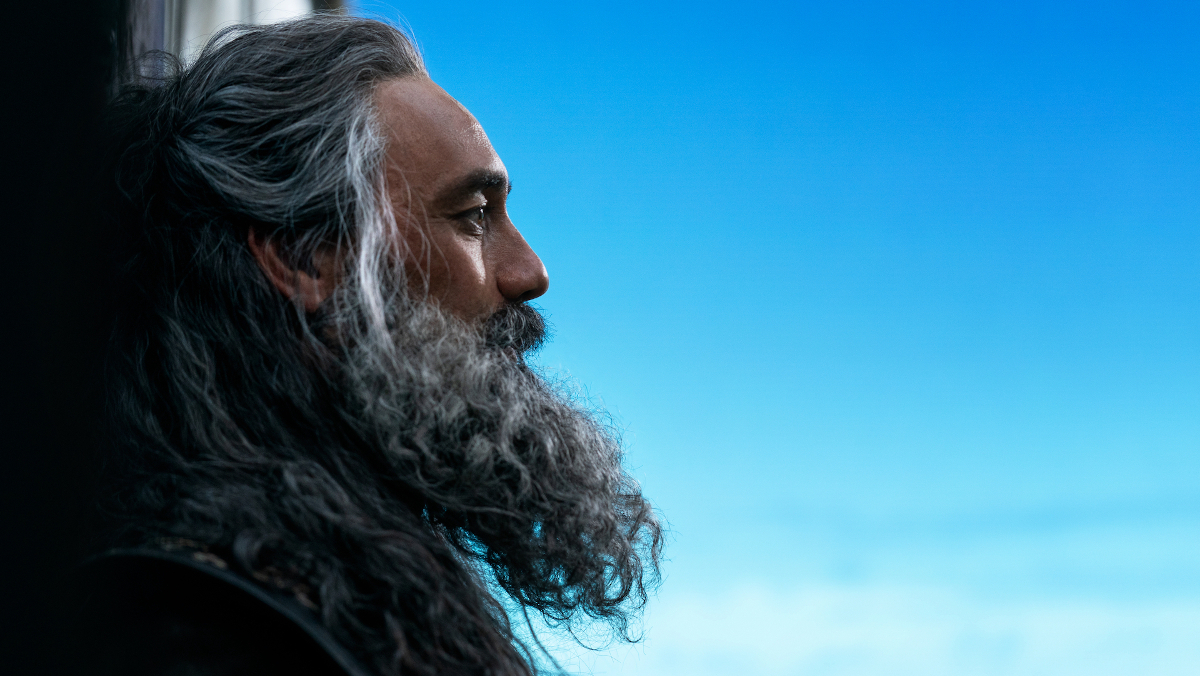 Waititi takes on the supporting role of the infamous pirate, Blackbeard, although you might not know it if you weren't looking for it, as he's seen in the trailer sporting absolutely buried rather ridiculous mop of grey hair and facial hair. He will also be directing the pilot episode of the show, meaning it's sure to come out of the gates with a head of steam. Heading the series as creator and showrunner is David Jenkins, a relative newcomer whose only real major credit thus far is under-the-radar sci-fi comedy series, People of Earth. The series will kick off on HBO Max in March and head of original content, Sarah Aubrey, remarked that the shows "unique take on Bonnet's rollicking misadventures on the high seas are sure to thrill and delight audiences everywhere."
At the very least, if we've learned just one thing from this trailer, it's that it's an even further example of what we really should already know; that there simply isn't one historical or mythical group out there that Waititi won't savagely take the piss out of, and we're all better off for it.  
Images courtesy of HBO Max