Forget what you knew before about dining, a whole new culinary world is emerging.
The changes are across the board with what we eat and how we eat it. Some of these changes have been happening for a while now with more and more people having an allergy to this ingredient or a moral objection to that. Diets for both weight loss and fitness regimes have crimped our food intake choices and, like it or not, delivery services like Uber Eats are changing the way we eat by bringing dinner to us at our home and/or workplace. Where, courtesy of our smartphones and pandemics, we are spending far more time than we used to.
Yet, because of our ravenous consumption of cooking TV shows like Masterchef or by following celebrity chefs on TikTok, we have never been more inspired to try new and exciting exotic dishes. Our days of eating the same-old-same-old meat and three veg, stir fry or battered fush 'n' chups every day are over. And because of this viewing, our expectation standards for such deliveries have risen exponentially; no longer will we accept a smashed burger and cold chips or a sludgy Chinese in a leaky plastic container any more. We want the best and we want it here now.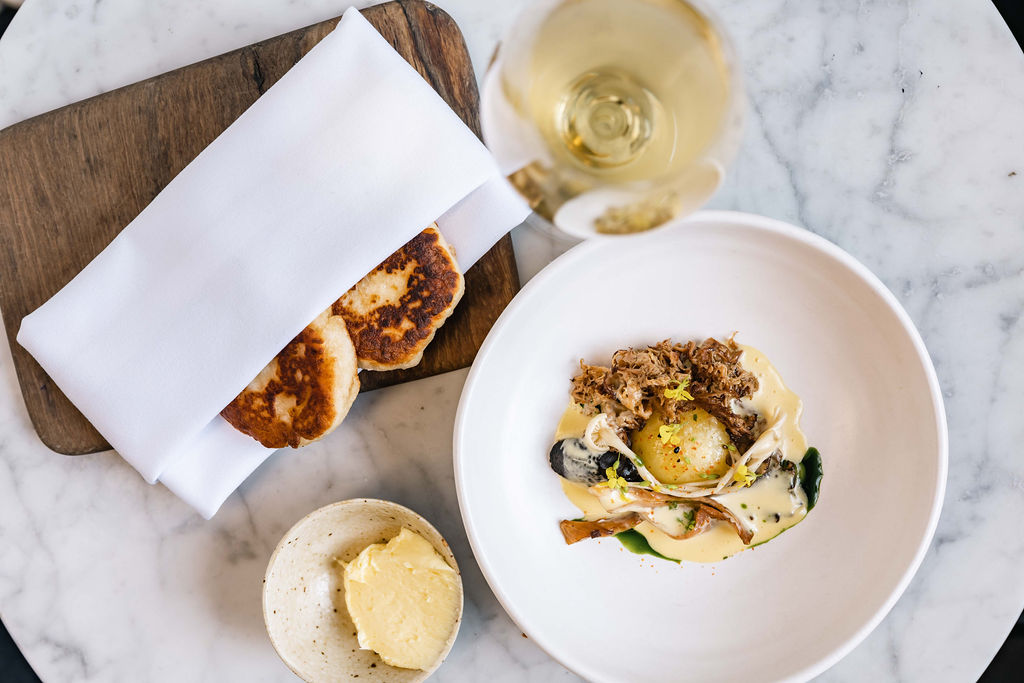 Not so 'fine' anymore
The hardest hit by these evolving changes in attitude have been the traditional 'fine dining' establishments that dominated the culinary scene in the past. 'Rigid' is possibly a fair description of how they operated as fine dining used to mean = going to a bricks and mortar restaurant.
Here, you booked a table first, dressed up for the occasion, came in and had your coats taken, sat to have a drink in a bar beforehand, chose your meal from a set menu, had a series of dishes brought to you with plenty of time between, you would then thank the wait staff, compliment the chef, ask for the cheque, leave a tip, collect your hats and coats back then head out again. It was a series of choreographed stations with pre-set responses that was like going to church.
Aside from the quality of the dishes served, it is easy to see there is little in this structure in tune with the 21st century, post-Covid social media-influenced diner. That's not to say these kind of traditional experiences will go away altogether – oh no, they're still far too popular! Sometimes that is exactly what diners want for a special occasion like a wedding or a 21st, or as a heavy date so they can impress someone or mark a moment in time.
Leading the charge for change
Not all restauranteurs are sitting on their hands in the face of these massive changes in diner attitudes however. The caterer at the forefront of this adjustment in catering to changing tastes is Michael Dearth, Masterchef NZ judge and owner of legendary Auckland eateries, The Grove and Baduzzi.
Listen to Michael and words like; 'takeaways', 'food truck', 'sharing plates' and 'hole-in-the-wall' appear casually in his vocabulary – not what you would have expected to hear from someone of his elite standing in the industry even just a few years ago. Yet these are not just promises of change, Michael's teams have already delivered on all of them – yesterday! Over the past couple of years he has taken The Grove out on the road to Donkey Bay, used a food truck, catered to parties on site, delivered takeaways, opened on Sundays and even created bar snacks with shared plates. All successful innovations that have not only helped his restaurants survive the ravages of Covid but to even grow the brands.
But it isn't just Michael who is taking The Grove into new directions, Cory Campbell, the current head chef of The Grove, has also brought some new philosophies to the table; Cory's really into Food Ecology. The interaction between chef, supplier, farmer, producer and Mother Nature. For him, dining is not just ingredients and cooking. It's an understanding of a movement, of what we take, from where and how. Is it for the best, does it leave an impact on us, our waters, our skies, our lands?'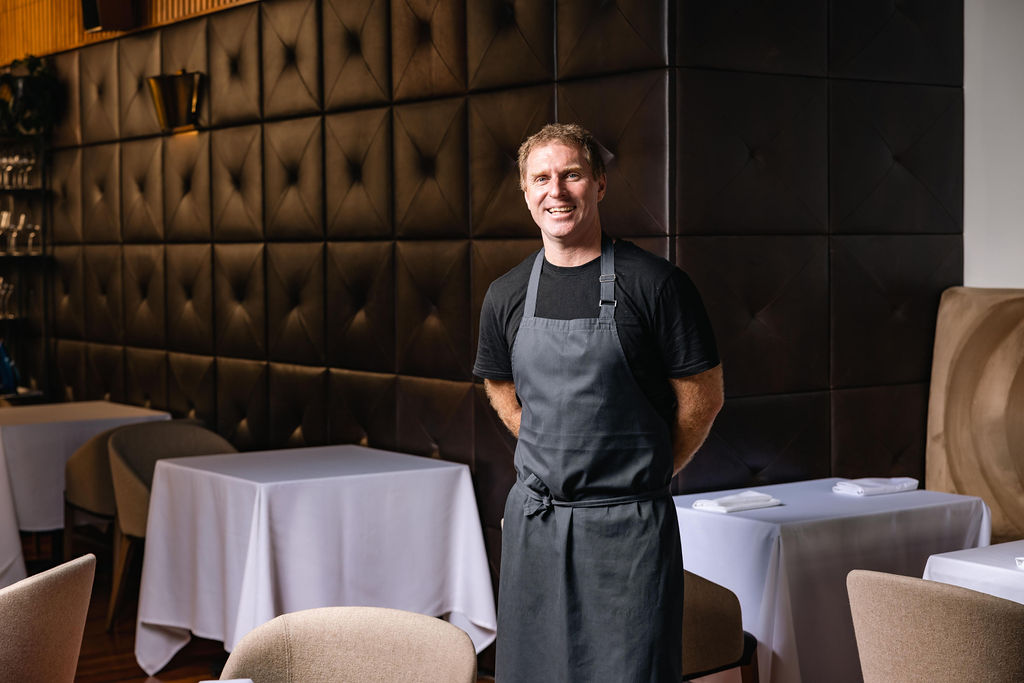 Cory also sees food as a starting block for culture – the 'breaking of bread' – that brings people together from different cultures and backgrounds. He says it is a beautiful thing to experience from both the cooking perspective and as a guest. 
Walk before you run
But the learnings go both ways as some of New Zealand's finest chefs have all honed their craft at Michael Dearth's restaurants. Coincidence? I think not. They all came to Michael as young talented chefs and accentuated their skills by learning the basics that have been taught in professional kitchens for centuries. "Young people come here to first learn about butchery," Michael says, "how to debone a fish and then make this beautiful broth. We teach the classic techniques here. Sure, they're also taught at a school, but here they're applied."
It isn't just the cooking side they learn about either as Michael definitely sees himself as a people person and someone who understands business; "look, any chef could make something delicious with crayfish and crab, but is it a business that can survive? People learn two things here; classic age-old techniques of distilling flavour and how to make enough money to pay rent and your employees. That is just as important if you are going to set up your own place."
A salient point as The Grove and Baduzzi haven't just churned out nationally famous food artists, they've also created a huge variety of chefs who have gone on to form successful ventures of their own; 'I've had plenty of chefs that worked for me that went off and opened up a burger place or do little homemade sausages. But if it wasn't for their time here in a fine dining restaurant, they'd have not gone through that life experience to make the cheeseburger or to make the sausage. You need to spend time in a fine dining restaurant to learn that.'
Listening for success
Ex-pat Australian celebrity chef Curtis Stone once said; "people still come to eat proper home-cooked chicken roast but you can't serve it the way Grandma did, they expect more from a restaurant than that." That's what fine dining is all about, however it is served. Giving people food the best it can possibly be – with a little artistic flair and theatre to make it memorable to mark a moment in time.
That doesn't mean just continuing to deliver the same; traditions can be updated, the alcohol industry has taught us that. Wine cooler or RTD anyone?
Times are always changing and modern life is forcing us diners into living our lives in bite-sized chunks, flavoured by the ideals we take on to survive in our niches of society. We still want the best of the old ways, but we want it delivered our way.
Going forward, it will be the restauranteurs who understand this and adapt to meet it who will prove successful. What will help them get there is to actually listen to the young chefs who come into their kitchens. These are young men and women who have grown up amongst these shifting sands of contemporary life and understand what the new patrons want better.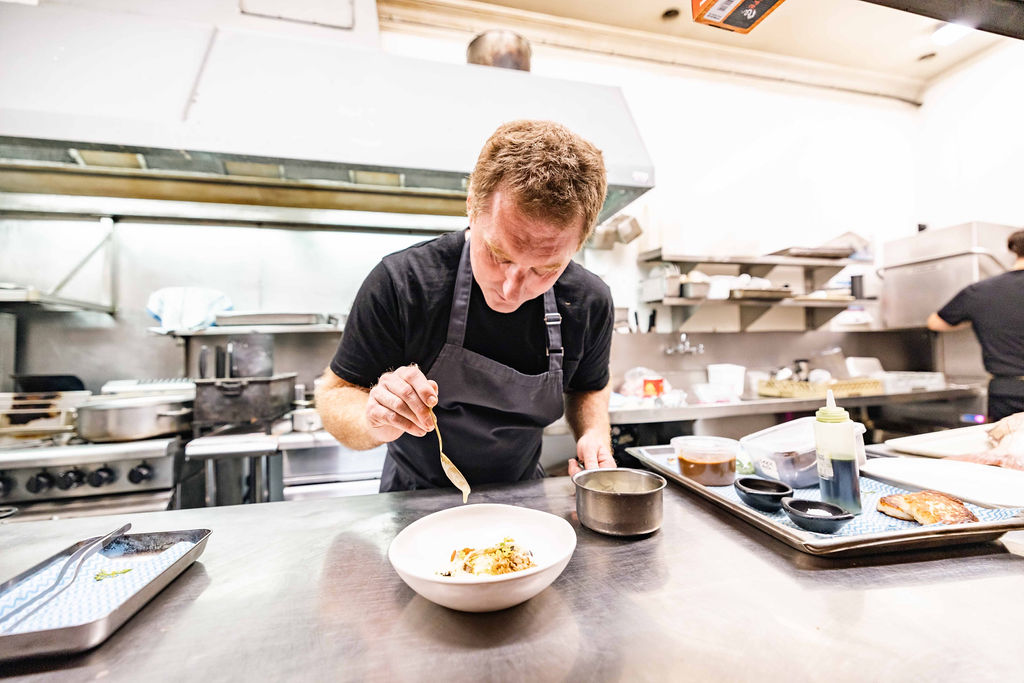 Michael Dearth's sustained success has come not because he is dictatorial, but because he is willing to listen to people like Cory Campbell. Past chefs all brought new ideas to the table and Michael implemented some of them at The Grove and Baduzzi because they were good ideas. And he wants more: "I want the next talented young chef to turn up at my door so they can teach me what they know about their own cuisine or what and how the world wants to eat now. Then they can go off on their own with all the knowledge I can teach them about distilling flavour and running a successful business. It's how we've done it before, let's do it again. Our industry always needs new ideas and enthusiasm. Our industry needs you."
Head chef Cory Campbell agrees; "Hospitality is a long and exciting adventure! It can take you down some crazy roads if you aren't careful, enjoy yourself but look after yourself as there's a lot more exciting things to come down the track."
Make a reservation of The Grove or Baduzzi now.