Unless there is a particularly hot out of season price on nashi pears, supermarket shopping is not generally a spiritual experience. Tell that to the Dutch designers of the SuperHub though.
SuperHub is a new supermarket like no other located in the district of Meerstad, in the city of Groningen, Netherlands. And while supermarket architecture in general is normally pretty utiliatartian and unremarkable, this particular offering, designed by De Zwarte Hond, could be mistaken for a cathedral. But before you start lamenting the modern day worship of consumerism, this is a multifunctional hub for the community that offers a variety of additional programs such as a café and health centre, making it more of a gathering place for residents.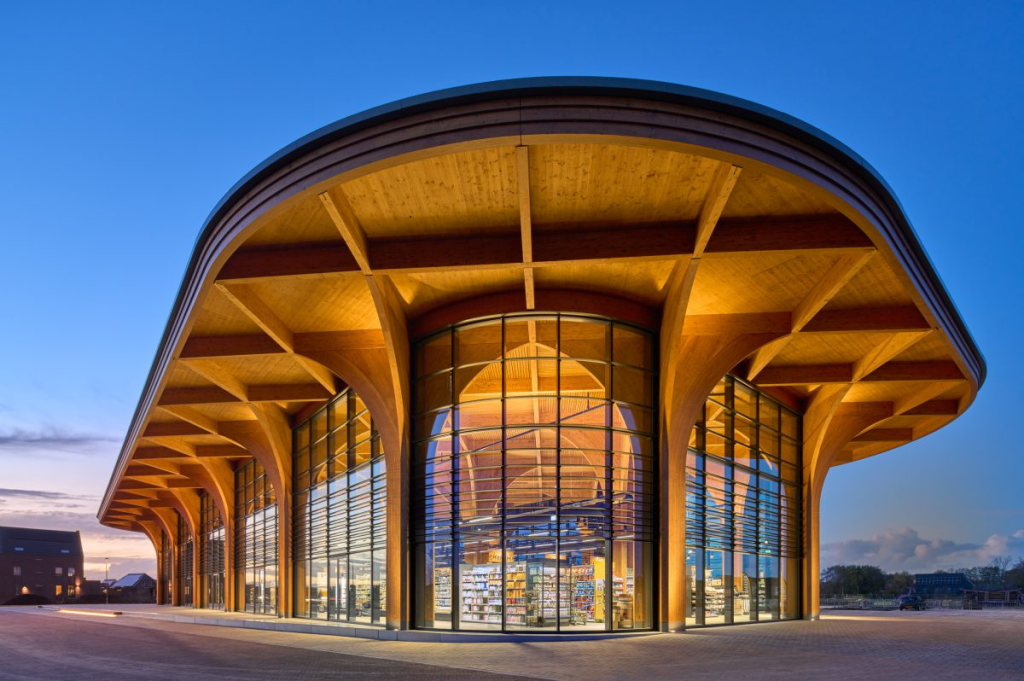 Meerstad is a particularly environmentally-focused district known for its green spaces, including the Woldmeer recreational lake. As the population of Meerstad continues to grow, the need for a central hub for the community has become increasingly important. So the SuperHub was designed to address this need, serving as a modern and sustainable gathering place for residents but without buggering up the very landscape it is famous for. 
The building's striking circular shape is formed by large, transparent market halls with a support structure made entirely of wood. The cross-shaped wooden columns and beams in the roof create a stunning, vaulted appearance that is both imposing and elegant. The large canopy, which extends out over five metres, functions as sun protection and reaches out to the surrounding greenery with its elegant columns and net-shaped wooden trusses. The cross-shaped design also provides stability, eliminating the need for additional wind bracing.
The high ceilings and large glass windows allow for an abundance of natural light to flood the interior, creating a bright and spacious atmosphere. The ceiling height reaches an impressive 9 metres, and the large span of the building gives it a light and airy feel. All this glass and height allows for a immersive view of the surrounding nature.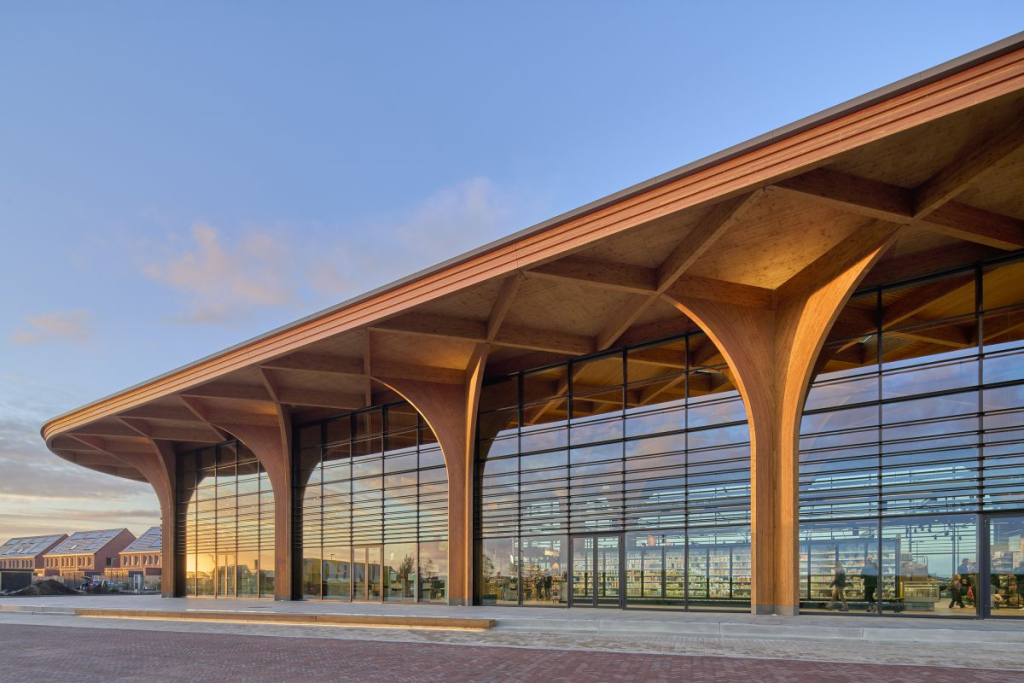 The SuperHub's design is not just for aesthetics, it also prioritises sustainability. The roof is equipped with solar panels and green spaces, making the building run on renewable energy. Additionally, the building is designed to be flexible and adaptable, with the potential to accommodate new functions and activities in the future, such as a community centre or even housing. This means that even if the SuperHub were to lose its function, it could be repurposed and given a second life, making it a future-proof building that can grow with the developments of Meerstad.
The project was a collaboration between De Zwarte Hond and several other partners, including MWPO, Brands Bouw BV, Maripaan Group, Jumbo Supermarkets, Bureau Meerstad, Pieters Bouwtechniek and DGMR. The result is a truly unique and sustainable building that serves as a central hub for the Meerstad community but also an example of future development that moves away from big block monolithic malls and centres that work with the environment.