While Glenfiddich might be one of the the world's most awarded and famous whisky brands, it's not resting on its laurels and is consistently raising the bar with its daring experiments and mastery of craftsmanship. The latest addition to the brand's esteemed Grand Series, Glenfiddich Grande Couronne is one such example.
The history of Glenfiddich stretches back to 1887 when founder William Grant, driven by a dream to craft the finest single malt whisky, opened the doors to the Glenfiddich Distillery in Dufftown, Scotland. Since then, the brand has been at the forefront of the whisky industry, pioneering new techniques and setting the standard for excellence.
The Glenfiddich Grand Series is a testament this dedication to innovation and experimentation. Comprising three exceptional whiskies – the Grand Cru, Gran Reserva, and now the Grande Couronne – the series showcases the brand's ability to marry aged liquid with intriguing finishes to create a symphony of flavour.
The whisky's name – 'Grande Couronne,' meaning 'crown' in French – sets the scene for what Glenfiddich set out to achieve. Malt Master Brian Kinsman encapsulates the essence of the Grand Series when he says, "The Grand Series perfectly encapsulates Glenfiddich's spirit of innovation and our ability to experiment with aged liquid and intriguing finishes. Grande Couronne is the latest to exemplify that approach."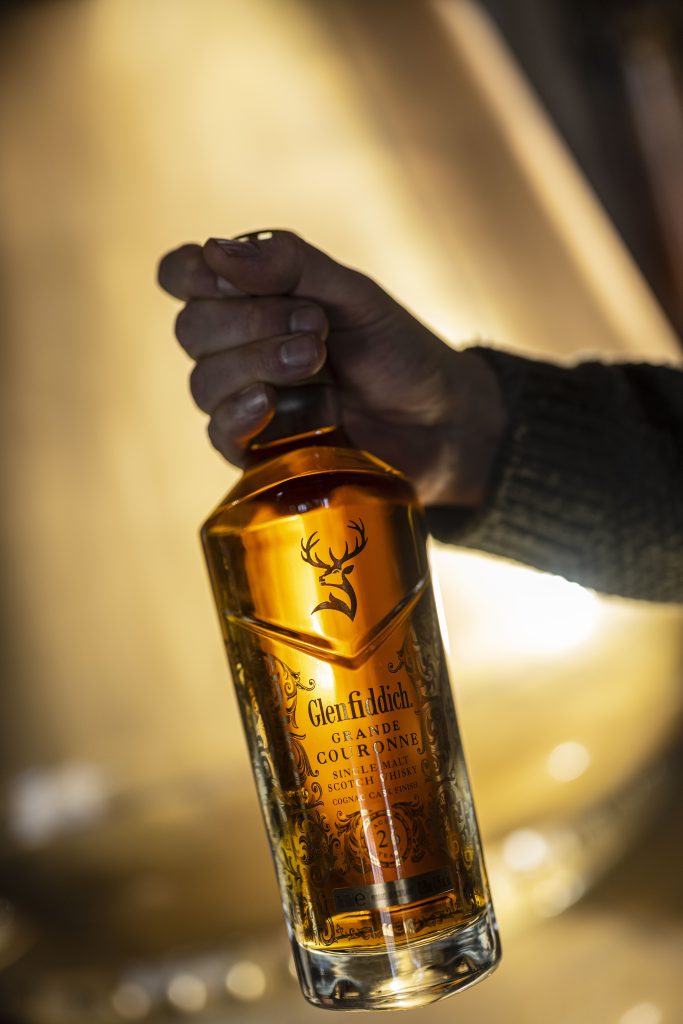 Matured for 26 years in American and European oak casks at the Glenfiddich Distillery in Scotland, the whisky is then transferred to meticulously sourced French Cognac casks for an extended finish of up to two years. This rare and highly unusual finishing process imbues the Grande Couronne with an elegant spin. 
Upon pouring a dram of Grande Couronne, the first thing to catch the eye is its antique gold colour, a hue that exudes a sense of timeless elegance. The nose is vibrant and lively, filled with the sweetness of toasty oak and evoking the atmosphere of a French pâtisserie, with notes of freshly-baked Tarte Tatin and buttery choux pastry.
The taste is where the true magic of the Grande Couronne reveals itself. Deep, velvety smooth, and indulgently sweet, the whisky offers flavours of café crème, soft brown sugar, and a hint of spice that dance on the palate. The finish is exceptionally long-lasting, leaving a lingering sweetness of oak that serves as a fitting tribute to the mastery of craftsmanship that went into creating this magnificent whisky.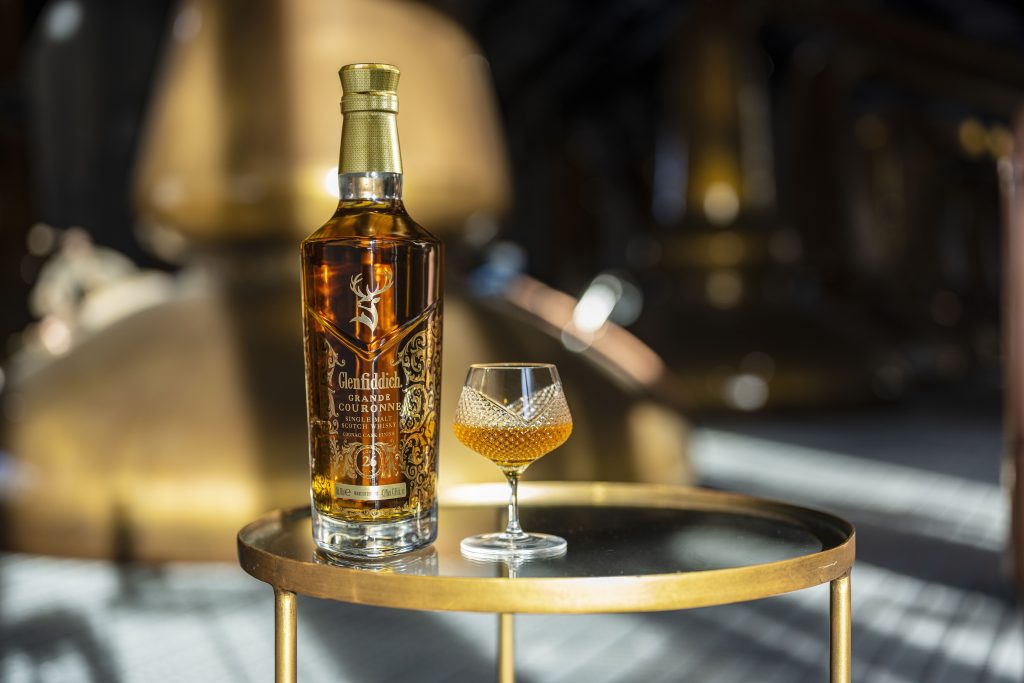 The opulence of Glenfiddich Grande Couronne extends beyond its taste, as the bottle and packaging are works of art in their own right. Adorned with ornamental gold filigree, the bottle is a stunning centerpiece for any collection, while the box itself features exquisite artwork reminiscent of great Renaissance paintings. 
With its unparalleled fusion of Scottish tradition and French elegance, this luxurious whisky offers a taste experience that is sure to leave a lasting impression on anyone fortunate enough to enjoy a dram.